What causes painful sex and how can it affect your marriage?
In the second part of CNA Women's series on painful sex, we look at the psychology behind vaginismus and how the fear and anxiety can strain – and sometimes break apart – romantic relationships.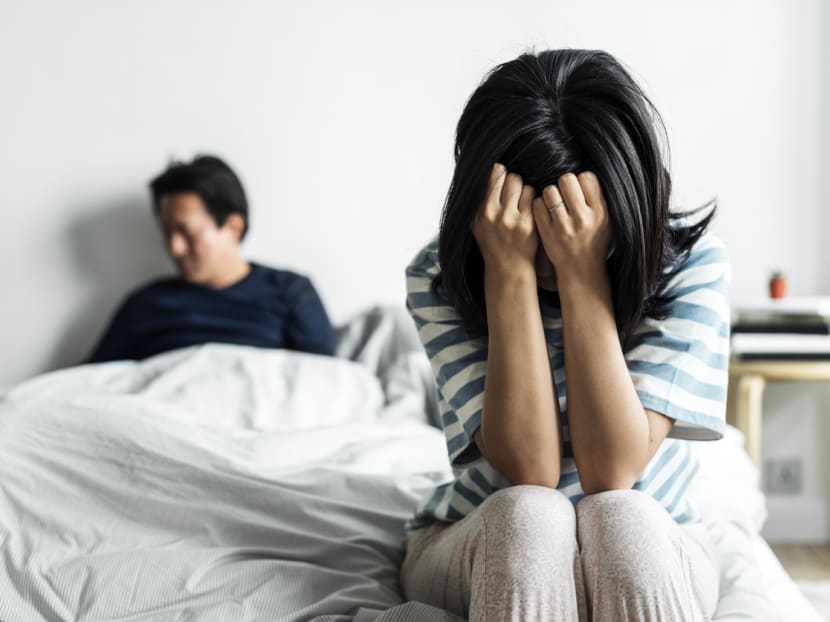 For some, sex is a pleasurable experience that deepens the bond between two people. But for others, it is excruciating – and in more ways than one. Why?
There are typically two conditions that relate to painful sexual intercourse: Vaginismus and dyspareunia. 
Women who suffer from vaginismus are unable to tolerate any form of vaginal penetration due to pain, including medical procedures such as Pap smears. This makes sex "entirely not possible", said Dr Kelly Loi, an obstetrician and gynaecologist at Mount Elizabeth Fertility Centre.
In fact, for patients with severe vaginismus, even the thought of a pelvic examination may cause them to experience palpitations, trembling and nausea, she said.
"With dyspareunia, sex is possible but painful and uncomfortable," Dr Loi added.
Partly because of the "difficulties in distinguishing between the two conditions in clinical practice", both conditions are now classified under one category – genito-pelvic pain/penetration disorder (GPPPD), said Dr Tan Tse Yeun, a consultant at KK Women's and Children's Hospital (KKH) Department of Reproductive Medicine.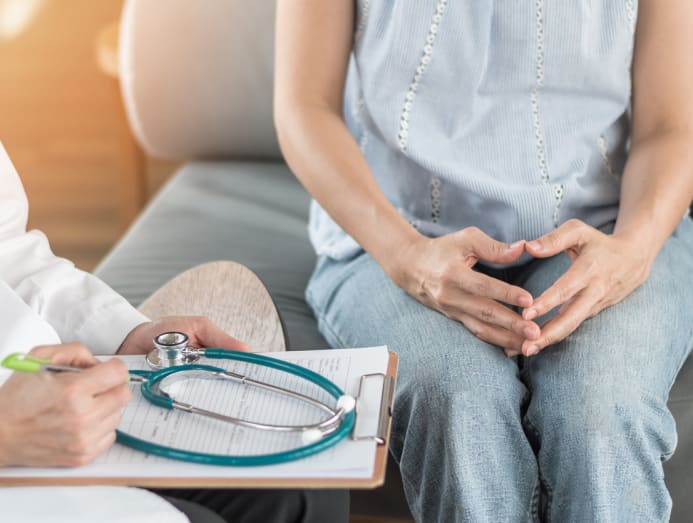 Typically, the cause of dyspareunia is vaginismus, which is said to be the most common form of female sexual dysfunction among its patients.
But before that is determined, doctors will first eliminate other possible causes, which may include "infections, inflammatory skin conditions, neurological causes, hormonal causes and even structural causes that affect the female genital system", said Dr Grace Huang, a general practitioner at DTAP Clinic, whose work is focused on women's and sexual health. 
For many women, what causes vaginismus and ultimately, dyspareunia, is an "intense fear of and anxiety about pain before or during vaginal penetration", said Dr Tan. 
"When women anticipate that pain will recur during penetration, their vaginal muscles tighten, making subsequent attempts at sexual intercourse even more painful, resulting in a vicious cycle of pain and worsening fear," she said.
And what causes this fear? 
The root cause may differ between individuals, said Dr Huang. "Often, an individual's subjective sexual experience, thoughts, emotions and behaviour play a role in contributing to her difficulties."
For some women, the anxiety comes from past emotional or sexual abuse, or physical trauma such as a bad childbirth experience, said Dr Loi. 
"Very often, however, there is no explanation," she said. 
Nonetheless the whole experience is "very distressing", said Dr Huang, adding that in severe cases, it can lead to the non-consummation of marriage. 
"THE GUILT HAD ACCUMULATED SO MUCH"
This was the reality for two individuals CNA Women spoke to. 
Kim (not her real name) was unable to consummate her marriage at first as she continuously experienced pain during sex. 
"I don't think I coped well. I felt great pain and anxiety during sexual intercourse, so even though we tried a few times, we were not successful," she told CNA Women.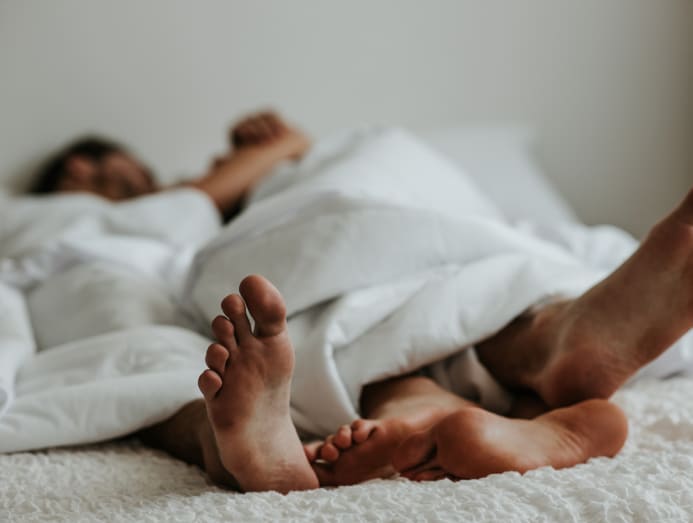 Several months into her marriage in 2018, the 30-year-old administrator consulted a gynaecologist at KKH about her irregular periods. 
The doctor wanted to perform a Pap smear and vaginal ultrasound as part of the investigations on her condition, but Kim was unable to go through with the procedures due to "great pain, fear and stress", said Cheong Xinyi, principal psychologist with KKH's psychology service.
Later that year, Kim was diagnosed with vaginismus, attributed to "sexual naivety and inexperience with processes of sexual intimacy due to a conservative upbringing", said Cheong.
The diagnosis was confusing at first, Kim said.
"I didn't quite understand it since it was not a commonly known condition. Even though I was very fearful, I knew that for the sake of myself and my family, I needed to resolve this issue so I gathered my courage and agreed to be referred to the Sexual Health Clinic," she said. 
The Sexual Health Clinic, which is operated under the KKH Women's Health and Wellness Centre, is said to provide the only multidisciplinary care service in Singapore for women with sexual dysfunction conditions. It adopted this multidisciplinary approach, which harnesses the expertise and support of various specialists including physicians, psychologists and physiotherapists, in 2015.
Kim said she visited the clinic monthly for about five months and met with various specialists who worked with her on different aspects of her condition.
"The initial period is the most challenging period … For the first three months, I was afraid of the desensitisation exercises (such as gradual digital penetration). I was very anxious whenever I practised and also could not practise consistently at home. So there was not much improvement," Kim told CNA Women. 
But over time and after regular sessions with the care team, Kim started increasing her home exercises, which she did with her husband, and used emotion regulation tips from her psychologist to manage her fear and anxiety.
"After repeated practices, I started to build ease with the exercises leading to an increase in confidence in tolerating an object in my vagina. The increase in confidence and seeing some achievement or success helped to further reduce the fear and anxiety," she said.
Kim eventually consummated her marriage in November 2018. Two years later, she and her husband had a baby boy.
"I'm really happy and glad that I made the right choice to consult the professionals," said Kim, adding that previously, gynaecology consultations made her "feel terrible" because doctors would show their "impatience and attitude" towards her inability to tolerate insertion tests.
In contrast, the specialists at KKH were "very nice and patient". "They did not look down on my problem and made me very comfortable. They allowed me to perform the therapy at my own comfort level and pace," said Kim.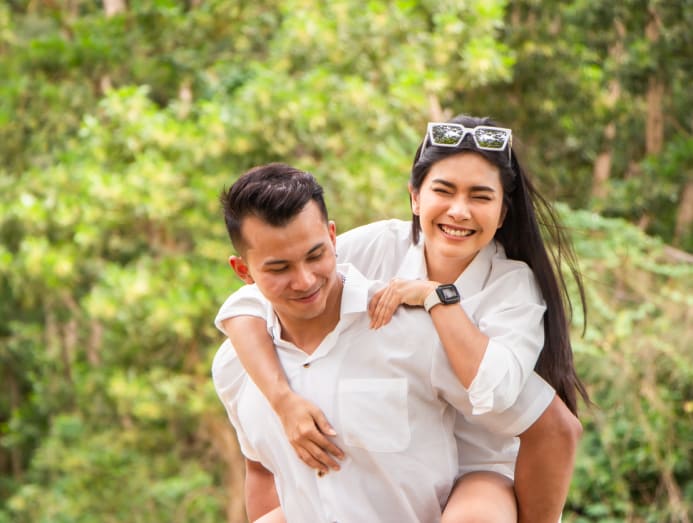 For Puva, who only wanted to be known by her first name, the journey to recovery was much longer and more arduous. 
The 39-year-old administrator married when she was 27 and divorced seven years later after repeated unsuccessful attempts to have sex. 
The couple had sought ways to improve their relationship, including getting a dog together. 
"We thought that getting a 'pet baby' would improve our bond and our relationship, but alas, it did not work as well," she told CNA Women. 
One year into her marriage, Puva sought medical attention at KKH for recurrent fibroids. Like Kim, she was unable to go through with the medical examinations and was diagnosed with vaginismus. 
She returned to KKH with her husband. At the time, KKH did not yet provide a one-stop multidisciplinary service for female sexual dysfunction and the couple consulted with an obstetrician and gynaecologist.
"After the first two sessions, my husband felt that he did not need another male to teach him about sexual matters. He felt the treatment was not benefiting him and he gave it up. Without my husband, I also did not continue with the treatment," she said. 
Their marriage "finally broke down" and the couple went their separate ways after seven years together. 
"I requested for a divorce as I could not endure it anymore. The guilt had accumulated so much and we were just not in good relations anymore. 
"When I offered to part ways, I could tell he was relieved and in a way, it was my way of making it up to him," Puva said. 
After the divorce, Puva returned to KKH in 2017, which by now had a Sexual Health Clinic that was being managed by a multidisciplinary team.  
That was a "turning point", said Puva.
"I found out that a lot of my fear and the pain I felt were due to the conservative background that I was brought up in. I felt like I had rediscovered myself and really got to know myself in all aspects."
Puva eventually met someone new and finally had sex at the age of 37. She now has a son.  
"Having a child has been my dream … After 10 long years, I finally got to hold a baby in my arms and now understand how enjoyable sex can be – it need not be painful, full of fear and anxiety as what I had initially experienced. 
"Getting treated was truly a life-changing experience," she said. 
"DON'T BE AFRAID"
Both Kim and Puva urged other women to take action if they are having problems in the bedroom, despite their fears of doing so in the typically conservative Asian society. 
Puva said there is "definitely a stigma with women trying to seek help with sexual health", which was why she "gathered courage" to share her story and experience. 
"In Singapore, a conservative upbringing like mine is common. Hence it is difficult for me to even share these challenges with anyone close to me … Until now, my parents still do not understand my condition well and do not believe that such a condition exists," she said. 
Despite this, she encouraged her peers "not to sit on it or procrastinate" if they suspect a problem. 
"Don't be afraid of being judged or looked at in a different light," she said. 
"I regret not seeking treatment earlier, otherwise I would not be so tired now, trying to run after my toddler and keeping up with his activeness. But of course, better late than never!" Puva added. 
CNA Women is a section on CNA Lifestyle that seeks to inform, empower and inspire the modern woman. If you have women-related news, issues and ideas to share with us, email CNAWomen [at] mediacorp.com.sg.