From work-from-home to work-at-office: Pandemic mums and their babies are struggling with the transition
Having enjoyed an extended period of WFH after maternity leave, some mothers who gave birth during the pandemic are finding it challenging to adjust to returning to the workplace. Their babies too, aren't used to Mum being away from them for such long periods in the day.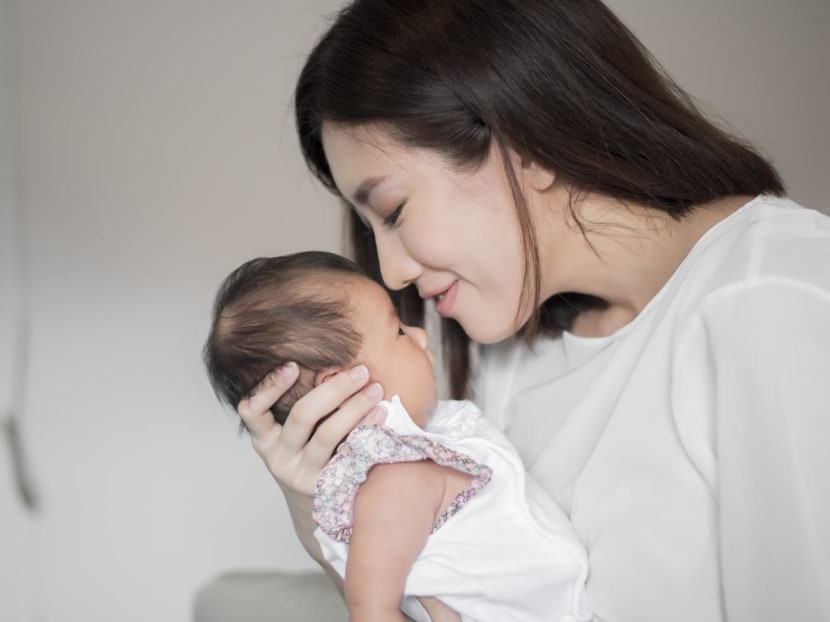 As many celebrated the gradual easing of restrictions beginning in March this year, Rachel (not her real name) found herself close to breaking point. After an extended period of working from home, the application scientist found herself having to return to the office more often.
This unfortunately coincided with a period where her baby started falling sick frequently, causing the new mother to scramble for last-minute caregiving arrangements. During one particularly serious bout in March when he caught a respiratory virus, he was very ill for more than two weeks.
"He had persistent high fever for five days. We took him to three different paediatricians, did multiple blood tests, nose swabs and urine tests, but they could not pinpoint a specific issue.
"On day five, I took him to A&E, where the doctor suggested we admit him as soon as possible. He was hospitalised for five nights, and I stayed with him and took care of him 24/7. During the hospitalisation, I broke down so many times," she recalled.
Scheduled to return to the office, Rachel found herself having to cancel her meetings. "People were sending email escalations, but I couldn't reply to them. My superior was quite upset," she shared.
Partly due to the mounting anxiety and stress, she said she was diagnosed with postpartum depression in April.  
While this working mum's return-to-office struggles may have been compounded by her baby's illness, she is not the only mother who is finding the transition challenging. Many mums who had their babies during the pandemic and enjoyed the flexibility of working from home after maternity leave have lamented the changes.
THE BACK-TO-OFFICE TRANSITION
"Even pre-pandemic, returning to office is often a challenging transition as new mums adjust to the emotional, physical and mental demands of juggling motherhood with work," said Dr Vivien Yang, educational and child psychologist at Bloom Child Psychology.

"The spectrum of complex emotions includes guilt about having to leave their child, fears about the impact that separation would have on their babies, anxiety about breastfeeding, stress about meeting work demands, and exhaustion from night feeds," she added.
One of the silver linings of COVID-19 was that working from home eased some of these struggles, freed up time from the daily commute, and gave mothers more flexibility to juggle the demands of motherhood.
Silvia Wetherell, perinatal mental health counsellor at Alliance Counselling, added that in some cases, "job-related pressures can worsen symptoms of mood and anxiety disorders in postpartum women".
The conflict between work and motherhood triggers feelings of guilt and inadequacy in the woman, leading her to believe that she is failing both at being a mother and an employee, Wetherell added.
One of the silver linings of COVID-19 was that working from home eased some of these struggles, freed up time from the daily commute, and gave mothers more flexibility to juggle the demands of motherhood.
However, with the return to the office, families now need to re-organise their routine. "Some resent the reduced control and freedom to plan their workday once they have had a positive experience working from home," said Wetherell.
Communications and operations professional Melanie Sim, who currently has a hybrid work arrangement, is among those who lament the loss of bonding time. "As a working mum, I wrestle with a lot of mum guilt – I feel like I don't have enough time with my kids and can't give them enough individual attention. Returning to the office makes me feel this more strongly," she said.
"I prefer to work from home all the time. At least, I'm around when my kids get home from school and I can squeeze in some precious minutes with them in between meetings. I can also pause my work to put them to bed and then come back to work again," she added. She has three kids, aged two, six and nine.  
In addition, there are concerns about bonding issues and missing milestones. "I am afraid I will miss those important once-in-a-life milestones like my baby's first steps and only be able to watch it from CCTV," said Rachel. She also felt that returning to the office would affect her bond with her baby.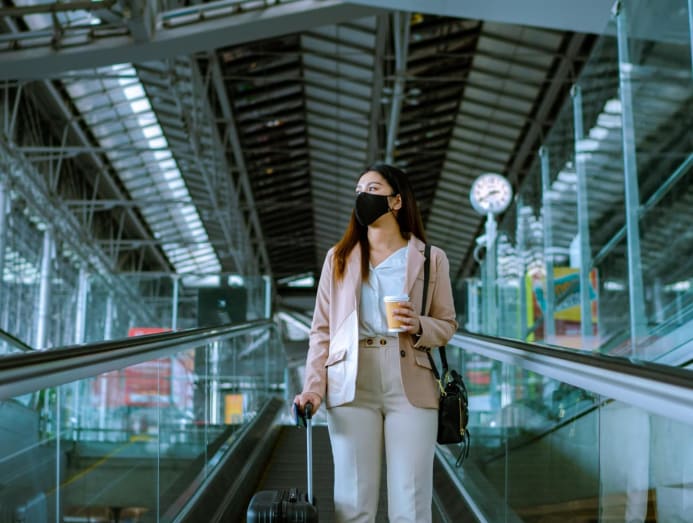 The return of business travel is also another challenge for some, such as Yvonne Yeo, who has a two-year-old son. The director of operations in a hospitality firm began travelling for work in February this year and her trips tend to last from three to four days.
"I only go on short work trips for now, but I miss my son very much and find the opportunity to video-call him when he gets home from preschool and before he goes to bed. The first two days I'm away, he would actively ask me questions about the trip. But I notice that by the third day, he would be upset and it would take a while for me to get his attention or for him to address me directly," she said.
POST-PANDEMIC CHALLENGES
Some mothers also struggle with post-pandemic work expectations. Said Daphne (not her real name), a sales and project manager whose daughter is a year old: "During the pandemic, people were really understanding. They would not call you in the middle of the night or on weekends because their work has also slowed down. They were also okay with Zoom meetings."
But now that Singapore has fully opened up, she said, things are back to pre-pandemic normal and "everyone is trying to work at 150 per cent capacity to catch up".  
"Clients expect you to be on call 24/7 ... People call me at 10pm and if I don't pick up, they call again. They expect things to be done fast or instantly. By default, they also would never suggest a Zoom meeting and would ask for a face-to-face meeting instead," she added.
Daphne said this became a challenge for her, especially when her daughter fell sick and had to stay home instead of going to infant care. She also pulled her daughter out of the centre for a week because of a hand-foot-and-mouth disease (HFMD) outbreak there. Without the option to fully work-from-home, Daphne said she struggled to make replacement childcare arrangements.
In general, psychologists have observed that the anxiety of illness weighs heavier on pandemic mothers. "Unique to pandemic mothers is the fear that their babies would contract COVID-19 from them once they start work at the office as there is increased potential exposure to the virus," said Christine Kwek, child clinical psychologist at Annabelle Kids. "They also worry about how COVID-19 might impact their babies' development."
"If the baby is placed in infant care, there is that worry that he would catch other viruses in addition to COVID-19, such as HFMD and the common flu," added Kwek, who also had a baby during the pandemic and spoke partly from personal experience.
HOW DO PANDEMIC BABIES FARE?
Indeed, pandemic babies, toddlers and children themselves take time to adjust to the changes.
"My older kids are pretty vocal about being unhappy that I have to go back to the office. For the youngest, who is almost three years old, I've been working from home almost her entire life, so she's used to having me around 24/7. She is a bit confused and misses me," said Sim.
According to Dr Yang, this may be because babies and toddlers have developed a stronger attachment and greater dependency on their mothers during the extended period of work-from-home.
They also generally have less social exposure to other adults and children, which may heighten separation anxiety as their mothers return to work.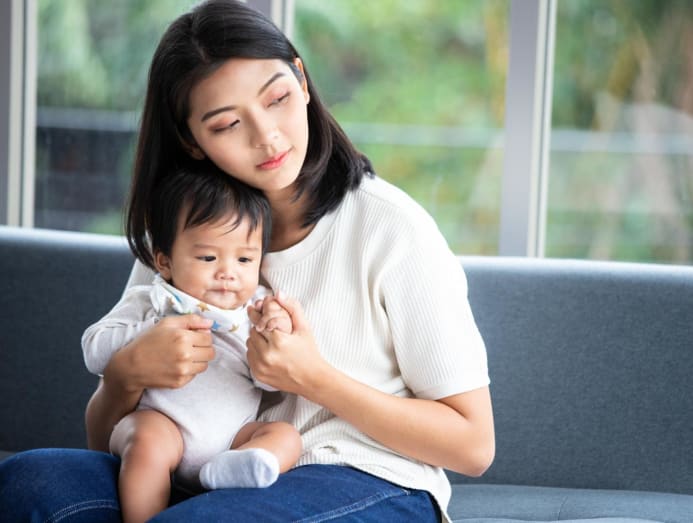 Some may notice that this separation anxiety is greater in pandemic babies as compared to before the pandemic when most mothers returned to the office after four months of maternity leave. Kwek explained that separation and stranger anxiety typically begins from seven months, so younger babies would be less affected.
However, she added that multiple factors contribute to increased or reduced separation anxiety. For example, a child who is cared for by multiple caregivers may tend to be more securely attached, and one whose mother is less anxious about leaving him or her may experience less separation anxiety. The child's personality traits also play a big part in his response.
EASING THE TRANSITION
Yeo said that a pro-family work culture, supportive team and greater work flexibility had made a huge difference in helping her adapt and work towards balance. When her work requires her to travel for longer periods of two to three weeks, "this is where the team has been supportive to say that I could bring family along, have my son with me".
Find a way to ask your employer for what you need, anticipate objections with solutions, and put forward a realistic plan on how you can continue to deliver value.
In fact, Wetherell believes that all companies should adopt such policies. "The pandemic has given us an opportunity to reconsider the concept of productivity and how that is best achieved," she said.
"Greater flexibility in transitioning back to work such as temporarily allowing part-time work for a month or two, and giving employees more opportunities to choose whether to work from home or the office could lead to a more motivated, loyal and productive workforce with reduced absenteeism and improved mental health," she added.
Wetherell advised mothers to advocate for themselves – find a way to ask your employer for what you need, anticipate objections with solutions, and put forward a realistic plan on how you can continue to deliver value.
She also suggested seeking support and guidance from other mothers in the company or industry.
Kwek agreed that a good support system is vital. Mothers should share their struggles with close friends or family members, acknowledge their feelings, and be open to seeking professional help if their support network is not able to alleviate their distress – rather than waiting for a major breakdown, meltdown or disorder before seeking help.
If children are old enough to understand, a heart-to-heart talk can be a simple and effective solution as well.
"One thing that works for me is being very honest with my kids about the situation and how I feel. They know I have to return to the office weekly, but I miss them and want to spend time with them," said Sim.
"I also make it a point to spend the first five minutes of the day with them to 'set' their day, and the last five minutes of the night to offer bedtime stories, hugs and chats before they sleep. It's like a promise that I'm still around," she added.
CNA Women is a section on CNA Lifestyle that seeks to inform, empower and inspire the modern woman. If you have women-related news, issues and ideas to share with us, email CNAWomen [at] mediacorp.com.sg.