What's Plan B? The elusiveness of the morning-after pill in Singapore
In some parts of the world, like in the UK and US, you can buy the morning-after pill at drugstores and sometimes even from vending machines. Why is emergency contraception not as readily available in Singapore? CNA Women finds out.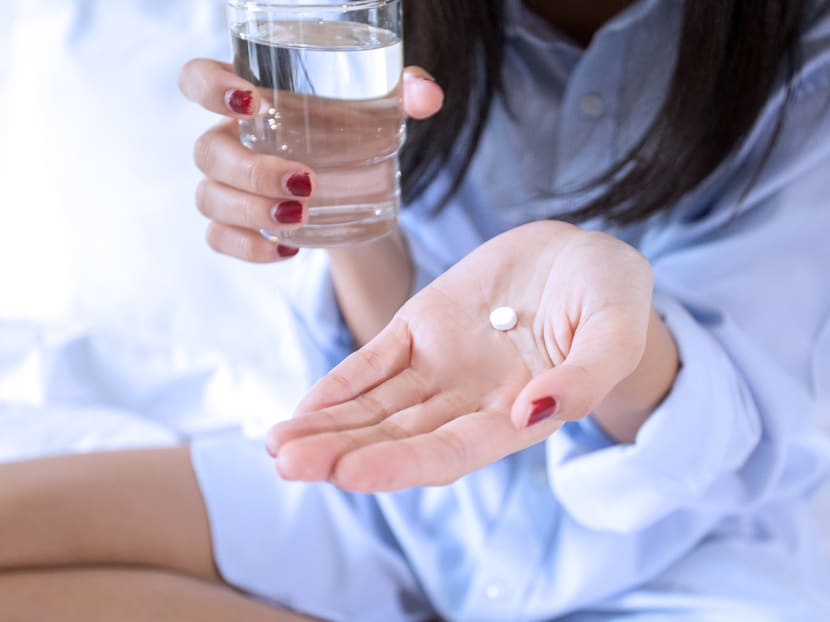 Sometimes condoms break. Sometimes you forget to take your long-term birth control. When that happens, there's another option: The morning-after pill.  
Taken orally within hours of having unprotected sex, the pill is a convenient pop-once-and-forget means of preventing a double-line surprise.
Yet, in Singapore, it's a bit of an enigma.
Little research has been published to find out how much women here know about the different forms of contraception.
A study published in 2016 by the National University Hospital (NUH), surveyed more than 200 women about nine methods of contraception. The morning-after pill was not included, even though it had been approved by the Health Sciences Authority as early as 2002.
The first author of the study, Dr Arundhati Gosavi, told CNA Women this was because the questionnaire was meant "to test the awareness and knowledge of women about regular contraceptives to space out their children's ages as well as long-term contraception for family planning".
"Emergency contraception like the morning-after pill is a method of birth control used after unprotected sex or contraceptive failure and not a regular long-term contraceptive method," she added.
(Of the 259 female patients surveyed as part of the study, all knew about the condom, 89.2 per cent were aware of the oral contraception pill and the rest of the majority showed some knowledge of tubal ligation and the copper intrauterine device.)
The morning-after pill: What you need to know
It is a form of emergency oral contraception, typically taken within hours of having unprotected sex. Incidents of unprotected sex include having sex without a condom, having sex with a broken condom and having sex when you have not been taking a long-term birth control pill regularly, typically for at least seven consecutive days prior.
The morning-after pill lasts in the body for a short amount of time and is not a viable form of long-term birth control. The latter is meant to be consumed regularly for as long as a woman remains sexually active but doesn't want to get pregnant.
Morning-after pills generally work by preventing ovulation, blocking fertilisation or stopping a fertilised egg from implanting.
Rohit Sahgal, founder of a health platform serving as technical advisor to the World Health Organization, said that in Singapore, women's awareness and knowledge of contraceptive options is "complex to assess" and that knowledge of a given method of contraception "does not translate into use".
"Basic, flawed and anecdotal knowledge" of a particular contraceptive method "crowds out reliable information", said Rohit. 
As a result, society is "simultaneously experiencing a rise in premarital and extramarital sexual activity, and a stagnation in uptake of contraceptive methods", he said, adding that this is just as true in Singapore as it is across the Causeway and elsewhere in Asia.
This leads to some women still struggling with unplanned pregnancy. 
The KK Women's and Children's Hospital (KKH) told CNA Women recently that the majority of its patients seek contraception from doctors only after undergoing an abortion. 
"Only a small percentage of our patients are aware of the various options of contraception and seek our medical expertise for family planning," said Dr Wan Kai Jing, an associate consultant in KKH's Department of Obstetrics and Gynaecology. 
"EXTREMELY TABOO"
"In Asia – of which Singapore is a fairly representative microcosm – sexual and reproductive health is an extremely taboo subject, confined to the realms of humour and awkward discussions," said Rohit, whose work with the platform Voices Project Asia involves research and analysis of health issues in partnership with public and private sectors in the region.
"The idea of discussions and public health campaigns encouraging women to consider matters of contraception independently and in the context of their own health is a new phenomenon in our region, and this translates into a lack of a strong informational ecosystem," he said.
Sex education in Singapore, for instance, promotes abstinence from premarital sex, a practice founded on its "prevailing family values and social norms", according to the Ministry of Education (MOE) website. 
Talk of contraception mainly happens during Science lessons in secondary school, during which "students are taught about how temporary methods such as birth control pills, intrauterine devices and condoms, as well as permanent methods like vasectomy and ligation can prevent conception", an MOE spokesperson told CNA Women.
"Issues such as abortion and prevention of sexually transmitted infections through contraception are also raised in these classroom discussions," the spokesperson added.
"While women's health has come a long way, there is still a social stigma attached to the discussion and use of contraception in Singapore," said Dr Wan, adding that the health ministry is now working towards putting out more information about effective contraception and safe sex practices. 
Dr Shilla Mariah Yussof, a local gynaecologist with her own women's clinic in Tanjong Katong, agreed. 
"I guess although we are a very highly educated population, our Asian culture still precludes us from discussing the matter of sexual education as freely as we should.
"However, times are changing and I'm heartened to see more patients, and even more friends and family, taking a more open-minded approach to such discussions," she said.
Morning-after pill brands in Singapore
Plan B, also known as Prostinor-2. It is effective for up to 72 hours after unprotected sex and consists of two tablets taken 12 hours apart. Seven in eight women did not become pregnant after taking Plan B as directed, according to its website.
Another brand, Ella, works similarly to Plan B – it is more effective the sooner you take it – but it can be taken up to five days after unprotected sex. According to its website, Ella can reduce the rate of pregnancy to just nine in 1,000 when taken within 24 hours.
Rohit also said that the prevailing narrative in our society is that contraception is "a relationship decision rather than a purely medical one", a point demonstrated in the NUH study, which found that 77.8 per cent of women consider the perspective of their partner to be a determinative factor in making decisions as to contraception.
When the issue of contraception isn't a medical one, there is little demand for actionable and accurate information on it, said Rohit.
Still, Dr Wan warned that the weight of contraception should not be placed exclusively on women.
"The decision for contraception is not solely the responsibility of the woman. We encourage women to have shared discussions with their partners to decide on the most suitable contraception option for them," she said.
DOCTOR'S CONSULTS A BARRIER?
Morning-after pill brands like Plan B and Ella are rarely seen in public places. 
In countries like India, Myanmar, the United Kingdom and in parts of Europe, emergency contraception can be purchased at drugstores and supermarkets. 
In the United States, there are vending machines dispensing Plan B, including in educational institutions. 
This is not the case in most other countries, including Singapore, although it's worth noting that you can now buy sex toys from pharmacies here. 
It's not just the morning-after pill that's not readily available in Singapore. Most other forms of contraception, including long-term birth control pills, abdominal patches and implants, are prescription-only.
The need for doctor's consults for some of these options is obvious: An implant would need to be inserted by a medical professional. 
For oral contraception, especially an emergency, single-use form, the rationale is less so.
But a medical review is necessary, experts told CNA Women.
For those that have heard about the morning-after pill, the doctor's consultation is an opportunity to quash misconceptions. For example, many youths believe that morning-after pills cause abortions, according to a 2018 study conducted by AWARE. 
Dr Shilla said: "The morning-after pill does not end pregnancy that has already been implanted. It is an emergency contraceptive and not abortion medication."
Dr Susan Logan, senior consultant at NUH's obstetrics and gynaecology department, also pointed out that women hold misconceptions about the side effects of contraception and are unaware of the "considerable" non-contraceptive benefits of some of the methods, such as cancer risk reduction, treatment of endometriosis and prevention of fibroid growth.
Another reason to see the doctor is safety.
"Different contraception pills have different amounts and types of hormones, and the side effects depend on the combination," said Dr Wan. 
Plan B contains levonorgestrel, while the other brand available in Singapore, Ella, contains ulipristal. Both brands work by preventing ovulation, blocking fertilisation or stopping a fertilised egg from implanting. Your receptiveness to the hormones contained in these depends on your medical history.
Common side effects of the morning-after pill include nausea, vomiting, abdominal bloating, breast tenderness, headache, mood changes, fatigue, increase in appetite and weight gain. Again, the severity of these depends on your medical history.
"While there is a low risk of developing serious side effects due to consuming contraception pills, the hormones in the pills may contribute to an increased risk of blood clots (mainly in the lower limbs and lungs), heart attacks and stroke.
"Your doctor will ask you some questions to screen for your risk of developing these serious side effects before starting any hormonal contraception," Dr Wan added. 
Some side effects may complicate consumption, something your doctor can advise you on. For example, if you happen to throw up after taking your morning-after pill, you might have to take another dose, said Dr Shilla.
Anxiety about revealing your sexual history and behaviour to a stranger is understandable, but doctors assured it is necessary to ensure a patient's safety. 
Dr Shilla also said that when a patient seeks her expertise on the morning-after pill, she uses this opportunity to "give advice" about long-term contraception and prevention of sexually transmitted disease. 
Such advice can only be offered on the basis of a patient's sexual and social history. 
"As physicians, we do not judge or make any assumptions about our patients. However, as part of the consultation for patients who seek contraception, a detailed medical history is mandatory to determine which contraception is appropriate and safe for the woman," said Dr Wan.
Listen to the Womankind podcast:
"The advice is strictly medical," said Dr Wan. "And we do not otherwise counsel patients on lifestyle choices."
Ultimately, a doctor's consultation is necessary – even for emergency contraception – because "inappropriate medications could expose (patients) to unknown and serious health risks", she said. 
THE FUTURE OF CONTRACEPTION 
Today, telehealth advancements have made it possible for women to save a physical trip to the doctor's. 
Book a virtual appointment with a doctor via online platforms such as Doctor Anywhere, Ease, White Coat and Zoey, and you can get your Plan B delivered directly to your doorstep. 
Regular consults with your doctor also ensure you stay updated on the forms of reproductive health tech available to you. 
One example is Mirena, an intrauterine contraceptive device (IUD) that is said to be 98 per cent effective in preventing pregnancy and can last up to seven years before needing to be replaced.
Other options include an 86 per cent-effective vaginal gel applied an hour before sex, and oral contraceptive pills with newer-generation hormones that reduce side effects, said Dr Wan. 
"There are other advancements to look forward to, but these methods are undergoing preliminary trials or awaiting approval from the United States Food and Drug Administration," Dr Wan said.
Among them are a hormone-free intrauterine device and a hormone-free "vaginal capsule that thickens the mucus in the vagina, thus interfering with sperm transportation".
Contraceptive solutions for men are also being devised, said the expert. 
One is a gel that men can apply on their chest or shoulders daily to prevent sperm production. Another is an oral non-hormonal pill that men can take daily to reduce sperm count, with no observable side effects or delay in return of fertility later. 
But ultimately, the efficacy of such advancements relies on women taking charge of their reproductive health, a lack of which can have dire impact on society, including, Rohit pointed out, the proliferation of single parents and the rise of sexually transmitted infection. 
According to a recent survey of women in Asia Pacific by Roche Diagnostics, culture or stigma (72 per cent) and familial obligations (75 per cent) were the top reasons women said prevented them from receiving better fertility-related healthcare.
"(This reinforces) the notion that despite advancements in the role of women in society, cultural and societal pressure continues to cause women to deprioritise their health, including reproductive health.
"As such, it is important to recognise the wider societal, cultural and domestic pressures that impact women's health so that more can be done to ensure better health equity for all," said Rohit.
CNA Women is a section on CNA Lifestyle that seeks to inform, empower and inspire the modern woman. If you have women-related news, issues and ideas to share with us, email CNAWomen [at] mediacorp.com.sg.