Ratianah Tahir wants to bring back our 'romance' with the kebaya: 'We have to uphold our roots'
The Kampong Glam kebaya maker tells CNA Women how authenticity, adaptability and a passion for learning are fuelling her mission to help people reconnect with their fashion roots. 
Stepping into Kebaya By Ratianah on Bussorah Street feels like travelling back to 1950s Singapore, with its vintage furniture and the dulcet tones of P Ramlee and Saloma playing in the background. And with the store packed with racks and racks of colourful baju kurung and kebaya in every style imaginable, it is also a maximalist's dream. 
The store, which stretches across three retail spaces along the iconic pedestrianised street in Kampong Glam, is run by 51-year-old Ratianah Tahir, with the help of her husband and daughter. 
When I visited her one rainy Monday afternoon, Ratianah was watching a video on her phone of local singer Aisyah Aziz posing in an outfit from her boutique. 
"You see how she styled it – so creative! It's okay, lah, let the youngsters have fun," she told me. 
It's not uncommon for stars to be seen on social media modelling Ratianah's creations. She is a familiar face on the entertainment circuit, regularly sponsoring variety shows like the upcoming Salam Lebaran airing on Hari Raya. She was also the main costume sponsor for Bunga Tanjong, an award-winning Malay drama about women in the 1950s that starred actresses like Nurul Aini and Sheiryn Aisiqa. 
Ratianah said she hopes to "bring back people's romance with the kebaya", a romance she feels has been lost to modernisation and the Arabisation of Malay culture.
"Do you remember your grandma, mother and aunty wearing baju kurung? They all wore baju kurung and kebaya. And it wasn't just the Malays or Chinese – Indians and Eurasians wore them, too.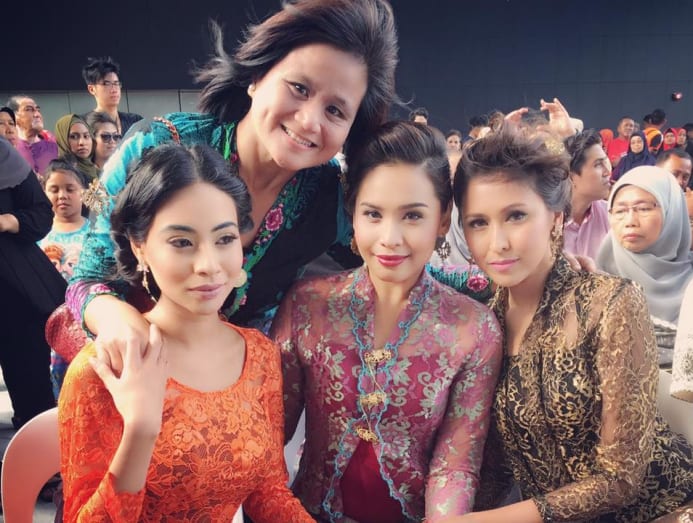 "It's a Nusantara (a Javanese term that describes the Malay archipelago) icon – not just in Singapore, but also in Malaysia, Indonesia and Thailand. We all shared the same love for the kebaya and baju kurung. This is what I am focused on," she said. 
BRINGING BACK THE ROMANCE
And what does it take to restore the allure of classical fashions? There are several things to keep in mind. 
"The baju kurung and baju kebaya have lasted for more than 100 years. You can make changes, but the look must always be fancy, not frumpy. You must hold on to the elegance, starting from the fabric, cutting and sewing to the extra details such as embroidery and choice of colours.
"The quality of the fabric is important. People back then were very refined in their fabric choices – it was always fabrics made of natural fibres like cotton or Swiss rubiah," said Ratianah, who has more than 30 years of sewing experience. 
When you wear a kebaya, no matter what size you are, it has to look elegant on you. It should fall nicely on your body
At her boutique, Ratianah also wants to restore the habit of personalised tailoring. 
"There's a lot of passion that goes into kebaya making. It's a labour of love. Back then, you knew your tailor, but now, with mass-produced clothes, you don't. 
"I'm very particular about tailoring. When you wear a kebaya, no matter what size you are, it has to look elegant on you. It should fall nicely on your body," she said.
Ratianah's boutique is packed to the brim, not counting the racks and mannequins set up outside on the paved, palm-tree lined street. I wondered how long it all took to create. 
"A piece without any 'sulam' (Malay for embroidery) might take a week. Others can take months," she said, pointing to her own outfit – a watercolour-print kebaya top outlined by elaborate filigree lacework (or kerawang) and paired with a batik sarong with a fish-scale motif.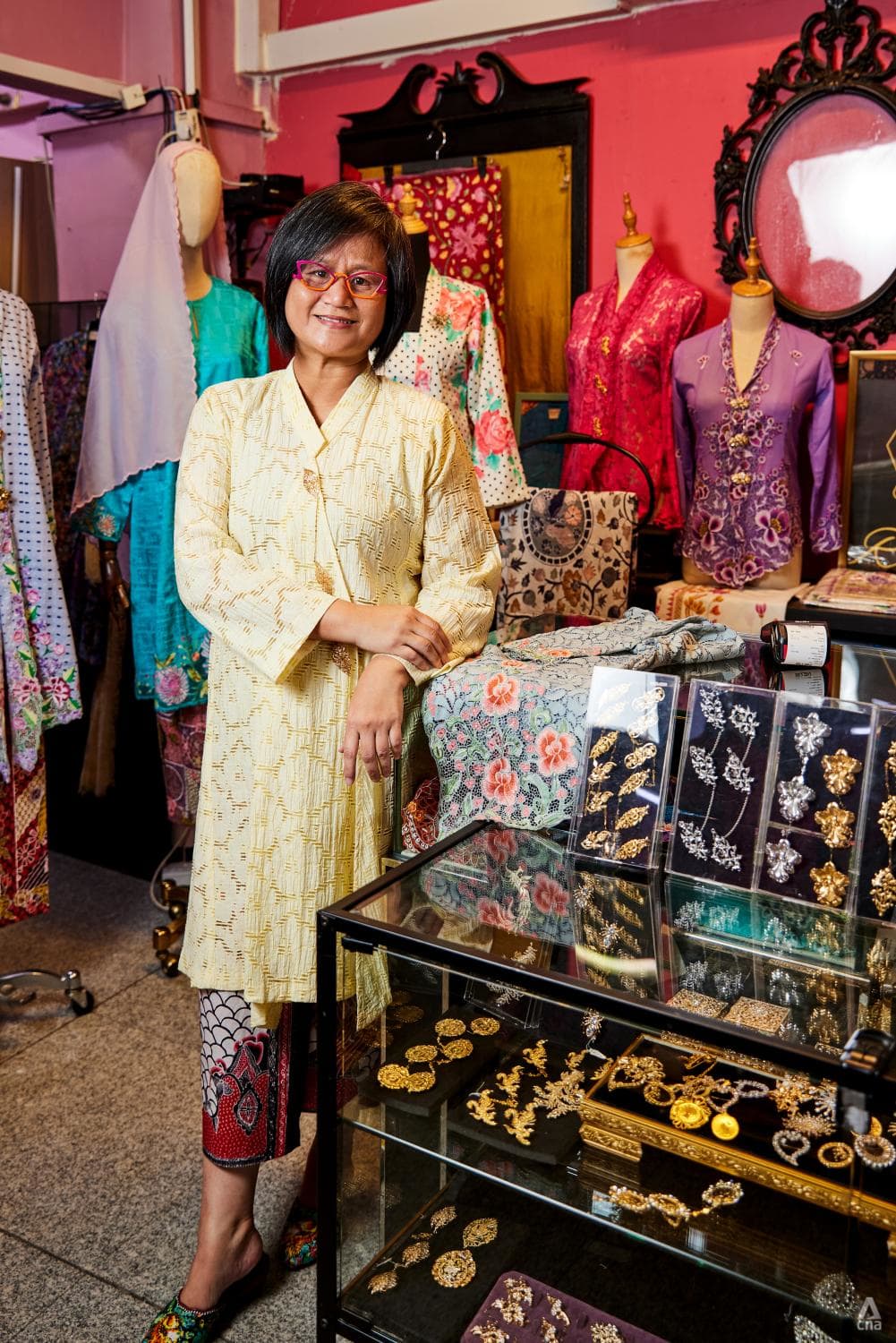 After more than two decades in business, Ratianah doesn't do much of her own sewing anymore. Instead, she hires seamstresses from across the region. 
"Embroidery in Singapore is very expensive and you also have to find people who understand your style and design. My employees have worked with me for very long – more than 10 years," she told me. 
EMBRACING CHANGE
Ratianah may be in the business of preservation, but she credits most of her success to her ability to evolve. 
She quit her job as a sales coordinator in 1993 so she could care for her newborn daughter, Putri. It was during this time that she began to dream about having her own business. 
"I quit my job because I couldn't bear to leave Putri at home. But when you're at home, you have time – it's not like now when everyone is so busy," she said.
"I wanted to make full use of the time I had. Being a stay-home mum doesn't mean you only do the housework and take care of the children. You have to try and gain knowledge," she added. 
The homemaker had picked up sewing from an old neighbour as a young girl. When Putri was born, she began to take her learning more seriously, taking classes and becoming an apprentice to her sister-in-law and late mother-in-law, who were skilled at sewing traditional clothes. She also sought inspiration from crafting books. 
"At the time, there was no Internet. I brought Putri to the library and while she was browsing children's books, I would go to the arts and crafts section," she said. 
At her husband's encouragement, Ratianah started participating in flea markets before opening her first brick-and-mortar shop selling baju kurung and accessories on Bali Lane in 2005. The store then shifted to Kandahar Street before settling into Bussorah Street, where it has been for the past decade. 
A progressive woman, Ratianah told me, is one who "never stops educating herself". 
"Never stop learning new things. Adapt to the environment. If you need to help your husband's economy, go and help. If you're not married, help yourself. Never stop being hungry for knowledge," she said. 
As an entrepreneur, authenticity is key, Ratianah said.
"You don't sell something simply because you want to make money. You must learn to sell genuinely, that is, you want to help your customer meet a need. And be honest. If it's not nice, tell them it's not nice. 
"Try to be kind. If someone is grumpy, don't judge them straight away. Perhaps they were having a bad day," she said, adding that while designs can be copied by her competitors, "service, you cannot copy". 
You don't sell something simply because you want to make money. You must learn to sell genuinely, that is, you want to help your customer meet a need
"Most of my customers have become my friends. I'm very blessed. They always support me – it doesn't matter if they buy something small or big," she said. 
Being in business also means that one has to be open to evolving. She told me how she set up a stall at a market in Hougang many years ago, selling traditional Malay outfits and accessories. The district being predominantly Chinese, they didn't manage to sell anything at first. 
Ratianah and her husband Hassan Amin, a former offshore engineer who plays an active role in the business, said they "had a mission – to earn the minimum to cover the rent". 
"We couldn't sell our clothes there so we changed the concept after seeing that many of the visitors were children. We went to a wholesale store and bought toys, coloured pencils and stickers. Within one week, we broke even," she said. 
That was one of the first in many lessons about catering to the market. 
At their Kandahar Street shop, the couple had an in-house cafe set up selling coffee and even food like pasta. They did away with the concept in their current outlet. 
"It was a bit ahead of its time. People were not yet buying coffee at S$8. They were still drinking teh sarbat," Ratianah said, adding that "to do business, you cannot be 'shiok sendiri' (self-absorbed)". 
The most recent example of Ratianah's ability to be nimble with her business was the pandemic. With few to no walk-in customers, she started making batik face masks to sell. The masks alone sustained the business for six months, she said. 
LEAVING BEHIND A LEGACY
Ratianah hopes that her work will inspire younger generations to carry on the baju kurung and kebaya tradition. 
"No matter how fashion goes, we have to uphold our roots. I have to stop the young from having a perception that (the baju kurung and kebaya) are outdated. I have to teach them how to appreciate quality in their clothes," she said. 
So far, Ratianah has been successful. It's not only artistes who model her clothes on social media. Her younger customers – many in their 20s – often share photos of their outfits that she then posts on her Facebook and Instagram accounts. Plenty of these photos are from couples who wear Ratianah's creations for their wedding photo shoots. 
Her own daughter, Putri, is probably the biggest fan of her work. The couple told me she has been helping them since she was 12. Now 29 and a Singapore Institute of Management graduate, she works at the store full-time. 
"After graduating, she didn't want to find another job. She feels like it's a part of her. My business is not just a trading business – it's about creating. It's a brand," said Ratianah. 
CNA Women is a section on CNA Lifestyle that seeks to inform, empower and inspire the modern woman. If you have women-related news, issues and ideas to share with us, email CNAWomen [at] mediacorp.com.sg.