Rebecca Lim on her wedding date and The Dress – and what she's looking forward to in her marriage
Even with nothing very much finalised yet, actress Rebecca Lim is a super chill bride-to-be (although her fiance is predicting she will turn into Bridezilla closer to the wedding day). What's 100 per cent certain though: Rebecca Lim can't wait to get married and start a new chapter in her life.
In partnership with Goldheart.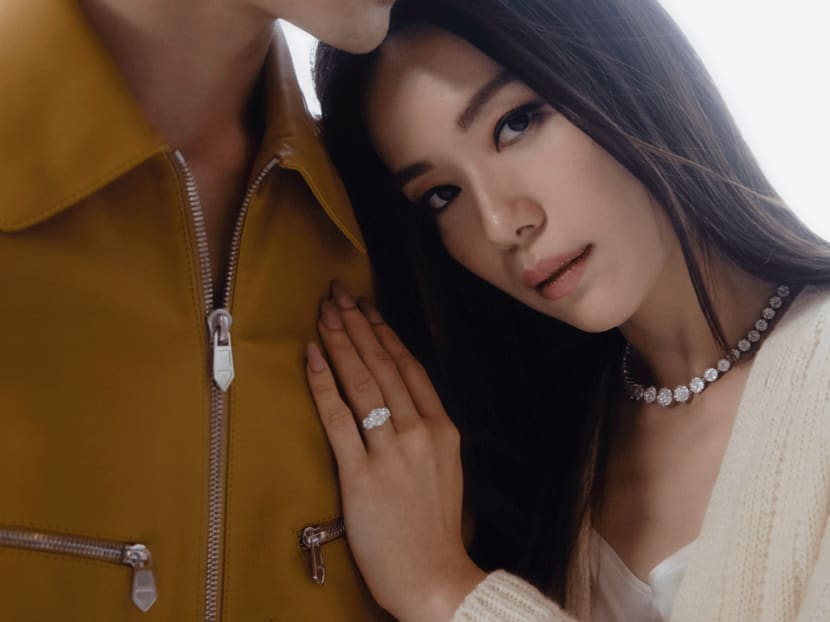 Rebecca Lim is very much in love. It clearly shows and it's the most adorable thing. Truly.
In fact, throughout our short but fruitful 30-minute chat, she lights up each time she mentions her fiance's name, talks about the things he does for her or just thinks about their future together.
By now, everyone knows that the Mediacorp actress is preparing for one of the biggest days of her life – and no, we're not talking about the All-Time Favourite Artiste award at next year's Star Awards.
It's her upcoming wedding to Matthew Webster – previous news reports revealed that he is 36 years old and the assistant vice-president of corporate branding at PSA Singapore.
REBECCA LIM'S WEDDING PLANNING SO FAR
When CNA Women interviewed her in July, she did not have an exact wedding date to share yet, although she does know that it'll happen sometime this year. "Hopefully within the year, because both of us are tigers, so we are hoping to do it by the Tiger year." This year is the Chinese Year of the Tiger.
I try to ask more about her wedding plans, but Lim apologises that she hasn't managed to get down to planning anything due to her work commitments. At the time of the interview, she was filming Third Rail, an English drama slated to air later this year.
"I haven't really had time to sit down and plan ... Every single day, I'm out of the house by six in the morning, filming till sometimes two the next morning.
"And the next day, we start again. I've barely had any time to sleep," the 36-year-old actress lamented. "Proper wedding planning will start once I've wrapped with this drama."
Matthew's sort of predicting that I'll eventually become a Bridezilla. But for now, I'm super chill.
One thing that she has ticked off her to-do list is to hire a wedding planner. "I'm getting Lelian (Chew) of The Wedding Atelier. She's very experienced in that area, and we're kind of on the same page for the wedding.
"I actually don't feel that stressed over the wedding because I know that most of the things will be taken care of, like my hair and makeup. As long as I've gotten that settled, that to me is a really huge relief."
Sure sounds like Lim is a very chill bride – no Bridezilla vibes here. "Matthew's sort of predicting that I'll eventually become a Bridezilla. But for now, I'm super chill. A bit too chill, actually, because my wedding planner and even Shaun and Dexter are getting a little worried for me," she laughed. Makeup artist Shaun Lee and hairstylist Dexter Ng are part of Lim's go-to glam crew for photo shoots.
"They keep telling me, 'Not much time left'. But I don't know, maybe it's because I feel secure in knowing that there are people looking out for me. I don't feel that stressed as of now.
"The main thing I really do have to start cracking my brains over is the guest list."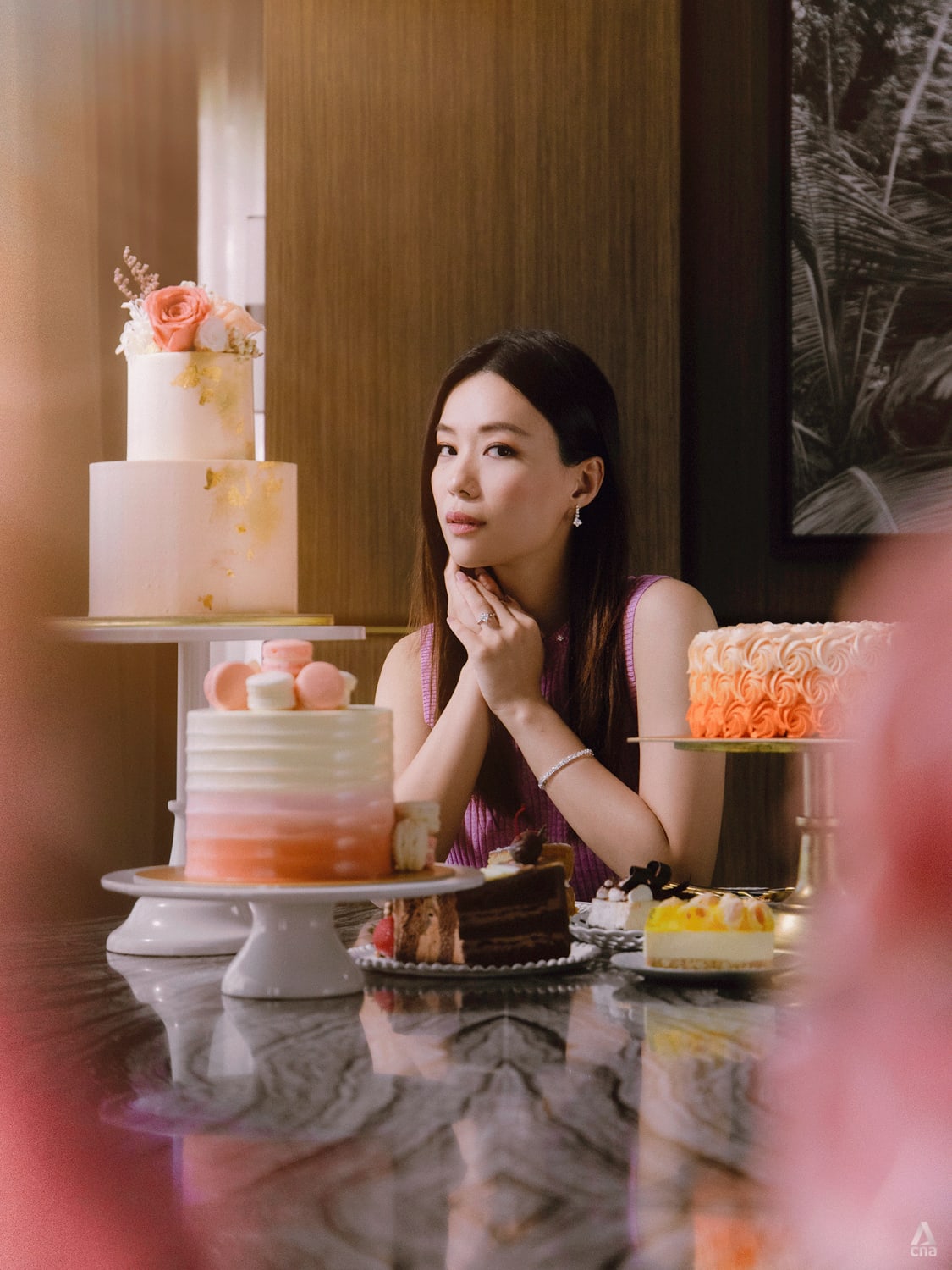 So how big will the wedding be?
"Both my siblings got married before me and both had very intimate weddings. It was wedding ceremonies where I knew every single guest. The ideal wedding really – to be surrounded by friends and people who are genuinely happy for you.
"I would love to have a small intimate wedding, but my family is super huge. Just family and very close family friends alone add up to a total 107 people. So, a small wedding won't be possible."
THE BIG DAY
And even though Lim doesn't have firm details on what will happen on the actual day, she does have in mind what she envisions for it.
For example, she says she'll do a "guo da li", for sure. "Guo da li" is a Chinese wedding custom where the groom delivers wedding gifts to the bride's family, to show his gratitude and sincerity. The bride's family shows their acceptance of the groom by accepting his gifts. 
There will be no wedding gatecrash, however – that Chinese wedding tradition where the groom and groomsmen are expected to perform tasks planned by the bridesmaids before they are allowed in to see the bride. 
"I've been bridesmaid several times, and each time, I've felt very awkward. So it's always been a 'Note to self: Okay, if I ever do get married, I don't want a gatecrash'. Besides, all my friends are mothers of two or three kids, and they've told me that they don't think they'll have the energy to do anything like that."
Lim added that as much fun as people have at these gatecrash events, she feels bad for the groom. "The groom always comes to pick up the bride all sweaty or has lipstick all over this face. Not a good look."  
Another thing that she's hoping for is to complete the ceremony and dinner on the same day. "Definitely not starting early in the morning because it might feel a bit like work, if you know what I mean," she laughed.
"So maybe from the afternoon to the evening, hopefully everything on the same day and at one location. A lot of my relatives are coming and there will be quite a few elderly, so I don't want them to travel from the church to the dinner. I'm hoping to keep it simple for everyone.
I would love to have a small intimate wedding, but my family is super huge.
"I would love to have a wedding in a cathedral, one with beautiful stained glass windows and all that, but it's okay. We'll have a pastor come in to officiate the wedding instead. I think it's the people around that makes it more important than the background."
And while Lim says that this is just her wishlist, there's one thing she is certain of: Her husband-to-be won't be seeing her in her wedding gown prior to the big day.
SAYING YES TO THE DRESS
Like every other bride-to-be, I wonder if Lim struggled to find the wedding gown. In fact, was it harder given that she has been donning wedding gowns for dramas and photo shoots over the years?
"I actually have a dream gown in mind. I went for one fitting, tried on that gown, and it was lovely. Then I said, maybe let me try something that's totally unexpected, and it was lovely as well."
I think everyone is just relieved and very happy that I've found a really good man.
While Lim has remained tight-lipped over how the gown looks, she does share that she wants the final look to be timeless.
"It'll definitely be all white. Something simple and classic; one that I know when I look back on with my grandchildren, I won't be embarrassed by my choice of the day. Something elegant, classic, simple."
I hazard a guess that the dress would possibly be one that is more fitted to her slim silhouette rather than a big princess-y poufy gown. She nods in agreement, but then cheekily teased: "But then again, when would I ever get another chance to wear a princess-y gown right? You'd never know. Never say never."
"I'VE NEVER REALLY DARED TO DREAM ABOUT MY WEDDING"
For someone who says that she hasn't planned anything for her wedding, it sure sounds like Lim might have been dreaming of this momentous occasion since she was a little girl. But she says emphatically that she has never been that girl.
"I've never really dared to dream about my wedding. Even my mum was very relieved that I was going to get married. She actually told me, 'I thought you'd be living with your grandma forever'."
Even Lim's long-time makeup artist, turned good friend, Shaun Lee, said he was resigned to seeing her during Chinese New Year reunion meals even when she's 50 if she hadn't met Webster. 
"I actually managed to siam (meaning avoid in Hokkien) the 'When will you be getting married' questions for several years. But now that my brother has two kids and my sister has her own business, I think the attention slowly shifted back to me.
"And it didn't help that last year two of my younger cousins, who are like 10 years younger than me, also got engaged. So I think it made my mum go, 'Hey what about my middle child?'
"I think everyone is just relieved and very happy that I've found a really good man," she quipped.
And that includes her closest girlfriends, who are thinking of planning a huge birthday to celebrate Lim's last one as a single woman. "They've been waiting. In fact, they keep telling me, 'You're always late to the game'. But I told them, 'Better late than never right?'"
And of course, no one is happier about the match than her mum.
He's the piece I've always yearned for. Both the piece and the peace that completes me.
When the parents met – her own and her future in-laws – over a meal that her older brother, Daniel, whipped up, her mum was so happy, said Lim. "It was very nice. I think it was the day my mum has been waiting for. She got emotional through the night several times, let's just say."
HONEYMOON PLANS
And what's a wedding without a honeymoon, right? For someone who has also travelled extensively for work, and to some of the nicest places too, have the lovebirds settled on a honeymoon destination?
"I've applied to take two weeks off for the wedding, that's the most I can spare with work. I would love to take a month off to go relax somewhere, get a massage every day, but sadly, I don't think that would be possible. Not now at least."
As for destinations, like their wedding plans, nothing has been finalised. Lim says it's partly because her destination choices keep changing.
In the running, thus far, are Goa and Switzerland.
The former is thanks to Webster's friend who will be getting married there, which the couple is slated to attend. The latter, on the other hand, is because Lim went there several years ago for a wedding shoot – what kismet – and would love to re-visit.
"It's such a beautiful country, but unfortunately I really didn't have time to enjoy it. And because we were travelling so much on the bus to the different shoot locations, I had motion sickness several times. So I couldn't really appreciate the beauty of the country."
Sometimes when I answer these interview questions about him, I still get goosebumps. My hair stands quite a bit because it just feels strange that I'm sharing about someone else, which has never been the case.
But one thing she is adamant about is that it won't be a beach destination. "The beach has never been my thing. Unless, it's a really nice resort where I can space out, but not be under the sun."
BECOMING MRS WEBSTER
Seeing Lim radiate so much happiness during the interview, I can't help but ask how excited she is to be Mrs Webster.
The question tickles her and she bursts into laughter. "Very excited actually."
After a short pause, she adds: "He'd better be excited too," before dissolving into more laughter.
"Honestly, it really sounds a bit weird to be talking about someone else during an interview. It used to be always about me, my work, my next project, and now no one wants to ask about me anymore," she lamented jokingly.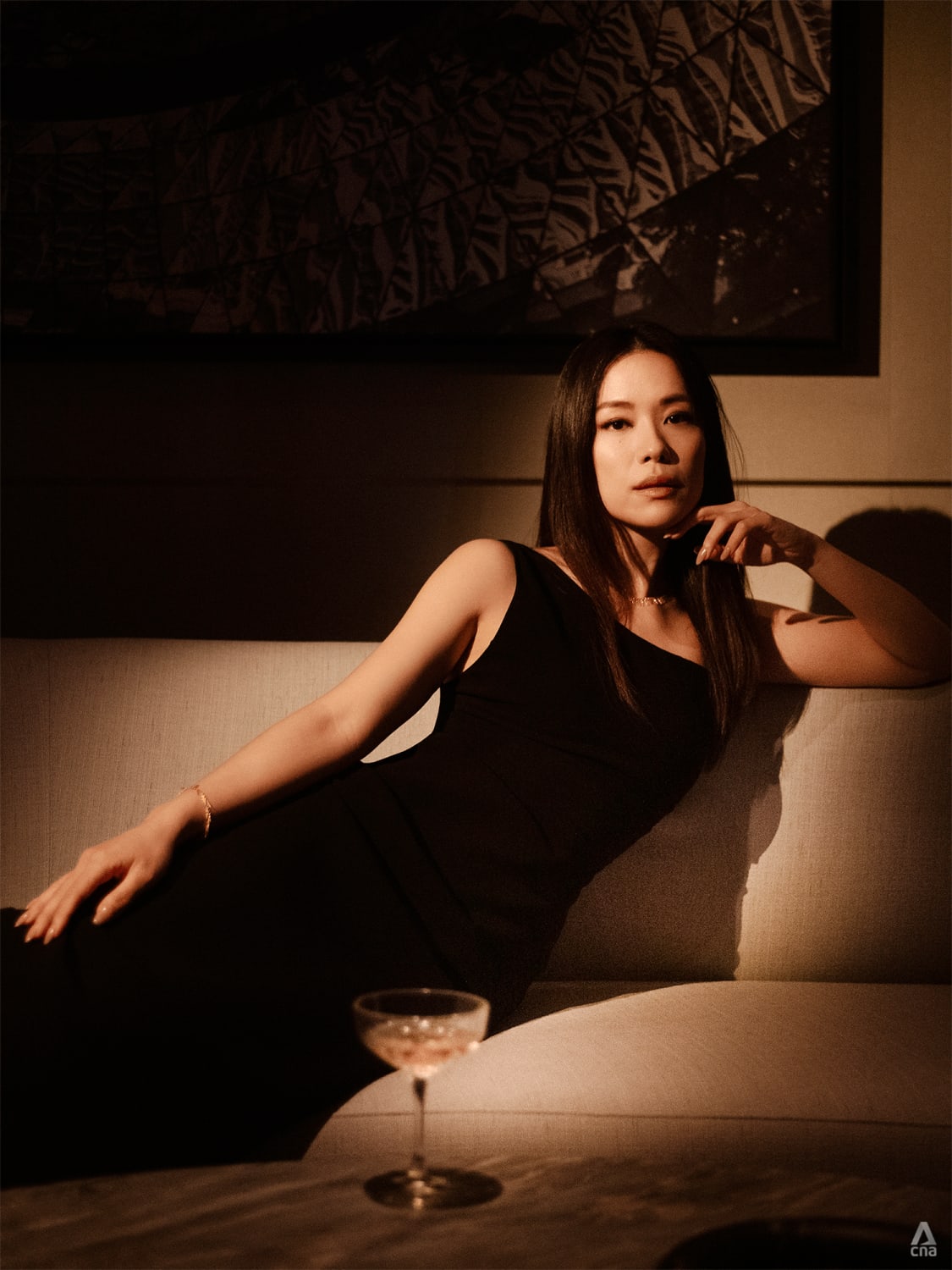 "Sometimes when I answer these interview questions about him, I still get goosebumps. My hair stands quite a bit because it just feels strange that I'm sharing about someone else, which has never been the case. But I think this excitement is a good sign, that it's meant to be."
And how is her fiance coping with the newfound public interest in him?
"I think he's very cool about it because he's very secure about who he is. He's not bothered about the opinions of people who don't know him. But he is very heartened that people feel so happy for us."
THE NEXT CHAPTER
They say that the wedding is just a day, but a marriage is a lifetime, and Lim agrees wholeheartedly. It's also why she is looking forward to building a life together with Webster.
"That's something that I'm really looking forward to because I've found a cheerleader for life. The future is a lot more exciting when you've found the right one."
Is she happy to be leaving singlehood behind then?
"I don't really have a distinct emotion about it. Definitely happy, but I've never really thought of it like it's a clear-cut end of one phase of my life. But I am very excited about the next chapter."
A chapter that includes even doing nothing together. "It's that comfortable silence of being together but not necessarily having to do much. It's the comfort in silence and the warmth in silence; that's what I have with him.
"He's the piece I've always yearned for. Both the piece and the peace that completes me."
Singaporean actress Rebecca Lim is preparing for one the biggest days of her life – her upcoming wedding to fiance Matthew Webster. Meanwhile, here's a short wedding-inspired film with Lim, done in partnership with Goldheart.
Special thanks to Fairmont Singapore. Editor: Penelope Chan; Photography: Reuben Foong; Art: Chern Ling, Jasper Loh; Styling: Tok Wei Lun; Styling Assistant: Kevin Tew; Hair: Dexter Ng; Make-up: Shaun Lee; Manicurist: Rebecca Chuang/@theflutterytips; Model: Hasan/Mannequin
CNA Women is a section on CNA Lifestyle that seeks to inform, empower and inspire the modern woman. If you have women-related news, issues and ideas to share with us, email CNAWomen [at] mediacorp.com.sg.