The social service advocate lifting up at-risk children, families and women
In the fourth of our National Day series paying tribute to the can-do spirit of Singapore women, CNA Lifestyle speaks to Saleemah Ismail of New Life Stories and Aidha.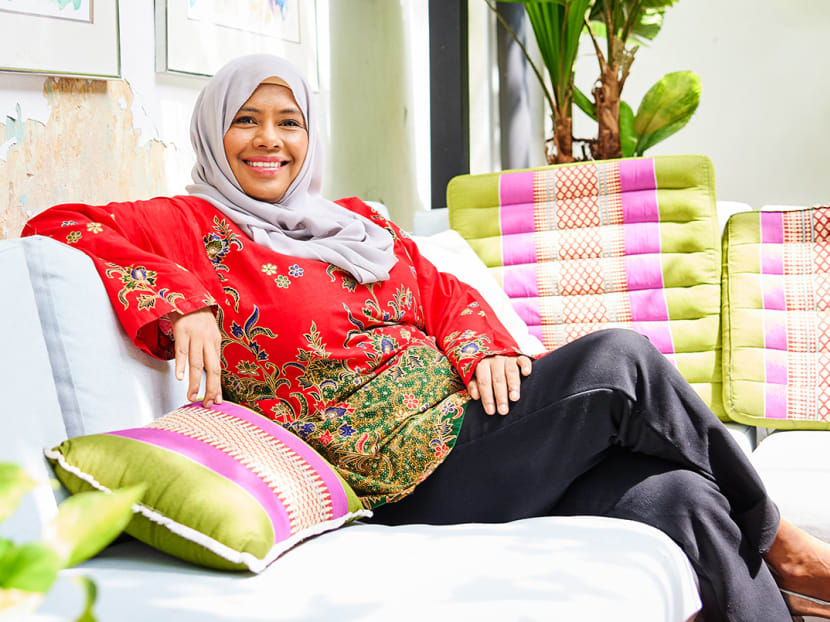 There's no denying that the COVID-19 pandemic has affected our lives negatively, whether it's due to cabin fever from social and travel restrictions, job and economic insecurity, anxiety over our mental, physical and financial health, and that of our loved ones, not to mention the challenges of working or learning from home.
But the impact has been felt most keenly by the most disadvantaged segments of society.
"It has been very challenging for many of our families who live in small flats with many family members. The living room is also the study room, play room, dining room and bedroom for the children," observed Saleemah Ismail, founder and executive director of New Life Stories (NLS).
"It is difficult telling a three- or five-year-old to be quiet while their older siblings are having home-based learning. It is difficult to tell the adults that after a hard day's work they can't watch TV late into the night because the children need to sleep on the folded mattresses," she added.
HELPING DISADVANTAGED KIDS AND THEIR FAMILIES
Founded in 2014, non-profit organisation NLS provides children of incarcerated parents with essential reading and pro-social skills to give them a fairer start in school. Customised in-prison programmes prepare these parents for their release and successful reintegration back into society.
NLS also offers tailored individual counselling and/or family therapy through activities and games, to facilitate family strengthening.
"When you throw broken relationships, wounds from past trauma, fear of job loss and fear of the unknown future into this mix, we get a home environment that is not healthy for children and adults," said the 52-year-old, who grew up witnessing suicide, domestic violence, gang fights and drug abuse from the kitchen window of the Circuit Road HDB flat she grew up in.
Add pandemic restrictions into the mix and the situation has the potential to become explosive.
Saleemah says these families aren't properly equipped with computers and Wi-fi connections, making home-based learning difficult for the children. And access to the NLS' befriending and counselling sessions also became challenging when these had to move online.
The families were overwhelmed.
Saleemah and her NLS team sprang into action immediately, contacting agencies such as Engineering Good and the Red Cross to provide laptops to families that needed them. "We also got in touch with the Infocomm Media Development Authority to reach out to our families with unstable Wi-fi connection before the circuit breaker last year," she added.
To help keep their beneficiaries' kids engaged and entertained at home, NLS prepared activity packs containing plant-growing kits, care packs, DIY coin banks, and worked with other agencies and schools such as Youth Corps Singapore, the Singapore Management University and Raffles Institution to engage the children with coding workshops, arts programmes and math tuition.
HELPING LOW-INCOME WOMEN AND FOREIGN DOMESTIC WORKERS
Saleemah's heart for the poor extends beyond families. She co-founded Aidha in 2006, which runs financial management, communications, computer and entrepreneurship courses for foreign domestic workers and lower-income women in Singapore to help them achieve economic independence.
It also organises free social and wellness activities for foreign domestic workers, such as potluck lunches, yoga and Zumba classes, skills workshops, and health checks and information sessions, and has a business accelerator programme providing domestic helpers returning to their home countries with resources, capital and advice from mentors.
But from February 2020 onwards, all in-person classes were suspended due to rising COVID-19 concerns, leaving over 400 students in limbo.
Aidha quickly responded by conducting its first pilot online sessions just a month later, offering Zoom training to students and mentors, and adapting its core curriculum. By Jun 30 that year, Aidha was providing 30 online sessions involving 514 participants, including two mental health courses and one on dealing with debt.
"An added advantage was that the classes can now reach women outside of Singapore too," Saleemah said.
HER LIFE'S PURPOSE
Her passion for championing diversity, inclusion and social mobility for at-risk communities came about in 2000, when a close friend confided to Saleemah that she had been raped as a teen.
This led her to resolve to do what she could to support and help women so she wrote in to several non-governmental organisations to offer her services as a volunteer. She ended up working full-time at UNIFEM (now UN Women) and at the United Nations Development Programme in Asia and South America for over 15 years, even serving terms as President and Vice-President of UN Women Singapore.
Saleemah also serves on several non-profit boards and committees in Singapore and the region including Hope Villages, a community development project to alleviate poverty in Cambodia, and AWWA, a social agency serving persons across life-stages from early intervention and disability support to social assistance.
She wakes up before sunrise every day to meditate, pray and set her intention "to be an active part of the society's collective effort to achieve this purpose".
And then it's on to work.
"I love having conversations and hearing people's personal stories. Every part of my day is like a jigsaw piece that when put together, forms a larger picture," said Saleemah. "And the larger picture is social change and mobility for the families living in vulnerable environments."
Through her work, children and adults experiencing trauma from adverse childhood experiences such as neglect and abuse can get the support they need, and their quality of life also improves.
"This larger picture is the purpose of my life," she added.
CNA Women is a section on CNA Lifestyle that seeks to inform, empower and inspire the modern woman. If you have women-related news, issues and ideas to share with us, email CNAWomen [at] mediacorp.com.sg.