And Just Like That: All you need to know about the long-awaited Sex And The City reboot
With COVID-19 a part of the upcoming reboot's storyline, I couldn't help but wonder… will Charlotte be baking lockdown banana bread?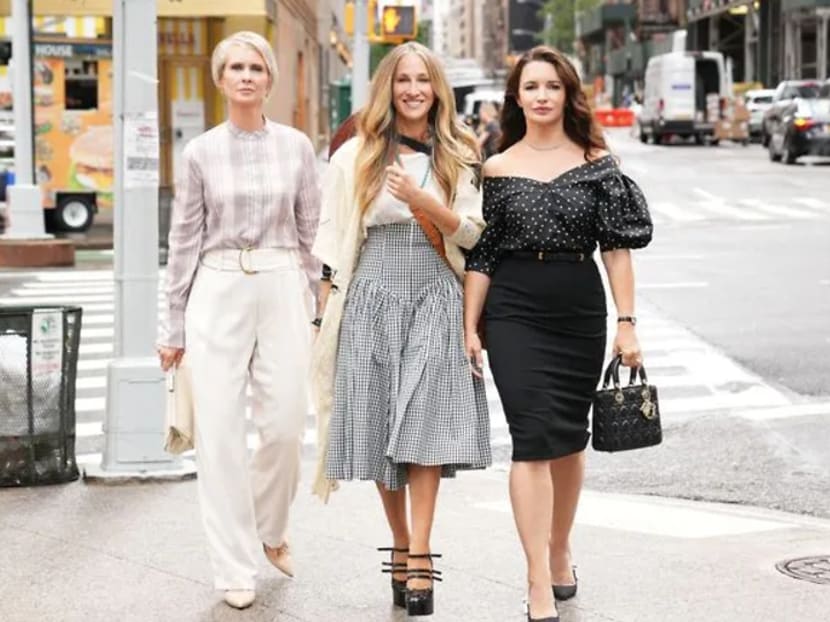 Seventeen years and two feature films since its last episode, iconic TV show Sex And The City is finally returning to the small screen. Filming for the limited TV series And Just Like That started this month and details are pouring in faster than you can say "Dolce, Dolce, Dolce". Here's all you need to know about the long-awaited reboot.
THE CAST
Sarah Jessica Parker returns as main character Carrie Bradshaw and so do Carrie's friends, Miranda Hobbes (played by Cynthia Nixon) and Charlotte York (played by Kristin Davis). 
Their onscreen hubbies Mr Big (Chris Noth), Steve Brady (David Eigenberg) and Harry Goldenblatt (Evan Handler) are also slated to return, as are fabulous nemeses-turned-married-couple Anthony Marentino and Stanford Blatch (played by Mario Cantone and Willie Garson).
Fans of Aidan Shaw, Carrie's hapless furniture designer ex, will be happy to know that John Corbett recently told Page Six he is appearing in "quite a few" episodes.
Some new faces have been announced, including Grey's Anatomy star Sara Ramirez, who will play a character named Che Diaz; English actress Sarita Choudhury as Seema Patel; Nicole Ari Parker as Lisa Todd Wexley and Karen Pittman as Dr Nya Wallace.
Sticking out like a last-season shoe is the absence of Kim Cattrall, who played Samantha Jones, the PR maven whose unabashed advocacy for good sex and good times - whatever your age - made her a '90s feminist icon. 
Cattrall had made it clear she would not be down for anything more to do with Sex And The City, amid high-profile statements about how the cast had "never been friends" and that turning 60 had given her the opportunity to reassess her priorities.
Over the past year, Sarah Jessica Parker has been fielding questions about the possibility of Cattrall's return on her Instagram page, saying to one commenter that although "Samantha isn't part of this story … she will always be part of us no matter where we are or what we do". 
So, what's happening with Samantha in the reboot? Parker recently told TMZ they will not be adding a fourth friend into the girl group. 
"We're not looking to add a fourth character, we already have New York City as a fourth character," she said in a doorstop outside her store SJP by Sarah Jessica Parker. 
HBO Max's chief content officer Casey Bloys also weighed in on the matter in an interview with TV Line, saying that Samantha simply grew apart from her friends. 
"Just as in real life, people come into your life, people leave," he said. "Friendships fade and new friendships start. I think it is all very indicative of the real stages, the actual stages of life."
"They're trying to tell an honest story about being a woman in her 50s in New York. So it should feel somewhat organic and the friends that you have when you're 30, you may not have when you're 50," he added.
THE STORY
Since the reboot was confirmed in January, HBO has only said that it will follow the main cast as they "navigate the reality of life and friendship in their 50s", which is not a lot to go on. 
But Parker revealed a few juicy tidbits in an interview with Vanity Fair, including that the new writers' room, which other than showrunner Michael Patrick King is made up entirely of women, is "incredibly diverse in a really exciting way", with new "life experience, political world views and social world views". 
The actress also revealed that COVID-19 will "obviously be part of the storyline, because that's the city (the characters) live in".
"And how has that changed relationships once friends disappear? I have great faith that the writers are going to examine it all," she said. 
Parker didn't reveal much more, seeing as the interview was done months before the table read, but did say that she and her fellow main cast members were all "excited about the time that has passed".
"You know, who are they in this world now? Have they adapted? What part have they played? Where have they fallen short as women, as friends, and how are they finding their way? Did they move with momentum? Are they like some people who are confused, threatened, nervous (by what's happening in the world)? I'm so curious and excited to see how the writers imagine these women today.
"What is their relationship to social media? What has changed? What is their life like? For Carrie, who doesn't have family beyond her friendships, where is she professionally? How have all these political changes affected her work? Is she still writing a column? Has she written any more books? Or does she have a podcast? What does fashion mean to her now? How have the friendships changed … and has her social circle grown?" Parker told Vanity Fair. 
THE FASHION
Sadly, former Sex And The City costume designer Patricia Field will not be lending her sartorial flair to the reboot due to a "time conflict". In a recent interview with WWD, Field said: "The main reason was a time conflict. I wasn't able to be in New York doing that and be in Paris doing Emily In Paris."
"But I told them to call my very dear friend Molly Rogers, who also worked in my store back in the day. She did Sex And The City with me from start to finish. She knew it so well so she's doing it. My dance card was full."
As they say, friendship never goes out of style, and the show certainly doesn't plan to disappoint in the wardrobe department. 
Teaser photos show Carrie in a vintage checkered skirt by Norma Kamali and - gasp - a pair of Celine tri-buckle Mary Jane pumps. Cue flashback to the iconic scene where Carrie finds a pair of Manolo Blahnik Mary Janes at the Vogue office, which she had thought were "an urban shoe myth". 
In the same photo, Miranda's signature corporate lawyer look is revived with a statement blouse by Altuzarra and Vince belted tapered pants. Finally, Charlotte is ever the Upper East Side princess in a polka-dot off-the-shoulder top by Carolina Herrera, paired with a Dior bag and shoes.
Thirsty for more? You can find references for And Just Like That outfits on the fan-created Instagram page @JustLikeThatCloset, which amassed more than 27,000 followers within a week of inception.
THE RELEASE
The limited series will have 10 half-hour episodes and will air on HBO Max. 
There's no release date yet, but filming has already begun, with snapshots of the process captured on Instagram.
Stay tuned for more info. Meanwhile, feel free to mark the revival with a cheeseburger, large fries and a Cosmopolitan. 
CNA Women is a new section on CNA Lifestyle that seeks to inform, empower and inspire the modern woman. If you have women-related news, issues and ideas to share with us, email CNAWomen [at] mediacorp.com.sg.