Meet Singapore's only Japanese female chef helming a fine dining restaurant
When she was young, Ichigo Ichie's chef Akane Eno wanted to be an art curator. Now, she tells CNA Lifestyle, she's focusing her artistic skills on creating dining experiences for guests.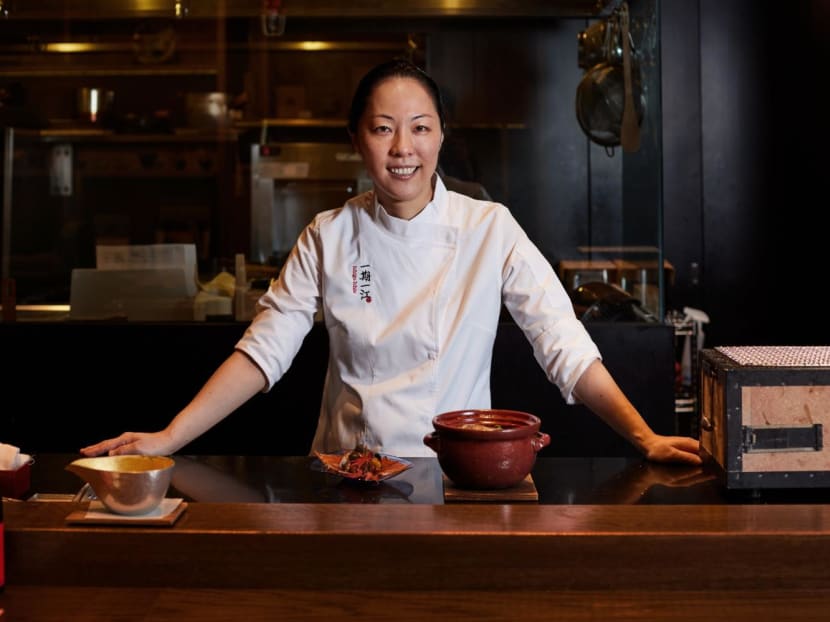 Eleven years ago, finding a female chef behind a sushi counter in Tokyo was unprecedented, much less one who runs her own fine dining restaurant focusing on a specialisation like kappo cuisine.
A little more than a decade later, chef Akane Eno is bucking that trend in Singapore, with Ichigo Ichie – the kappo restaurant she opened in February 2020, right at the start of the pandemic.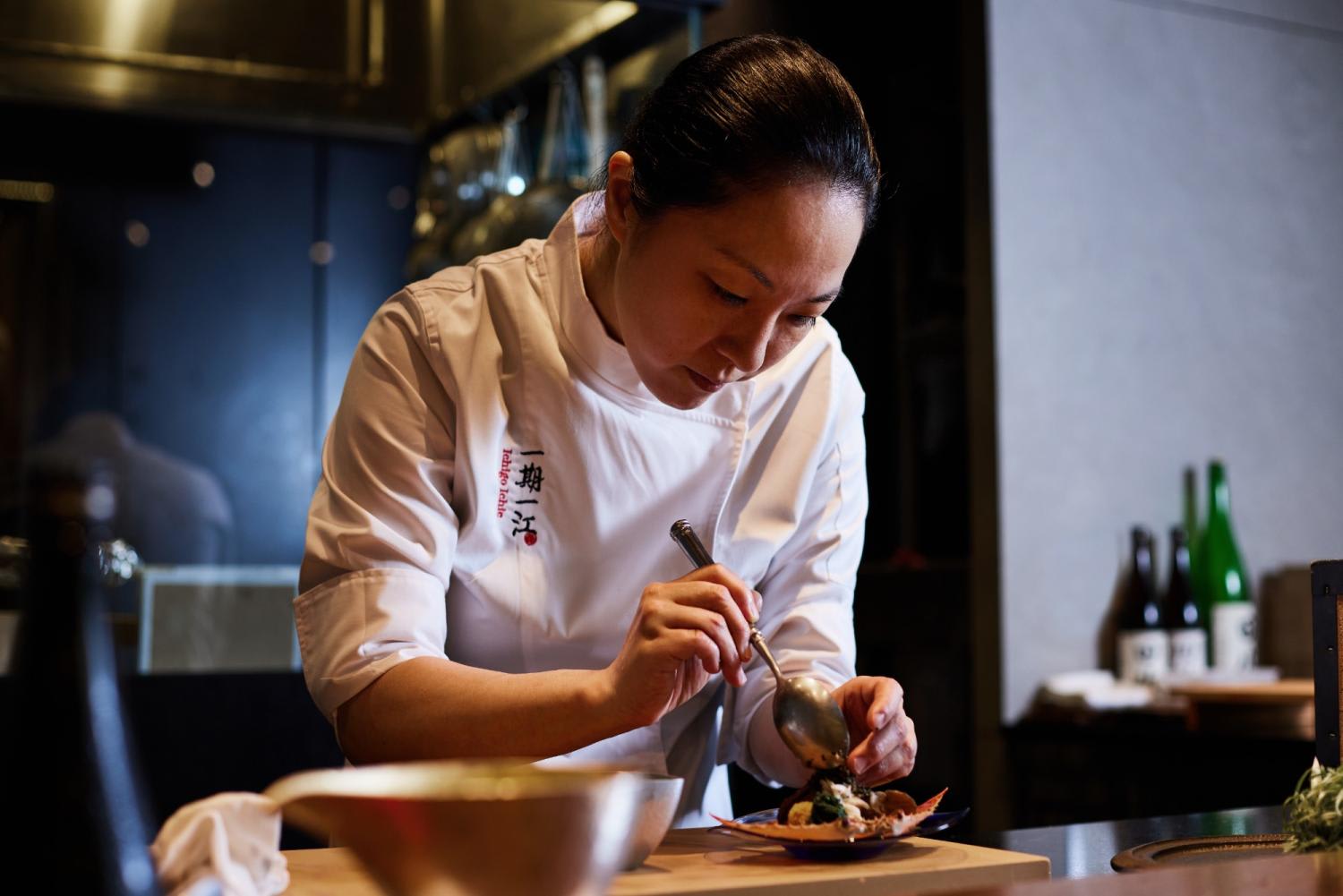 To date, chef Eno is the only female Japanese chef helming a Japanese fine dining restaurant here. Her intimate 16-seater – backed by founders of beef specialist The Gyu Bar and one-Michelin starred Sushi Kimura – is located at InterContinental Robertson Quay.
For the uninitiated, "kappo" is a multi-course meal that is left entirely up to the chef. The term means to cut and to cook, and it is a style that spotlights the chef's preparation of the meal in front of guests who get to savour the entire dining experience with all five senses.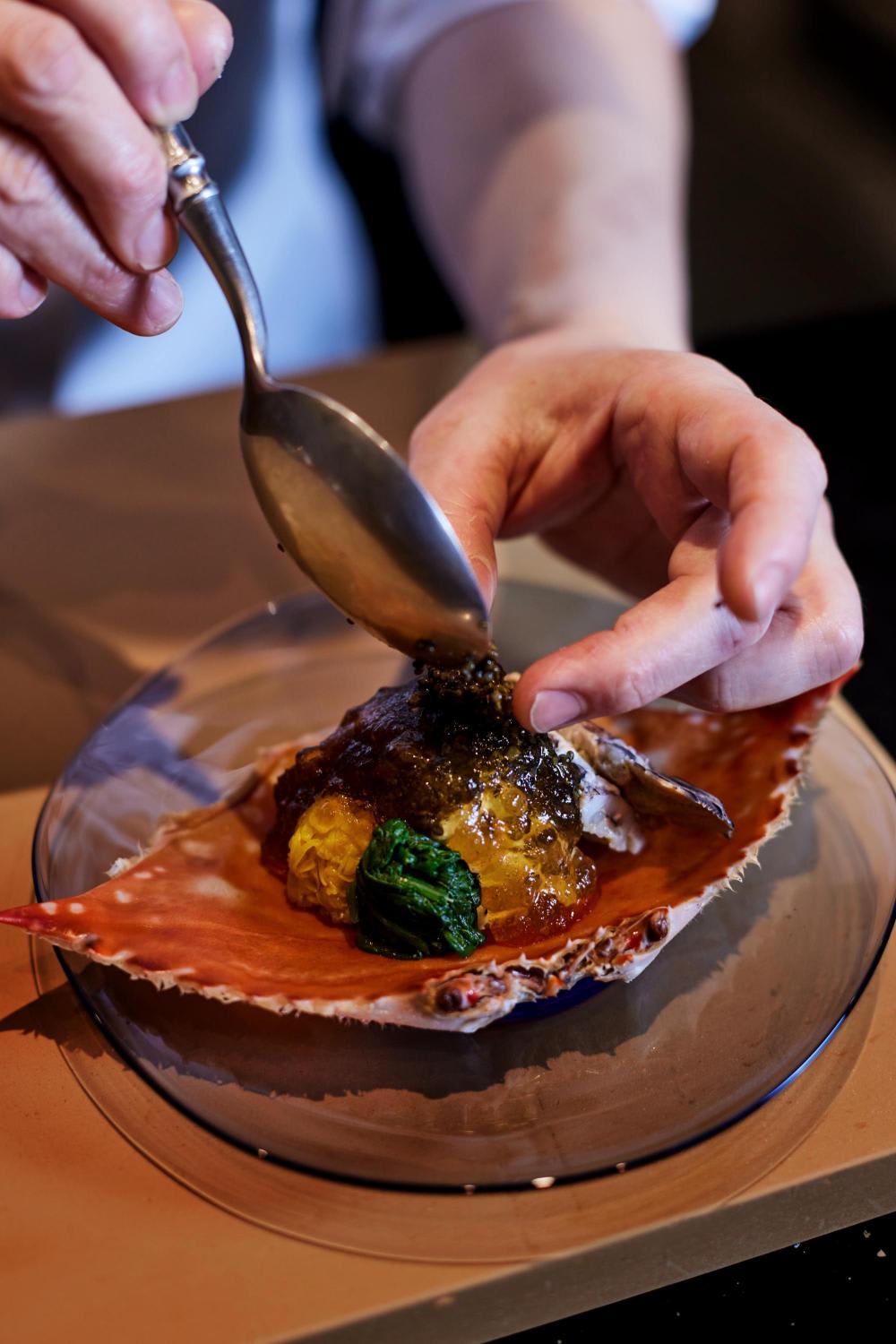 What may be a little bit surprising is that the 43-year-old never even thought about becoming a chef – but an art curator. It was art history she decided to pursue at university, right after high school.
That said, the soft-spoken and self-professed avid foodie told CNA Lifestyle that she always considered cooking as an art. Growing up in Tokyo, she dined out frequently and was always curious about how ingredients were sculpted into her favourite dishes.
During her formative years, meals at steakhouses and French restaurants were family favourites for special occasions. "My mother cooked Japanese food at home, so my parents and I enjoyed exploring flavours from other cultures," she reminisced.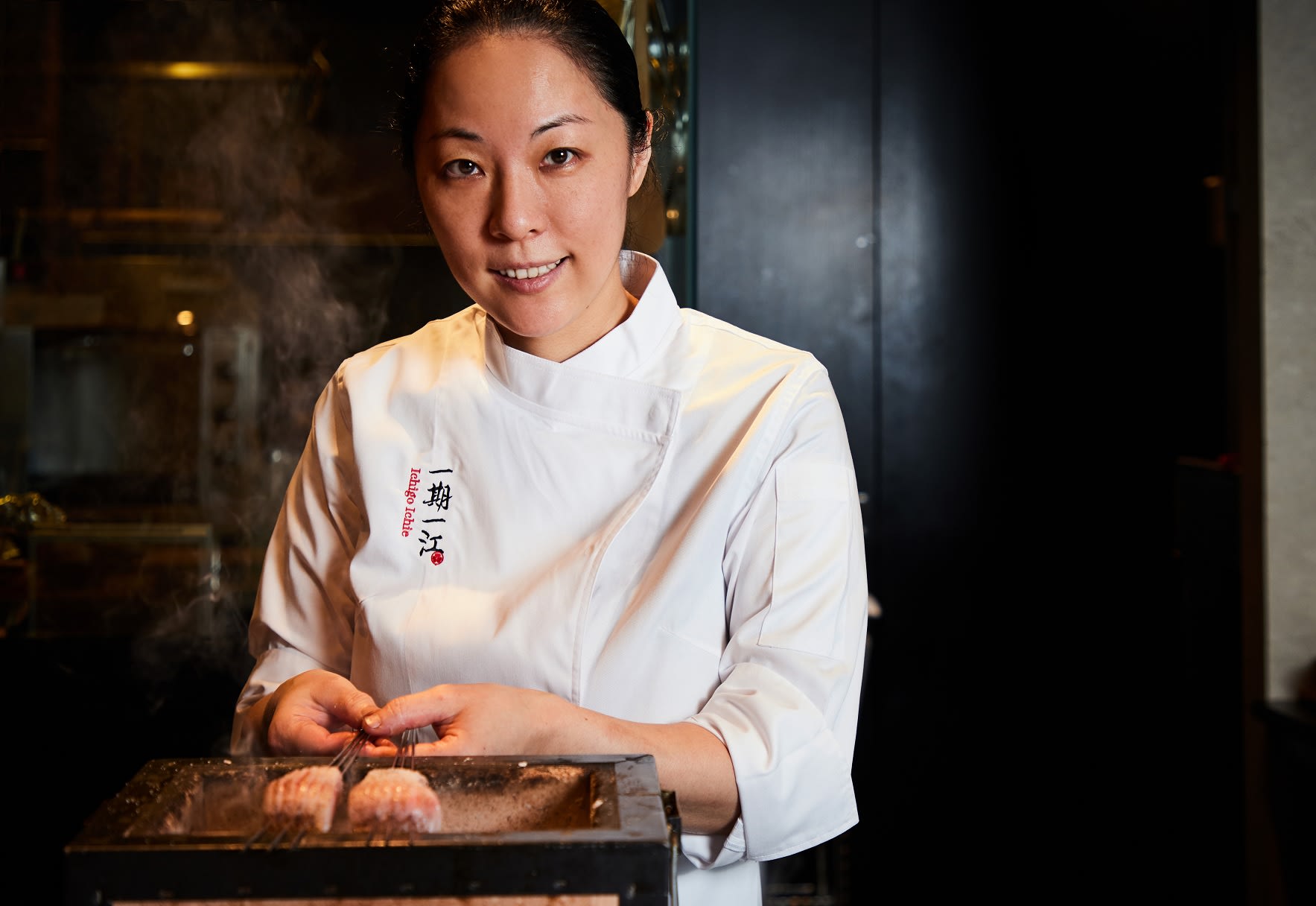 It was only after earning her degree at the age of 21 that Eno decided to enroll at the Tsuji Culinary Institute in Osaka, armed with the resolve that it was time to pursue a different art form.
And yes, even though the F&B industry is thought of as a male-dominated one, especially in Japan, Eno shared with CNA Lifestyle that she never felt she was treated differently, be it at culinary school or in the professional kitchen.
According to her, the majority of her classmates were female and felt that overall, there was no gender bias. That said, very few ended up becoming chefs while others ended up taking front-of-house roles.
This however, Eno feels has nothing to do with gender but everything to do with ethos and age.
"Cooking can be physically and mentally tiring, so you need to have the right mindset," she explained. ""Many people want to play and enjoy their young adulthood."
She would know. After all, she was four years older than her classmates at culinary school. She also concedes to being pretty "serious" when it comes to her studies.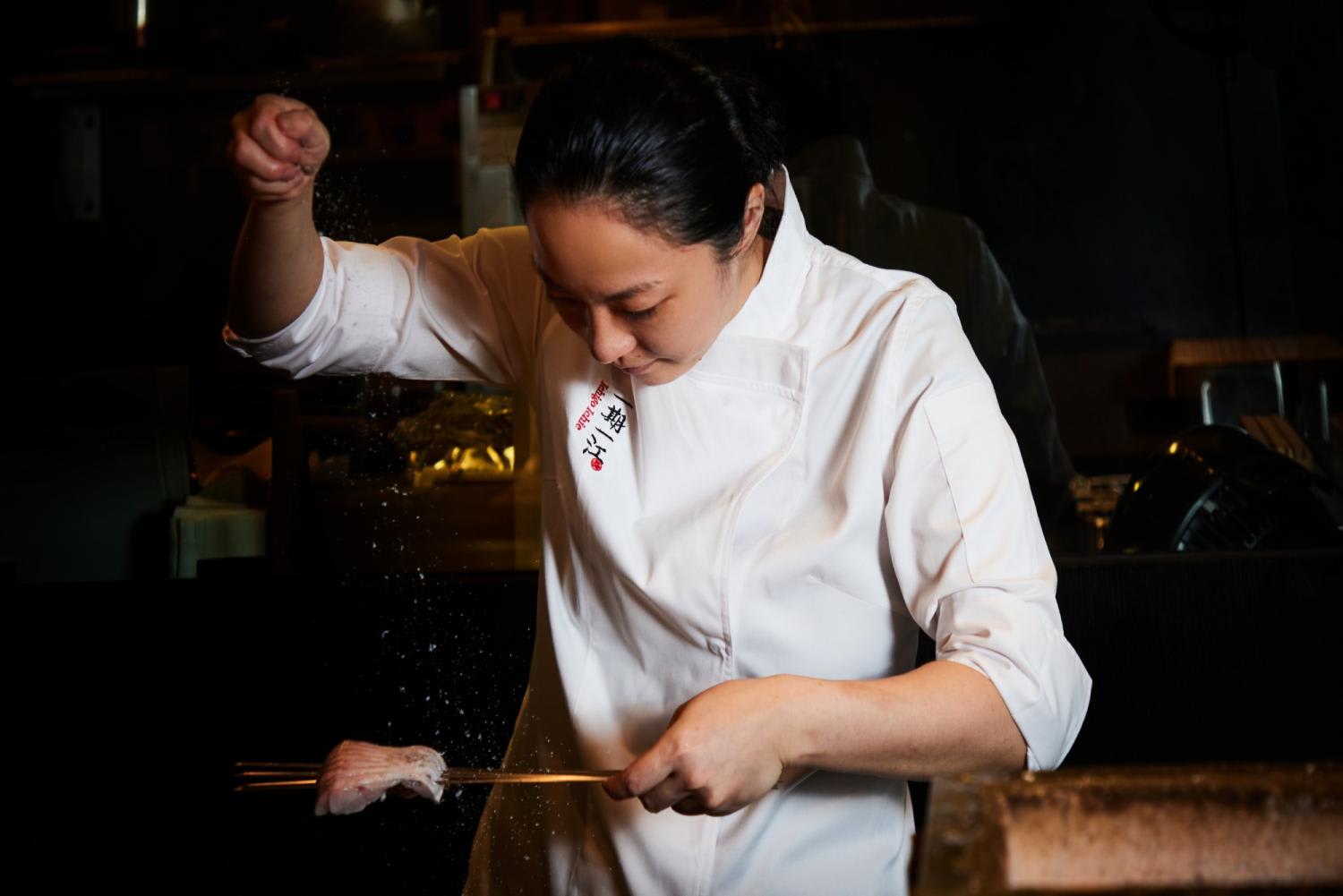 It is definitely a tough industry, admitted Eno, noting that the three or four fellow female chef trainees she worked alongside early in her career have all left the F&B industry.
At another fine dining kappo restaurant in Tokyo, she had two female co-workers who both quit within a couple of years. And again, it's not so much an issue of gender, she reckoned, but the lack of personal time that compels people to leave the industry.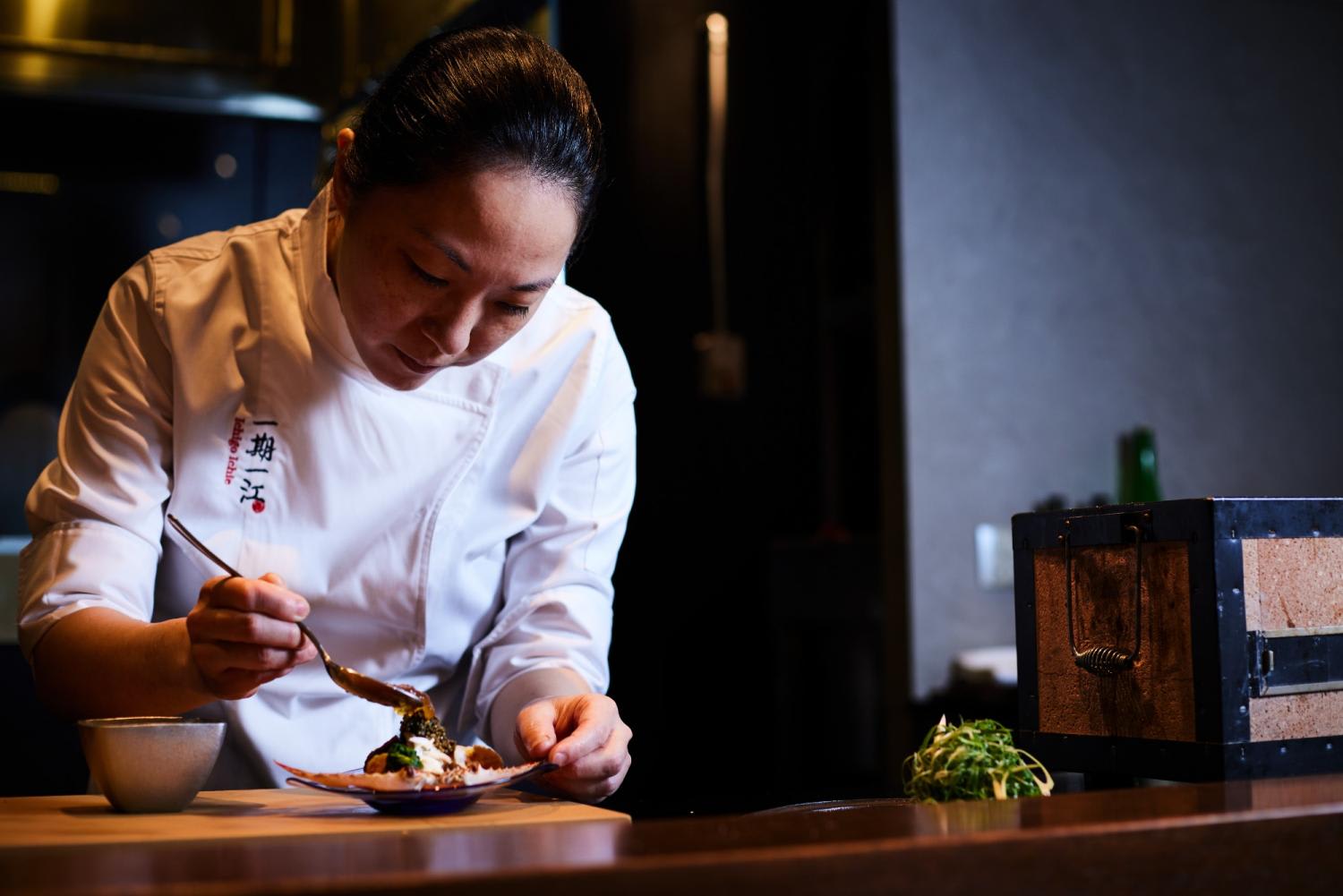 "For example, the youngest staff had to report at 9am and service usually ended at 2am. It was a good environment to learn but it was not easy. And these hours are quite normal," Eno said.
"But it is what it is," she emphasised. "In my personal opinion, if you want to learn something, sometimes long hours are necessary. If you see it as just a job, it's difficult to continue. You need the passion and dedication to learn."
All this is not to say that gender differences aren't apparent in some aspects. "Most men can carry big and heavy stock pots, while for women, it is likely to be more difficult. We just have to split the load into two parts and do the task as efficiently as we can," Eno shared frankly.
And yes, there is always the odd comment to contend with, particularly from new customers who will come to the restaurant and ask where is the head chef, even when Eno herself is serving them.
"One female customer asked me when will the male head chef come out to prepare the food," she shared with a wry smile. " And I laughed and politely told her that that was me!"
While she does acknowledge that indeed few women chefs make it to the top in Japanese restaurants, Eno chooses not to let anything faze her. Instead, the indefatigable chef prefers to focus on the food and the experience.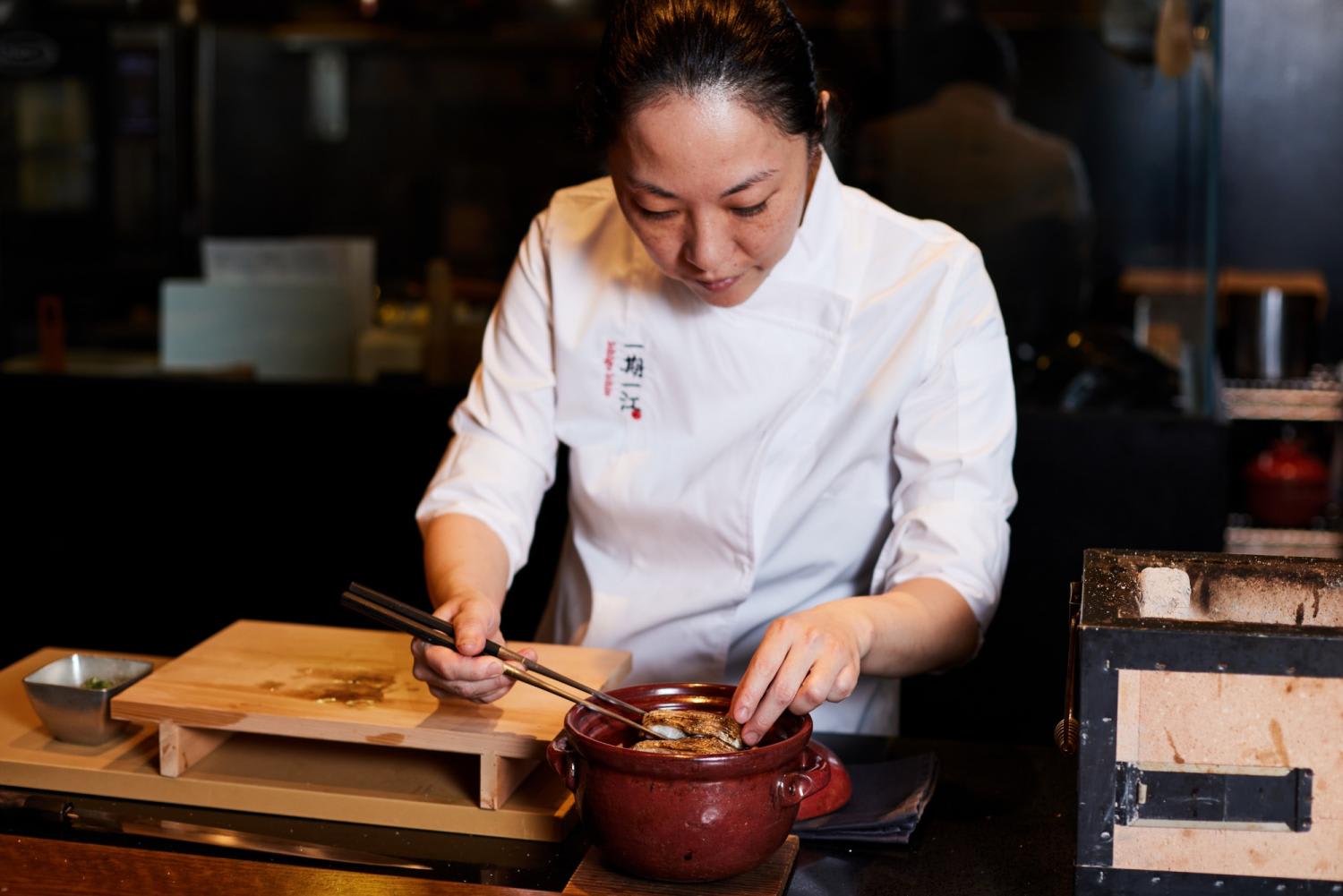 After all, with now more than 20 years of experience under her belt, chef Eno has found a stage with Ichigo Ichie to showcase her culinary talents using the freshest ingredients of each season, exquisitely presented on the plate as she strives to push her creativity and delight the palate of each guest.
Her mentor chef Masaru Furusawa, she shared, is someone who has played a key role in her culinary journey. It was Furusawa who recommended Eno for a job opportunity in Singapore back in 2015.
According to Eno, chef Furusawa was always welcoming young, inexperienced chefs on his team to work with him at the counter where guests were seated – front and centre for all to see. It was a custom rather unusual for the industry and very progressive compared to his peers.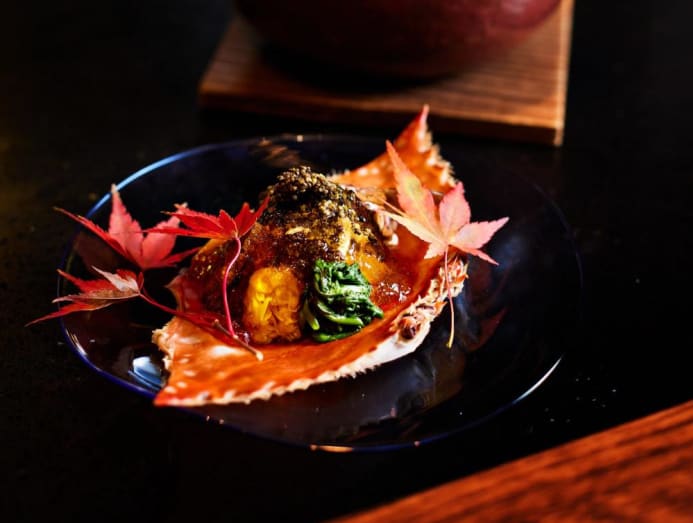 It's this very practice – one that is regardless of gender and experience – that Eno is determined to continue at Ichigo Ichie.
"I don't hire young female chefs to work under me because they are female chefs. I hire them because of their willingness to learn and their abilities," she said. "If any young chef has the attitude, work ethics and willingness that fit my working style, I will hire them – male or female."
Two years after arriving in Singapore, she met chef Tomoo Kimura and joined him at his eponymous restaurant Sushi Kimura as head chef, forming part of the team that garnered a Michelin star.
It was there that the concept of Ichigo Ichie first emerged in 2019, and her restaurant began its roots as a weekly pop-up right at Sushi Kimura itself in Palais Renaissance. Its evolution into a full-fledged kappo restaurant came the following year in 2020.
Named after a famous 16th century tea ceremony saying that means "one life, one moment", the restaurant is inspired by the Japanese philosophies of ichigo ichie and sanpo yoshi – the latter being a 17th century concept that means "three way satisfaction" – the belief that business should benefit all parties involved.
Supporting industry partners has always been important to Eno; earlier this year, she designed special menus that highlighted Iga wagyu and sake from Kitajima Brewery.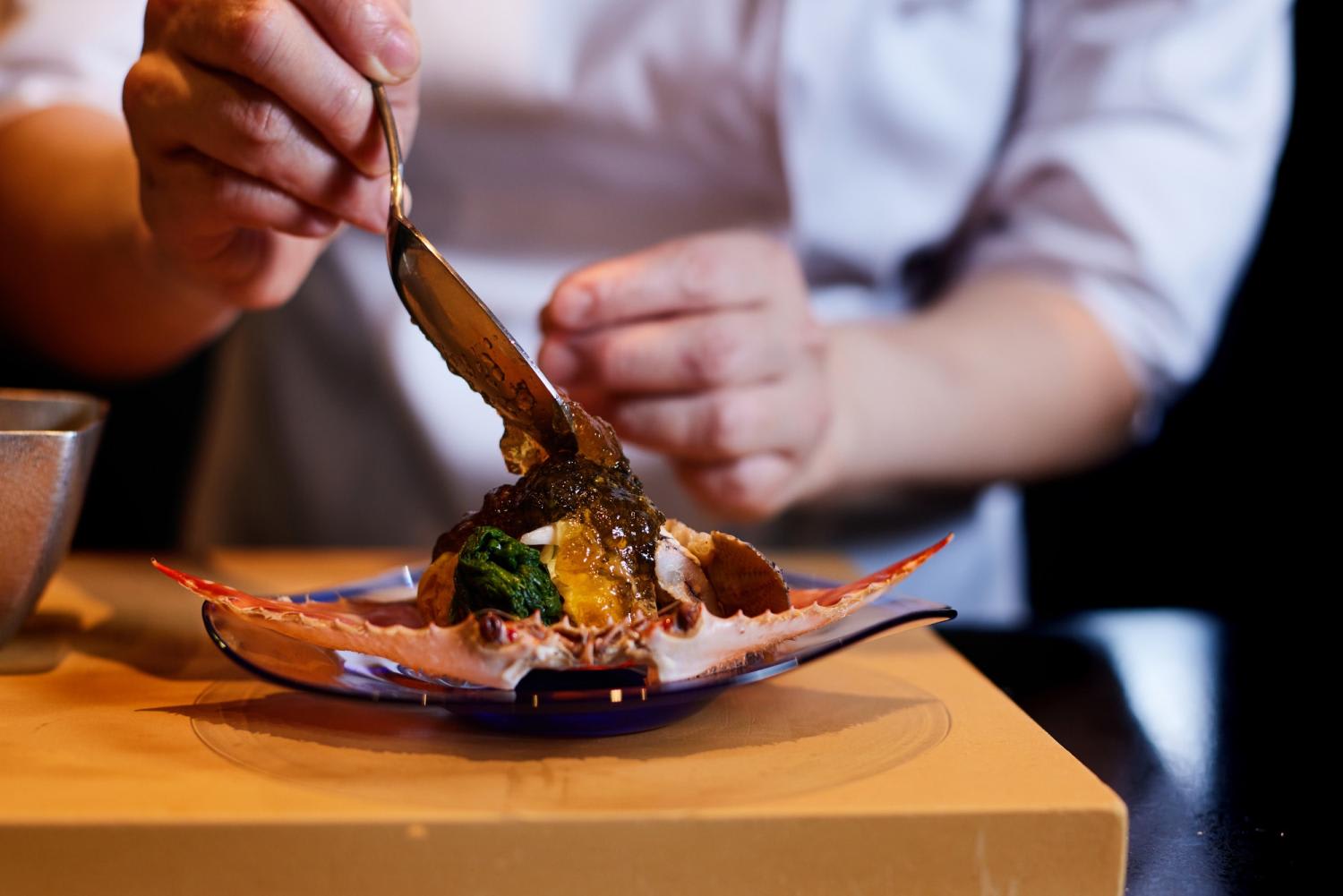 Further inspired by this philosophy, Eno has spearheaded a new initiative to establish a cycle of giving and gaining with her suppliers and guests. The inaugural project featured Azumano Fumoto Sake Brewery in Yamagata.
A portion of the proceeds from the sanpo yoshi menu was used to purchase rice from farmers. The sake brewery will use this rice to craft a private label bottle of sake exclusive to Ichigo Ichie, slated to be ready in the first half of 2022. Eno has also been discussing ideas for the bottle label with students from the Tohoku University of Art & Design.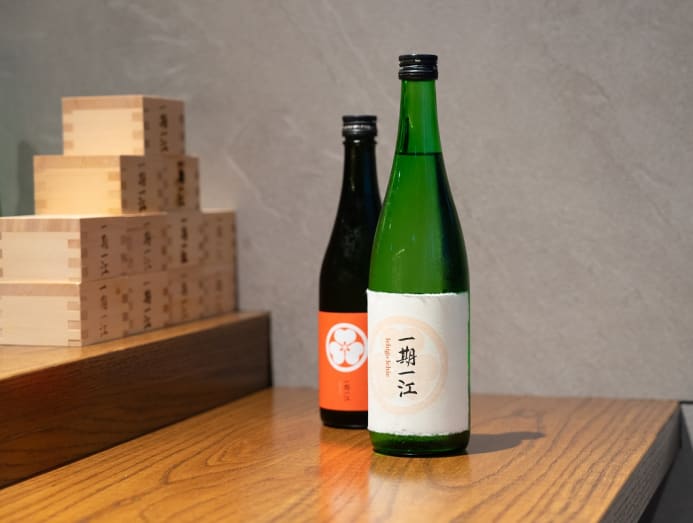 So how do her Singapore guests benefit? Those who had made bookings for the sanpo yoshi menu will receive a complimentary full-sized bottle of the exclusive sake when they return for dinner once the sake is shipped to Singapore. Every guest will also enjoy a complimentary welcome glass of the sake while bottles are still available.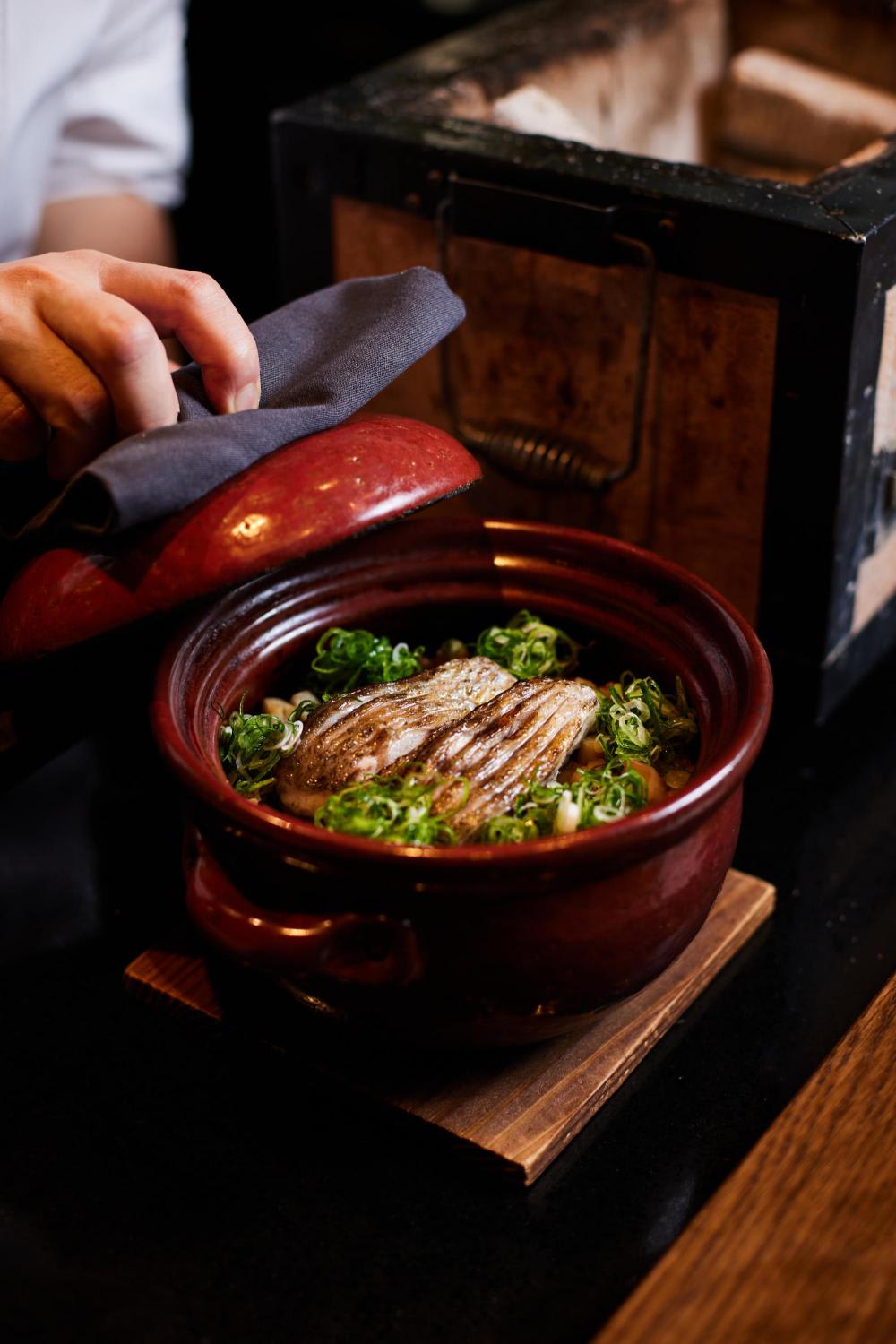 For Eno, starting a restaurant during a pandemic wasn't easy. And it was quite a feat to pivot to takeaways during Singapore's circuit breaker.
"It was the first time in my entire career that I had to do takeaways, and I had only just opened my first restaurant," she shared. "Of course I was worried and stressed! But you know, there was no choice but to look ahead – everyone was in the same boat and we simply had to focus on creating a takeaway menu.
"Since everyone was stuck at home, I thought we should offer comforting flavours with dishes like Japanese donabe rice. It's one of my favourites."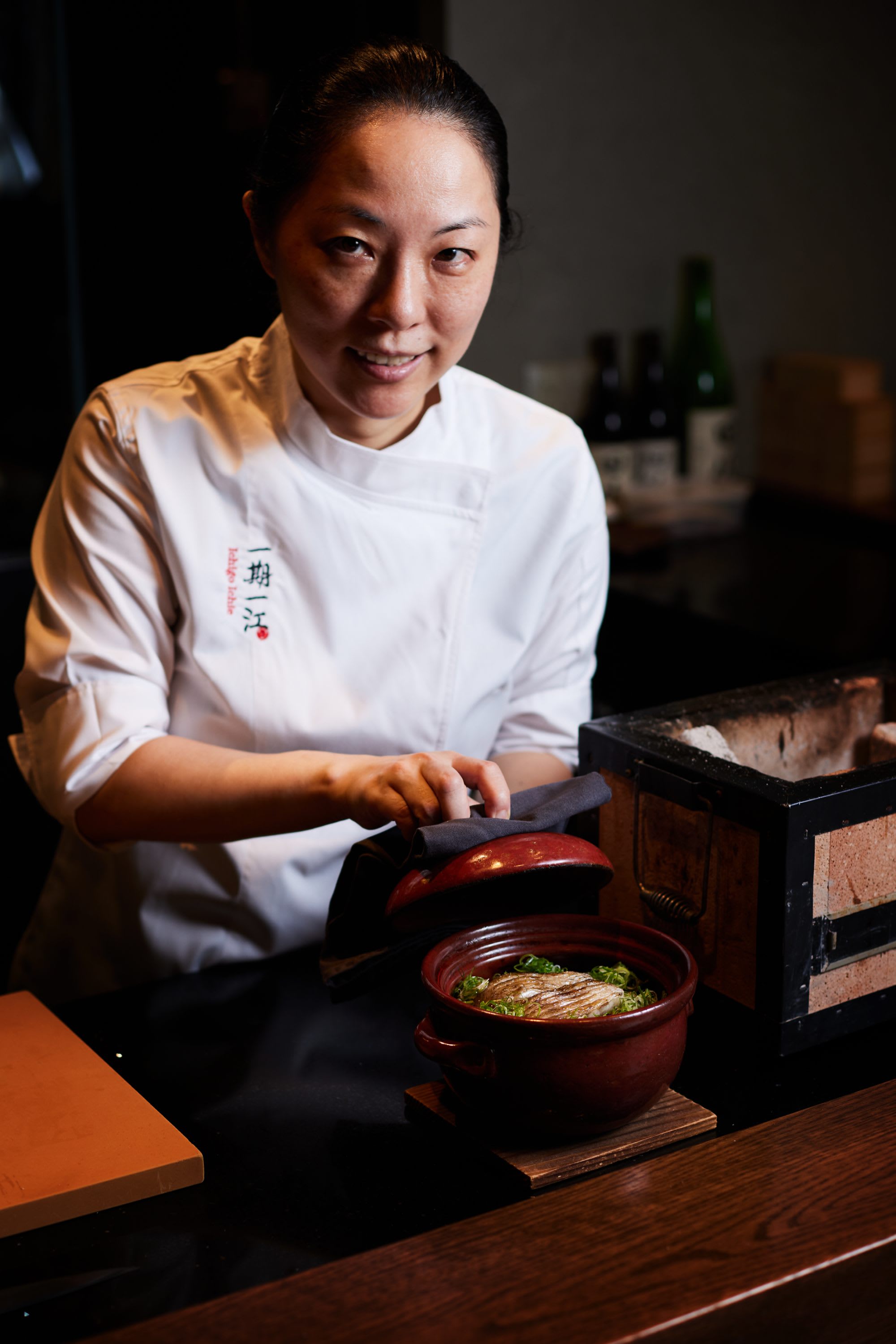 "One of my biggest worries was that I couldn't see or hear the expressions of my customers when they have our takeaway food. I would always wonder what they think about the flavour, the texture? Do they like my cooking? Not being able to interact with customers was something I really missed during that period."
Indeed, interacting with customers is one of the most important aspects of the job that chef Eno enjoys. And she advises the next generation of young chefs wanting to join this tough industry, male or female, to relish in that.
"Believe in yourself and keep pushing on," she said. "There is nothing meaningless about what happens in your life."
Ichigo Ichie is open for lunch and dinner Mondays to Saturdays at 1 Nanson Rd, #02-07A, Intercontinental Robertson Quay. The restaurant is closed on the first Monday of each month.