This Singaporean millennial quit her job to follow a 'Toasty' dream with 7,600 NFTs
Chanel Lee fell down the rabbit hole while feeding her curiosity about NFTs and decided it was now or never to get into the space. She talks to CNA Women about launching her Tasty Toastys NFT collection.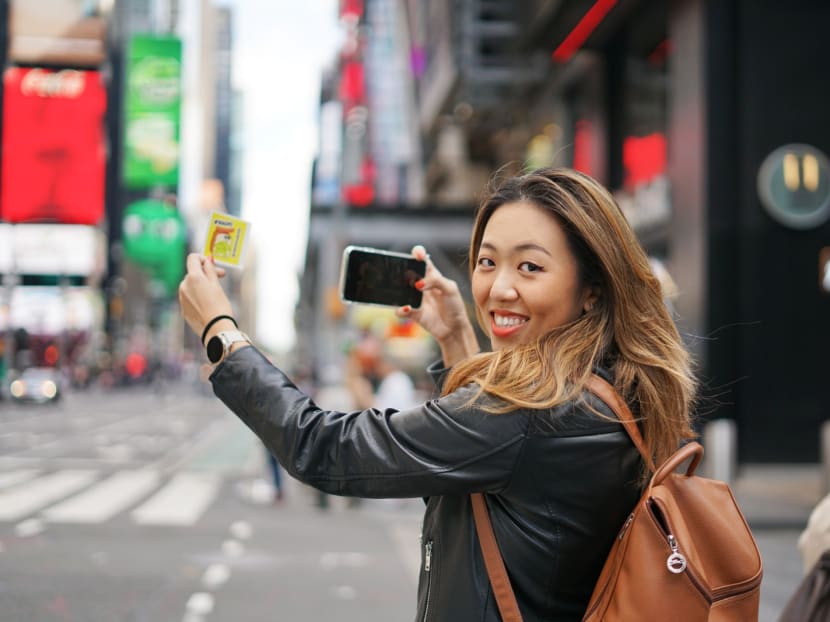 After about four and a half years of working in the corporate world, including completing a two-year scholarship bond, Chanel Lee was feeling the pull of change and thinking about relocating to the US.
But her plan was disrupted when the pandemic forced countries into lockdown in early 2020. She decided to stay in Singapore and transitioned to corporate tech, which she describes as a relatively pandemic-proof sector. 
I decided that if there's any moment in my life that I should take this jump, I'd want to try an experimental industry now.
In 2021, close to two years into the pandemic, Lee felt compelled to step out of her comfort zone – leaving her corporate job to enter the non-fungible token (NFT) space. She wanted to devote her time fully to it and launch a Singapore-based NFT collection, Tasty Toastys.  
"I decided that if there's any moment in my life that I should take this jump, I'd want to try an experimental industry now rather than when more industry players have entered," said Lee in a virtual interview with CNA Women.
You should look at NFT as a Kickstarter project, as ultimately you're helping to fund a potential business idea that you like – then let it sit and see how it does in the long run.
She launched her first collection of 7,600 randomly generated NFTs on the Ethereum blockchain on Nov 13 last year. "I am very proud that we've launched our first collection – I have people from Europe, Germany and the UK buying the NFTs and for many of them, it was their first NFT."
"It shows that they were willing to take a risk on something that they believe in, with me. That also confirms that they see value in the long-term vision," she added.
CNA Women's Sharon Salim had a chat with Lee on all things NFT and more.
HOW DID YOUR INTEREST IN NFT START?
In June last year, when I was looking to exit my former job, my university professor linked me up with one of his ex-students, Arif Khan, the CEO of Alethea AI, to talk about the possibility of working in his company, which is based in the US.
He gave me a crash course on NFTs and after that call, my mind was exploding with all the possibilities that this industry could become. I started watching a lot of YouTube videos about the space, and educating myself about the trends and what people were doing. 
DID YOU END UP WITH AN NFT-RELATED JOB IN THE END? 
I was already speaking with a marketing automation company here in Singapore for a tech sales role, and I accepted their job offer.  
At that time, I thought I'd put NFTs on the backburner. But what happened was I started buying my own NFTs. I've had a small amount of Ethereum since 2017. So I thought: Why don't I start buying a couple of NFTs for fun? 
YOUR GUIDE TO NFT TERMS
NFT: That's a non-fungible token. Wikipedia says an NFT is a unique and non-interchangeable unit of data stored on a blockchain. NFTs are digital assets that can come in the form of audio, photos, videos and others. "But beyond that, it also represents culture, communities and brands," added Lee. 
Blockchain: As a database, a blockchain stores information electronically in digital format, said Investopedia. The records of transactions made in a blockchain cannot be altered, deleted or destroyed. 
Ethereum wallet: An Ethereum wallet allows users to store NFTs on the Ethereum blockchain. According to fintech and blockchain website Cointelegraph, having an Ethereum account allows you to send transactions, receive funds, and keep track of its balance. 
Minting: A process in which digital assets (everything from art to music to articles) as NFTs are a way for artists to monetise their work, said financial and investing advice company The Motley Fool. 
Cryptocurrency: A virtual payment system that allows secure online payments without involving third-party intermediaries (such as banks), said Investopedia, to verify transactions.
Metaverse: Andrew Faridani, CEO of digital marketing agency BreezeMaxWeb, in a Forbes article, described the metaverse as an immersive, digital environment populated by virtual avatars representing actual people. Think popular games like Animal Crossing, where players can pick their own avatars, get to meet friends and design their own spaces in their "house". 
Utility NFTs: Utilities allow buyers to derive a new form of value from an NFT, instead of looking at the attractiveness of the art, said tech website Data Driven Investor in a Medium article. For example, access to music, game experience and real-life events.
HOW DID YOU GO FROM BEING A BUYER TO LAUNCHING YOUR OWN NFT COLLECTION? 
After I experienced the thrill of buying my own NFT, I told my friends about it, and in a matter of 48 hours, they decided to try buying their own NFTs, too. 
After that, they encouraged me to start my own NFT project. They said: "You could try to draw some stuff and have fun doing it. We could potentially help you with the ideation and coding side of things."
My family and friends helped me along, and have been supportive about this journey. Part of that crew includes my brother and his friend. 
TELL US ABOUT THOSE FIRST FEW NFT PURCHASES YOU MADE.
During the weekend that I was looking for NFTs to buy, there were not many that were ready. One of the projects I saw was Incognito, whose selling point is high resolution 3D images that people can use for their profile pictures. I like their art, and feel that if they successfully marketed their brand, it could appeal to many people. So I decided to take the leap and buy it. 
The second NFT I bought was CyberKongz, which has a strong community and interesting marketing tactics. They understand the long-term vision that NFT is not just art but it has other forms of utilities as well. That inspired my brother and me to look at NFTs as a key to a new game and universe, too. 
WHAT'S THE MAIN REASON BEHIND THE NFT OBSESSION – WAS IT THE CULTURE, COMMUNITIES OR SIMPLY THE FACT THAT IT'S A NEW THING?
I see it as a completely new medium of expression and a potential brand. Many of the NFT projects that were at the top of their game in August last year, such as Cool Cats and Bored Ape Yacht Club, were community-driven. People thought they looked cool, bought it and they started building it up together. I think that was magical. 
When I came into the NFT space, I wanted to create a brand – and use NFT as a medium for me to launch it. It's a very trending topic now, so it's also a good time to get into the space. 
I'VE SEEN CELEBRITIES LIKE JUSTIN BIEBER AND HENRY GOLDING CHANGING THEIR INSTAGRAM PROFILE PICTURES TO AN NFT THAT THEY BOUGHT. IS THAT PART OF THE CULTURE YOU'RE TALKING ABOUT?
It comes from the innate human need to belong. Being in social media, people want to show a version of themselves, and this is something that you see on Instagram or TikTok. Having a profile picture that is representative of a brand or a culture that you like, signals something about your identity – and buying an NFT gives you greater access to that community.
For example, if you buy a Bored Ape Yacht Club NFT, you are in an exclusive 10,000-strong community with American TV host Jimmy Fallon, rapper Post Malone, basketball player Stephen Curry and more. People want these networking opportunities, and they want to be associated with other entrepreneurs or people from that club.
For some others, having a profile picture that shows, say, an animal, gives you the option to remain completely anonymous. In this part of the "world", anonymity is accepted. Some people like that. 
YOU NAMED YOUR NFT COLLECTION TASTY TOASTYS. WHAT WAS THE INSPIRATION BEHIND IT? 
I've always loved the lifestyle and stationery brand Typo, and thought that the people who buy Typo goods are going to grow up and want household products. So I wanted to name it Toastys and sell similarly styled household products. 
When I started thinking about my NFT project, I naturally gravitated towards the name Toastys as I've had it in my head for many years now. So my brother said: "Why not name it Tasty Toastys?"
WHAT MAKES YOUR NFT PROJECT DIFFERENT FROM THE OTHERS?
When I first started designing the 7,600 pieces of the Tasty Toastys collection, I already wanted to make it a brand and licensing business. The design was intentionally kept simple – I want it to be the next Hello Kitty. 
In the next three years, I want to see my brand in retail shops, with people buying my merchandise from e-commerce stores. My niece saw the toast and she said it was so cute. This is the kind of demographic I want to target – children, women and the Asian market. 
HOW LONG DID IT TAKE YOU TO DRAW ALL 7,600 PIECES?
I was pretty much done with the drawing in one month, and only added some last-minute elements to them as I was inspired by what I saw at the NYC.NFT conference in New York, in November last year.
I drew the layers in Photoshop while my brother helped me with the coding. I haven't drawn anything for years (laughs), so I was a little rusty. But it was so much fun. 
DO YOU HAVE A FAVOURITE TOASTY?
Yes! It's the Kaya Toasty because #SingaporeRepresent, and we can't talk about toasts in Singapore without mentioning kaya.
IT'S BEEN FIVE MONTHS SINCE YOU LEFT YOUR JOB TO WORK ON TASTY TOASTYS FULL-TIME, IS IT SUSTAINABLE FINANCIALLY?  
It's the same with anyone starting a new business. At the start, you need to carry some of the cost yourself before setting aside a starting capital or budget to invest time into this. I launched the project in November and people can buy it (at a minting price of 0.058 ETH (US$229). 
It's like an ongoing Kickstarter (a funding platform to support creative projects), where finances trickle in to help me support the development of the project.
Update: Lee relaunched Tasty Toastys on Jan 30, 2022 at a new minting price of 0.02 ETH (US$53) 
THE METAVERSE IS A HUGE THING NOW, ESPECIALLY AFTER FACEBOOK CHANGED ITS NAME TO META. WHERE DO YOU SEE YOUR NFT FITTING INTO THAT?
I want to have a retail corner in the Metaverse, where we have a hangout spot – and communities can go there, network and make Toasty friends. It would be like a digital "cafe" with a retail corner and spot where we will sell digital merchandise. 
I foresee that people will not just want to wear different kinds of brands on their avatar, they'll also want furniture or things to decorate their homes and galleries online. I can see selling digital Toasty cushions for them to put on their digital sofa. 
THAT REMINDS ME OF ANIMAL CROSSING, WHERE PLAYERS CAN PICK THEIR OWN AVATARS, MEET THEIR "FRIENDS" VIRTUALLY AND BUILD THEIR OWN HOMES IN AN ALTERNATE UNIVERSE.
Yes, yes! Animal Crossing is one of those things that made me realise that everyone wants to decorate their  "home". There are so many opportunities to create mini-games and I'm really excited about that. 
WHAT SHOULD FIRST-TIME BUYERS OF NFTS LOOK OUT FOR?
If you are buying it for the art, then that's just for your own collection. But if you are buying it as a potential investment, then you have to look at the founding team and people who are building it. Which is why I'm putting out my entire track record and career for everyone to evaluate – I don't believe in being anonymous. I've designed something for mainstream appeal, and most people will not be comfortable with anonymous founders.
Another thing to evaluate is the utilities of the business plan (which you can usually find under a project's white paper or roadmap). It gives information on where these NFTs are going. You should also look at it as a Kickstarter project, as ultimately you're helping to fund a potential business idea that you like – then let it sit and see how it does in the long run.
WHAT DO YOU THINK IS THE FUTURE OF WOMEN IN NFT – AND WHAT WOULD YOU SAY TO THOSE WHO ARE LOOKING TO ENTER THE SPACE?
Women have huge spending power when it comes to lifestyle and culture brands, and ultimately NFT is part of culture and lifestyle. Intuitively, women will be able to spot these trends. 
As women, we sometimes underestimate what we are capable of, and the NFT space may seem daunting as finance and cryptocurrency have a certain "bro culture" to them. But having come into the space, this industry is actually very supportive of people who want to learn.
We want more people to understand that this isn't a scam or dodgy – there's sometimes a stigma around cryptocurrency. The more people know about it, the healthier the industry will be. I don't think women should be afraid of asking for help or guidance.
CNA Women is a section on CNA Lifestyle that seeks to inform, empower and inspire the modern woman. If you have women-related news, issues and ideas to share with us, email CNAWomen [at] mediacorp.com.sg.