'No turning back': Lionesses captain Rosnani Azman herded cattle, learned Japanese to fuel pro football dream
Will female players ever be offered professional contracts in Singapore? As the FIFA Women's World Cup continues to grip audiences across the world, Lionesses captain Rosnani Azman says "hopefully soon". This story is the first in a CNA Women series about the women of Singapore football.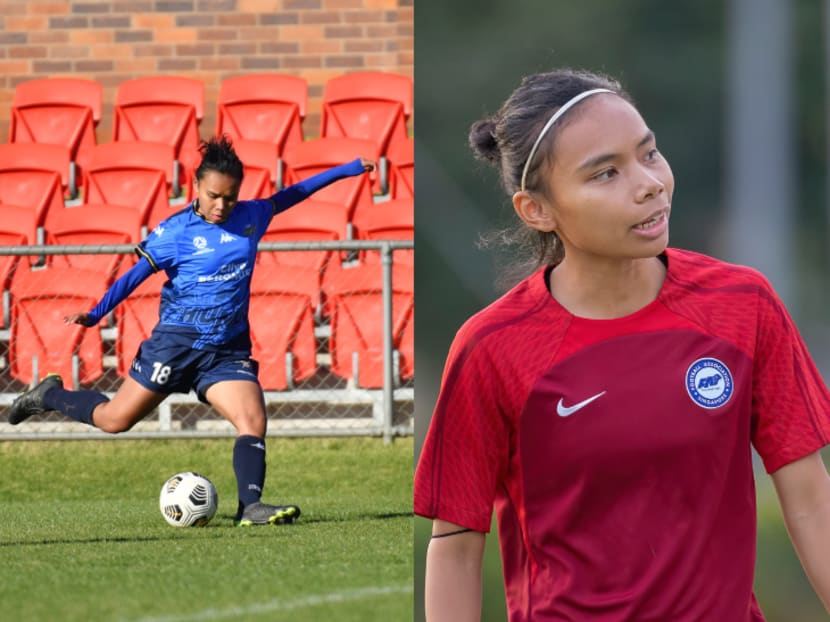 Seven months since returning to Singapore after three years away, national footballer Siti Rosnani Azman is still trying to adjust.
In March 2020, after Singapore entered a circuit breaker period as part of global efforts to control the spread of COVID-19, many – including footballers – found themselves suddenly immobile. When training began again later that year, infections and the suspensions that followed led to a considerably slower pace of growth.
Meanwhile, Rosnani – then 24 – was Down Under, mustering cattle, the local lingo for the vigorous task of rounding up livestock, with farmers often riding motorbikes and even flying a chopper to do so. 
She had flown into Australia some time before the pandemic shut international borders, after signing with semi-professional club South West Queensland Thunder FC.
To keep her Australian working holiday visa, she was not only training, but taking on jobs on the farms of northern Australia.
"I moved around a lot – I wasn't really indoors," Rosnani told CNA Women. "If I was not mustering cattle, which took almost a day and would require us to camp on the other side of the (cattle) station, I was giving kids tuition.
"I'm more of an outdoors person. I loved the views – they made me happy. When I was out there, I totally forgot about the pandemic."
Rosnani said she considered coming home before borders shut because she hadn't been away for more than two weeks at a time and was dreadfully homesick.
"But I decided to stay on and see what came next," she said.
And what came next ended up being Rosnani's version of living the dream – the dream of playing professional football.
In 2021, Rosnani signed a professional contract with Japan's International Athletic Club (INAC) Kobe Leonessa, becoming the first Singaporean to play in Japan's pro women's football league.
Rosnani is also only the second Lioness to sign on as a professional player anywhere in the world, following Lim Shiya's stint with Australia's Perth Glory FC in 2008.
From quickly learning Japanese – as a centreback, Rosnani had the hefty job of frequently commanding play – to suffering injury-fraught winters, the milestone did not come easy.
But the Hougang United player was in her element.
"In Japan, football is very technical – the pace is very fast. I enjoy the adrenaline," she said.
BEING TREATED EQUALLY A "GOOD FEELING"
She requested a loan move in 2021 and played with second-division Kibi International until mid-2022, when her contract with INAC Kobe ended. 
It was only after completing an additional six-month contract with Kibi that Rosnani flew back to Singapore, where she retained her skipper position in the national team as they participated in the qualifiers for the Women's Olympic Football Tournament and later, the 2023 Southeast Asian (SEA) Games. 
The 26-year-old said she cherishes being able to play with "familiar faces" but misses the intensity that comes with playing professionally overseas.
It's a rush she has chased all her life.
Growing up in Woodlands, Rosnani and her siblings – she has four – spent a lot of time playing in the void deck.
"Sometimes boys in the neighbourhood would come over and play with us. I had short hair and they all thought I was a boy so when I joined their football games, they'd go all out.
"I liked that they didn't go easy on me just because I was a girl. It's a good feeling when people treat you equally," she said.
"I didn't really know how to play then so I would often kick the ground and my toes would bleed. But I enjoyed it (playing)," she added.
Love was forged and her dream began to take shape.
By the age of seven, Rosnani was playing competitively, at first for her primary school's female football team, then at Woodlands Secondary School.
She was invited to join the junior nationals and by the time she turned 17, her dream had fully formed.
"NO TURNING BACK"
"I admit I was very naive as a young girl," said Rosnani, adding that she didn't know at the time what it took to play professionally, only knowing she did not want all the time spent training instead of hanging out with her friends to go to waste.
But even as she became an adult, the dream wouldn't waver. In a "realistic" move, she studied aerospace engineering at Republic Polytechnic, but told her parents she "wanted to go all the way" with football.
"There was no turning back," she said, even though she continued to worry that no Singaporean woman had yet been given a professional football contract at the time. 
Despite the odds, Rosnani's parents were supportive, squirreling away any monetary awards their daughter received, including the Singapore Olympic Foundation scholarship set up with billionaire philanthropist Peter Lim, so she could one day choose to venture out of the country alone. 
"My parents helped me save because I'd said I didn't want to use their money to go overseas … It's my life," she said.
"I told them this: You can work all your life, through your 40s and through your 50s, but you can't play at a professional level forever.
"While I can still play, why not go for it? It won't be easy, financially and in terms of stability, but it's the experience that matters," she added.
Rosnani dreams of the day she and her female peers would be offered professional contracts in Singapore. 
"Even people I know who don't really like football watch the Women's World Cup," she said. "So I can see it (women going professional) happening … Hopefully soon."
Meanwhile, female footballers continue to juggle training with other work. 
National training takes up around six hours a week and club training occupies around the same amount of time, including weekend games. 
"Even though we play in the national team, we're not professional players. Everyone has other jobs and still commits to training. It's hard to juggle," she said.
But Rosnani doesn't have a full-time job and she doesn't want one. Her eyes are poised on the prize.
"I'm just doing part-time work because I want to be ready to fly for a trial overseas.
"Japan was just the start."
CNA Women is a section on CNA Lifestyle that seeks to inform, empower and inspire the modern woman. If you have women-related news, issues and ideas to share with us, email CNAWomen [at] mediacorp.com.sg.