Why every woman should put Netflix's Skater Girl on their must-watch list
While the new film is about how a young woman introduced radical change to her community, you'll be able to pick up a few life lessons from it, too.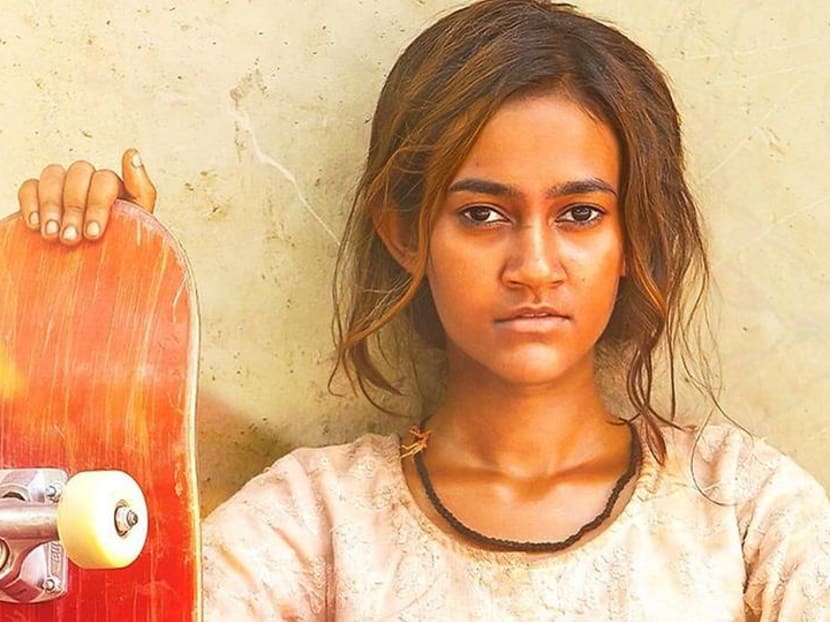 When you first start watching the Netflix Original, it's easy to assume Skater Girl is a documentary film or a drama based on a true story.
Well, it's neither. And it's more than just a coming-of-age teen drama.
Set in Khempur, a village in Udaipur in Rajasthan, India, the film follows the life of 16-year-old Prerna (played by Rachel Saanchita Gupta), whose life changes after she discovers skateboarding through a visitor to the village. 
The visitor is Jessica (played by Amy Maghera), a British Indian hoping to find out more about her late father's childhood but who also ends up playing a pivotal role in helping Prerna nurture her talent for the sport. 
Through it, both Prerna and Jessica learn that women are more than what the caste system dictates, more than their decision to marry, and more than being ignored voices in the community.  
Skater Girl is not only a feel-good story about a teenage girl who found her destiny in skateboarding, but it's also a story about female empowerment across generations, said film writer and director Manjari Makijany.
"We have a Queen who tells her own story, a British Indian girl who is coming back to find her roots in India, and we have Prerna who fights through obstacles – both societal and her inner fears to embrace her true talent," explained Makijany in a video interview with Netflix. 
The Queen referred to here is the village queen, played by Waheeda Rehman, who allows a skatepark to be built on her land.
It's worth noting that the Desert Dolphin Skatepark, which was built in 45 days for the film, now stands as one of India's largest skateparks where girls and women are encouraged to dream about a future beyond caste and societal expectations.
Here are three life lessons for women (cue: spoilers alert ahead) to get inspired by. 
CHANGE CAN HAPPEN, ONE VOICE AT A TIME
If there is one message that stood out in the film, though portrayed subtly, it is that systemic change is needed to drive real impact.
And all it took was one woman with the courage to ask for it.
When Jessica was seeking funding to build the first skatepark in the area, a minister she approached responded: "Who is actually involved? Your father or husband?"
Another minister said that he was not able to justify funding for a sport without rules, saying that she didn't represent an official non-profit organisation.
Refusing to give up, Jessica went to the Queen of the village, after a friend commented that they needed a connection higher up to get things going.
The Queen was understandably hesitant, knowing that people resist change – and more so if that change is led by a woman. Besides, no one had ever dared to ask for her land before.
"There are unsaid rules about women here, some of which you have already broken. If I deny you today, life will go on as is. But if I say yes, maybe we will see a better tomorrow? And it could give several girls the courage to follow their dreams," the Queen tells Jessica.
TAKE THAT LEAP OF FAITH TO CREATE NEW PATHS FOR YOURSELF
"Being a champion isn't someone who just wins, a true champion is someone who shows courage, passion and determination when faced with adversity," the Queen said in one of the closing scenes of the film.  
While the Queen's own leap of faith was testament to how she overcame gender disparity in the village, it also set a precedent for many girls and women to achieve the same. In this case, thanks to Jessica's bold request to build Rajasthan's first skatepark, Prerna and others in the community were allowed to dream. 
LOOK PAST GENDER STEREOTYPES TO ACHIEVE YOUR DREAMS  
Skater Girl brought up several deep-seated social and cultural issues that are not only prevalent in rural India, but across the country and everywhere else in the world.
"Why are you playing with things meant for boys? Is that what we taught you?"
That was what Prerna's father said to his daughter when he learnt that she was spending too much time skateboarding.
In other instances, Prerna and Jessica's passion for skateboarding were questioned because of the stereotyped roles women play, such as cleaning the home. 
What's more sobering was the fact that Prerna was not allowed to cite skateboarding as her "destiny", attaching a woman's sole worth to marriage or her ability to complete the household chores.  
Despite being submissive to her husband, Prerna's mother Shanti (played by Swati Das) secretly supports her daughter's wish to live a life that is different from hers. 
"For me, playing Shanti meant to deeply understand that many women in India can never even imagine having dreams and desires of their own, let alone fulfil them," said Das in an Instagram post. In the film, Shanti tells Prerna how her voice never mattered in the household.
But for Prerna, skateboarding allowed the unimaginable, for her to pursue her calling as a skater girl. It's a beautiful reminder for women that they are allowed to dream – even when the odds are stacked against them.