Chef of Greek restaurant Fotia on coming to Singapore with a baby and no real prospects: 'I needed something more'
Sofia Beleri had nearly a decade of experience in Greece and had established herself as an executive chef. CNA Women finds out what made her come to Singapore, where she had to start from scratch, and how she's working towards a gender-equal future.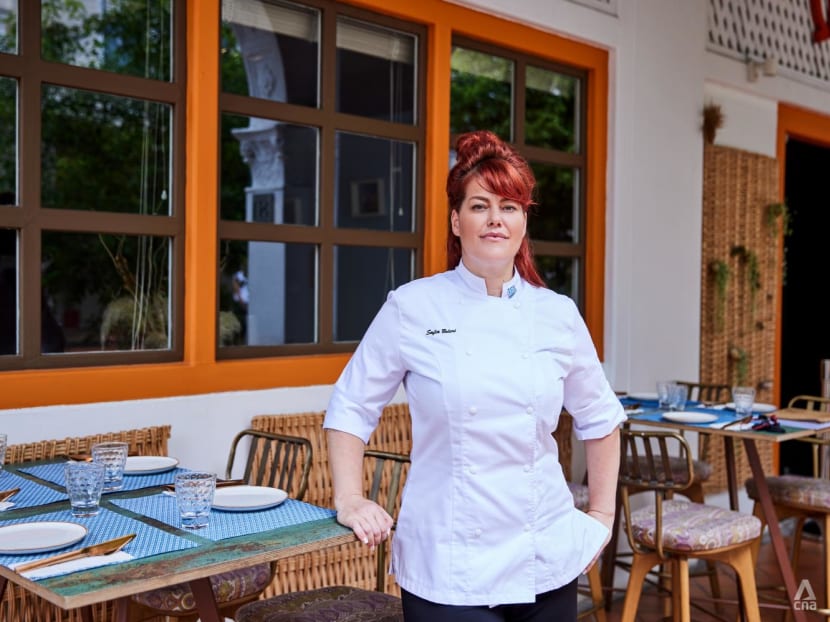 Seven years ago, Greek chef Sofia Beleri couldn't speak much English, had recently given birth and had no real prospects overseas, but she came to Singapore anyway. 
Now, her Mediterranean restaurant Fotia in Duxton Hill is among the city's best, often packed and bustling with diners during lunch and dinner.    
The 40-year-old is what one might describe as unmissable. 
While most executive chefs hardly step out of the kitchen – that's where their army is, after all – she is often seen on the floor, watching as the plates are fired and sometimes getting the orders to her customers. 
Amid the chaotic, sun-drenched dining room – the restaurant has a glass roof – is where you would see Beleri, her long, candy-red hair tied up in a half-top knot. 
At 1.7m tall, she towered over almost everyone else and walked in long, sure strides.
This was someone who knew what she wanted and went for it. We were right.
"SHE'S NOT GOING TO MAKE IT – SHE'S A WOMAN"
Beleri was in her early 30s when she decided she had had enough of being what she described as underestimated as a chef in Greece, which led to her constantly having to overcompensate. 
By then she had had seven years of experience in the kitchen and was an executive chef at Nautilus Club in Athens, where she drew 1,000 diners a day and increased the revenue five-fold. She told CNA Women it was her proudest achievement.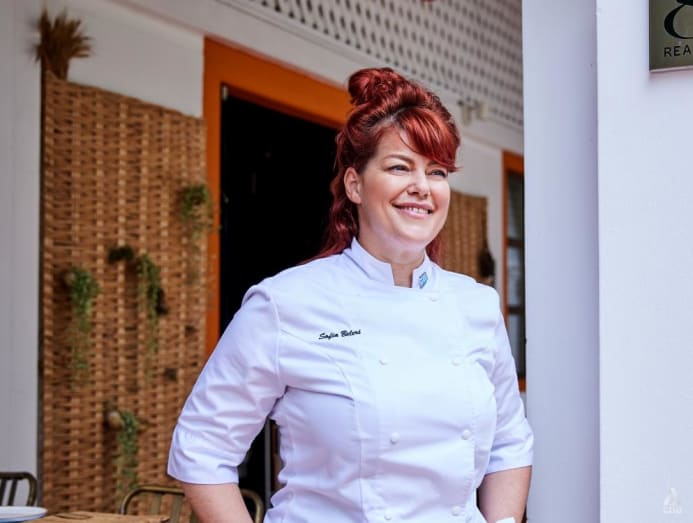 That job didn't come easy. A friend of hers was working in the restaurant's catering department and had recommended her as a chef to the owners. 
"The owners complained, saying 'she's not going to make it – she's a woman', so my friend had to say 'either she comes or I leave'. He didn't think it was right that I couldn't have the job because I was a woman. They had to at least give me a chance," she told CNA Women over a lunch of homemade pita bread, dolmadakia (stuffed wine leaves), grilled octopus and kunefe. 
That friend, Michalis Chatzinas, is now her husband and business partner. 
Romance blossomed right there at Nautilus Club and the pair moved in together. Three years later, they had a baby girl, Fratzeska. That was when Beleri began to cast her eyes overseas. 
"When you become a mother, you want the best for your child. I was thinking, 'okay, what can I do here?' (The Greek scene) had a glass ceiling. I wasn't happy with that. I needed something more," she said. 
"In Greece, even though I was the chef, it was really, really hard for me to prove (myself). I was really tired. Why do I have to work 10 times harder to prove that I can do it? 
"I had also spent too much time as a sous chef, doing the hard work while the head and executive chefs took all the credit. They would never mention me. When I contributed recipes, they would pass them off as their own. You cannot say anything. You're just part of the chain," she added.
The heat wasn't limited to the kitchen. Beleri said it was typically not accepted for women to do the kind of work she does.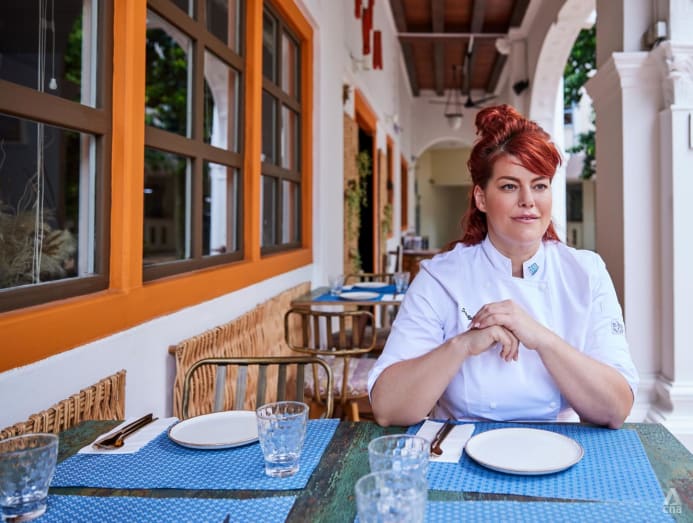 "When I told my father I worked in a kitchen, he thought I was a dishwasher or that I made salads. He only came to visit me at work about seven years after I joined the business and he was surprised to see me giving orders to a team of 14. He couldn't believe I was running the place. 
"Even your own father… It made me sad because for years he didn't believe in what I was doing. When I first told them I wanted to be a chef, he said, 'Why do you want to spend all your life washing lettuce?' I was really sad," said the eldest of three children. 
FROM PART-TIME WORKER TO RESTAURANT OWNER
So in 2014, Chatzinas came to Singapore to work in a restaurant, leaving behind his wife and newborn daughter, who joined him only a year later. 
"It was difficult. I had no one and I came with a 15-month-old baby. My English was not so good. I had to start from zero," said Beleri. 
Needing to make ends meet, she took up a part-time job at an Indian-Greek restaurant, which meant she had to travel from her apartment in Beauty World each morning to the east side, where she'd found someone to care for her daughter, and then to Bugis to work her shift. 
"It was the hardest time of my life. I didn't mind working part-time and I really needed the money but being a mother and working is really hard. I had to wake up early to feed her, send her to the other side of Singapore (where her babysitter was) and take the train to work. Then I had to take her home, bathe her, feed her and cook for the next day," she said. 
She did this for seven months before the couple caught a break. They met a group of investors who had wanted a small fast food place but didn't have any F&B experience. 
"They just left it to us – told us to run it and to cook what we wanted to cook. All they needed to do was invest. This was a good chance for people (in Singapore) to know us and our food," she said.
Still, they didn't have it easy. It was a relatively small place in Boat Quay with 30 seats, but Beleri was cooking by herself. 
"I was working from 9am to 11pm and only saw my daughter every Sunday when the restaurant was closed. I only saw her once a week. That's why she doesn't speak Greek. When you're so tired, you can only lie in bed… You can't do much else," she said. 
"We didn't sell many items at the place but the food, which was a healthy version of Greek fast food, was well-prepared and honestly I loved doing that. It went very well. But it (still) wasn't mine," she added. 
After two years, the couple arrived at their breaking point. They had successfully built a good reputation around their food, but their dream of owning a restaurant together still seemed far away. 
"We were going to leave, actually. We were running the place and were working really hard but what was the point? We were almost gone," Beleri said. 
The best way to break bias is to prove yourself right
As if on cue, a couple sent an invitation to Beleri and her husband, having heard about their work in Boat Quay. 
"They invited me and my husband to their house and asked me to cook for them. It was like a game – I played my last card. So I went over and said, 'Hi I'm the chef' and the woman said 'okay, here's the kitchen'. I made traditional Greek dips, seafood and meat. It wasn't stressful at all," Beleri said. 
A year later, Fotia opened up in a small space along Club Street. It did well and soon expanded into a 150-seater space on Duxton Hill. 
There, Beleri works side by side with her husband at a restaurant they can call their own. She has a team of 12 staff, who call her "Mama".  
"When I was rising up the ranks, I had to work 10 times harder and clocked in more hours than my male counterparts. It shouldn't be that way. I believe we can change the bias," said Beleri, saying that success in the kitchen simply means being organised, systematic and disciplined. 
Although Beleri thinks work-life balance remains a "luxury for the F&B business", they have managed to at least integrate the two. 
She video-calls her daughter daily and every Sunday, Fratzeska – who is now eight – joins them at Fotia, where she has a cubby house from which she sells lemonade. 
For her and every young woman out there, Beleri has some specific advice. 
"As much as I had wished for more support, I believe my encounters in life have groomed me into who I am today. In the face of failure or bias, observe, listen and improve. Experiment and try harder because the best way to break bias is to prove yourself right."
CNA Women is a section on CNA Lifestyle that seeks to inform, empower and inspire the modern woman. If you have women-related news, issues and ideas to share with us, email CNAWomen [at] mediacorp.com.sg.