How newly engaged Suthasini kept her relationship a secret for 7 years
In the latest episode of CNA Lifestyle's podcast series Pyjama Party For 2, the singer and Vasantham Star winner recounts how her surprise marriage announcement came as a surprise to many – even her parents.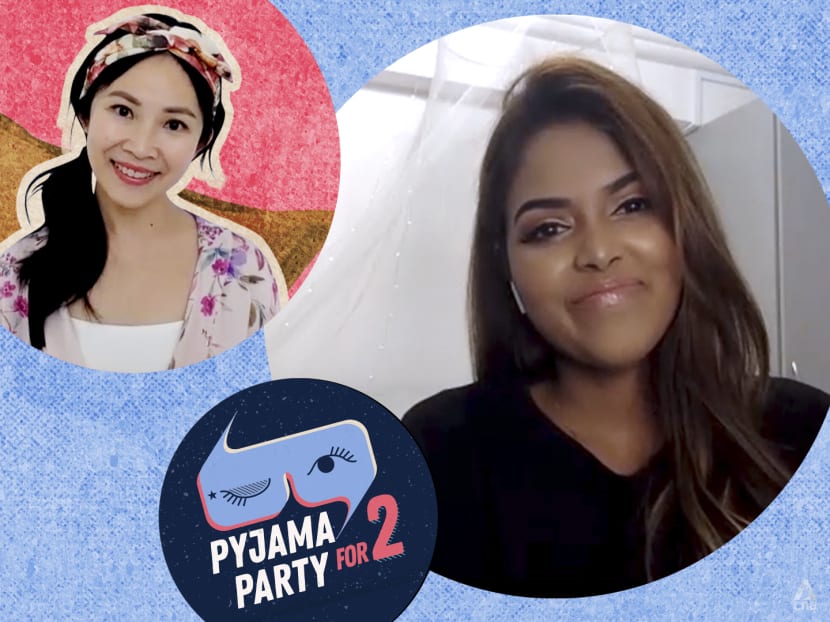 When Suthasini Rajenderan shared the news via social media that she was engaged to be married, her friends reacted with, "'You know what? I think I can trust you. I think I can tell you secrets'," she recounted.  
That's because even her parents didn't know that she'd been dating fellow singer Vishnu Balaji for seven years.
In the latest episode of CNA Lifestyle's podcast series Pyjama Party For 2, the 31-year-old told us she kept the relationship a secret from them because she didn't want to get their hopes up before she knew it was a sure thing.
"The point you say, 'I'm dating someone', the next question will be, 'When are you getting married?'" she chuckled. "And I wasn't ready for that question. I wasn't ready for marriage, because your 20s is all about exploring your (career and personal) options, right? We both decided to keep it down low and continue dating, but at the same time, focus on each other's growth."
She continued: "The challenge was to keep it on the down low, because we both are public figures. And when we're hanging out, there are (members of the) public who come and observe, or come and talk to us."
Fortunately, it was easy to look like two colleagues just grabbing a drink or meal after a rehearsal.
"We got away with that for seven long years, I would say!"
And when the couple finally came clean to their parents in May this year, they "were out of control. They started creating a group chat. They invited each other over. And then now they're like, intertwined."
In fact, she revealed, her mum had been hoping she'd get together with Vishnu all along.
"We've known each other since we were kids, because we always sing together. 2014 is when we actually connected, through music, through a television show," Suthasini shared.
"And my mum always hinted back in the day, 'If you're dating someone, just let me know. People do say that maybe you and Vishnu – if it's Vishnu, I'm really okay.' I would just keep quiet and pretend I didn't hear!"
Of course, their chemistry-filled on-stage duets have started to take on new meanings for fans.
"I really like how I can connect with him through music, because it's not that easy to have a partner who understands. We have a lot of geeky musical jokes that not that many people would understand… like, say, if we are singing a song, I'll sing a harmony that does not set with the key of the song, but will still match," she said. "And then he'll laugh out of nowhere."
Although plans for a wedding reception in India, where many of Vishnu's family members live, are currently on hold, an official wedding date has been set for next year, Suthasini shared.
She isn't planning an elaborate affair, though – and she's even going to do her own makeup.
"I think I am the least maintenance kind of girl, to be very honest," she said.
"Sometimes, even for a Registry of Marriages (ROM) ceremony, Indians like to wear traditional outfits, go for a costume change and come back in an evening gown. I decided to just stick to one dress throughout the night… and I'm going to do do my own makeup on the day. I just felt, you know what, let me just be me, and just enjoy it instead of being so elaborate."
She added: "What matters is when both our families, and Vishnu and I unite, the moment should be memorable. That's what we are striving for, instead of making it look like some TV show, you know? People in the media industry are always facing costume changes, makeup, hair, lots of rah-rah. So, in my personal life, I like to keep it all toned down."
One thing is non-negotiable, though: "Vishnu and I would love to sing a song as a wedding couple. Hopefully, we can do that."
At the moment, "I think most venues are very particular about singing or interacting on stage, and social distancing. Let's just hope for the best, I guess, because that will be very special – because that's what connected us".
Listen to the full Pyjama Party For 2 podcast to find out who wears the pants in this romantic relationship, what Suthasini's dream home might look like and how she's now obsessed with organising.
New episodes of Pyjama Party For 2 are published every Sunday at cna.asia/podcasts.