Creative Tings: How 3 Singaporean sisters found success supporting each other
A shared love for design, influenced by their artist father, spurred Pamela, Rebecca and Renee Ting to find their own artistic niche with Scene Shang, Beyond The Vines and the Singapore Art Book Fair. Yes, they're related.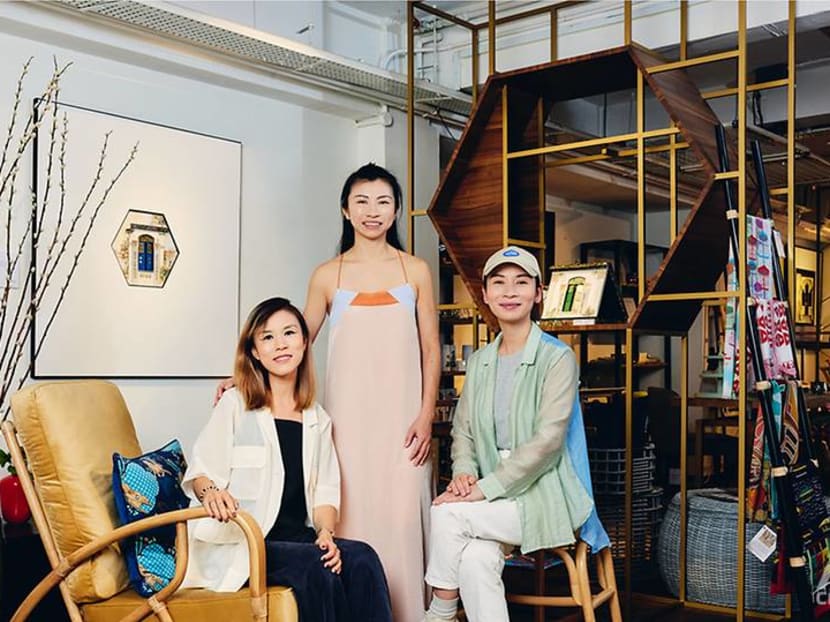 It is mid-afternoon and the Ting sisters are gathered at Scene Shang's flagship store on Beach Road, the furniture store owned by eldest sister Pamela Ting. It's the first photoshoot they've had together in a while.
In the company of each other, the sisters are at ease. They laugh, they tease each other. Rebecca Ting, the founder of design studio and retail brand Beyond The Vines, reaches out to adjust youngest sister Renee Ting's hair. Renee is the founding director of Singapore Art Book Fair. She was also previously the manager and creative director of independent bookstore BooksActually.
In the creative space, the Ting sisters are known for their own individual pursuits. "But I don't think many people know that we're related," said Rebecca.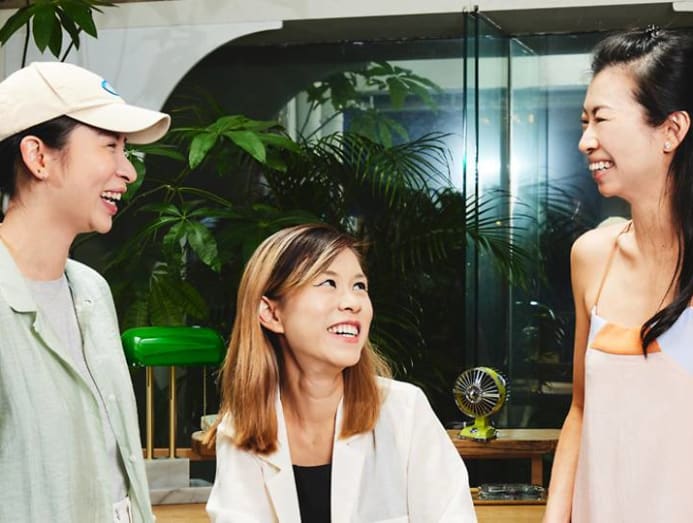 Indeed, not many are aware of the relation between the Tings, but it is their shared childhood that has influenced each of their ventures today. Pamela, Rebecca and Renee – or Pam, Becky and Ren as they call each other – grew up in what they call a creative environment.
Their father is Singapore artist Arthur PY Ting, renowned for his storied Singapore streetscapes. "All of us had different interests from a young age, but growing up with your dad as an artist, it does something to your outlook on life, and how you see design," Rebecca shared. Meanwhile, their mother was in charge of the business and administrative side of things, helping to market dad's artworks.
For Pamela, it was her parent's love for the home that inspired her to start Scene Shang together with her business partner Jessica Wong. The brand is known for its contemporary furniture inspired by Asian heritage. Her dad's artworks adorn the walls of its store at Raffles Hotel. 

"We grew up with our parents being quite house proud," the 37-year-old-said. "My mum especially liked to invite guests, even till today. Every object that she places in the home has a purpose, and that influenced me to see that the space we live in needs to have some kind of meaning and should look aesthetically-pleasing."
Meanwhile, 34-year-old Rebecca recalls watching her mother get dressed for work every day. "I would help her pick out what to wear. I just really liked watching her put things together." Previously known for its womenswear, her label Beyond the Vines has now rebranded to include a menswear line as well as other lifestyle products.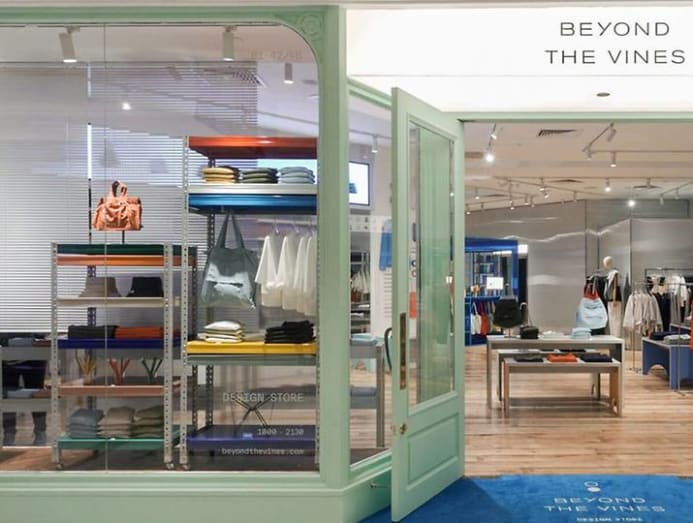 As for Renee, her love for books stemmed from a novel given to her by Pamela. "It was Lighthousekeeping by Jeanette Winterson. Over time, this love for books evolved into a love for art books," the 29-year-old shared.
Through the Singapore Art Book Fair, Renee hopes to grow the market for art books in Singapore and Asia, as well as support local artists.
Life may have taken the Tings on different paths, but the trio share an unbreakable bond that has seen them through childhood and adulthood. "We are sisters by chance, but we are friends by choice," said Rebecca, as her sisters nod in unison.
We are sisters by chance, but we are friends by choice. 

SISTERHOOD THROUGH THE YEARS
Looking back on their childhood, the Tings say that they were "as close as regular siblings". "Our parents let us be very independent. So we would go out and take our bikes, go longkang fishing, play on our own. It's good to have siblings because we could just be naughty together," Pamela quipped.
Renee adds that the three of them were not the typical "girly girls" growing up. "We were always the loudest table in the restaurant," she laughed.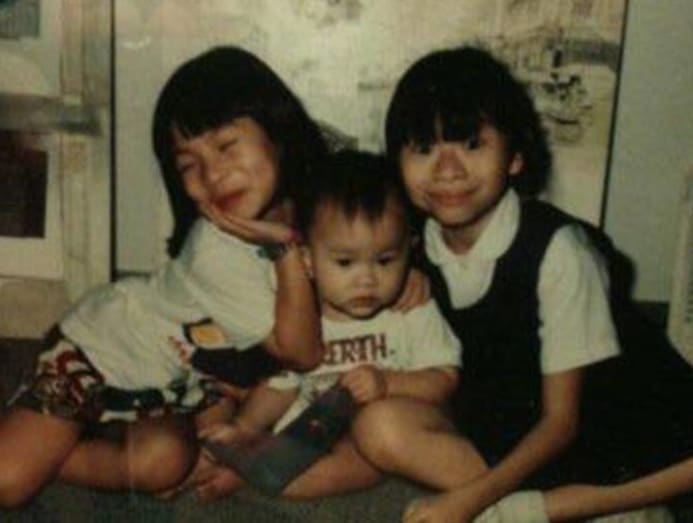 It was only later on in life when the Tings developed a deeper bond with each other. "We eventually grew up and found our own identity, our own likes and dislikes. Interacting with each other on a daily basis also allowed us to talk about the day we've had and check up on each other," shared Pamela. 
"At some point, we made a conscious decision to get to know one another for who we are, as opposed to people we just see every day," Renee elaborated. 

Through the years, the sisters have supported each other on their respective entrepreneurship journeys. "I think it comes in a very natural way. Just like how you'd want to be there for a friend, for us, because we're related by blood, there's no limit to the extent we would go for each other," said Rebecca.
When Rebecca first launched Beyond The Vines with her husband, she recalls turning to elder sister Pamela for help and advice. 
"The initial part of starting a business is always the toughest. But knowing that she has gone before me was really comforting. I could call on her for help with anything, such as logistics or supply chain issues," she said. "Being able to turn to someone I know and trust, who doesn't hold back when it comes to sharing, really eased a big part of my entrepreneurship journey."
Pamela describes having a "fluid exchange" of help and advice between her sisters. "For example, if I need contacts in the art industry, I can easily go to Renee for help."
"Beyond support, there's also a lot of respect between us," Renee added. "We're all so individualistic and independent, and we respect that the other person knows what they're doing and if anything, we're here for them."
As much as the Tings support each other, they also make it a point to celebrate one another. "We go to each other's events, like store openings or product launches. But we're not so rigid about it. If we can't make it, we'll send down a note with flowers. We trust each other to the extent that we don't need physical presence to know that the support is there," Pamela said.
Beyond support, there's also a lot of respect between us. We're all so individualistic and independent, and we respect that the other person knows what they're doing and if anything, we're here for them. 

A SAFE SPACE WITH ONE ANOTHER
Despite managing their own busy schedules, the sisters still manage to find time for each other. "We are quite spontaneous, we don't really plan out dates to meet," Pamela shared.
Renee added: "Sometimes, I'll invite them over to play with my cats, or we would have dinner at Becky's and play with her kids."
Most of the time, the sisters enjoy coming together to just "hang out and chill". "The nature of what we do on a daily basis gets very intense. But we've known each other before we each started what people know us for. So when we're together, our guards are down and we just have a good time," Rebecca shared.
Renee describes the presence of her sisters as a "safe space". "There's no judgment between us and we can be ourselves completely. I feel like I can ugly cry in front of them and they'll still tell me I'm beautiful!" she quipped, drawing laughter from her sisters.
Above all else, there's a strong sense of admiration the sisters have for each other. "Pam takes everything in great stride, she always seems very unfazed. She really is our da jie, who watches out for us," said Renee on her eldest sister.
She continued: "For Becky, I'm always amazed at how she excels in everything. Even more so because she's a mother of two kids on top of running her business."
"I feel the same about Ren and Pam," Rebecca added. "They are each very strong women. In our private lives, we know what each of us has gone through. But there's so much resilience in them."
Pamela shares that each of her sisters "epitomises what a woman should be". "They are both very independent with their own thinking, but there's still so much respect in how they treat others," she said.
A FAMILY COLLABORATION?
Evidently, the sisters share a unique bond which Rebecca says they "don't take for granted". Having found success in their chosen career paths, we ask the sisters if they would one day come together to start something as a trio. 
"We thought about it, but I instinctively say no. But you never know! Never say never," Pamela answered. "I feel like we're too much alike, and too different at the same time," Renee chipped in.
For now, the Tings are content with the current state of their relationship. As Pamela shared, "I think we are good supporting each other with our own things. When we come together, we share our different experiences and we learn from them."
And as female business leaders, the Tings believe in the importance of "creating a space for support" for fellow women entrepreneurs. 
"It's natural for women to want to compete. But we should stop seeing each other as threats," Rebecca believes. "At the end of the day, the fundamental reason why we go into business is because we want to contribute to society, to create livelihoods, to grow a community."
What her sisters have done with their respective businesses is something Rebecca says she finds very inspiring. 
"At Scene Shang, Pam represents our father's artworks. With Ren, I'm impressed with what she's doing to support the current and future generation of artists. It's in our blood that we're not just entrepreneurs, we're very purpose driven. And I just find what each of them is doing very inspiring," she expressed.