7 tips on how to start your own business – from Singapore women who succeeded
Have you been itching to start a home business or wondering if that hobby of yours could become financially rewarding? CNA Women has these tips from experts and women entrepreneurs on how to fulfil your dream.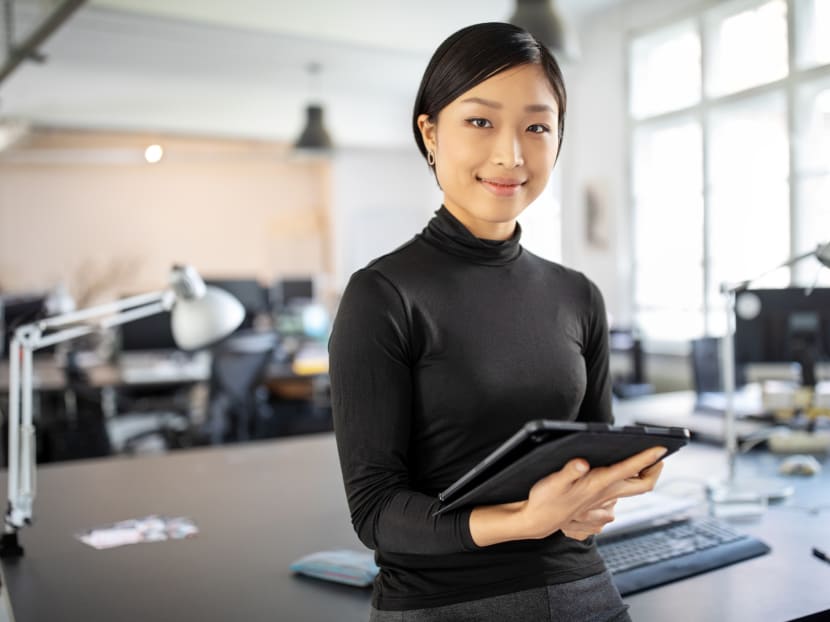 Elynn Teo began her entrepreneurial journey in the middle of the pandemic. "When the pandemic hit, some people asked me if I was still serious about leaving my job and it did occur to me to rethink if I was making the right decision," she told CNA Women.
Teo eventually resigned from her role as senior vice president of an investment management firm's global finance and accounting team in 2020 and now runs two businesses: The Mind Studio and Kalyana Advisory.
The former provides mindset and emotional coaching primarily to women and children to help them live purposeful and confident lives, while the latter offers corporate services like bookkeeping for businesses.
"I thought if I want to be in a helping profession, isn't this then the best time to reach out to people who need help in this pandemic? And given how uncertain life and this world has become, if I don't do it now, then when?" said Teo, who has a Graduate Diploma in Positive Psychology and Neuro-Linguistic Programming Coaching certification and is currently pursuing a Masters in Counselling.
Recent years have seen a trend in women wanting to start their own businesses, said Michelle Hon, the founder of MomBoss Academy, which coaches mothers on how to build their own businesses.
Some of them (or their partners) lost their jobs because of the pandemic and needed additional income sources, while others were now able to carve aside time to work on their dream businesses because of the flexibility of remote working, she said.
"The barrier and cost to starting a business is now very low and the trend is encouraging more women to take up entrepreneurship. It's no longer a rare 'occupation'," Hon noted.
Ultimately, a business has to be purposeful to you … If you're just in it for the money, it's easy to give it up for another business or job.
Whether you're thinking of leaving your job to be your own boss or to turn that passion of yours into a side hustle, here are tips from experts and women who have been there and done that, on how to start the small business of your dreams.
TIP #1: HAVE PASSION FOR WHAT YOU DO
Know your strengths and what you enjoy doing, Hon advised. "Ultimately, a business has to be purposeful to you, in addition to making an income – because there will be hard days. If you're just in it for the money, it's easy to give it up for another business or job."
This was so for Linda Anaqi, an early childhood education lecturer who started Fairyzcraftz in mid-2020, a home-based business which sells handmade crafts and accessories like resin, jesmonite and gemstone trays.
She sees the pandemic as a blessing in disguise that provided her with more time to explore and jumpstart her business.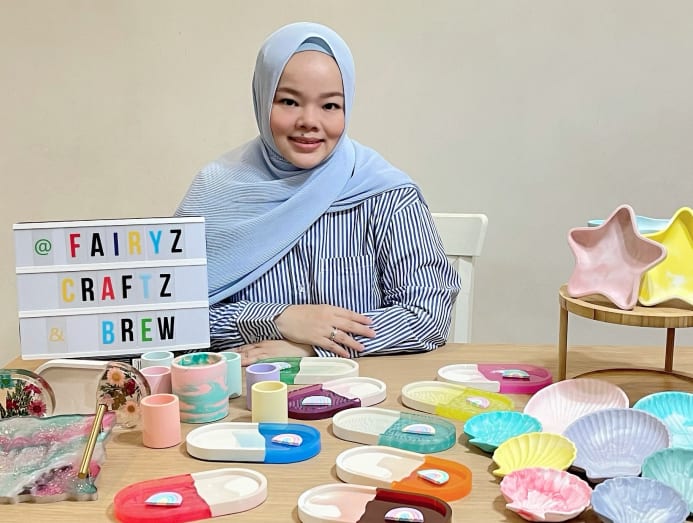 "It's important to do what you like and enjoy the process," she said, adding that crafting is "very therapeutic" for her and she enjoys using her free time to hand-make her products.
Teo believes it is crucial to know why you are starting the business and to use it as your drive and motivation.
"I've always loved coaching my team throughout my leadership roles and I'm pretty good at it as I personally believe it is important for one to have the right mindset and self-empowerment to succeed and flourish," she said.
"When you believe in the purpose of your business – for me, that is serving the community – you will feel empowered to make it succeed." 
And when you believe in your business, you will also feel excited to share it with people, Teo added.
"I've seen women who lack the confidence to market their businesses because they hate selling. I hate selling, too, but when I truly believe I am adding value to my clients, I am no longer selling and instead, I feel passionate about sharing how my services can add value for them."
TIP #2: YOU CAN START SMALL
You may think that starting your own business may require substantial capital or a grand office but that is not necessarily true.
Hon noted that her businesses, which are mostly online, "cost almost nothing to start except time" and she has never had to take on credit for her businesses. Today, Hon's monthly revenue from her coaching business, brand deals, commercials and speaking engagements are at five-figure sums.
"When I first started, I only spent a few hundred bucks to incorporate my business and purchase a website domain," noted Teo. 
Other than working from home, she also makes use of co-working spaces for coaching sessions with clients and meetings with employees to lower costs. Now, she employs two part-time staff.
You can also utilise technology to minimise costs and hassles. Website builders like Wix are an easy way to start your own website, and ecommerce platforms like Shopee, Lazada and Qoo10 take the hassle out of setting up your own webstore.
For those interested in selling handmade crafts or starting a home-based food-selling business, start-up costs for materials, ingredients and baking/cooking equipment and tools – which many are likely to already own – could be as low as just a few hundred dollars, entrepreneurs told CNA Women.
TIP #3: CREATE A BUSINESS PLAN
Creating a business plan and budget will give you a better idea on the viability of your business, along with the costs and processes involved.
"A budget will determine the capital required for set-up, and monthly outlays and cash inflows," said Teo.
"It is important to consider how much of your personal savings, if any, can be set aside for the business after taking into account recurring fixed expenses in your personal life and during emergencies, and how long you can survive during the initial business phase where you may not break even yet," added Teo.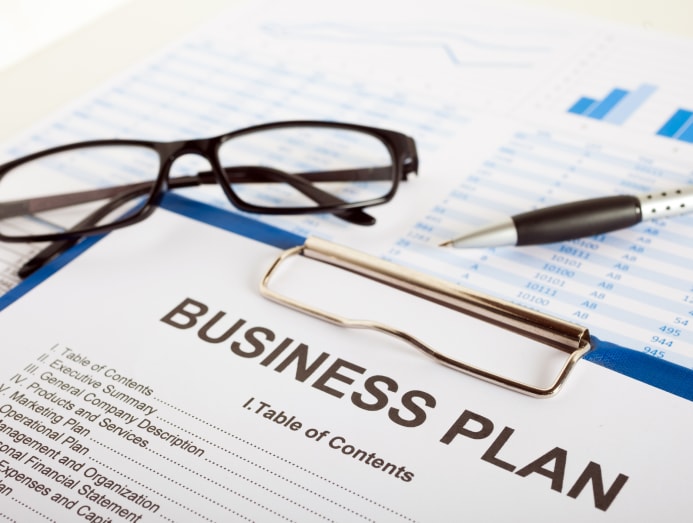 "If you are not familiar with creating business plans and budgeting, reach out to professionals for help," added Teo, whose business, Kalyana, also helps clients with business planning and budgeting.
Edwina Tan, founder of online retail website Ubermums, which sells nursing/breastfeeding covers, reckons that one should not leverage on credit to start a business unless you have substantial experience in the area and are very confident of cost levels and sales.
"Starting a business is inherently risky as there is no guarantee of success. So, unless you have specific knowledge or experience that will guarantee you will make profits to repay the borrowings, only commit what you can afford," she said.
"In this age of crowdfunding and availability of established e-commerce platforms, you can start very small with very little upfront overhead as you test the market," Tan added.
She started Ubermums with a capital of S$5,000, 10 years ago, and now operates from a home studio and rakes in annual revenues in the five-figure range.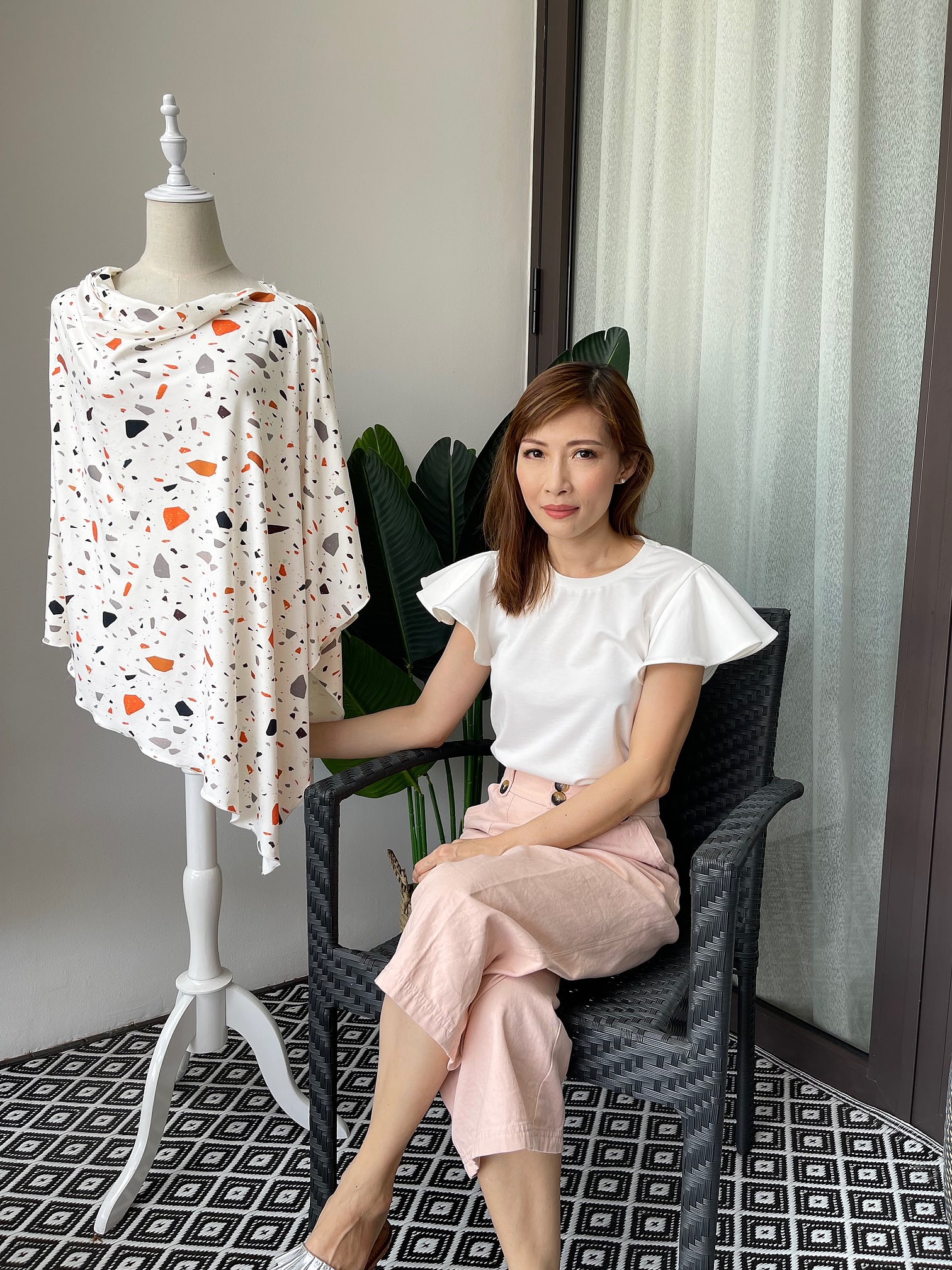 Hon also noted that you may not necessarily have to quit your full-time job to start your business.
"If you're more risk-averse and you don't have buffer money – which is enough money to continue your current lifestyle while you build your business – then hold on to your full-time job until the profit of your business is able to replace your salary.
"This option is safer though also much slower to get the business off the ground," she advised.
TIP #4: KNOW THE REGULATIONS
Do familiarise yourself with relevant regulations. For instance, home-based businesses should meet the criteria set out by the Urban Redevelopment Authority, which includes disallowing advertisements and heavy equipment at residential premises, while home-based food-selling businesses are required to comply with the Singapore Food Agency's guidelines on food hygiene practice.
Popo Tang, who runs Precious Purple, a home-based baking business, noted that it is important to keep up to date with Singapore's COVID-19 restrictions.
For instance, contactless delivery/collection was required during some phases of the restrictions while safe management measures such as the number of visitors entering a household must be adhered to.
"This can take some planning but isn't a major problem as long as you stay up to date with all the rules and regulations," said Tang, who noted that home bakers also have to take care not to flout patent rights when customising cakes with popular characters.
Generally, all businesses must register with the Accounting and Corporate Regulatory Authority (ACRA), unless you choose to conduct business with your full name as reflected in your NRIC. Doing so legitimises your business and gives your business access to government funding like those made available by Enterprise Singapore.
Whether you decide to handle the accounts yourself or use external bookkeeping services, you'd need to ensure your annual financial statements are prepared and tax returns submitted to the Inland Revenue Authority of Singapore on time, even if you are making a loss, said Tan.
"If you work from home, it is important to separate personal and business expenses for accuracy," she advised.
TIP #5: OUTSOURCE IF NEED BE
Being a small business owner does not mean you have to take care of every aspect of your business. In fact, it helps to identify areas of the business that you are clueless about or need support with, said Teo.
Citing Kalyana as an example, Teo initially did not hire any staff when she started the business. "But I estimated that the work at Kalyana was going to consume too much of my time, which would mean less time for The Mind Studio, so I knew I had to hire," she said. 
"Time is money. So it is a constant evaluation of whether it makes more sense to save by doing it on your own or spend that dime for speed and results."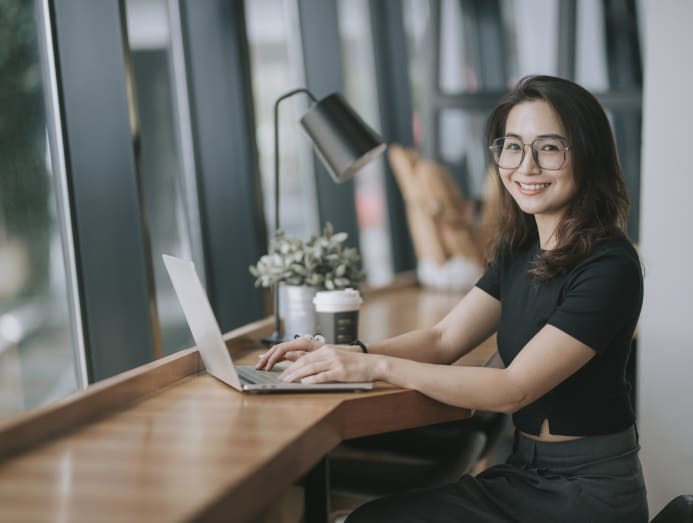 Teo also noted that when she just started her business from home, staff and clients had to drop by her house.
"There would be times when working from home was not feasible, like when my kids were all home or when clients prefer absolute privacy, so in those instances, I would pay an hourly rent for a space.
"That became an extra stress as I was constantly looking for a space that was both accessible and available for each coaching session. It was only after my coaching practice had grown that I decided it was worthwhile to get a co-working space membership," she said.
TIP #6: BE NIMBLE AND FLEXIBLE
As a business owner, it is important to move with the times and changes in the market, and know when to shift direction for your business.
Tan had first started Ubermums as an online and retail business but transitioned it into a fully online business a year and a half later.
"The challenge with a retail business is not only in costs and staffing but also in stocking and managing large inventories. Moving it online allowed us to be nimbler, have a store that is open 24 hours with an international reach, have more control over quality and introduce new designs and products easily," she said.
Tan also changed the direction of her business from maternity and nursing wear to focus on breastfeeding covers as the former's market was very competitive and she saw a niche market for nursing covers. During the pandemic, Ubermums also diversified into supplying face masks.
"Do not give up and be nimble if you need to change your business direction in the midst of your journey. It is never a wasted experience," she said.
Tang, too, had to change Precious Purple's business focus midway.
Her business had initially started on reselling customised gifts but demand was poor and she decided to switch to baking, which was also a personal passion.
Since its 2019 inception, Precious Purple has diversified to other baked goods like Indonesian lapis and Swiss rolls, cookies and kueh. Monthly sales can reach $1,000 and during the festive season, sales can be higher.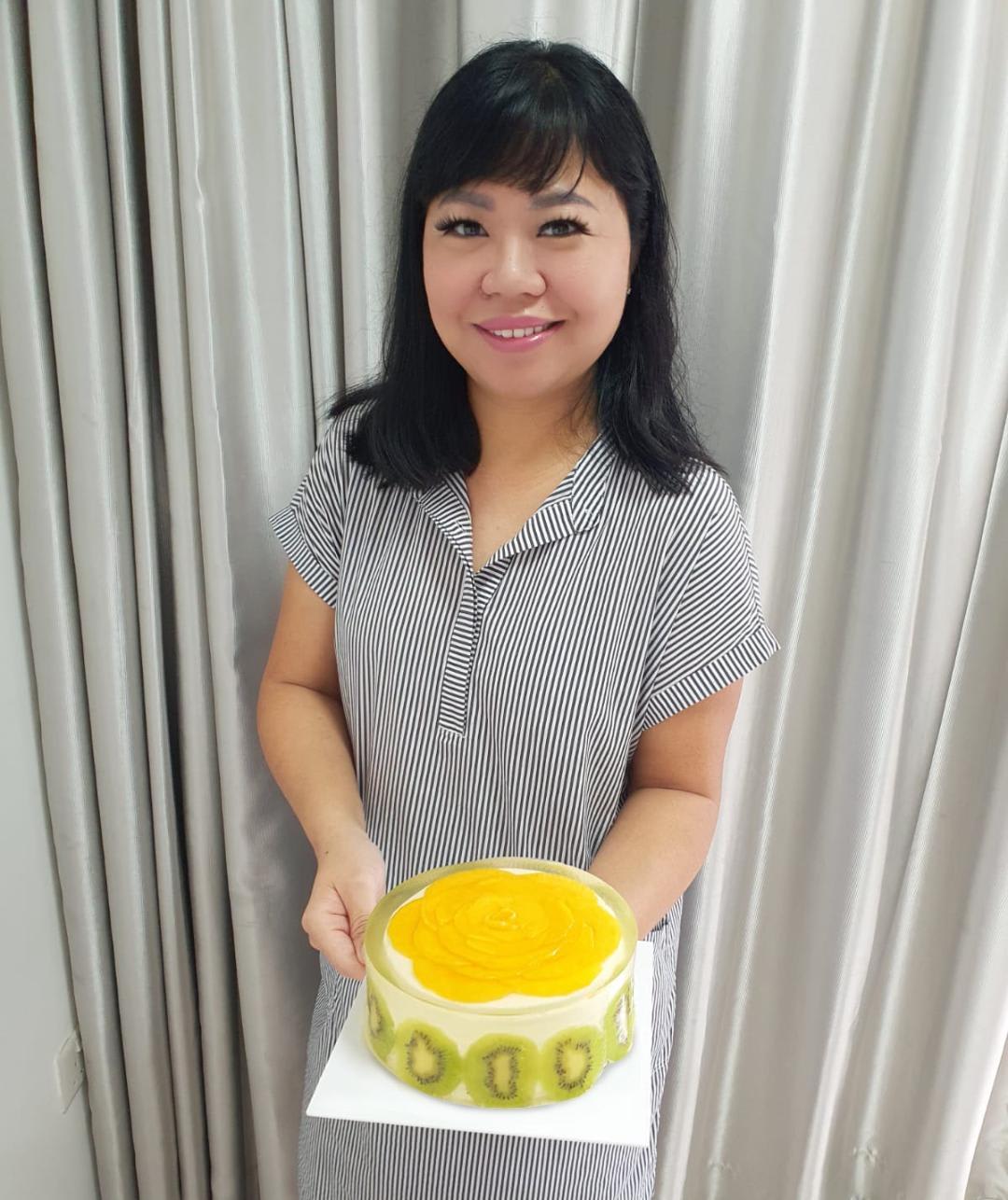 After having coaching workshops postponed and cancelled during the pandemic, Teo took the opportunity to transform one of her group coaching programmes to a self-paced learning online platform.
She said: "This itself presented a new opportunity as more people are now getting used to learning in a self-paced online environment while also having a lower-cost option to access the same learning and knowledge."
TIP #7: EXPLORE MARKETING OPTIONS
Marketing is necessary to create awareness about your product, and one way to do so is to utilise social media to reach your target audience.
"Social media is a two-way communication channel. It allows businesses to speak to consumers, and vice versa. This provides opportunity for businesses to build relationships with consumers, generating word of mouth or advocacy for the brand," said Teo Hon Wui, co-founder of marketing agency Mashwire.
He advised small business owners to take a consumer-first approach and understand which platforms their consumers are at and how they behave there.
"Create and curate your content to suit their needs – not yours. Without media budget to boost or promote your posts, you are likely to reach a very small audience but the key is to engage your audience to drive up organic reach," he said.
Other than social media, you can also tap into collaborations with other businesses and pick up skills like how to take good photographs to better market your products.
Tan said: "Visibility is key for any online business. I attended a course on Search Engine Optimisation, which is a digital marketing strategy that focuses on your website's presence in search results on search engines like Google. The knowledge of this helped tremendously in the way I create content on my website."
She is seeing positive results from this – a Google search on 'nursing ponchos Singapore' or 'nursing covers Singapore', would to date, see Ubermums appearing as the top few search results.
"Your business is more than just a website for an e-commerce shop, but rather the sum of many parts. Focus your effort on other aspects of the business such as customer needs and feedback as good reviews help shape the business reputation and its online footprint," Tan added.
CNA Women is a section on CNA Lifestyle that seeks to inform, empower and inspire the modern woman. If you have women-related news, issues and ideas to share with us, email CNAWomen [at] mediacorp.com.sg.