A gender-equal Tokyo Olympics? More female athletes, nursing mums get a boost
For the first time in history, women athletes competing at the Olympics will receive greater support, from increased quota allocation for mixed-gender events to a policy change that supports athletes who are breastfeeding.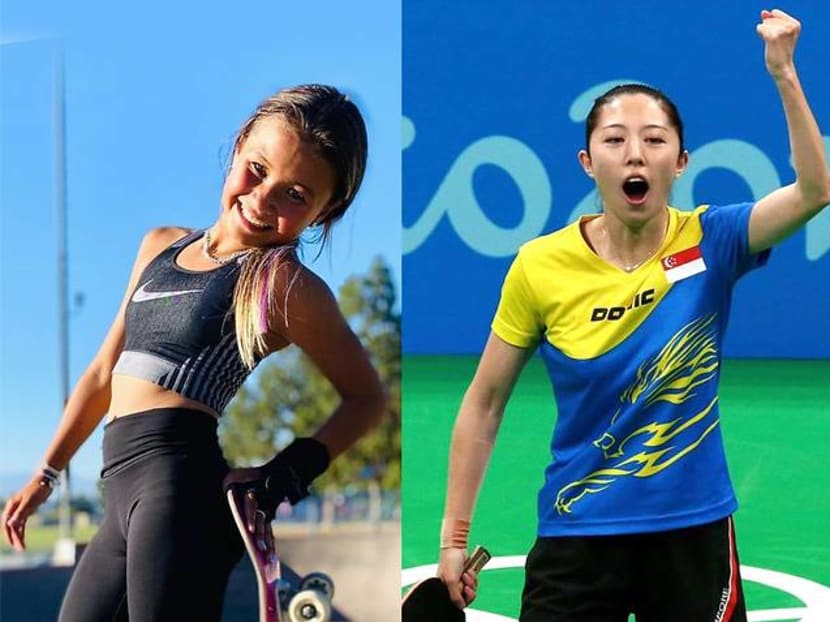 When the International Olympic Committee (IOC) announced in March this year that the Tokyo Olympics would be the first-ever gender-balanced Olympic Games in history, the first question that came to mind was: How was it going to be so? 
After IOC president Thomas Bach said that "the Tokyo Olympics will be more youthful, more urban and will include more women", we wondered: How would these Games change the course for women athletes around the world?
It seemed like the IOC was acknowledging that women athletes have specific needs. 
In Singapore, too, women are making strides in the Tokyo Olympics. The 23-strong Singapore team comprises 17 women athletes.  
Ahead of a pandemic-postponed Tokyo 2020 opening on Friday (Jul 23), CNA Lifestyle looks at the five ways the international sporting event is providing greater support for women athletes.
1. INCREASED QUOTA FOR WOMEN ATHLETES 
According to the IOC, the quota allocation for women athletes competing this year will be almost 49 per cent. This includes packing in nine more mixed events than the 2016 Rio Olympics, including a mixed team triathlon relay and a mixed doubles event in table tennis.
And that's not all. For the first time, the IOC has made it compulsory for all 206 National Olympic Committees, representing 80 countries, to have at least one female and one male in the committee. 
Plus, the IOC has also asked every country to send two competing athletes as dual flag-bearers, one female and one male, for the Opening Ceremony. The Singapore flag bearers are table tennis player Yu Mengyu and badminton player Loh Kean Yew.
2. HAVING A WOMAN LEADER AT THE TABLE HELPS
You can definitely count on a female leader to look out for other women and call out misogyny and discrimination when she sees it. In this case, Seiko Hashimoto, who replaced long-running Yoshiro Mori as the chief of the Tokyo Olympics Organising Committee in February this year.
The former chief had angered many with his sexist comments at a meeting to discuss increasing the number of women on the Tokyo Olympics Organising Committee.
He said that women "talked too much", and "have difficulty finishing, which is annoying", according to reports from Japanese newspapers. He eventually resigned over the firestorm.
Weeks after Mori's resignation, Hashimoto called for women to make up 40 per cent of the board members, a decision supported by the Tokyo Olympics Organising Committee. It added 12 women to the board, increasing the gender ratio to 42 per cent women.
3. CHANGING POLICIES TO CATER TO BREASTFEEDING ATHLETES
Due to strict COVID-19 protocols, organisers had originally banned family members of athletes from attending the Games, prompting athletes who are mums to speak out, including Canadian basketball player Kim Gaucher and US long-distance runner Aliphine Tuliamuk.
Said Tuliamuk about wanting her family close to her during the competition: "Sometimes I think, what if something horrible happens and I never come back home, like what if I never make it back from Tokyo?"
Gaucher also said she was "being forced to decide between being a breastfeeding mum or an Olympic athlete".
In June however, the organisers announced that breastfeeding athletes would be allowed to bring their children to the Tokyo Olympics "when necessary". While the move was seen as a step in the right direction, some athletes wanted more clarity.  
US football player Alex Morgan tweeted on Jul 1: "Is that determined by the mother or the IOC? We are Olympic mothers telling you, it is necessary. I have not been contacted about being able to bring my daughter with me to Japan and we leave in seven days."
Meanwhile, US heptathlete Lindsay Flach inspired us by competing in the Olympic trials in June, including the high jump, shot put, a 200-metre sprint and long jump events, at 18 weeks pregnant.
Showing off her baby bump during the trials in an Instagram post, she said: "I went to this meet for me, wanting closure for my track career before I moved on with life".
For a demanding sport like the heptathlon, the 31-year-old mother's determination to compete in the Olympics is remarkable. Flach only pulled out of the 800-metre event as a precautionary step, after having tried to qualify for the Olympics for the third time.
4. MORE THOUGHT IN DESIGNING SPORTS BRAS AND GEAR FOR SPORTSWOMEN
In the UK, in a move to help reduce breast discomfort in women athletes, a group of scientists at the English Institute of Sport and the University of Portsmouth started working on custom sports bras for Team Great Britain ahead of the Olympics. 
In a survey the institute did with 70 women athletes, 17 of them said that they took medication to reduce breast pain, while another 17 said that breast discomfort had hindered their ability to perform. 
In a BBC interview in March this year, hockey star Hannah Martin, one of the 100 athletes who benefited from the initiative, said: "It's not something you really speak about or you talk about with your friends. It's such a huge part both health-wise and performance-wise. I think the awareness needs to be upped and that education around what you need and what is right for you."
Employing technology such as a motion sensor system placed beneath the bra, Brogan Horler, Head of Product Testing at the University of Portsmouth Research Group in Breast Health, said in a video interview by the university that the sports bra reduced breast movement and gave better bounce control in volunteers who tried it.
In the US, reality star Kim Kardashian's body-positive and made-for-women Skims label is already the official designer supplying Team USA's women athletes with underwear and pyjamas.
US track and field athlete Allyson Felix, who's part of Team USA, is also owning it by designing her own running shoes. She said at the launch of her lifestyle brand Saysh on Jun 23, that she did not have a sponsor for track shoes. 
In 2019, she split with shoe and apparel giant Nike after the brand wanted to pay her less – a 70 per cent reduction, she said – after she had her baby.  
Felix said: "I was tired of asking for change. I knew I needed to create it. So we started our own brand called Saysh. We design and develop products for and by women. We started with my racing spikes."
Following public criticism, Nike expanded its maternity policy to protect a pregnant athlete's pay and bonuses, covering the eight months before her due date and 10 months post-partum.
5. INTRODUCING NEW SPORTS THAT WOMEN ATHLETES CAN COMPETE IN
Skateboarding, surfing and indoor climbing are not only making their highly-anticipated Olympics debut, these sports have also attracted young women competitors from participating countries such as South Korea, Brazil and Japan. 
Among them are 13-year-old Sky Brown, currently ranked third in the world, and her teammate, 14-year-old Bombette Martin, both representing Great Britain, and 17-year-old US skateboarder Bryce Wettstein.  
In an interview with UK newspaper The Guardian, Brown said that by being "the little one in there, going big", she hoped she could show other girls they have no reason to be afraid. 
In the world of indoor climbing, 40 climbers comprising 20 men and 20 women will make their sporting debut at the Tokyo Olympics, including 17-year-old South Korean Seo Chae-hyun. 
In surfing, keep a lookout for 18-year-old Shino Matsuda from Japan, and 19-year old Caroline Marks, who became the second female surfer from Team USA to qualify for the Games. 
Catch the Olympics Games Tokyo 2020 LIVE with 14 dedicated channels on meWATCH. Sign in now at mewatch.sg/tokyo2020 and get into the action with Mediacorp, Singapore's Olympics Network.
CNA Women is a new section on CNA Lifestyle that seeks to inform, empower and inspire the modern woman. If you have women-related news, issues and ideas to share with us, email CNAWomen [at] mediacorp.com.sg.