Mum of former women's national player takes on 'walking football': 'I've been active all my life'
Hamidah Bee used to keep busy sending her children, including a former national player, for football training and games. Now that they're older and have moved on, the 53-year-old is herself gearing up to compete regionally in a novel brand of the sport – walking football. This story is the second in a CNA Women series about the women of Singapore football.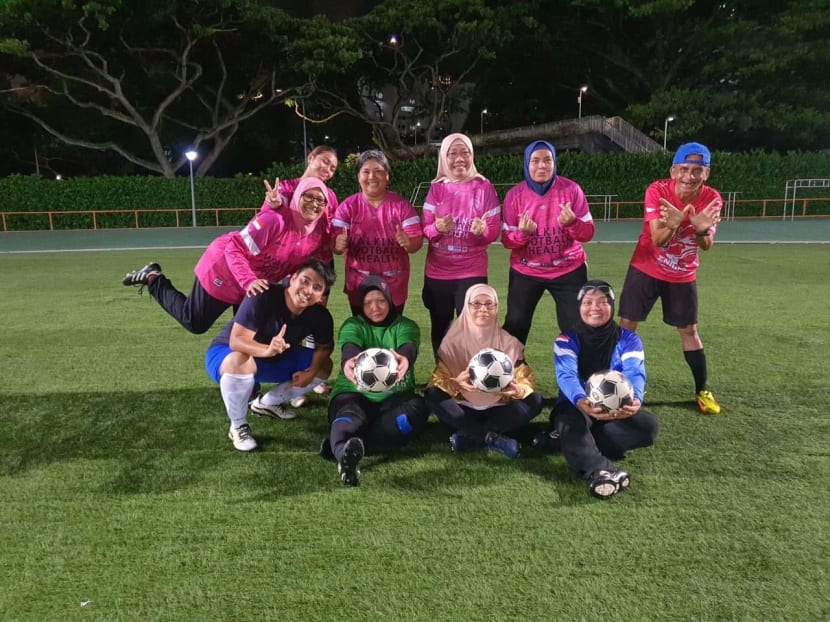 When the COVID-19 pandemic hit, Hamidah Bee, 53, was at a loss. The stay-at-home mum had spent decades shuttling three of her four children to and from football training, supporting from the sidelines, and maintaining close relationships with their coaches and teammates. 
But in 2020 and the COVID-19 pandemic hit, the world came to a halt. 
"I was lost. I love sports. I love football. I felt unproductive," she said. 
Hamidah herself grew up playing football. As a child, she would watch as her younger brother played with the kids in their Telok Blangah neighbourhood.
"I started out just sitting in a corner at the void deck or basketball court but after a while, I joined in. We played football, rounders, hide-and-seek, even spinning tops," she told CNA Women. 
When Hamidah started having children, she told her two eldest boys to pick up a sport. "Any sport," she said. 
They too developed a love for football. In primary school, the brothers attended a football clinic that earned them spots at the Tampines Rovers Academy.
Hamidah committed to attending almost every training session, even as she became pregnant with one of her daughters, Mira Ruzana. 
"Mira and her brothers are about eight years apart (so she didn't really play with them) but she grew up watching them play. I continued to support my sons during my pregnancy so you could say her love for football was cultivated while she was still in my tummy," said Hamidah. 
When Mira turned 12, JSSL Arsenal Soccer School coach Lawrence Lee asked if she was interested in playing. 
Mira shared: "I just attended the tryouts because I wanted to participate in kickabouts. But I ended up falling in love with the sport." 
Quite ironically, both Mira's brothers decided not to pursue football further, citing the uncertainty of a professional sporting career – one is now a football coach, while the other teaches martial arts overseas.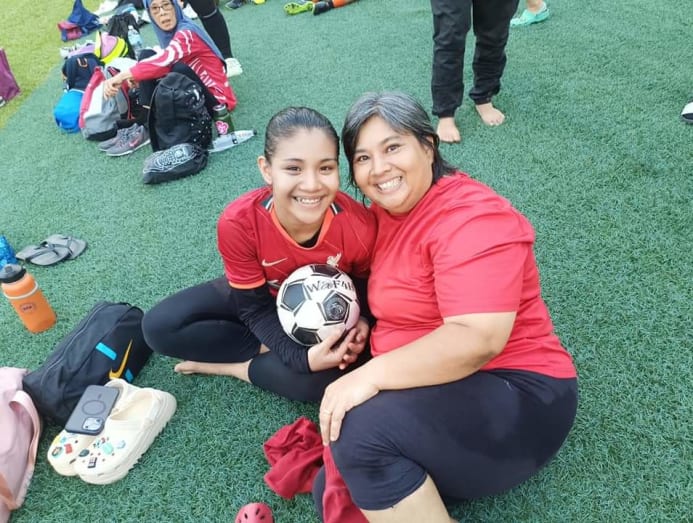 Mira, on the other hand, went on to play for the under-14 and under-16 divisions of the women's national team, eventually becoming part of the lineup of Lionesses fielded for the AFC (Asian Football Confederation) Asian Women's Cup qualifiers in 2021. 
She no longer plays for the national team, choosing instead to focus on her career in early childhood, although she now represents amateur club Still Aerion WFC. 
With her children now focused on alternative paths, Hamidah became restless. 
Then, last November, she discovered something novel. 
WALK, DON'T RUN
At an event hosted by the Football Association of Singapore, the homemaker was introduced to walking football.
Walking football, which was reportedly conceived only in the last decade, is a no-contact sport that discourages running, tackling and even heading of the ball. It is said to cater to older athletes, as well as those with reduced mobility. 
In 2016, wellness movement WalkingFootball4Health Asia or WaF4H (pronounced "wa-fah") launched in Malaysia after conducting activities since 2015. In 2021, it was debuted officially in Singapore as part of national efforts to combat sedentary living. 
Today, the movement boasts some 50 members, both men and women, who mostly train together. The oldest player in the team is around 70 years old and despite walking football's reputation as a sport for seniors, some are in their teens.
There's even an honorary five-year-old member.
"At first the players were mostly in their 50s but we started bringing along our children and grandchildren, and now the age range is very wide," said Hamidah, chuckling. 
Regular updates on the WaF4H Facebook page show the team exercising together – a mix of stretching, power-walking and high-knee drills – and playing six-a-side matches both on the football pitch and on the futsal court. 
Hamidah, who already had friends in the team, became hooked. 
"I've been committing fully since the start of the year. We train twice a week but recently a new session was added just for female players to prepare us for the women's tournaments coming up very soon," she said. 
"We even compete regionally, with a tournament happening (later this year) in Seremban," she said. 
"I ONLY FOLLOW LOCAL WOMEN'S FOOTBALL"
Ask Hamidah who her favourite international footballers are and she's stumped. But talk about local football, especially women's football, and she rattles on. 
It is a dedication undoubtedly honed through the years spent supporting Mira, now 22.
"We're close," Mira told CNA Women. "She was always around during my training growing up. She'd send and fetch me, and that helped me get the rest I needed. Now that she has her own commitments, she still shows her support but can't always be present, especially when my matches clash with her sessions." 
Hamidah is familiar with Singapore's female football stars, citing the likes of Putri Syaliza, now playing in the United States with the Oakland University Golden Grizzlies, Lion City Sailors' Umairah Hamdan and Venetia Lim, and the Police Sports Association's Kyra Taylor. 
"I don't watch the English Premier League. I wasn't even following the Women's World Cup. If the match happens to be on TV, I'll watch it. I follow Singapore football – that's it," she shrugged.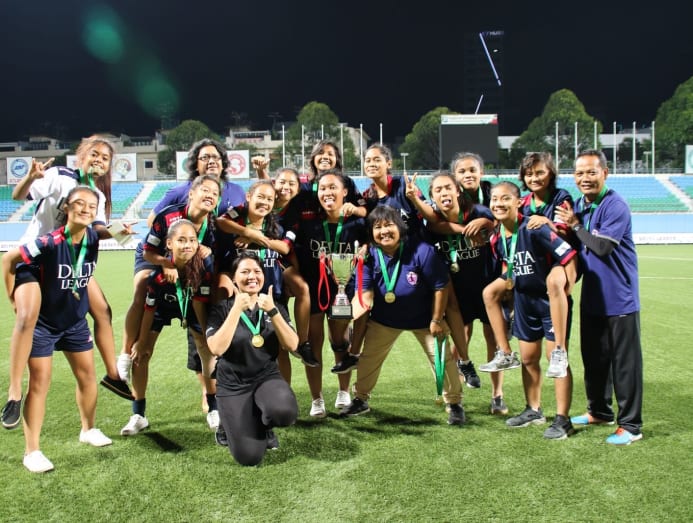 And when asked about the upward trend of female football exports – other than Putri Syaliza, Singapore has seen several more players go pro overseas, including German club Borussia Dortmund's Danelle Tan and Lionesses captain Rosnani Azman – Hamidah was predictably enthused.
"It's good. Not just in women's football but in men's too … When members come back from playing overseas, overall play improves. The sport is better, the play is better.
"We should encourage this – we need people to see us and see what Singapore football is like," said Hamidah.
Hamidah also noted that the Women's Premier League in Singapore has grown in recent years, with "more girls showing interest in football".
"The pool of skillful and talented female players is growing, and it's interesting to watch their progress," she said. 
The league, which started with seven teams in 2000 and saw only a kind of seesaw development over the decades, currently has 10 "strong" teams. It's a good sign," she said.
"I only wish that more can be done to help girls with the potential to go pro prioritise, especially when they're still in school.
"I used to see them struggling between school training and national training, and it was hard for them. That shouldn't be the case."
And while Hamidah continues to vaunt the prospect of the local women's footballing scene, her commitment to her other children remains unwavering.
"My boys may only play for leisure now, but I still support them endlessly."
CNA Women is a section on CNA Lifestyle that seeks to inform, empower and inspire the modern woman. If you have women-related news, issues and ideas to share with us, email CNAWomen [at] mediacorp.com.sg.