Made for her: Singapore brands are realising women love their watches, too
The local watch micro-brand scene has long been a playground for affordable indie options – for men. But three brands now want the ladies to get in on the fun, too.
When it comes to watches, horology and watchmaking, it's safe to say it's no longer just a man's pursuit.
Look around at the poetic complications and femininely styled mechanical movements offered by the industry's biggest names and you'll realise that women are no longer just interested in diamond-encrusted bracelets that happen to tell the time.
And in Singapore, one sign of the shifting times is the arrival of local micro-brands that cater specifically to the ladies. After all, in the face of options by established names in watches, jewellery and even fashion, you'll need genuine passion and a keen understanding of what women want to have the courage to launch one's own brand – in mid-pandemic, we might add.
MORE OPTIONS FOR WOMEN
For Sherrie Han, that passion was great enough to galvanise her into launching The Eliana Timekeeper in 2020, despite already having a day job as a senior associate at Tzedek Law LLC, and being heavily pregnant at the time.
Mesmerised by mechanical timekeeping after taking a watch servicing workshop three years ago, and dissatisfied by the lack of affordable options for women, Han set out to fill that gap in the market.
Following a successful Kickstarter campaign at the start of last year, The Eliana Timekeeper launched with three 28mm models in silver- or rose gold-coloured stainless steel, all powered by automatic movements from Japan.
In an era that prizes convenience, battery-powered quartz watches and smart devices are still the obvious choices, but it is beauty that Han wants to peddle.
"People wear mechanical watches because they appreciate the workmanship and finesse that goes into making one. It's the timeless simplicity of hundreds of gears simply working together as one."
This, she explained, is why her watches have transparent case backs and cut-out dials – all the better to admire the watch's beating heart.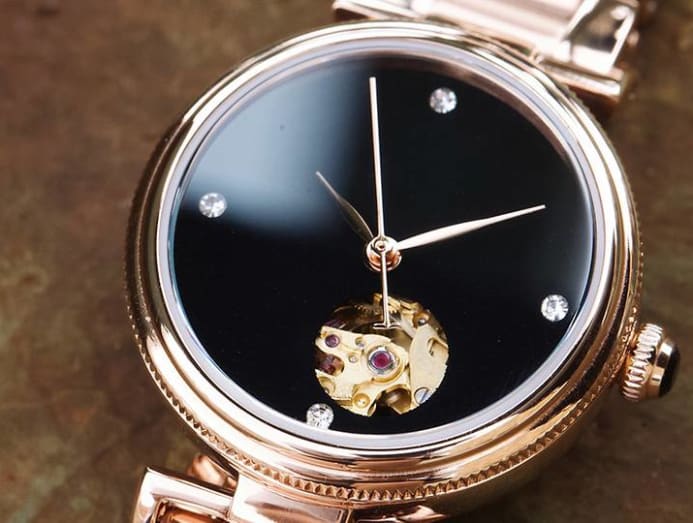 The Eliana Timekeeper has retail partners in Singapore (Watch Wonderland and National Gallery Singapore), Japan, Hong Kong and even Poland, but recent COVID-19-related restrictions have driven more sales to the brand's online shop.
Still, Han remains optimistic about her market. "There is an increased consciousness about sustainable and ethical products with a desire to buy things that last, and consumers are beginning to realise that price does not equate to value," she observed.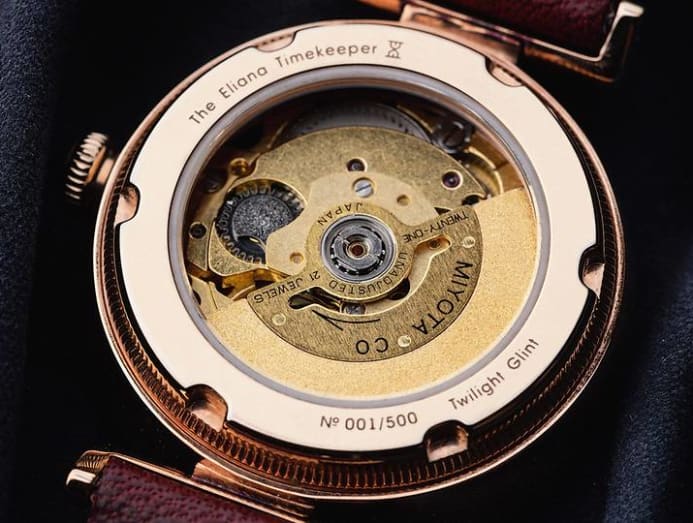 "Mechanical watches do well on both fronts – retaining value for longer and being more sustainable than their battery run counterparts."
Han is now busy designing her brand's second collection and looking for local partners to work with, and while she will continue to keep the watches simple and stylish, she's not afraid to dream big.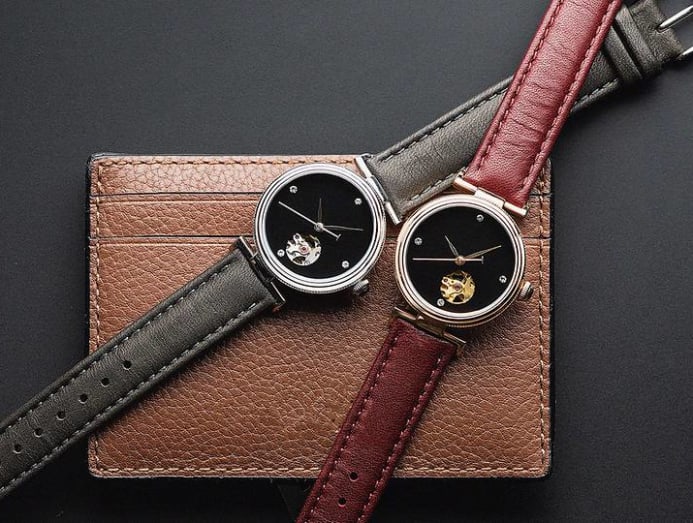 "I'm a huge fan of flinque enamel dials [where translucent enamel is applied over an engraved base plate], tourbillons and moonphases, so if we had absolutely no limits, I would want us to make an in-house movement with those complications and designs, and have them assembled in Singapore," she said.
PERANAKAN-INSPIRED ENAMELLED DIALS
Her goal isn't as lofty as you might think, because another micro-brand is already working toward something similar, at least on the aesthetic side.
Four-year-old Feynman Watches is expanding its core offering of men's timepieces with a highly limited series boasting beautiful enamelled dials, with the aim of creating Singapore's first metiers d'art watches.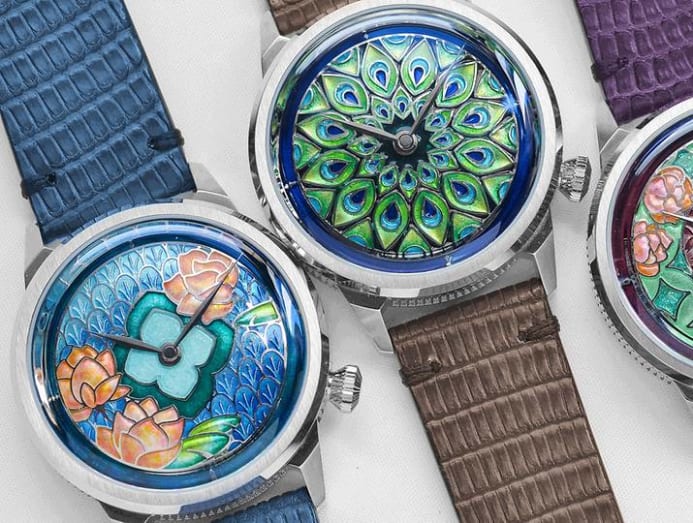 In fine watchmaking, metiers d'art (French for "master of art") is a category that celebrates rare and ancient decorative techniques, such as enamelling, miniature painting, engraving, lacquering and more. Brands like Vacheron Constantin, Patek Philippe, Cartier and Hermes are famous for such dial artistry but Feynman Watches' new series, titled Project Coalesce, wants the spotlight on a much more familiar aesthetic.
"I am fiercely patriotic," said founder Yong Keong Lim. "When people think of metiers d'art, they think of horses or Roman goddesses but when I think about Singapore history, I realised the Peranakan art style would be perfect because it is a blend of our cultures."
The lotus motifs on two of the models were inspired by common Peranakan tiles, while the peacock feathers allude to the many peacock designs found on Peranakan tombs at Bukit Brown Cemetery.
It's not just the designs that are uniquely Singaporean; they were crafted by local hands, too. Royal Insignia's in-house enamelist Charlotte Hoe spends two to three days on each dial, relying on the laborious champleve enamel technique – which involves cells or troughs being carved out of a metal base, filled with vitreous enamel, then baked at high temperatures – to deliver vibrant, long-lasting colour.
​​​​​​​
The leather for the straps are sourced locally and made by Ng Shuyi of Yi Leather, and a second, beaded strap is offered with every watch, each one handmade by Raymond Wong, a master of Peranakan beadwork and owner of the Kim Choo Kueh Chang rice dumpling business. The hand-wound movements might still be Swiss (the ETA 7001, to be exact), but the watches were assembled by self-taught watchmaker Alvin Sim.
Each of the three designs will be a limited edition of six pieces, and will be available from July. It's not a lot, but it's a start, as the brand is already working with a local woodworker for Project Coalesce's next series, which will focus on marquetry. Declared Lim: "Our aim isn't to match or catch up to the Swiss or the Japanese, but to exceed them."
​​​​​​​METIERS D'ART FOR WOMEN
It's true that metiers d'art timepieces by the famous horology houses give the impression of barely attainable luxury, appearing to squirrel away the world's last remaining masters of various decorative arts behind chokingly prohibitive price tags. 
But new micro-brand Artemis Time Art is on a mission to make such crafts accessible to everyone, starting with a collection meant to appeal to women who are new to the world of watches.

Brand owners Brandon Lam and Thai Xiong noticed a lack of affordable options for women that didn't fall under the umbrella of cookie cutter offerings by fashion brands like Olivia Burton. 
So after raising S$32,000 on Kickstarter in April, they got to work producing a series of five designs with champleve enamel dials through a studio in China. These are meant to have broader appeal so the designs are borrowed from multiple cultures, such as Japanese kimono patterns for the "Migration" model, and the elaborate designs of Jewish marriage contracts, known as ketubah, for the "Tigress".
While high-end horology houses can charge five- to six-figure prices for their metiers d'art pieces because of the precious materials used and complications included, it's still an exceedingly far cry from the S$299 that Artemis Time Art is currently charging for pre-orders on Indiegogo. The watches have 33mm stainless steel cases and use quartz Ronda Slimtech 1063 movements. Costs were also kept low by using CNC machines to cut the dial patterns before hand-finishing.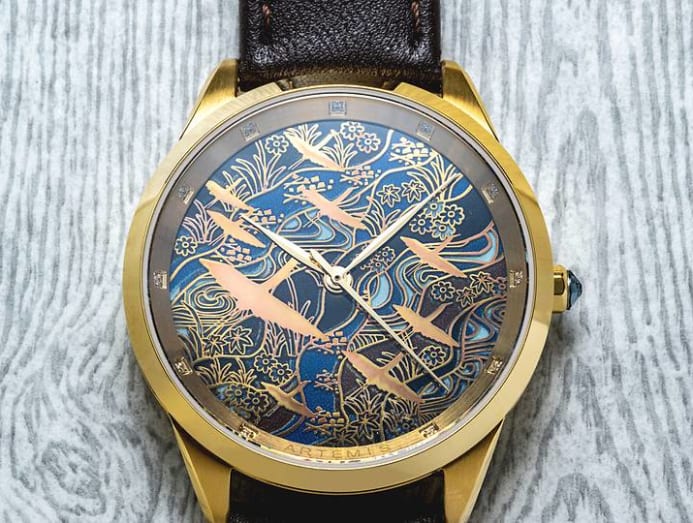 "The smallest brush used for these dials is just five-hairs thick. I think the amount of detailing and the results speak for themselves. So to be able to do this for just S$299, I dare say we offer a slightly better value proposition than Daniel Wellington," quipped Thai Xiong. 
While the women's watch micro-brand space is still a nascent one, Lam believes it will grow as long as designers listen to and consult the women they're selling to. 
"The majority of the more knowledgeable watch collectors I've come to know are women, and they don't want diminished versions of men's watches, rainbow gem-set bezels or leopard print dials. We can't just make assumptions about what women want anymore."