Brides-to-be: Expert advice on how to make your future mother-in-law love you
From planning the wedding and bridal jewellery selection, to living together and beyond, CNA Women asked experts how you can start off on the right footing with the other important woman in your man's life.
In partnership with Poh Heng Jewellery.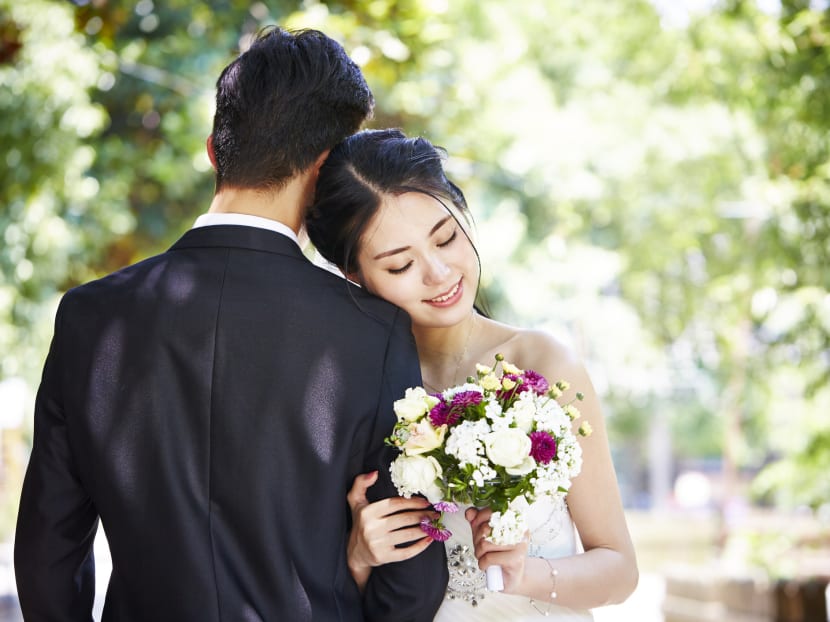 When you get married, you're not just bringing another person into your life, you're bringing in a whole new family. For women, that often includes her mother-in-law.  
The mother/daughter-in-law relationship is a complicated dance, sometimes fraught with tension – it's a rare mum-in-law who falls in love with her son's chosen life partner immediately.
What are some ways you can build a better relationship with her from the get-go, starting with wedding planning (you might not like to think so, but it's her wedding too, in a way), moving into the family home and living happily ever after?
PLANNING THE WEDDING
This big event celebrating the culmination of your courtship is stressful, there's no two ways about it. Add to that well-meaning friends and family, including your mother-in-law, who are more than happy to share (usually unsolicited) advice, and there's a stress volcano waiting to erupt.
Brides, here's your first marriage prep lesson – present a united front with your fiance. "Get your spouse-to-be on board with the planning and decision making," said Teo Seok Bee, deputy director of TOUCH Integrated Family Group.  
Being united helps you continue into your married life together. "When this strong relationship is built, you can then communicate your ideas to him to convey to your in-laws," said relationship and family counsellor Cheong Mun Yee from The Center for Psychology.
Whether it's settling on how many extended relatives to invite (do you really need to invite your husband's second cousin's new girlfriend?) or wondering if you can skip the yum seng (or do it in a non-traditional way), Teo added that it's important to "find out what your in-laws' wishlist and expectations are".
Instead of seeing your mother-in-law as being old-school, it might help to "understand her perspective and concerns" while sharing your own, said Teo.
While you may not agree with your prospective in-laws' family culture, it's important to respect and honour them, Cheong advised.
"Remember that you are marrying into a family and you do want to start things off on a good note," she added.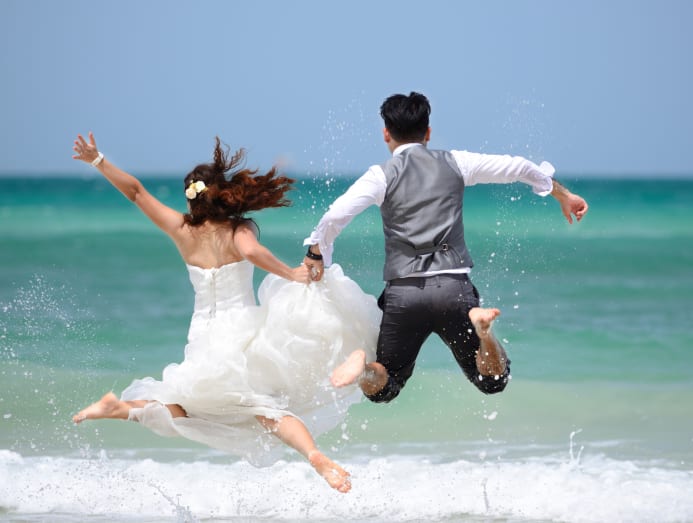 But if there are major differences in the wedding planning, Teo says it's important that you and your fiance find "an appropriate time to discuss it with your mother-in-law and work towards a compromise".
And at the same time, try to be flexible and not sweat the small stuff.
"Although it is your wedding, but remember that the wedding is only one day. Having a good relationship with your in-laws during this planning will help you a long way in your marriage," said Cheong.
THE WEDDING GIFTS
Another bugbear for brides, we hear you. For Chinese families, the groom's mother might gift the bride a set of si dian jin jewellery (meaning "four touches of gold"), as part of wedding tradition.
But you might not see it as necessary, especially when you're unlikely to wear the pieces, usually comprising a necklace, bangle, ring and earrings, after the big day. Or you may feel the designs aren't to your taste.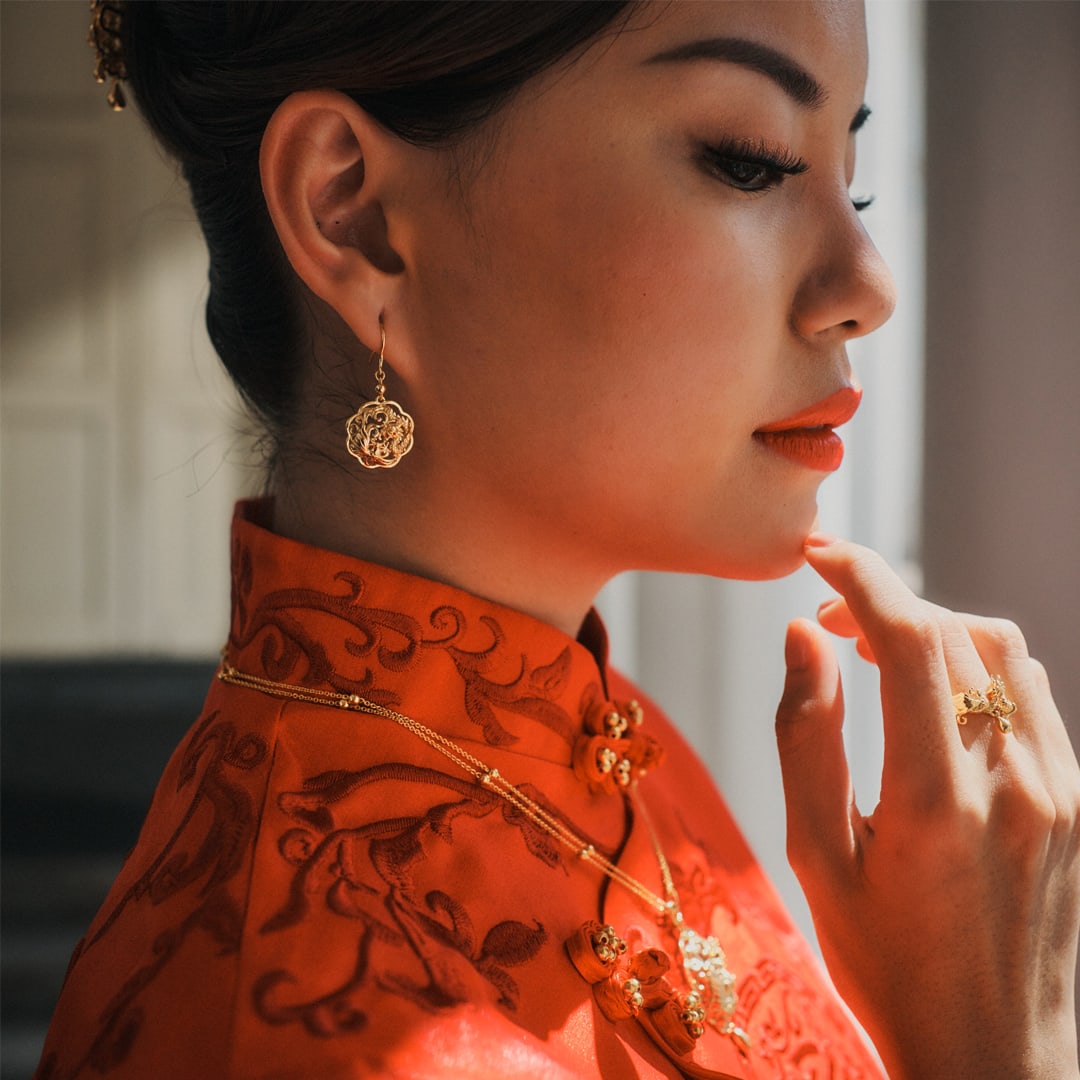 Relationship experts advise women to look beyond these reasons and understand the meaning behind the gift – it's a symbol of your mother-in-law's blessing, acknowledgement and welcome into the family. It's meant to be a promise that the daughter-in-law will always be taken care of.
Some good news too: Jewellery brands now offer more wearable designs that you can easily pair with your OOTD, and not be kept in storage until a grand occasion comes up.
Poh Heng Jewellery has launched its new 22K gold Si Dian Jin sets in three themes, that bring a modern twist to traditional Chinese motifs.
The intricate Dragon Phoenix pair is eternally linked, symbolising a perfect match. The collection includes a ring, necklace, two bangles, a pair of drop earrings, hair pin and hair comb.
The Mandarin Ducks set symbolises everlasting love and devotion while the iconic Chinese double xi motif in the dainty heart-shaped Double Happiness set represents matrimonial bliss. Both sets feature a ring, necklace, bangle, earrings and a hair pin.
The trick to giving your si dian jin regular airtime is not to wear everything at one go. As these pieces already make a statement, wear one at a time, and don't add other accessories to the look.
Here are some ideas to show off your si dian jin jewellery on a daily basis:
Necklace: Wear it with a work top for virtual office meetings or to luxe up a plain tee shirt. The dainty heart Double Happiness pendant on a double chain matches perfectly with a lace dress or flowy blouse.
Earrings: You can't go wrong adding pretty drop earrings (loving the Double Happiness pair) to a classic white tee and jeans combo. You can even wear them daily. 
Bangle: Go from simple to wow by pairing a bangle with a black structured dress for date nights with hubby – the gold hue adds a touch of brilliance but keeps the look wearable.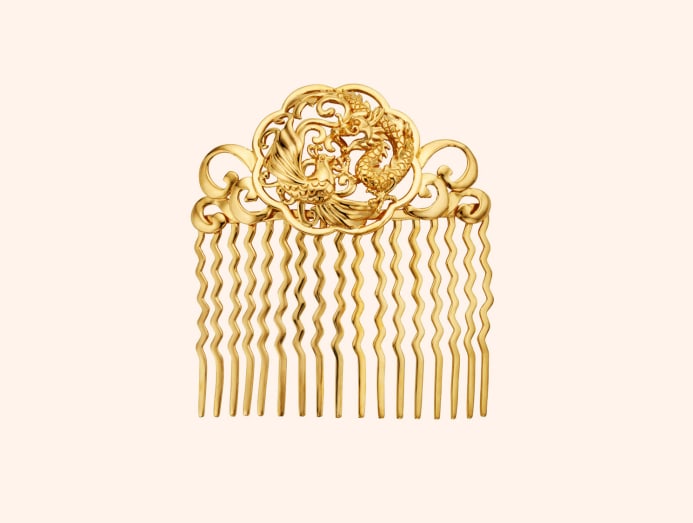 Hairpin or hair comb: If you love wearing your hair up, give the look some pizzazz with these accessories.
MOVING INTO THE FAMILY HOME
A new chapter begins now that you and your fiance have elevated your status to husband and wife. But with construction of BTO flats delayed because of the COVID-19 pandemic, many newlyweds have found themselves without a home to move into after the wedding.
Since renting can be costly, couples would likely choose to move in with either set of parents in the interim. 
It's interesting to note that it's generally easier for the man to move in with his wife's family. Teo said it's because "the expectations of a son-in-law can be quite different from a daughter-in-law", with the wife's mother usually requiring little from her son-in-law on the home front.
On the other hand, a mother-in-law may "tend to be more particular about how their new daughter-in-law manages the home, family relationships or care for the husband", said Teo.
To minimise friction in the home, REACH Community Services Society, which provides individual, couple and family counselling services, advised that it's important to respect your in-laws' space and house rules, while also being open and willing to helping out around the house.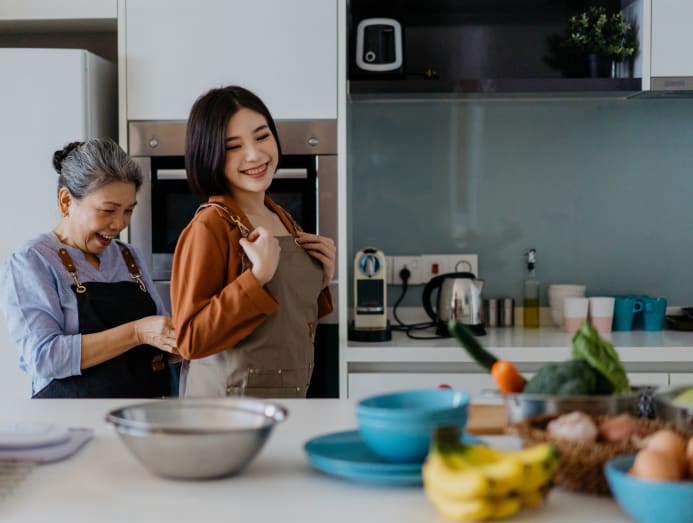 Teo from TOUCH Integrated Family Group added: "As a new family member who is moving in, you need to respect your mother-in-law's rules and way of living. Do not attempt to change or tweak house rules or the way things work at home. 
"Be respectful when you need to make requests to change some of these, such as requesting that your in-laws knock on your room door before entering if this is not their family's practice."
If you do already have a home of your own to live in after the wedding, you should still carve out respectful boundaries from the start, said the REACH Community Service Society.
For instance, your mother-in-law might want to visit your new home every weekend, while you're thinking that monthly visits should suffice.
It may be trying but look at how to meet in the middle – she could visit every fortnight and you can also offer to visit your in-laws for dinner on some weekdays too.  
It is also important that your husband's mother acknowledge that her son is starting a new chapter in his life. So instead of focusing on the empty nest at home, she can try to find a new hobby to fill her time as well.
GETTING TO HAPPILY EVER AFTER   
Like your relationship with your husband, yours with your mother-in-law will be a lifelong one. So whether the relationship started out on the right footing or not, it will continue to evolve as everyone grows older and when children come along.
To help keep the peace and foster a good relationship, keep these useful tips in mind:
#1: SEE THINGS FROM HER POINT OF VIEW
Just like you, her perspectives are influenced by her values and life experiences. Try to see where your mother-in-law is coming from when she makes certain remarks or insists on doing things in a particular way.
The REACH Community Service Society team added that it is important to hear the feelings behind the comments made.
For instance, your mother-in-law lamenting on why your marital home is so far away may just be her way of saying, "I will miss you and wish we could spend more time together".
It's normal to have conflicts and disagreements in any relationship but a little understanding and willingness to compromise can go a long way.  
#2: TRY TO REACH A COMPROMISE
Conflicts are unavoidable, so it is important to manage them by being understanding and working towards a compromise.
After gaining insight into your mother-in-law's perspective, your differing opinions may converge, which in turn becomes a pathway to reaching a compromise that will please both parties.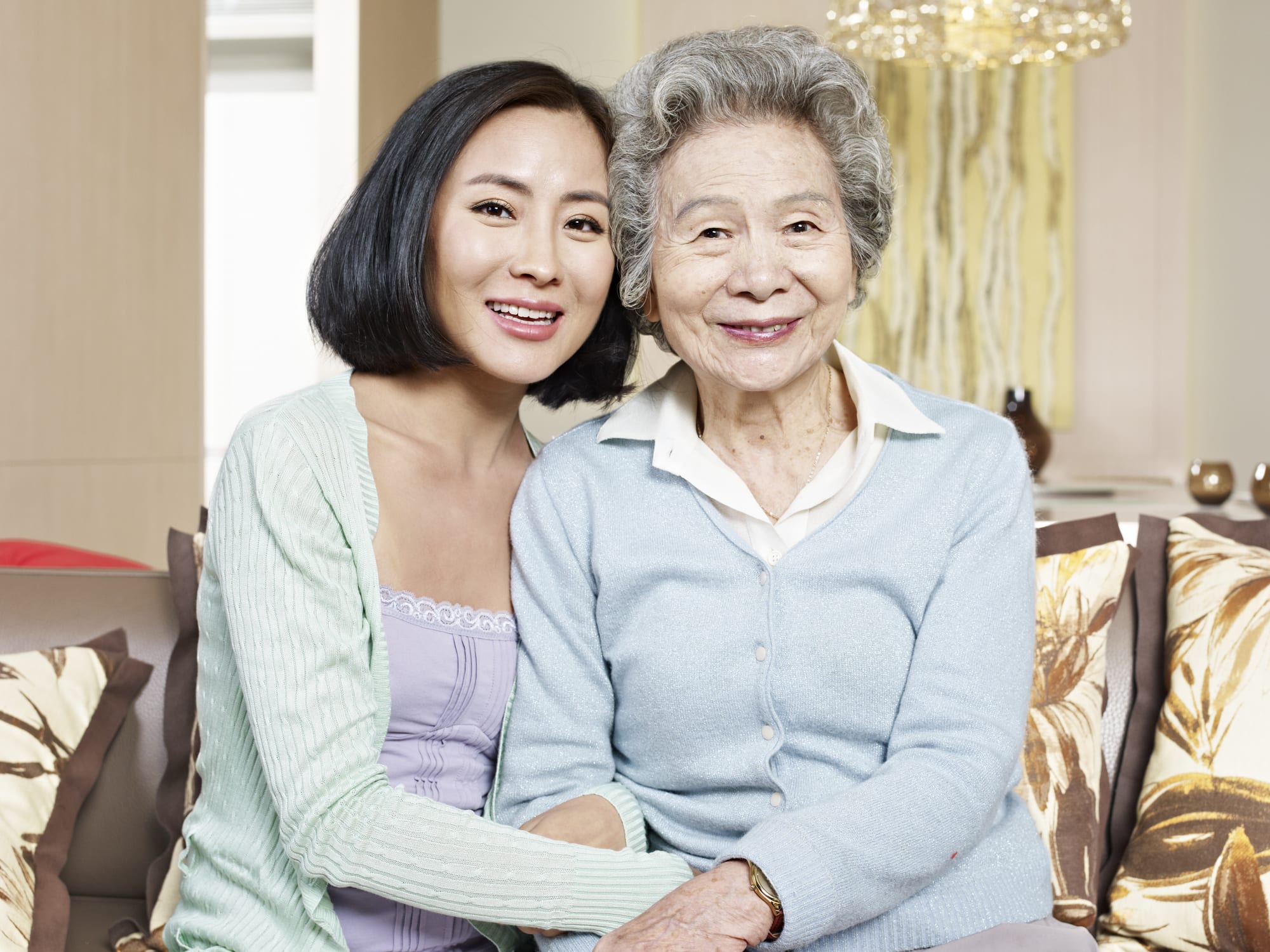 #3: ACKNOWLEDGE YOUR MOTHER-IN-LAW'S CONTRIBUTIONS AND EFFORTS
Generally, older folk are always ready to share their life experiences and advice, and the same goes for your mother-in-law. So be open and listen up, said Teo.
Also, don't forget to show your appreciation when she does something nice for you, your husband and later, your children.
For instance, wear your wedding jewellery every now and then when you visit her or at big family occasions. It's a simple act that shows your mother-in-law how much you value her presence, which in turn helps nurture the relationship.
Ultimately, as with any relationship, mutual understanding of each other will go a long way when building a mother-daughter-in-law relationship, says Cheong from The Center for Psychology.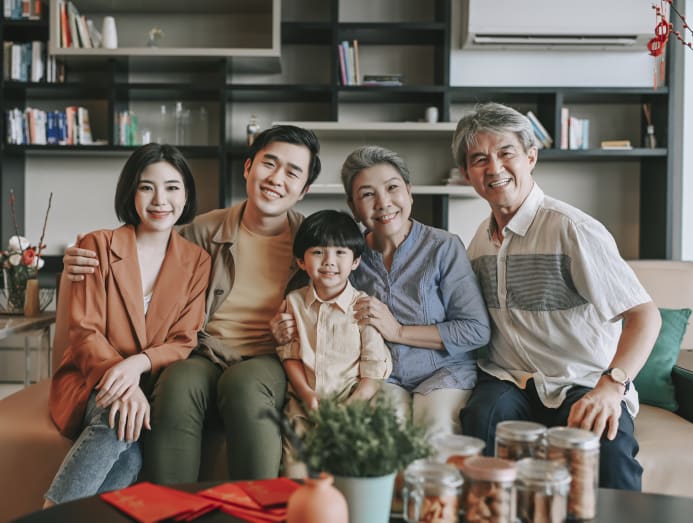 Brides, you might also want to slip this story to your mother-in-law, with this part highlighted:
Mothers-in-law should also do their part in helping their daughters-in-law transit well into the extended family, said Teo from TOUCH Integrated Family Group.
Her advice: Give the daughter-in-law time to adjust to the needs and dynamics of the new family, as well as provide both your son and his wife the space, freedom and privacy to build their new family.
Try not to compare how things were like in the past, how friends' daughters-in-law are like or even between daughters-in-law if you have more than one son, said REACH Community Services Society. 
After all, human relationships are fragile. No relationship is a one-way street, and there needs to be a two-way open channel with equal effort and responsibilities shared, it added.
CNA Women is a section on CNA Lifestyle that seeks to inform, empower and inspire the modern woman. If you have women-related news, issues and ideas to share with us, email CNAWomen [at] mediacorp.com.sg.