Confident women and the art of power dressing in a #woke world
Reflecting the social and cultural climate of the moment, it has evolved from boxy suits that ruled the 80s to feminine silhouettes in the decades after to today's confident, edgy and individualistic look.
Power dressing has always captured the zeitgeist of the moment. Originating in the 70s, it peaked in popularity in the 80s and 90s when "I mean business" suits and heavily-padded shoulders became a staple for women trying to make an impact in the workplace.
The 80s movie classic Working Girl not only celebrated women getting ahead in the corporate world, it celebrated the culture of power dressing, with Melanie Griffiths' wardrobe evolving to embrace wide-shouldered, authoritative blazers and tailored suits as she journeys to the top.
With the increasing number of women entering the workforce in the 80s, there was a need for women's fashion to borrow from the corporate wardrobes of men in order to embody the strength and authority needed for credibility in the workplace – in short, to fit in with the boys.
Power dressing used to refer to the "battle gear", said personal stylist Fumi Lee, "that people wear to important meetings and business occasions. It focused on strength and career which, of course, may still apply to the business world these days. But now, it's changed to refer to outfits of a certain style, put together to bring out the individual's personality".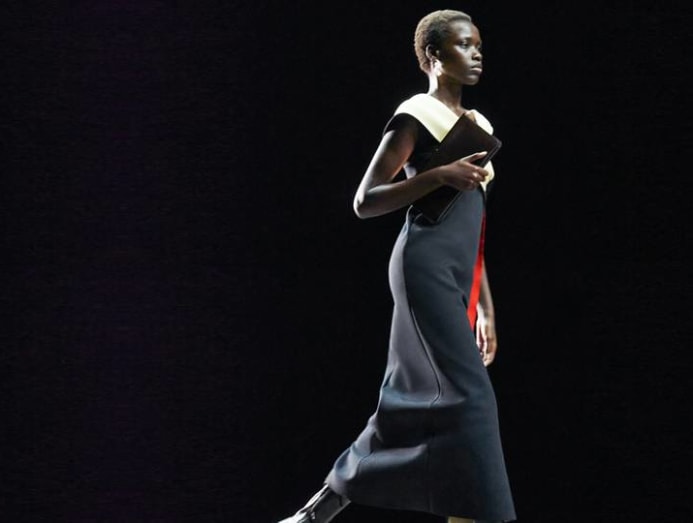 The 1990s and noughties saw more relaxed silhouettes as women started to cement their place in the corporate world. The look softened with fluid lines and feminine touches such as softer shoulders, and more sensual cuts and fabrics.
When the #MeToo movement started to create an impact in 2017, highlighting gender equity and sexual respect, power dressing too began embodying a look that focused on defying norms, expressing strength and celebrating femininity. The movement's awakening of the collective conscience around gender inequality has naturally influenced fashion – in a #woke culture, women decide how they should look, what they want to wear and what makes them comfortable.
Then came the COVID-19 pandemic in 2020. In a year of lockdowns and working from home, virtual connections took over the world and power dressing again took on a different turn.
Over Zoom and Teams meetings, people got a glimpse into each other's homes and lives. Dressing comfortably took precedence over dressing formally. After all, it may seem like too much effort to put on a formal blazer when you're remaining in the confines of your home, especially not with children tugging at your sleeves, and when everyone else you're connecting with is in hoodies and t-shirts.
What came from the experience is that people got to be at ease with their appearance, know what they feel comfortable in and feel assured to present their real selves.
But after many months of attempting to conduct ourselves professionally in trackies, T-shirts and dishevelled hair, many women are now longing to return to some semblance of formality in their work appearance. With vaccinations rolling out, societies embracing a new normal and the corporate world returning to a different version of the work environment as we know it, how can we dress for the workplace?
One thing's for sure, power dressing isn't going away any time soon. What it has evolved into is a more self-assured, self-aware look, with a touch of personality. "Power dressing is now a tool to bring out one's individuality," said Lee.
So whether it's a blazer, power heels or tailored suit with a softer cut, the trick is to inject your own personal style into it and to feel completely comfortable doing it as you climb your way up the corporate ladder. In a #woke new normal society, the rule in power dressing is – have fun as you dress for success but don't forget to be yourself.
So if you're looking to reinvent your wardrobe to return to the office, here are some things to look out for when you put together a wardrobe to complement your winning ways in the new normal work environment
BROAD SHOULDERS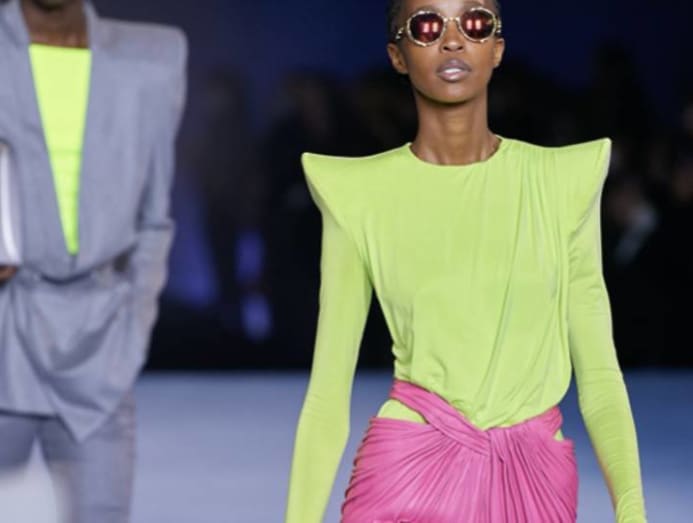 For days when you want to make a statement, go wide with dramatic shoulders. If the sharp-shouldered Balmain look is too much for you, opt for padded shoulders that immediately create a strong silhouette.
Go for an oversized, padded blazer for a more chic look. Strong shoulders are not only impressive, they're also flattering for all body types. Best of all, they go well with everything – a silk button-down or worn with jeans and a shirt. Just change the shoes and accessories to switch from day to night or wear it with dresses, pants or pencil skirts.
BLAZING IT
If you want to ease into going back to the office but still cut a professional figure, perhaps opting for casual blazers with a softer silhouette can add an air of formality without overdoing it. Best of all, it's flexible enough to be worn at a formal event or a more casual social outing. VVB by Victoria Beckham features relaxed blazers that will make the transition back to the office comfortable yet stylish.
GO BRIGHT

Enough of the dreariness that was 2020. It's time to celebrate the new normal by injecting some yellow and pink into your work wardrobe. If you prefer a subtler effect, try pairing a tank top in pink or yellow with a neutral skirt or pants or accessorise in these colours. But if you like it bolder, choose a dress or pair of pants in either colour to make a statement. Draw inspiration from Tom Ford and Valentino who went bright and zesty with their recent collections.
MAKE IT MONOCHROME

If you just can't find it in yourself to slay with colour, you'll be happy to know that monochrome is so on trend and perfect for the corporate setting. Take your cue from Chanel, Jil Sander and Proenza Schouler for that monochrome effect. Pair white and black separates or opt for dresses and suits that feature a monochrome design. Black and white are always winners in the corporate setting. 
WIDE-LEG WINNER
Roomy trousers that cut an elongated silhouette are both comfortable and sophisticated. Opt for a silky pair for that super fluid, sensual look or go with bold hues such as red ones by Fendi for extra punch. Double up with a soft blazer for an overall relaxed look or pair it with a fitted vest for a chic ensemble.
ADDITIONAL POWER DRESSING TIPS
Personal Stylist Fumi Lee recommends these tips to help you win at the art of power dressing:
Don't rely solely on trends and brand names. Start by understanding yourself to find a style that is truly yours.
Learn to identify the colours and tones that complement your natural skin, eyes and hair colour.
Know your body shape and find a style that will work best to flatter it.
Pick playful fashion items that add a touch of your personality.