Not just for men: Female collectors with a passion for sneakers, watches, whisky
Think only guys obsess over these? CNA Lifestyle met up with three female collectors in Singapore who share how they got into their hobbies.
When it comes to the world of collecting and collectors, there are certain areas traditionally seen as the reserve of men.
Take, for instance, sneakers, watches and whisky. If you regularly follow these scenes or check out the online chatter, you'd be under the impression only guys were obsessed with these.
But that's certainly not the case. CNA Lifestyle had a chat with three female collectors – Hanya Seah, Hosanna Swee and Joanne Ho – who show just how passionate they can be.
THE SNEAKERHEAD: HANYA SEAH
If you love your sneakers, you might already be following Hanya Seah's Instagram account. The avid collector parades her colourful collection of kicks for her 16,000-strong following and you can't deny the girl has style.
With 70 pairs on rotation, Seah, who's in her late 20s, enjoys playing dress up and creating a variety of silhouettes matched to the different colourways of her sneaks.
"I see the pairs that I own as pieces of art through appreciating its sports history, compelling storytelling, technicality, design and exclusivity. It's more than just a pair of shoes – it is a medium of self-expression," said Seah, whose first job post-graduation was at defunct sneaker retailer Seek.
Now a marketing executive by day and jeweller by night, Seah's sneaker obsession began in 2014 when she acquired her first collectible pair: The Nike x Riccardo Tisci Air Force 1 Low Beige.
"They were comfortable and versatile yet unique at the same time. Tisci applied a fresh take to the Air Force 1s in the low-, mid-, high- and boot-cut versions and I realised there could be so much creativity in constructing a pair of sneakers," she recalled.
Like most sneaker aficionados, Seah has spent hours "camping at the computer" to cop some of the hyped sneaker drops. And while not a sworn devotee to a specific brand, you will notice an incontrovertible inclination towards Nike in her collection.
Among her favourites, there's the atmos x Air Max 1 'Animal Pack 2.0' Safari 2018 featuring pony-hair infused animal prints, which holds sentimental value as Seah had the opportunity to meet atmos' head designer Koji on his trip to Singapore that same year.
Embodying the grail of collaborator, colourway, design and symbolism is the Aleali May x Air Jordan 1 Retro High 'Satin Shadow' 2017, another of Seah's prized picks in her collection.
"I am a fan of streetwear stylist Aleali May and this was a symbolic pair as it was the first time the Jordan brand collaborated with a female on their best-selling Air Jordan 1 silhouette," she said.
"She recreated my favourite Air Jordan 1 colourway 'Shadow' with a play of contrasting textiles – satin, corduroy and chenille – on the swoosh. The result is a fresh, premium take that represents what borderline-feminine females really want in our sneakers – not the bright or pink colours that is often forced upon female line-ups."
Next on Seah's lust list? A dream pair of StrangeLove x Nike SB Dunk Lows.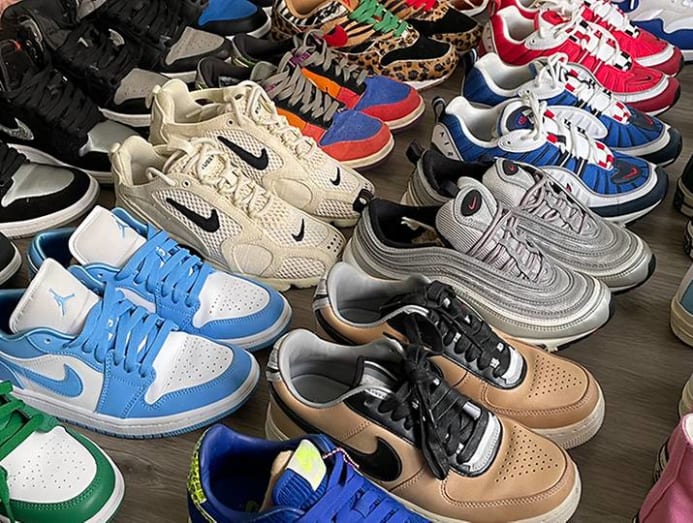 "The velvet and tonal pink execution on this pair is out of this world. The tiny, embroidered heart-skull logo adds to the playful grunge character of the sneaker. And the shoebox itself is a piece of art, worthy of display. Nike has never done a pair like this before; it's one for the history books," she gushed.
And there is only one pair in Seah's entire collection that she has yet to break in: The Air Jordan 2 x Just Don "Arctic Orange".
"I've not found the right occasion to wear it. Saving it for a momentous occasion, like my wedding, perhaps!" 
THE WRIST-TAKER: HOSANNA SWEE
Whether it's a scientist debating its linearity, a poet or musician romanticising its irreversibility in allegory, or a philosopher meditating upon its place in the universe, the notion of time is deeply personal to each of us.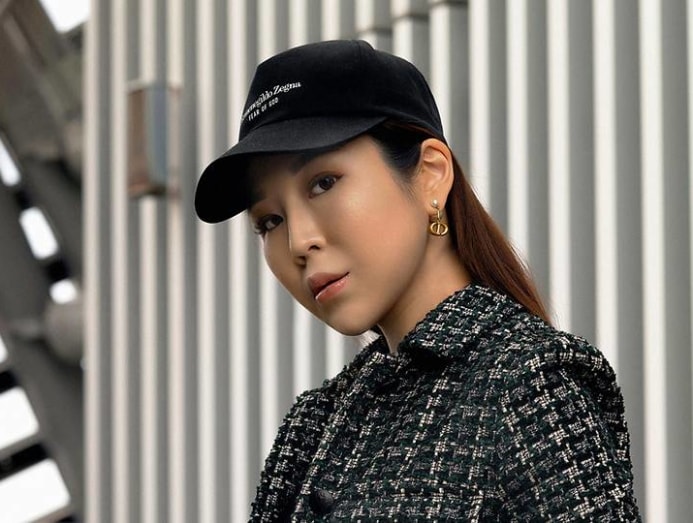 For photographer Hosanna Swee, it's a beautiful relationship articulated in storytelling and sentimentality, expressed in the art of watchmaking.
"Growing up, I was taught the significance of time by my father and timepieces served as a symbol to commemorate special milestones within our family," the 30-year-old shared. 
Swee's interest in horology was also kindled in the company of her older brother, who would disassemble watches in his spare time. And it was on the occasion of her 25th birthday that she acquired the iconic Royal Oak by Audemars Piguet, which would go on to spark the course of her watch-collecting journey.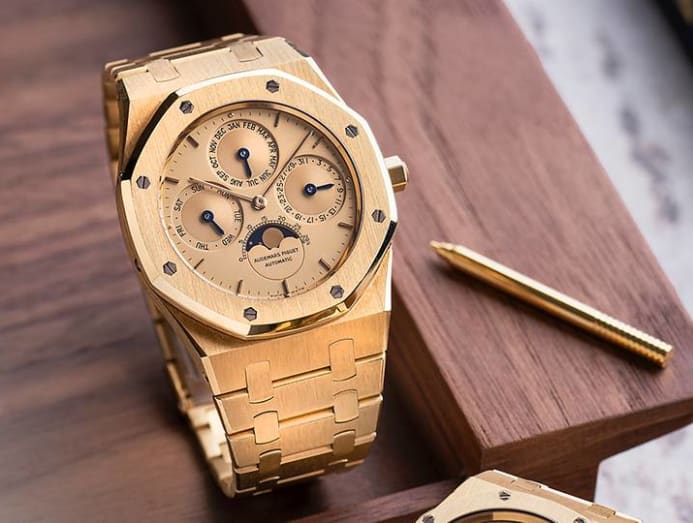 It was thus almost kismet that she would end up meeting her fiance, Tom Chng, founder of the Singapore Watch Club, who would further stoke her passion for precious mechanical watches.
Over the years, Swee has cultivated her own personal taste and often finds herself drawn towards timepieces in which aesthetics, good design, history and provenance meet.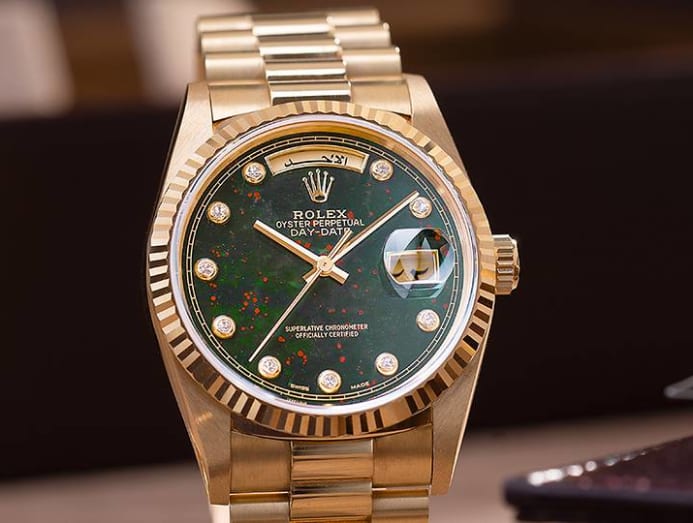 "I am particularly fond of classic timepieces with a unique flair, exuding quiet confidence and modern elegance; vintage pieces which, more often than not, have an interesting story to tell. I believe part of the joy of owning vintage timepieces is pursuing the story behind these artefacts," she said.
Some of the more cherished pieces in Swee's collection include the Cartier Baignoire Allongee "Maxi Oval", Audemars Piguet Ultra-Thin Perpetual Calendar "Tuscan Dial", Rolex Day-Date 18238 "Bloodstone Dial" and Roger Dubuis Sympathie Chronograph.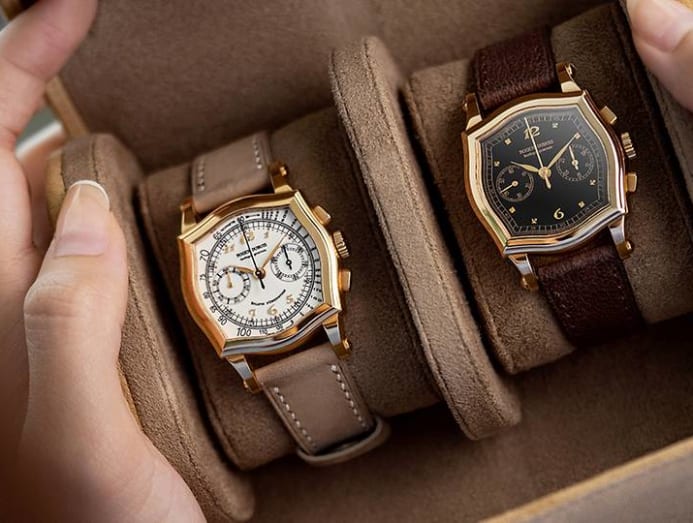 Female watch collectors are still considered a rarity but Swee believes the landscape is shifting, with more women stepping up and owning their voices in the industry.
"The stereotype of women only going for gem-set quartz watches is also changing, having met many discerning and knowledgeable ladies in the community on my journey," she observed.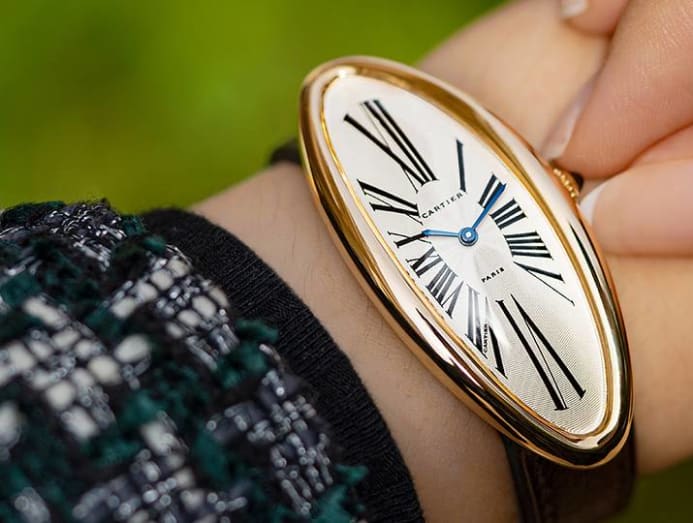 Passion, however, remains central to Swee's purchasing and investment decisions, as she says she finds it hard to appreciate the true beauty of a timepiece "if approached from a purely numerical or monetary angle".
One timepiece she would love to add to her collection is the Vagabondage III by FP Journe, featuring a "tortue" shape that departs from the watchmaker's usual round case designs.
"As someone who has always gravitated toward classic designs with a dash of unconventionality, I've always been a fan of Francois-Paul's unique design sensibilities, as they strike a balance between traditional methods of craft and a contemporary edge. 
"His designs are synonymous with asymmetry and proprietary typography and with the Vagabondage III, the movement's complexities are mostly exposed; evoking a visually arresting, mechanically satisfying moment," she said.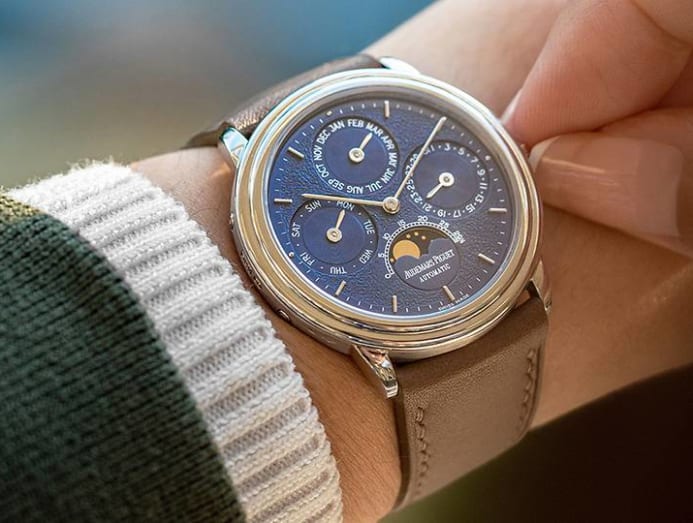 Ultimately, Swee believes that taste is subjective and when it comes to collecting mechanical timepieces, one would do well to shut out the noise from the world, peers and even mentors.
"It all comes down to your individual preference, which is something that can be refined over time. Most importantly, be patient and enjoy the process."
THE DRAM-SEL: JOANNE HO
Even though her 300-bottle whisky collection includes a 20-year anthology of the vaunted Glenfarclas Family Cask from 1985 to 2004, don't call Joanne Ho a collector.
"It's more for enjoyment and sharing with friends and family so the whisky I enjoy most is the one that is currently on my table, not locked up in a storeroom," said the 48-year-old founder and director of public relations firm Brand Cellar.
Just a tad ironic, as the Family Cask collection she's pictured with had to be retrieved from the storage vault for our shoot, representing one of three sets of each annual edition Ho acquired over a two-decade period – "two to drink, and one to keep" presumably goes the connoisseur's philosophy.
It's a passion she shares with her husband and Ho reckons the pair have invested up to S$130,000 since their interest in whisky was awakened 10 years ago.
"Investment is secondary", she insisted. "I drink up all my whisky, be it a $1,000 or $2,000 bottle."
In addition to the Glenfarclas Family Cask two-decade collection, Ho's treasured selection includes a "full range" of Yamazaki and Hibiki whiskies from the house of Suntory, with a 25 Year Yamazaki prized above all.
She loves both Japanese and Scottish whiskies equally, and enjoys them sherry-aged and peaty, depending on mood and proclivity for exploration.   
"Whisky is low in calories that's why I like it. There are many flavours and it's very smooth and beautiful on the nose, and as a nightcap," Ho explained.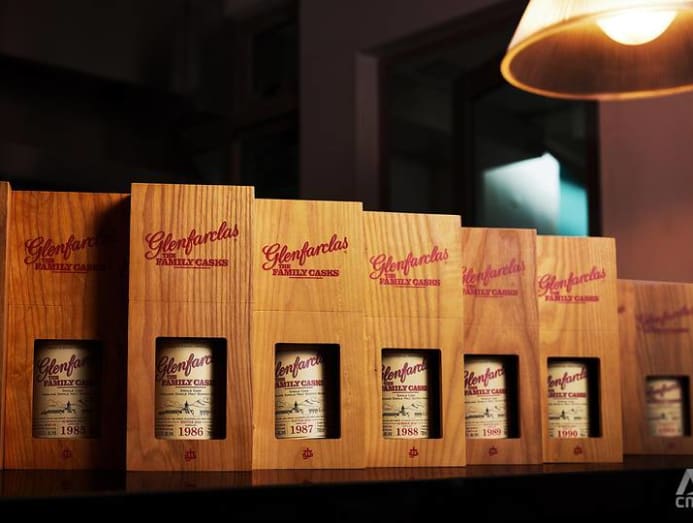 Despite the lower calories, the high alcohol content of 40% ABV (or higher) is one reason she thinks more women aren't into the spirit. 
"I think women find wine easier because the alcohol content is lower. And wine pairs better with food than whisky," she observed.
For everyday drinking, Ho recommended Auchentoshan from the Scottish Lowlands, as it's "good and affordable", and has a tinge of regret about drinking up many of her Hibikis, given how astronomically prices have risen in recent times.
Still, it's about enjoyment. "The real beauty of whisky is that there are so many houses and each have their beauty. There are so many stories behind each bottle of whisky; the knowledge is deep and it's very fun to share with friends," she said. 
As someone who appreciates the stories behind the labels and liquid, distillery visits are one of the things Ho misses most about not being able to travel.
"You get to understand more about the whisky and I'll go visit and drink in between my skiing trips so it's really fun," she said, recalling her excursions to the Yamazaki and Nikka distilleries in Japan.
A visit to the "motherland', though, was on the cards until COVID-19 struck.
"I think Scotland will be beautiful and I would really love to go one day. We have friends who are big collectors who collect whole casks and we wanted to go to the distilleries in Scotland together… after COVID we'll go," she said optimistically.
Well, the Scottish highlands and lowlands aren't going anywhere and the scotch will only improve with age, at least.