Meet the young Singaporean bringing back grandma's fashion style and shopping habits
Could grandma's fashion sensibilities be the answer to the massive wastage of fast fashion? Trixie Chua, founder of sustainable fashion brand Dear Samfu thinks so. CNA Women speaks to her in this instalment of our women in sustainability series.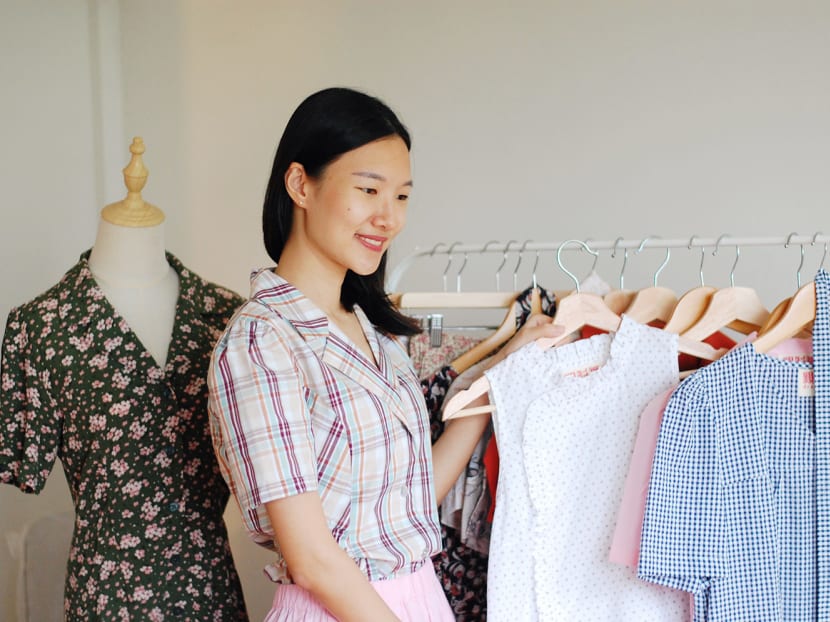 The cheongsam is fast becoming a fixture in the wardrobe of many Chinese women as more embrace their Asian heritage. In contrast, few know about the cheongsam's more "practical cousin", the samfu, even though we may see our grandmothers wearing it daily.
"Samfu" is Cantonese for shirt and trousers. Before fast fashion gave us an endless carousel of blazers, bralets, mini skirts and maxi dresses, it was the wardrobe staple of young Chinese women from our grandmother's generation.
This two-piece outfit took them everywhere. They did household chores, visited relatives and even attended weddings in it.
It was also designed to last a lifetime. Many elderly ladies in their 80s and 90s still own and wear the same decades-old pieces today, rarely throwing out old clothes.
That, to entrepreneur Trixie Chua, is the epitome of sustainable fashion.
In 2020, the 30-year-old tech marketer started her label Dear Samfu as a side hustle to bring grandma's fashion and ethos back. She has since sold around 1,000 pieces to young women aged between 25 and 35, spearheading a mini-samfu renaissance.
Describing her collection as "permanently out of season but always in style", she modernises the samfu, as well as other staples such as skirts and dresses inspired by grandma's fashion sensibilities.
Her brand uses timeless florals, as well as geometric, plaid and checkered prints and plain solids fabrics leftover from larger manufacturers and mills, saving 1,600 metres of fabric from landfills.
HOW GRANDMA BECAME THE MUSE
Once an avid consumer of fashion trends and fads, Chua never thought her grandmother would one day be her muse. She even confessed to owning a leopard print dress that she only wore once and then sold at a flea market.
"I did not have a clear style. But every week there would be a parcel arriving at the door. It came to the point where I did not know what I had anymore," she recalled.
In 2019, the series Tidying Up with Marie Kondo inspired Chua to curate her wardrobe, producing a mini mountain of unwanted clothes in her living room. It was a rude awakening.
Chua was ruminating on this when she noticed her grandmother's radically different approach to fashion. "My grandma's wardrobe is very small – it has only two racks with around 20 pieces. The samfus on the top rack are what she wears on a daily basis, and the ones on the bottom rack are for special occasions with details like mandarin collars or fancy fabrics," she said.
"I like her prints. Because they are quite distinct, I began to realise she is wearing the same samfus today as she did in a photo she took with me as a baby."
Intrigued, Chua began to search for and buy a few samfus on Carousell and from friends of friends. These became reference pieces for her to sketch her own samfu collection, which she launched in May 2020.
WHY BRING BACK THE SAMFU?
Chua believes that the samfu can help women to build a modern-day capsule wardrobe that is more personal than the little black dress and jeans. After all, timeless doesn't have to be bland, she reasoned.
"The samfu is seasonless, but the prints and cuts also allow you to bring out your style and flair. While it usually comes as a matching set, you can also mix and match clashing prints and be very loud and proud about it," Chua explained, recalling how a customer who bought a matching set emailed her to say that she turned a lot of heads in Chinatown.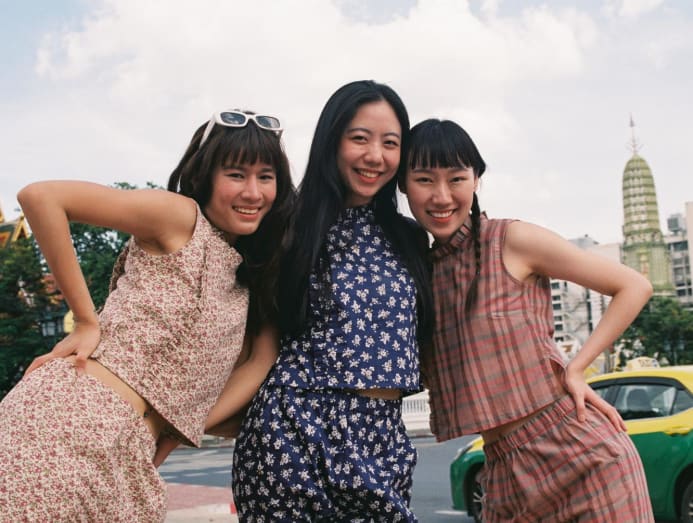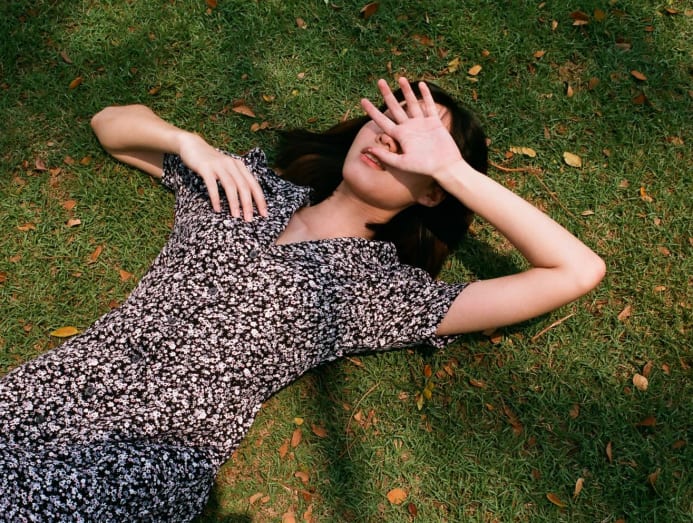 Compared to the cheongsam, the samfu is also more practical. "When I asked my grandma why it comes with pants, she said that in the past they needed to squat down to wash clothes, and wanted something effortless and comfortable," she said.
"Samfus are also more wearable than cheongsams. Most people associate cheongsams with fancier occasions such as Chinese New Year or weddings. But the samfu can be worn and re-worn every day and can be dressed up or dressed down for different functions and occasions."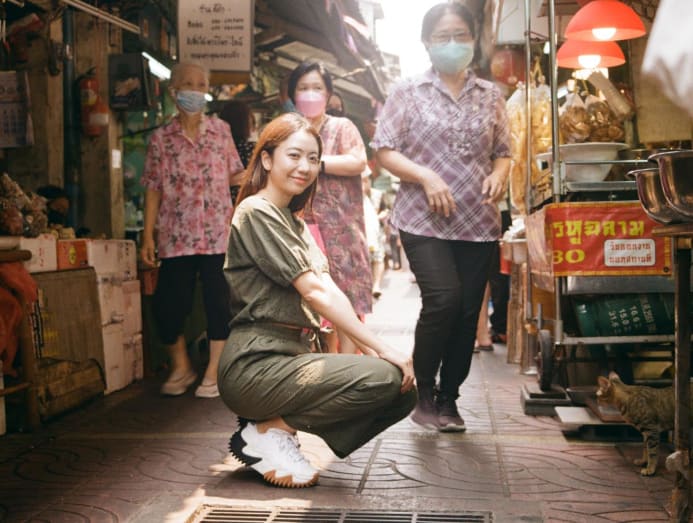 Beyond form and function, Chua's idea is to bring Grandma's ethos of dressing up to this generation. "Before the term 'sustainable fashion' even came about, our grandmothers' generation already embodied such values. After all, this was before the time of fast fashion houses," she said.
"When I talked to my grandma, I realised the whole process of shopping was very curated and personal in those days. They would select the fabric from Chinatown and then visit their regular seamstress to get something tailor-made. They only do this for special occasions such as a wedding or Chinese New Year," she explained, adding that she hoped that Dear Samfu's curated and personal pieces would encourage women to treasure them for longer. 
THE SUSTAINABILITY OF SAMFUS
To reduce resource wastage, Dear Samfu uses deadstock fabric, which are end-of-roll fabrics left behind by larger manufacturers and mills in Thailand and Cambodia, so they would not be discarded.
"When you work with deadstock fabric, you are restricted by design, material and the quantity of fabric left. Instead of a restriction, I see this as an opportunity because it means my designs are limited edition.
"Once my items sell out, I most likely won't be able to restock. I also create my clothes in small batches of less than 100 pieces per design," she said.
Dear Samfu's clothes are produced by a family-run factory in Phnom Penh, Cambodia. Based on video calls with the owner and validation from other sustainable brands in the industry, she ensures workers are paid living wages and the factory delivers quality clothes.
Reflecting on her own and her brand's sustainability journey, Chua said: "Sustainability can sometimes feel like a competition – who composts more or throws less trash… But sustainability for me is about progress and not perfection – taking baby steps, looking for better alternatives, being a little bit more deliberate and conscious about what we are throwing out," she said.
She added that for Dear Samfu, nostalgia is its own form of sustainability. It is about reverting to the sustainable fashion model before fast fashion completely changed our consumption habits.
"Nowadays, when I visit my grandma, she would tell me stories of the past. It is nice to unplug from the world, listen to her talk and think of life in a different way. She teaches me to treasure the people and things.
"From her clothes to her comb and radio, my grandma always treasures and reuses things because she came from a very humble background. To her, it is about remembering the source of things," said Chua.
"This is why I associate the samfu with prudence and humility. To me, that is sustainable fashion at its very best – cherishing what you have and wearing timeless styles you love."
CNA Women is a section on CNA Lifestyle that seeks to inform, empower and inspire the modern woman. If you have women-related news, issues and ideas to share with us, email CNAWomen [at] mediacorp.com.sg.