Want to have peace of mind? Start writing letters to yourself and loved ones
From dealing with grief to reducing tension in relationships, this seemingly old-fashioned practice has been scientifically proven to help your mental health. CNA Lifestyle delves into this method of self-therapy. 
When was the last time you wrote a letter to someone? If the thought of doing so is too old-school for you, it might be helpful to know that letter-writing has benefits beyond helping you work on your penmanship (or typing skills, if you prefer).
For Sabrina Ooi, co-founder of mental health platform Calm Collective Asia, it was a way for her to process grief and loss, in particular, the death of a former boyfriend when she was 17.
"I was still upset about the fact that he had passed away in his sleep. I didn't know how to process (his death) at that time," the 30-year-old told CNA Lifestyle. 
On top of that, Ooi was also coping with the loss of a friend through suicide.
"I wrote a letter to each of them and (spent a few hours writing it). It was very emotional but liberating at the same time because it wasn't something that I commonly talk about," said Ooi. "That helped me recognise my remaining emotions and turn them into feelings of gratitude."  
Afterwards, she burned the letters – and felt the emotional weight lift off her shoulders. 
"It felt like I was able to let go of emotions that I have been holding on to for a long time," she added. "When you write it out, it also helps you to 'edit' your story to find a healthier relationship with the emotions you are feeling."
Letter writing was also cathartic for Nanny Eliana, one of the contributors to the Singapore anthology Letter to My Mother, in which 20 authors wrote about growing up with their mothers in the form of a letter. 
The 42-year-old, who's the founder of regional healthcare communications agency Bridges M&C, told CNA Lifestyle that she was adopted as a baby as her biological parents could not afford to have a third child. She only learnt of her adoption when she was 18. 
Thereafter, she was sent by her adoptive family to live with her biological mother for eight years until her death. Writing a letter to her, said Eliana, was a culmination of all the work she had put into her mental health, including therapy.
Joseph Quek, a counsellor from online counselling service Talk Your Heart Out, says aching for that one last conversation with someone or having emotions that are still felt strongly long after the event has passed, can indicate an "unfinished" experience or relationship.
Letter writing, whether you're doing it by hand or email, provides that emotional release, enabling you to lay out your feelings, thoughts, hopes and regrets, said Quek. 
So how do you start? That first step is always the hardest. But Phyllis Bah, a psychologist from Psychology Blossom, said having the complete picture helps.
"Recall any specific incident or behaviour that contributed to the feelings you have, and put into perspective, the before, during, and after," she said. 
If you need inspiration, Maniesha Blakey, a counsellor from psychology consultancy Mind What Matters, said song lyrics or a piece of writing that corresponds closely to your feelings may help. 
"Write in drafts. You can begin by noting down a few bullet points and using these to expand into a letter. Write and rewrite over a few days before you settle on a final version, as you are likely to see new ways to build upon or simplify the letter," she suggested. 
Quek recommended setting aside time, a quiet space and removing distractions to ensure a conducive environment for writing. Then, find your reason for writing it, and pick a medium. 
"The crux of letter writing is arguably about getting the message to the intended recipient. Whether handwritten (or typed), it ultimately boils down to the medium that you are most comfortable with that enables you to express yourself best," he said. 
CNA Lifestyle spoke to counsellors and psychologists to find out about the mental health benefits of letter writing – both to someone and to yourself. Here are some instances where it could help your mental health and bring you a little peace.  
IF YOU WANT TO TELL YOUR CHILD YOU LOVE THEM  
"In typical Asian families, parents tend to display love through their actions, such as buying gifts or through acts of service, such as working hard to bring food to the table," Quek said. 
"For children whose love language is words of affirmation, they may not have received love through the medium which speaks to them the most," he said, adding that receiving a letter from a parent with words of affirmation, encouragement and affection can be particularly impactful. 
The concept of love language originated from the book The 5 Love Languages, famously written by relationship counsellor Gary Chapman in 1992.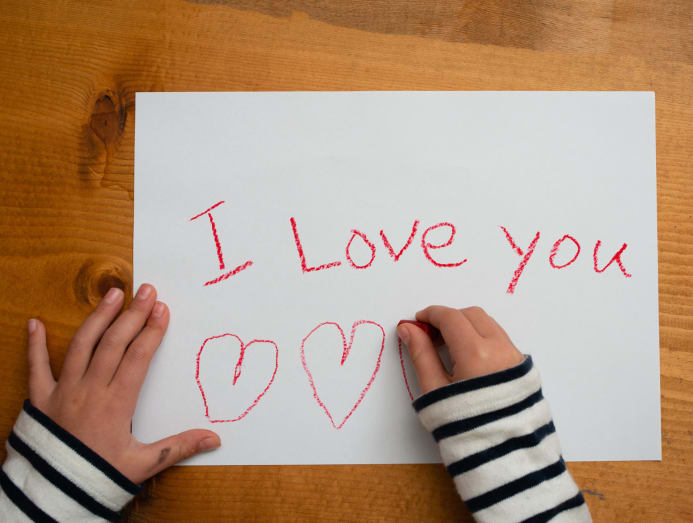 Claudia Doig, a clinical psychologist of Psychology Blossom, highlighted that children and adolescents can benefit from receiving letters from their parents. 
"In small children, this is usually achieved through making the letter funny. For example, when getting your child into the habit of brushing their teeth regularly, you may write a letter to your child on how much that toothbrush misses them and how lonely it feels when it doesn't get used for a day," Doig said. 
Meanwhile, Blakey said that writing letters to your child gives another perspective of your life and experiences as a parent. 
"It can be a heartwarming gesture to receive letters from parents celebrating stages and milestones in their lives. For parents who are more reticent, writing can be a medium through which they are able to express themselves more fully," she said. 
Just remember, however, not to use letters to your children to share your problems as an adult or to criticise them, Doig cautioned.
IF YOU WANT TO REDUCE TENSION AND RESOLVE A CONFLICT
When conversations get heated between two parties, there are usually strong emotions involved, said Doig. "At those times, when it is hard to get through and be heard, it is much easier to write a letter where you can write at length about your feelings about the issue." 
Quek suggested that you can pass the letter or read it out loud to the other party. 
He told CNA Lifestyle about a young boy who came to see him because of a strained relationship with his parents. He was not only having frequent arguments with them, but also becoming more withdrawn, as well as displaying violent tendencies towards his brother. 
"During therapy, it was clear that he had much to say to his parents. I got him to write a letter to pour out what he wanted to communicate to them. This provided him with the opportunity to communicate his thoughts and feelings in a safe space," shared Quek. 
Later on, the boy read the letter to his parents, which led to more open conversations that improved their relationship. 
But do remember this rule when writing a letter to dissolve tension, said Doig. "It is important to not use letters to criticise or tell off a person. We usually use an entire therapy session to discuss them."
IF YOU WANT TO FORGIVE SOMEONE AND FIND CLOSURE 
Closure is possible if you are writing without any expectations from the other party, whether it is in the form of an acknowledgement or apology, said Blakey.
"If the objective is to clarify your perspective and forgive, and not to accuse or blame, then it could help your mental health and well-being," she said. Instead of closure, the letter may also be a way of getting some relief.
However, if you are relying on getting a response to your letter, you're unlikely to get closure, added Blakey.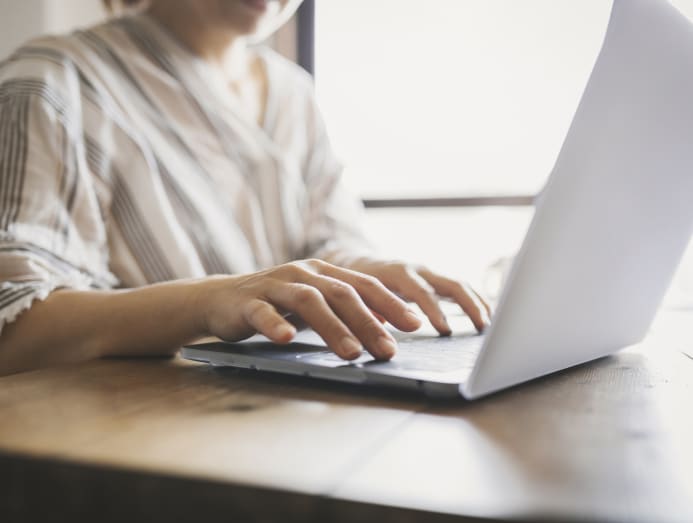 And although writing a letter for this purpose may help as a starting point to open up communication, you don't have to resume a relationship with the other person if you don't want to, Blakey reminded.
What should you do with the letter after you've written it? You don't have to send it. Quek said that the act of writing and addressing it to the person can already help with your overall wellbeing.
"Forgiveness releases the pain we feel about the person," he said. "It reduces negative emotions and prevents us from re-living the hurt." 
But he also reminded that it is equally important to forgive ourselves, especially when it comes to self-blame. If left unattended, these feelings can show up in the form of anger and depression which could lead to self-destructive behaviour.
CNA Women is a section on CNA Lifestyle that seeks to inform, empower and inspire the modern woman. If you have women-related news, issues and ideas to share with us, email CNAWomen [at] mediacorp.com.sg.