Working with your life partner can be 'strange and horrible', but the challenges are a blessing: Yoga Movement founders
While yoga may be associated with a state of zen, sharing a business with your spouse is mostly not – and that's okay, say Alicia Pan and Peter Thew. They tell CNA Women how they make their partnership work against the odds, in the third of our Valentine's Day series about couples in business.
If you do yoga (or even if you don't), you've probably heard of Yoga Movement. You might've even attended a class. That's how the brand has grown since it was started by Alicia Pan and Peter Thew 10 years ago. 
Pan, 37, and Thew, 39, first connected at (the now defunct) Wave House Sentosa in 2009 over a shared love for music and the outdoors. And when Pan, who is also a singer, said she wanted to start a yoga business, it seemed only natural that she partnered with her boyfriend, who was a brand manager. 
Now in their seventh year of marriage and with their two young sons, they tell CNA Women how their perspectives on love and adversity have evolved, in the third of our Valentine's Day series about couples in business.
TELL US A BIT ABOUT HOW YOU MET.
Alicia: We met in 2009. Pete was working as a brand manager of a surf brand and I was a full-time performer. I was engaged to sing at one of his company events. After four years of dating, we tied the knot in Bali in 2014.
Peter: I kept seeing her out and about at events, actually. It was that event at Wave House Sentosa, where she was performing, that we really clicked for the first time. We had a bunch of similar interests in beach lifestyle and music, and were both active people, so it worked out from early on.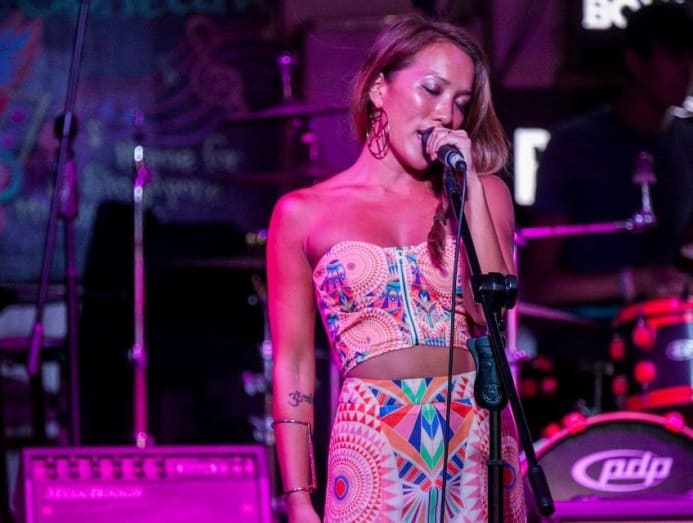 HOW DID YOGA MOVEMENT COME ABOUT?
Alicia: Before Yoga Movement, I was quite the yoga enthusiast, practising three to five times a week. I really enjoyed what it did for me mentally and physically, and I remember this one trip to New York City, where I found a studio I was really inspired by. It was fuss-free, easy to follow and donation-based, making it accessible to everyone. 
At that time Singapore's yoga scene lacked this sort of accessibility, making it quite difficult for people to simply "get into" yoga to be able to reap the benefits of it. I threw out the idea and discussed bridging that gap in Singapore, and while not a yoga enthusiast himself, Pete was passionate about brand building to help convey that message. We saw a market for this, and together we created Yoga Movement.
A lot of the time we remind ourselves that we are a couple with a common goal and that is really important in helping overcome such hurdles.
Peter: Alicia took me to a bunch of different classes with different concepts, and I always struggled with the way the whole thing came together. I struggled with enjoying my practice, not because of the class but the service, the look and feel.
Alicia really wanted to do her own thing, which I thought was a great idea, and I tried to help her out with making sure that all touch points of the initial branded experience were considered. I really started to enjoy it and enjoy my practice more, and I enjoy working with her. 
We actually started the business before we were married. Our first joint bank account was the Yoga Movement business account, a full two years before we got married.
WHAT ARE YOUR ROLES IN THE BUSINESS AND HOW DO THEY COMPARE TO WHAT YOU EACH DO AT HOME?
Alicia: I am currently in a non-operational directorship role, and I am also teaching classes. Pete, as the other director, is definitely more involved in the brand side of things within the company. Operationally we have got a great team in place that runs smoothly without us. 
We keep things simple domestically and share the workload of everything at home, our dogs and our kids, and this works great for us.
Peter: Alicia is definitely the muse in my eyes. She's still the one that we look to when we need general direction and a bit of brush work with absolute authenticity, but she is less involved with the day-to-day. I work on the business and the brand, helping steer the ship with our killer team at Yoga Movement.  
Our roles at home are kind of a blur. It's all hands on deck at home, but when it all falls apart, Alicia rolls up her sleeves and saves the day. I'm definitely the one to freak out at home, especially with two very, very energetic boys. 
TELL US ABOUT SOME OF THE CHALLENGES YOU'VE FACED TOGETHER AND HOW YOU OVERCAME THEM.
Alicia: I think the complementary yet very difficult dynamic (between us) has made us realise that it is okay when we agree to disagree. A lot of the time we remind ourselves that we are a couple with a common goal and that is really important in helping overcome such hurdles.
Peter: I could rattle on about the challenges we have faced in working together. It's an extremely strange and horrible dynamic at times, working and living with your life partner. It can be extremely overwhelming and relentless.
But I always ground myself with the fact that we are blessed in that we have these shared challenges. As trying as it is, Alicia and I are very clear on what we want to achieve together with both the business and our family. We are very lucky to have had the tough times we've had.
DO YOU BELIEVE IN KEEPING WORK AND HOME SEPARATE? 
Alicia: It is almost impossible to "leave work out of your home" despite what people say, especially when you are heavily invested in it. Instead of seeing work talk at home as being a burden, we have established that there are also a lot of benefits in being able to discuss the important stuff when together in a different headspace.  
Peter: We care about our brand, which means we're on call … always. The kids have been a really good bit of forced perspective though – they are priority number one and force you to eject from work mode from time to time. 
It's an extremely strange and horrible dynamic at times, working and living with your life partner. It can be extremely overwhelming and relentless.
WHAT HAVE YOU LEARNED ABOUT YOURSELVES ON THIS JOURNEY?
Alicia: A big takeaway that we've gotten is that when shit hits the fan, it is okay to not be okay. Being the headstrong personalities that we both are, we do not like to admit to failure, let alone sadness, if for any reason at all. 
But we've learnt that the majority of the time we are going to be okay, and when life throws us lemons we normally try and make one hell of a gigantic lemon cake out of it!
Peter: I have learned that I am the planner, to the point where it might never get done. Alicia is the "rip in and get it done" person, which sometimes isn't planned or considered that well.
But she really is the go-getter out of the two of us. She's managed emergency situations from a hospital bed, pulled out cables from a sound system in a crazy dodgy adjoining nightclub, stormed the offices of the Urban Redevelopment Authority for some info to get a studio opened and battled landlords, though they're not all bad. 
YOGA MOVEMENT HAS BECOME A HOUSEHOLD NAME. WHAT DOES IT TAKE TO MAINTAIN SUCH A REPUTATION?
Alicia: Lots and lots of training, repetition and consistency in key messaging and branding, in every touch point of the business.
Peter: There's really no "special sauce" to maintaining and growing the brand. It's straight hard work, the care factor and a passion to be better. 
We are really good at acknowledging that we get things wrong, very regularly, and we believe that's the only way to improve and grow. We own our mistakes, try not to make them twice and learn the intended lesson when we fall over. 
YOU SPEND A LOT OF TIME THESE DAYS IN AUSTRALIA. WHAT'S IT LIKE MANAGING THE BUSINESS FROM OVERSEAS?
Alicia: We're currently in Tweed Heads, New South Wales, but we move between Singapore and here. This is where Pete's family is. Because of the last two years, we haven't been able to easily get on a plane and just take off as and when, but we would really love to be able to bounce between both more this year. 
With the last two years conditioning most of us that working remotely is possible, we've been able to be quite hands-off with the day-to-day, and we have an incredible team that runs the show. We do weekly catch-ups to make sure that we're still in touch.
WHAT ARE YOU PROUDEST OF AND WHAT'S NEXT FOR THE BUSINESS?
Alicia: To have opened four new locations in 2021 – in the middle of a pandemic – was a real proud moment for all of us here at Yoga Movement. We wanted to keep momentum going, to ensure that people do not start to feel bogged down by pandemic blues. We wanted to provide both our clients and team the opportunity to feel like they've still got a home outside their home to go to, to still be able to partake in a community within their comfort zone.  
Peter: We're also turning 10 this year. It's an absolute trip to think we've been doing this for that long. There are a few things in the works that are a bit hush-hush. But all onwards and upwards!  
WHAT'S NEW AT HOME? ANYTHING YOU'RE LOOKING FORWARD TO? 
Peter: We really want to create a dynamic where the boys can be outdoors more, and more meaningfully. We want to give them every opportunity to grow and fail in a safe space. I think we're excited with the maturity that we're gaining in business, which affords us some real quality time as a family.
WHAT DOES LOVE MEAN TO YOU AT THIS STAGE OF YOUR MARRIAGE? 
Alicia: This year marks our seventh year of marriage. I think if there is anything that these past years have taught me it's that the hard work doesn't just stop when you've proposed to someone and they've said yes. That is only the beginning. 
Couples who stay together until they die don't just stay together conveniently – it takes continuous effort and affection in keeping each other content to stay together. Actions speak louder than words so just saying "I love you" without doing anything isn't enough. On another note, my definition of love has definitely been amplified after having my two kids. 
Peter: We understand that there will be bad times and there'll be times where we may not like each other that much. These times might not be for days, but for weeks or even months. It's okay, as the relationship is a long-term commitment. As much as we see each other's strengths, we've also seen each other at our worst, and still want to be together… I think that's pretty special. 
This is a different perspective from when you're younger, when you expect it to be all passion, all rosy, all the time. I think I see love as stamina, grit and gratitude in abundance for what the other brings to the family. 
ANY THOUGHTS ON GENDER ROLES AT HOME AND AT WORK? 
Alicia: I think in a biological sense there are definitely differences in what women and men can do that the other can't do as well. And when I say this I am mostly really referring to the roles we play in the upbringing of our kids. For us, it's really more about the recognition of strengths and weaknesses that each of us have, and admitting to what we do well and don't do so well. 
Peter: I don't think we really follow the traditional gender role thing at our home. Alicia is good at certain things and I'm good at others – simple as that. 
CNA Women is a section on CNA Lifestyle that seeks to inform, empower and inspire the modern woman. If you have women-related news, issues and ideas to share with us, email CNAWomen [at] mediacorp.com.sg.