WASHINGTON: US President Joe Biden pledged Thursday (Aug 26) to hunt down the perpetrators of the suicide bombings that killed 13 American troops in Kabul and said the United States will not be deterred from its mission to evacuate thousands of civilians from Afghanistan.
"To those who carried out this attack as well as anyone who wishes America harm, know this: We will not forgive. We will not forget. We will hunt you down and make you pay," Biden said.
Suicide bombers on Thursday attacked crowds of people gathered outside Kabul airport hoping to flee Taliban-controlled Afghanistan. Islamic State claimed responsibility for the attack.
The Taliban said the two blasts killed between 13 and 20 people, while a health official in the previous government said the toll could rise to 60.
In a solemn address from the White House, Biden praised the slain US servicemen as "heroes" and said the evacuation mission from Kabul will continue until the planned US withdrawal date of Aug 31.
"We will not be deterred by terrorists. We will not let them stop our mission. We will continue the evacuation," Biden said.
He reaffirmed the Aug 31 deadline for all US troops to leave Afghanistan and said the US forces would fly out as many people as possible before that date.
There remains an "opportunity for the next several days, between now and the 31st, to be able to get them out," he said.
"Knowing the threat, knowing that we may very well have another attack, the military has concluded that that's what we should do. I think they are right."
Biden also said he has seen no evidence that the Taliban colluded with Islamic State militants in carrying out the deadly attacks in Kabul.
"There is no evidence thus far that I've been given as a consequence by any of the commanders in the field that there has been collusion between the Taliban and ISIS in carrying out what happened today," he said.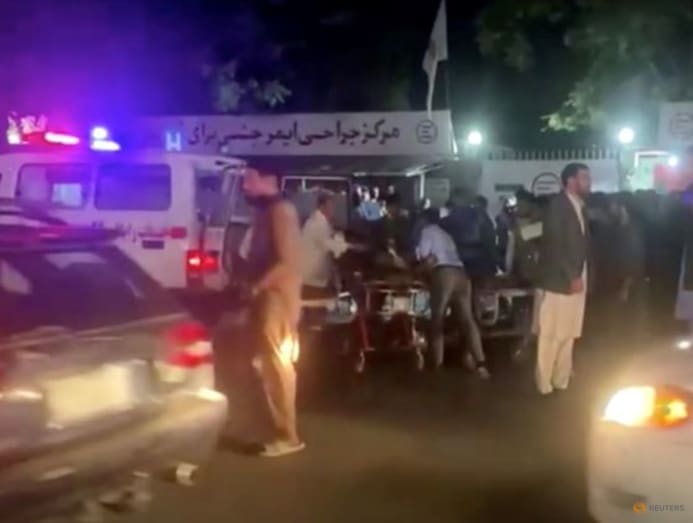 'TOTAL PANIC'
Graphic video shared on social media showed bodies lying semi-submerged in a canal adjacent to the airport, where thousands have gathered since the Taliban takeover on Aug 15 hoping for a flight out.
"When people heard the (first) explosion there was total panic," a man name Milad told AFP.
"The Taliban then started firing in the air to disperse the crowd. I saw a man rushing with an injured baby in his hands."
The US government and its allies had raised the alarm earlier in the day with a series of advisories warning their citizens to avoid the airport.
After the blasts, images posted on social media showed men ferrying wounded people to safety in wheelbarrows.
In another picture, a boy was seen clutching the arm of a man whose clothes were soaked in blood.
Taliban spokesman Zabihullah Mujahid told AFP that between 13 and 20 people were killed and 52 wounded in the twin blasts, while Kabul hospitals reported six dead and up to 90 wounded.
A health official in the pre-Taliban administration said the death toll could rise to 60, but added that he could not be named and other sources could not confirm the figure.