Indonesia calls for negotiation and diplomacy after Russia attacks Ukraine, will not impose sanctions
Thailand has also urged a peaceful settlement to the situation, while Malaysia and the Philippines are stepping up repatriation efforts.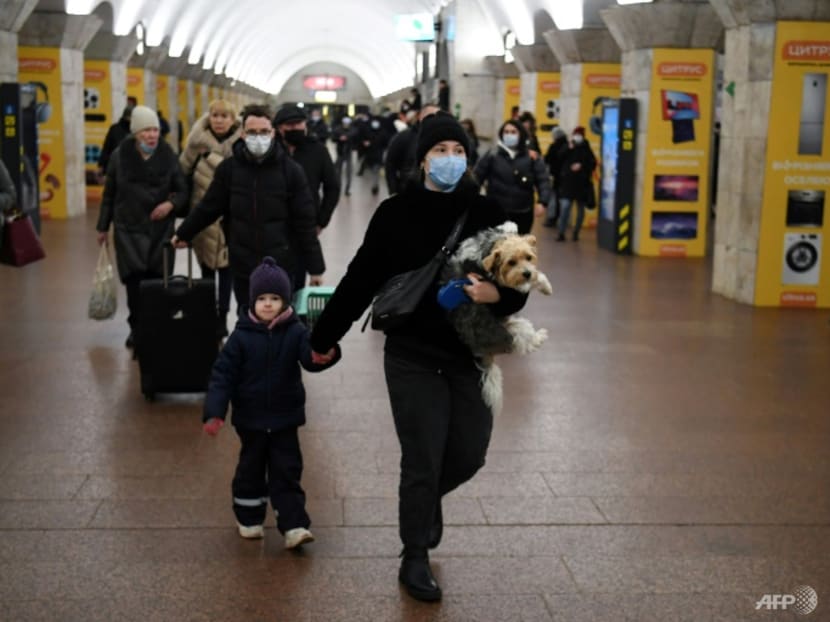 JAKARTA: Indonesia on Thursday (Feb 24) called for negotiation and diplomacy after Russia invaded Ukraine, while stopping short of announcing sanctions on Moscow. 
In a press conference, Ministry of Foreign Affairs spokesman Teuku Faizasyah said: "Indonesia is very concerned about the escalation of armed conflicts in Ukraine which poses great threats to the safety of the people and the stability in the region." 
Indonesia, the spokesman added, "condemns every act which is a clear violation of territorial integrity and sovereignty of a country" and "urges all sides to prioritise negotiation and diplomacy to stop conflict and put forward peaceful resolution."
However, Mr Faizasyah said Indonesia will not impose any sanctions on Russia.
  
"We will not blindly follow the steps taken by another country. We will make a decision based on our domestic interests and (the consideration) of whether sanctions would solve anything. We see time and time again that sanctions do not mean the resolution of a particular issue."
Indonesia has also told its citizens in Ukraine to gather at its embassy for a possible evacuation.  
According to the Indonesian foreign ministry, there are 138 Indonesians living in Ukraine, the majority of whom reside in the capital Kyiv and the port city of Odessa, both of which were under attack on Thursday.
In a tweet, President Joko Widodo wrote: "Stop war. War brings suffering to mankind and endangers the world."
Russian forces fired missiles at several cities in Ukraine and landed troops on its south coast on Thursday, after President Vladimir Putin authorised what he called a special military operation in the east.
"Putin has just launched a full-scale invasion of Ukraine. Peaceful Ukrainian cities are under strikes," Ukrainian Foreign Minister Dmytro Kuleba said on Twitter.
"This is a war of aggression. Ukraine will defend itself and will win. The world can and must stop Putin. The time to act is now."
Several parties have announced new sanctions on Moscow in recent days, including the United States, Australia and South Korea.
Meanwhile, the Thai foreign ministry said on Thursday that the government has been following developments in Ukraine and especially the escalation of tensions in Europe with deep concern. 
"We support ongoing efforts to find a peaceful settlement to the situation through dialogue."
In a press conference, Malaysian Prime Minister Ismail Sabri Yaakob said on Thursday that there are now 11 Malaysians in Ukraine, with eight of them in Kyiv and three outside the capital city.
He added that the Malaysian government has contacted them and the evacuation process has begun. 
"Our citizens are in a safe condition and I wish to announce that our citizens' interest will be the primary issue for Malaysia."
"Hence we are taking quick action. Although Kyiv is not too critical as of now, we have evacuated our citizens from Kyiv," said the Malaysian leader during a bilateral visit to Cambodia.
Mr Ismail Sabri also tweeted that the government is "saddened" by developments in Ukraine. 
"Malaysia hopes that the best possible peaceful solution can be reached immediately between Ukraine and Russia, followed by a successful resolution of the said conflict," he wrote.
He also noted that 12 Malaysians have earlier been repatriated from Ukraine.
In Manila, the Philippine News Agency tweeted that four more citizens will be repatriated from Ukraine on Thursday night. 
On Wednesday, the Philippine News Agency also reported the Philippine Embassy in Moscow is prepared to assist Filipinos wishing to enter Russia from Ukraine on humanitarian or emergency grounds in coordination with the Russian Federation authorities. 
According to an earlier statement by the Philippines' Department of Foreign Affairs, six Filipino nationals arrived back home from Ukraine on Feb 18.
Four of the six people who were repatriated boarded international flights from Kyiv while the two others took their flights from Lviv. 
The department said that the Philippine Embassy in Poland remains in touch with the Filipino community inside Ukraine.
"We are urging all Filipinos in Ukraine to contact the Philippine Embassy in Warsaw and the Philippine Honorary Consulate General in Kyiv if they would like to request for repatriation assistance from Ukraine," Philippine Ambassador Leah Ruiz was reported as saying on Feb 18.