Celebrity beauty files: Chen Yixin's hacks on choosing the right lipstick and how she likes to leave her mark
What are the beauty must-haves in their bag? What's their makeup routine? In this new series, CNA Lifestyle asks Singapore celebrities for the low-down. First up is Chen Yixin. The 22-year-old actress and daughter of Edmund Chen and Xiang Yun spills her lipstick secrets.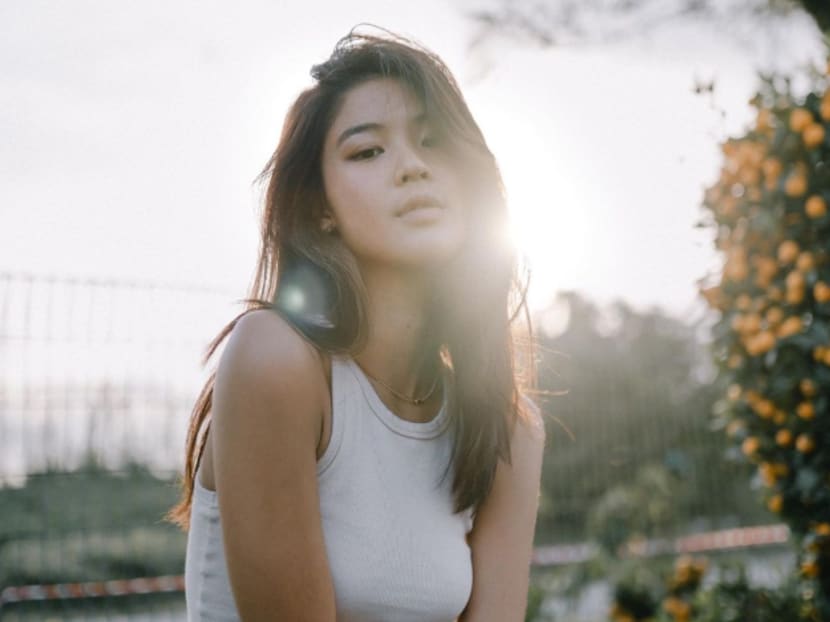 Second generation celebrity Chen Yixin doesn't want to only be labelled as the daughter of Mediacorp's OG Ah Jie Xiang Yun and actor Edmund Chen.
Even though the 22-year-old is a carbon copy of her famous father and counts him as her BFF, she has absolutely no intention of riding on his coattails.
Like her hardworking actress mother, Chen's sights are set on scaling life's uphill trek all on her own. She'd be the first to admit (as she did on Instagram) that she's "darker than the usual Asian beauty standard" and "unfortunately have tattoos" but being so-called unconventional hasn't put a dent on her meteoritic rise.
Besides starring in Mediacorp dramas such as Life Less Ordinary and While We Are Young, the young actress has also been spotted in fashion magazines and in ad campaigns (hello, Goldheart and Orasyl), and is fast "friends" with beauty brands such as Dior Beauty and Kiehl's.
And because Chen self-deprecatingly claims that her lipsticks are more fashionable than her, CNA Lifestyle recently quizzed her about her lipstick habits. Which chic lippie does she always bring with her? What rouge hack has she gotten from her celebrity mum? And what did she wear on her lips during that first date with singer boyfriend Gavin Teo?
DO YOU REMEMBER WHICH LIPSTICK COLOUR YOU WORE ON YOUR FIRST DATE WITH GAVIN?
Oh my god! I think I wasn't really wearing any lipstick. Or maybe it was a tinted lip balm? Maybe it was the Nivea Lip Balm Cherry.
WHICH LIP PRODUCT DO YOU ALWAYS HAVE IN YOUR MAKEUP BAG?
Tinted lip balms. Because my lips tend to get really dry. My go-tos are Nudestix, Clarins, Rare Beauty and Nars moisturising lip glosses. Oh, and the Chanel Coco Rouge Baume, too.
HOW DO YOU CARE FOR YOUR LIPS?
Moisturise, moisturise, moisturise! I hoard lip balms more than anything else and my friends and family can vouch for that. Haha.
Among my favourites are Drunk Elephant Lippe Balm and Kiehl's #1 lip balm. The Laneige sleeping lip mask is an essential, as well as chapsticks.
WHAT'S YOUR IDEA OF A PERFECT LIP COLOUR?
I'm a firm believer of the makeup slogan: My lips but better.  
WHAT IS THAT ONE LIPSTICK TREND YOU JUST CAN'T GET ENOUGH OF?
Glossy lips.
SO YOU ARE A "HIGH SHINE" KIND OF GIRL?
I'm more of a tinted or lip balm-y kind of girl. Haha.
DO YOU HAVE A LUCKY LIPSTICK COLOUR?
Hmmm, unfortunately I don't have one at the moment. Generally, I go for a very natural colour. Sometimes, I just wear a clear gloss; especially when I'm wearing heavier eye makeup.
ARE THERE ANY LIPSTICK COLOURS YOU HOARD?
I am super into brownish-rose shades. I can never get enough of those!
HOW MANY LIPSTICKS DO YOU OWN?
Wow! I don't think I can think of a number right now, but I'm sure I have a lip colour to match each of my looks.
DO YOU LIKE THE SHAPE OF YOUR LIPS?
I would say I'm okay with my lips. Not that I'm super happy with it, but neither am I too bothered by it. But I do admit that there are days where I do have some insecurities about its shape. Whenever that happens, I'd simply moisturise with a lip balm and skip lipstick so as not to draw any attention to them.
WHAT'S YOUR BEAUTY HACK TO PICKING THE CORRECT RED LIPSTICK FOR YOUR SKIN TONE?
You have to try them on! Especially for me, my skin tone changes pretty often since I go under the sun pretty often.
DO YOU HAVE A HACK TO STAYING SMUDGE-FREE?
I'll either apply some lip colour on my fingers and dab it to the opacity I like. Or sometimes, I would apply it straight onto my lips and use a tissue paper to blot off the excess.
WHO TAUGHT YOU YOUR FAVOURITE LIPSTICK HACK?
My mum taught me that less is more. It's a tip I never forget. I always apply my lipstick little by little and let the colour build.
BESIDES ON THE LIPS, HOW ELSE DO YOU USE YOUR LIPSTICK?
Desperate times call for desperate measures, there are days when I've completely forgotten to bring my blusher – that's when my lipstick comes in handy.
WHAT'S YOUR TAKE ON LIP LINERS?
I don't use them but I recently chanced upon a TikTok clip of Hailey Bieber demonstrating how she uses a lip liner – her lips instantly looked fuller while still super natural looking and I'm convinced to try. I have pale lips so it's good to know what alternatives are available besides tinted lip balms.