Girls' Generation's Tiffany Young on her K-drama debut, her love for Disney and the one thing she 'could never' do
At 33, Tiffany Young has achieved more than most people can even dream of: K-pop superstardom, a growing repertoire of solo music and a promising acting career. But there's something else on her bucket list. 
Tiffany Young glows – in truly every way a person can glow. 
I hear her before I see her. The CNA Lifestyle team is busy setting up in a hotel room at the Hilton Orchard on Wednesday (Aug 24) afternoon when a familiar voice floats into the room from the hallway of the suite. 
"Wait, is that her? It's not time for our interview, is it?" asks a member of the crew, a little panicked. After all, from experience, celebrities don't typically appear until the absolute final moment. 
It is her. After routinely listening to her 2019 English single Magnetic Moon before heading out of the house, I can recognise her voice anywhere. But she just wants to say hi before she pops into the room next door for her first interview. 
As she makes her way through the melee of busy staff towards us, I am instantly struck by her delicate figure. Her face, tinted in the signature Korean "no makeup" makeup, exudes an elfin charm. 
"Hi, I'm Tiffany!" she says, stretching out a hand. Even her voice sparkles. 
Most celebrities, the first time you meet them, appear larger than life, sometimes intimidating. But with Young, one of the lead singers of K-pop supergroup Girls' Generation, I feel right at home. 
I am filled with that same feeling when we finally sit down for our interview, in chairs parked in front of the hotel bed. We'd earlier requested for the interview to be conducted in the bed, to evoke the feeling of a sleepover. But her managers said no – it didn't fit Girls' Generation's wholesome image. 
As it turns out, Young is not all that shy. 
"Ooh this is the first time I'm doing an interview in front of a bed. How intimate!" she quips. 
I take the opportunity to ask her about her bedtime routine – specifically if she ever goes to bed with her makeup on. 
"I'm going to be honest – I haven't slept much in the last five days (because of work)," she tells me. "I napped with my makeup on a few times."
But other than that, she's "very strict" – she always takes off her makeup before going to bed and is a little horrified when I say that I don't do that sometimes when I'm exhausted. 
"You can't do that!" she says. "During this promotion, I'm not going to lie, I would sometimes sleep with my makeup on, but I would never. I could never. 
"I realise I could never because I had a few drinks the other day and I still erased my makeup and put on my serum. So, I realise my level of strictness through my drunkenness."
How does Girls' Generation's Tiffany Young keep her skin looking flawless, even after days of minimal sleep? She tells CNA Lifestyle's Hidayah Salamat what she does for her bedtime beauty routine.
ON AGEING GRACEFULLY
By this time I'm thinking how funny it is that I didn't get my request for a "sleepover" but it feels like a sleepover anyway. 
Young's strict cleansing rule isn't just for the sake of beauty; it's also a chance to pamper herself. 
"I'm learning to be present during my cleansing routine. That's when you're really connecting with yourself. That's when you're like 'Wow, you had a long day. You did great, sweetie.'
"This is when your inner voice comes out and starts saying nice things. You know, not every time you're nice to yourself," she tells me. 
I find it a little hard to believe that the pop star, who's had more than five well-received singles out since going solo in 2017 and who is currently pursuing acting, has time every night for a pep talk and a complete beauty routine.
"If I'm really tired, after cleansing, I will put on a face mask because it gets everything done. And then I just leave it on," she says. 
It's my turn to be horrified: "You can do that?"
"It depends on the mask," she reveals. "There's the gel type, a satin type and a silk type. Don't leave the silk type on because it dries everything up. A gel mask, you can leave on."
I can tell she's generous so I push for another skincare tip. I'm seated less than a metre away from her and I can't see any signs of under eye ageing. Despite her claim that she has barely slept in days, she has no visible dark eye rings or eyebags. 
"My glam team is incredible," she says seriously. "I also drink a lot of water and electrolytes. I think that is the secret. People just think water but recently I've been making sure I drink a lot of electrolytes after a rehearsal." 
The topic of beauty makes Tiffany Young, who is 33, feel nostalgic. 
Later that night, she is making an appearance at a Lancome event promoting the brand's Beauty Tech flagship store, as its ambassador.
Young, like me, grew up with Lancome. We share stories of how we used to spray the brand's inimitable Miracle fragrance as children and our unquenching lust for Juicy Tubes lip gloss.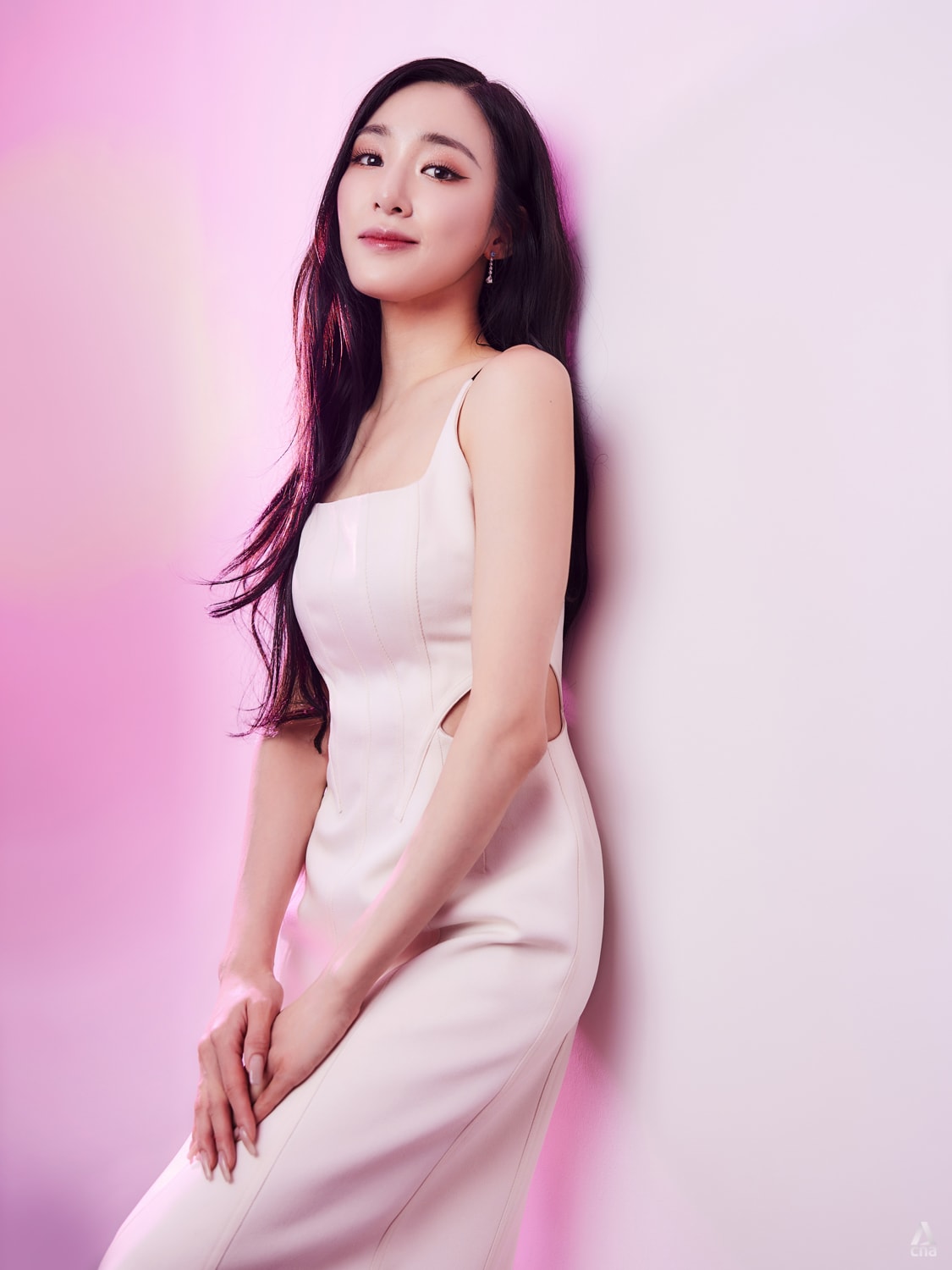 "Growing up in the '90s and early 2000s, beauty trends were explosive. My mum would always be wearing red lips and red nails, and that influenced me a lot. I also love the divas, like Whitney Houston and Mariah Carey, who are always so glammed up.
"But I love that now, beauty and makeup has become a part of everyone's routine. It's a form of empowerment and self-expression – it's no longer just for a certain type of person or group."
The tagline for the Beauty Tech Flagship Store, an immersive experience outside Mandarin Gallery that will last through Sep 7, is "Strong is the new young". 
I wonder out loud if it was planned, seeing as Young is her last name. 
"It wasn't! It's just meant to be," she says.
"I love how Lancome brings back their ambassadors from before, like Julia Roberts and Penelope Cruz. I remember seeing their campaigns from a long time ago and now we get to see them again and see how much more beautiful they are over time.
"Ageing gracefully to me means awareness and mindfulness – truly being able to be present and taking in the details, whether it's seeing beauty in yourself or in others or in a situation. I think that's the key to ageing gracefully. I don't think it's a certain look or a photo or a product – it really is a mindset."
ON DREAMS
Going back to the theme of sleep, I ask Young if she has a favourite lullaby. She is thrilled, as if she's been waiting for someone to ask her this all her life. 
"I'm a big Disney fan!" she exclaims, before proceeding to serenade me with A Dream Is A Wish Your Heart Makes from Cinderella. 
"When I was young, I really loved the musical boxes that had a little ballerina in it and that played songs like Twinkle Twinkle Little Star. I love a good classical lullaby. 
"But recently, I've been obsessed with Elvis Presley and if you listen to the Elvis movie soundtrack, there's the song Can't Help Falling In Love by Kacey Musgraves. That is like the sweetest lullaby… I can fall asleep to that."
Last year, Young fulfilled one of her dreams: To play Roxie Hart in Chicago the Musical. She loved playing the sassy villain character so much in the South Korean production of the Broadway hit that she hopes to do it again. 
"After that season – I won't lie – I still practise that monologue. Because I'm like, I'm going to be ready to take that stage again next season." 
The singer-songwriter has indeed been bitten by the acting bug. 
She tells me she just finished shooting her first K-drama airing in November, in which she plays financial analyst Rachel alongside Song Joong-ki of Descendants Of The Sun fame. 
"It was my first time so I was learning a lot. I loved that I got to represent an Asian-American woman, who's there to be a boss," she tells me, adding that she's also eyeing other Korean musical roles, like Lucy Harris from Jekyll and Hyde, Glinda the Good witch from Wicked, and Satine from Moulin Rouge. 
She also wants to play Princess Jasmine from Aladdin, whose Broadway production she has seen a whopping six times. I tell her I played Princess Jasmine in a primary school production and she squeals. 
"You've had your Disney princess moment! I haven't. That's literally my goal in life.
"There are so many different, amazing stories that are being written and there will come a time for an Asian-American princess."
At this point, Young looks straight into the camera, flashes a cheeky grin similar to the one she sported in Girls' Generation's world-famous music video for Gee, and says: "Hi, Disney."
Now who could say no to that?