Why a navy blazer is your best investment for looking your best every single time
It is – more so than a black blazer – the most adaptable piece in a man's wardrobe, taking you from snazzy to smart casual.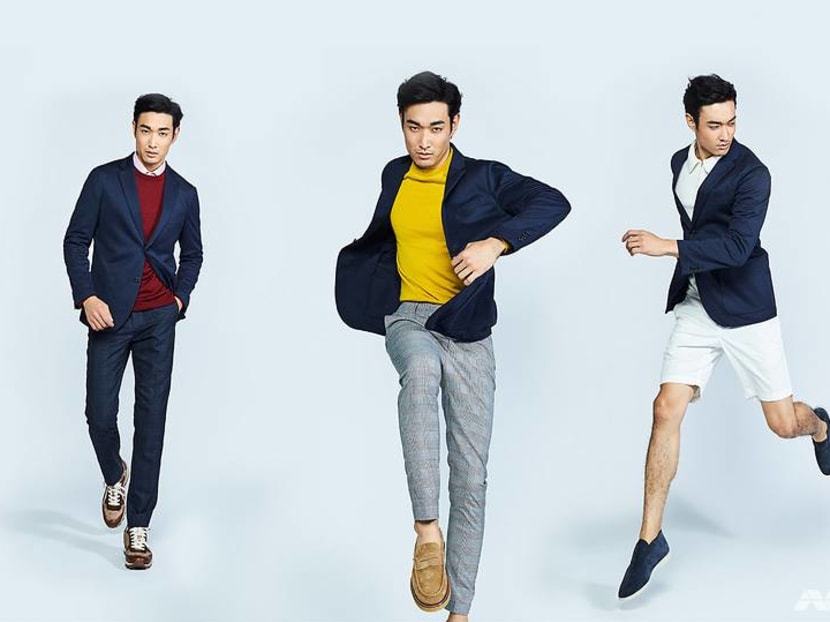 We know what you're thinking: Does a navy blazer even have a place in Singapore's hot and humid weather? But don't knock it till you've tried it.
The navy blazer is the hardest-working piece of clothing for a man, and this is one functional piece that can take you from boardroom to cocktail. (Also, the blazer comes off when you find yourself without air-conditioning.)
Just like your suit jacket, the navy blazer should fit you right, from the shoulders to the length of the sleeves, size of lapel and placement of buttons. Once you've got the basics sorted, the unassuming, non-threatening navy blazer will serve you well, whatever the occasion. Call it an investment piece, if you will.
Here are five ways you can rock one single navy blazer. You're welcome.
SLEEK AND ELEGANT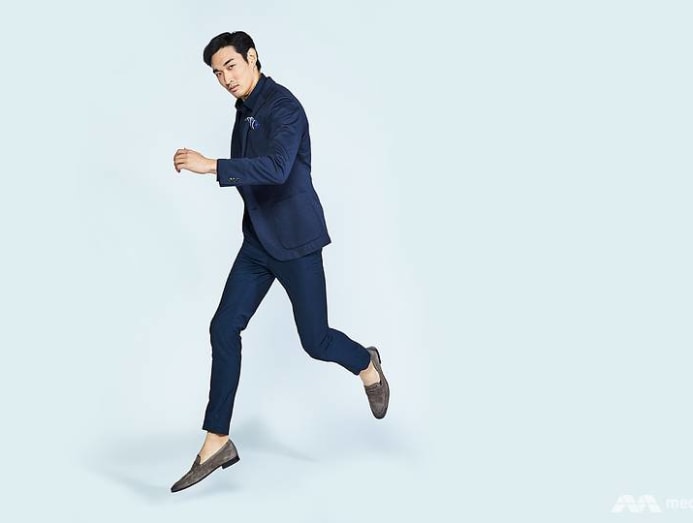 One of the most versatile colours in a man's wardrobe, navy can be dressed up or down. Instead of a crisp white shirt, why not wear your navy blazer with a navy shirt and a pair of indigo trousers? The look is sharp and less predictable. Plus it'll set you apart from the rest of the executives in the business district.
TIP: Break up the monotony of a full navy outfit with a pair of brown or tan penny loafers. Add a pocket square for a touch of elegance.
BOLD AND HANDSOME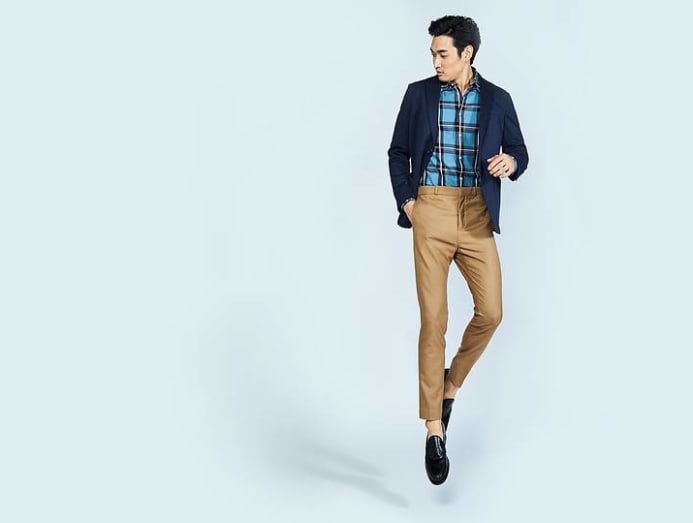 If you consider yourself somewhat a risk-taker when it comes to your personal style, consider layering the navy blazer with a button-down checked shirt and a pair of chinos. The ensemble is still professional enough to meet clients without coming across as too casual. This look can also take you from work to a recital at the Esplanade.
TIP: Cuff up your trousers and go sockless, whether you're wearing it with a pair of white sneakers or brown laced-ups. As a rule of thumb, the slimmer the pants, the smaller the fold should be. A casual roll or cuff works especially well with chinos.
COOL NAUTICAL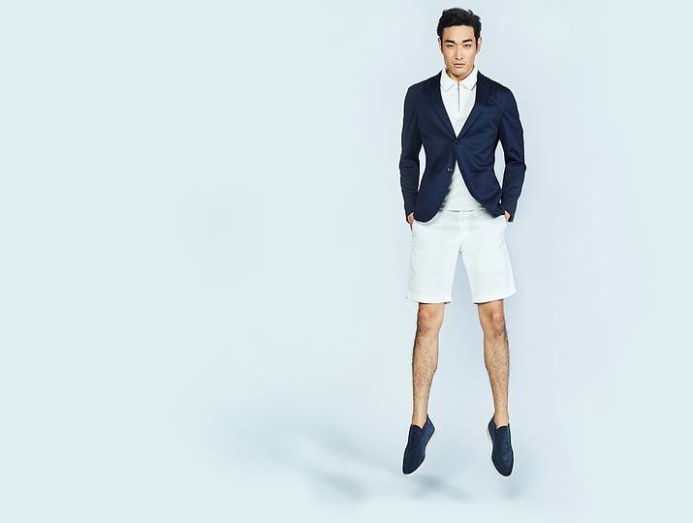 Can you really wear a blazer with tailored shorts? Absolutely. When the dress code is casual, there is room for you to take risks. Also perfect for when the wedding is outdoors on a weekend afternoon.
TIP: Make sure the length of the shorts is proportionate to your body. Tall and lanky get away with baggy and slim cuts. Stout and short will do well with a loose cut that ends above the knees.
UPDATED PREPPY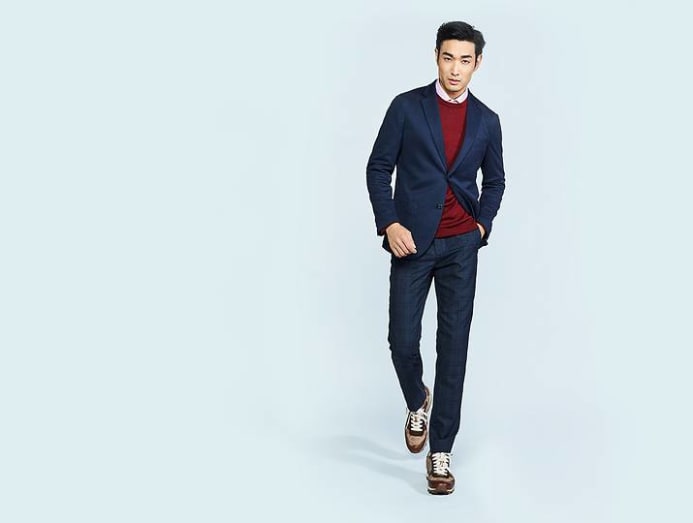 Dressing up for work need not be stuffy. Consider wearing the navy blazer with a button-down shirt, a pullover and pair of blue pants. The look is preppy yet sharp so you can waltz into the office without looking like you're trying too hard.
TIP: If your office isn't corporate in italics, pump up your outfit with a pair of designer sneakers or driving shoes in a bold colour. It is sure to liven up your ensemble instantly.
TRUE COLOURS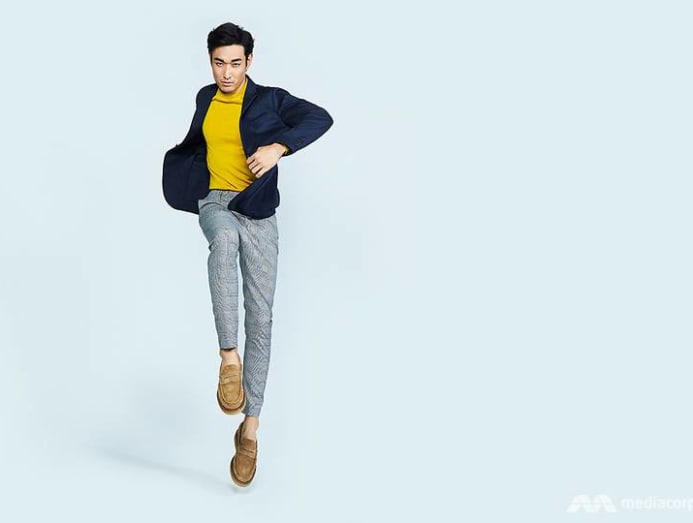 Wearing your navy blazer with a long-sleeved tee in a bright hue is less formal than your stuffy collared shirt and more stylish than a polo tee.
It's casual yet dressy enough to hit the sartorial sweet spot.
TIP: Make sure your top is of a lightweight material. You don't want to add bulk to the look.
Photography by Aik Chen, styling by Damian Huang, grooming by Lin Hongling, model Masato from Mannequin.