Doing good for the environment (and your skin) – one refillable bottle at a time
Suu Balm's new refill and recycle station hopes to address the issue of plastic waste and encourage consumers to be more sustainable in the long run.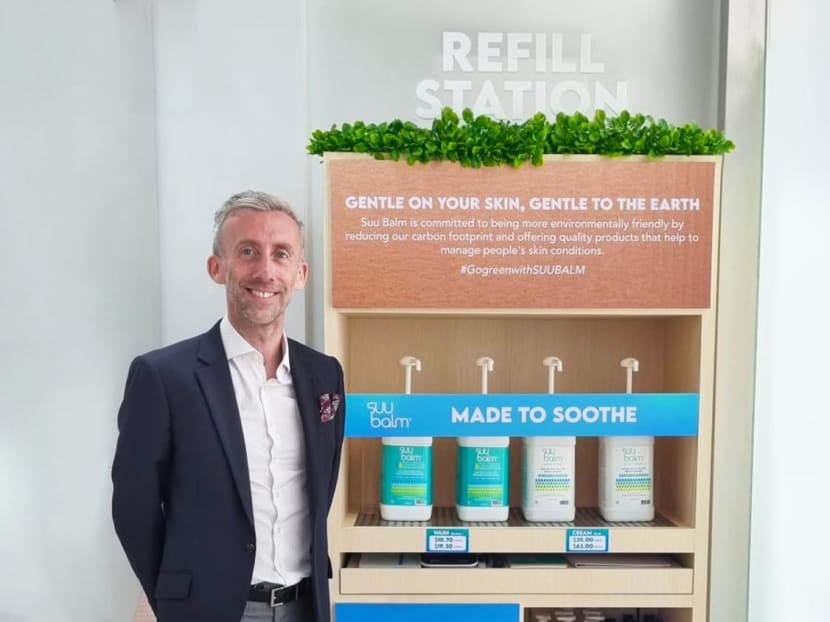 Reusable smart packaging that allows customers to refill their favourite products in the amounts they need. Mobile refilleries that help make their zero-waste journey more convenient. 
These were the ideas pioneered by Chilean start-up Algramo aimed at tackling the global problem of plastic waste. They were also the inspiration that sparked the creation of Suu Balm's refill and recycle station, located within its premises at Armenian Street. 
Fans of the skincare brand's popular Dual Cooling and Moisturising Cream Body Wash and Rapid Itch Relief Moisturiser can bring their own clean bottles to replenish their moisturiser and body wash. If they forget to bring their own, they can purchase new bottles or pick up refill packs (made from recyclable plastics, of course) for the adults' and kids' body wash there. They can also drop off their empty Suu Balm bottles for recycling.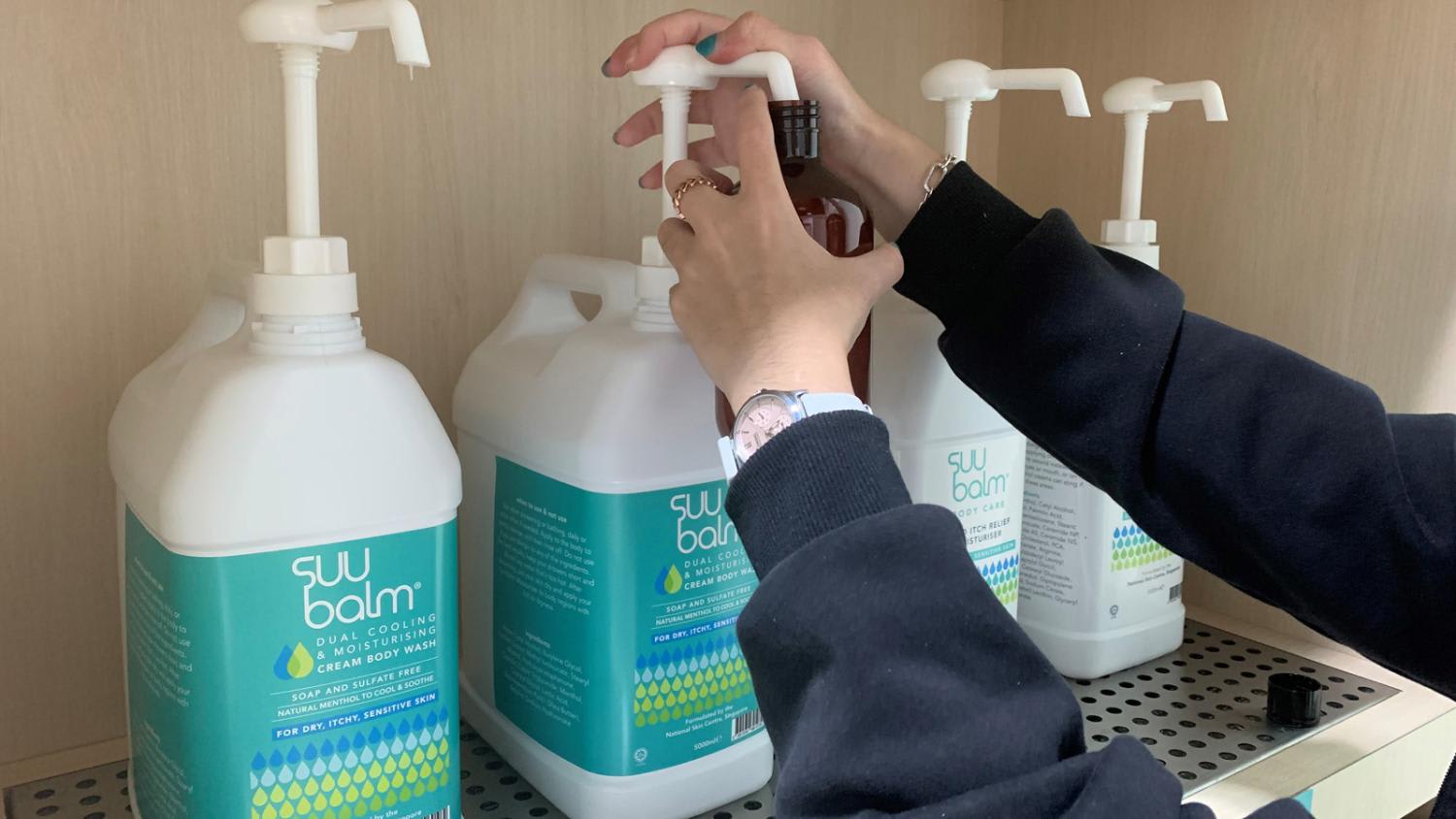 The refill and recycle station is a concept of Dr John O'Shea and Mr Jason Humphries – co-founders of Good Pharma Dermatology, the consumer health company behind Suu Balm – and cements the brand's commitment to sustainability.
AN URGENT NEED FOR CHANGE
It is no secret that the beauty and personal care industries have a plastic problem. Almost every beauty or personal care product we use daily – our shampoo, moisturiser or deodorant – is packaged in plastic. Globally, the industry produces about 120 billion units of packaging every year, most of which are not recyclable. 
Said Dr O'Shea: "Everybody has been talking about climate change for a long time, but it seemed almost a 'theoretical' issue to many. It was only in recent years that climate change became increasingly real and urgent, with wildfires becoming rampant, glaciers melting and weather changes around the world getting extreme and dangerous."
He highlighted two particularly grim examples that have arisen because of widespread plastic waste: The Great Pacific Garbage Patch, a massive collection of marine debris in the North Pacific Ocean that is made up extensively of plastic waste, and a recent discovery that microplastics have been detected in human blood.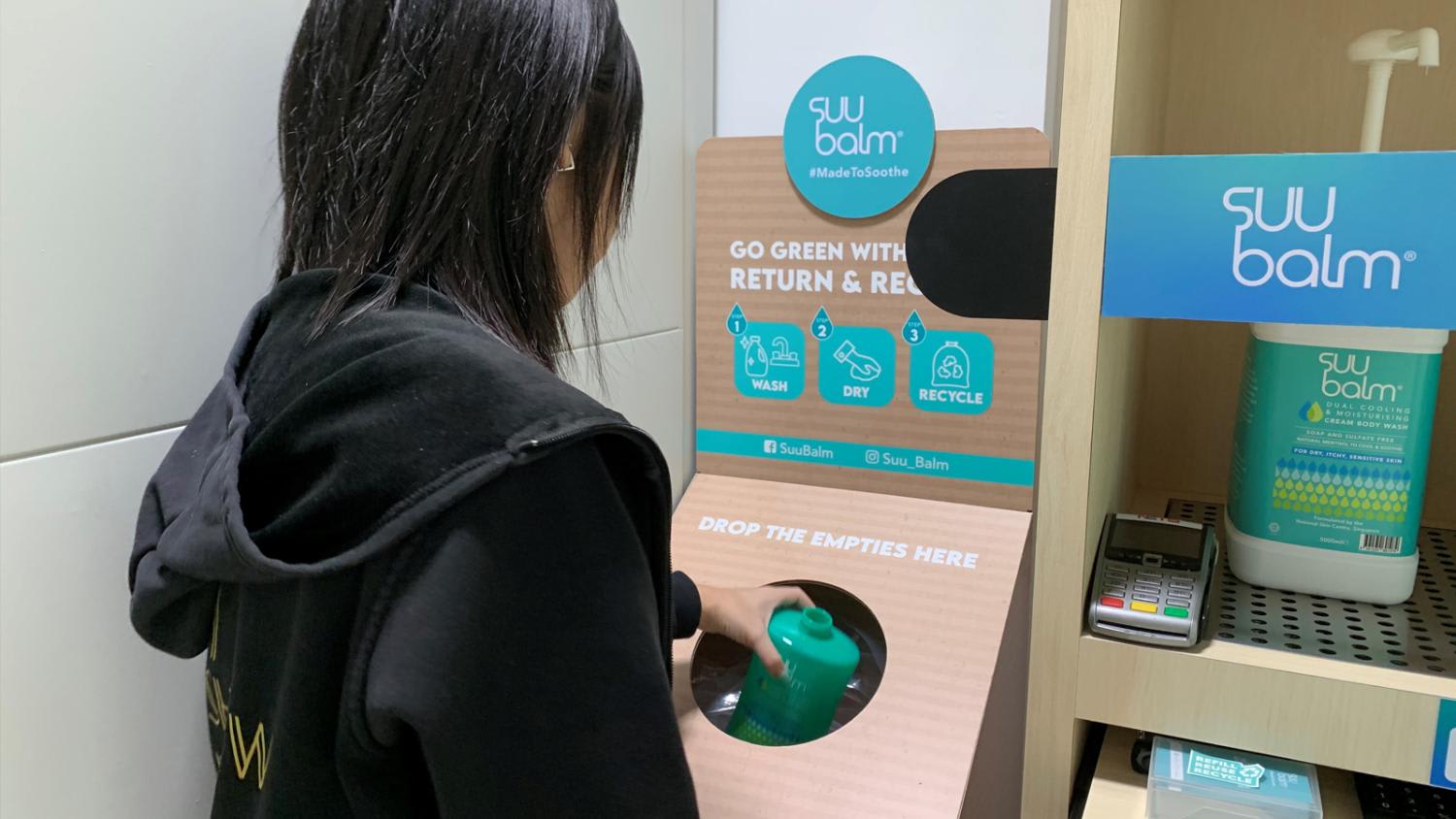 Aware that Suu Balm's plastic packaging is not ideal, Dr O'Shea and Mr Humphries saw it as their "responsibility as a business to do our best to lessen our environmental impact".
WHEN LESS IS MORE
Suu Balm is an advocate of the kaizen approach – a Japanese business philosophy of making small, incremental changes for the better. It believes that it is more important to improve upon what it already has, rather than vie with competitors to constantly push out new products.
"We want to make purposeful products that go a long way towards serving people's needs," said Dr O'Shea, who added that the brand's last product launch was its Rapid Itch Relief Scalp Spray Moisturiser in 2019. 
In fact, the origin story of Suu Balm itself was that its creators wanted to develop a product that made a difference. Its hero product, the Rapid Itch Relief Moisturiser, was conceptualised in 2015 by Dr Tey Hong Liang – head of research and senior consultant at National Skin Centre, Singapore – as an alternative to moisturisers that did little to soothe the itch caused by eczema and other dry, sensitive skin conditions among his patients. Dr Tey's formulation contains natural menthol to provide cooling relief, five skin-identical ceramides that "slot" into the right shape of damaged cells to repair the skin's barrier, and non-sulfate surfactants that are gentle on sensitive skin.
At the time, Dr O'Shea and Mr Humphires had been on the lookout for an impactful business opportunity for Good Pharma Dermatology. The pair were introduced to Dr Tey – and a meaningful partnership was born.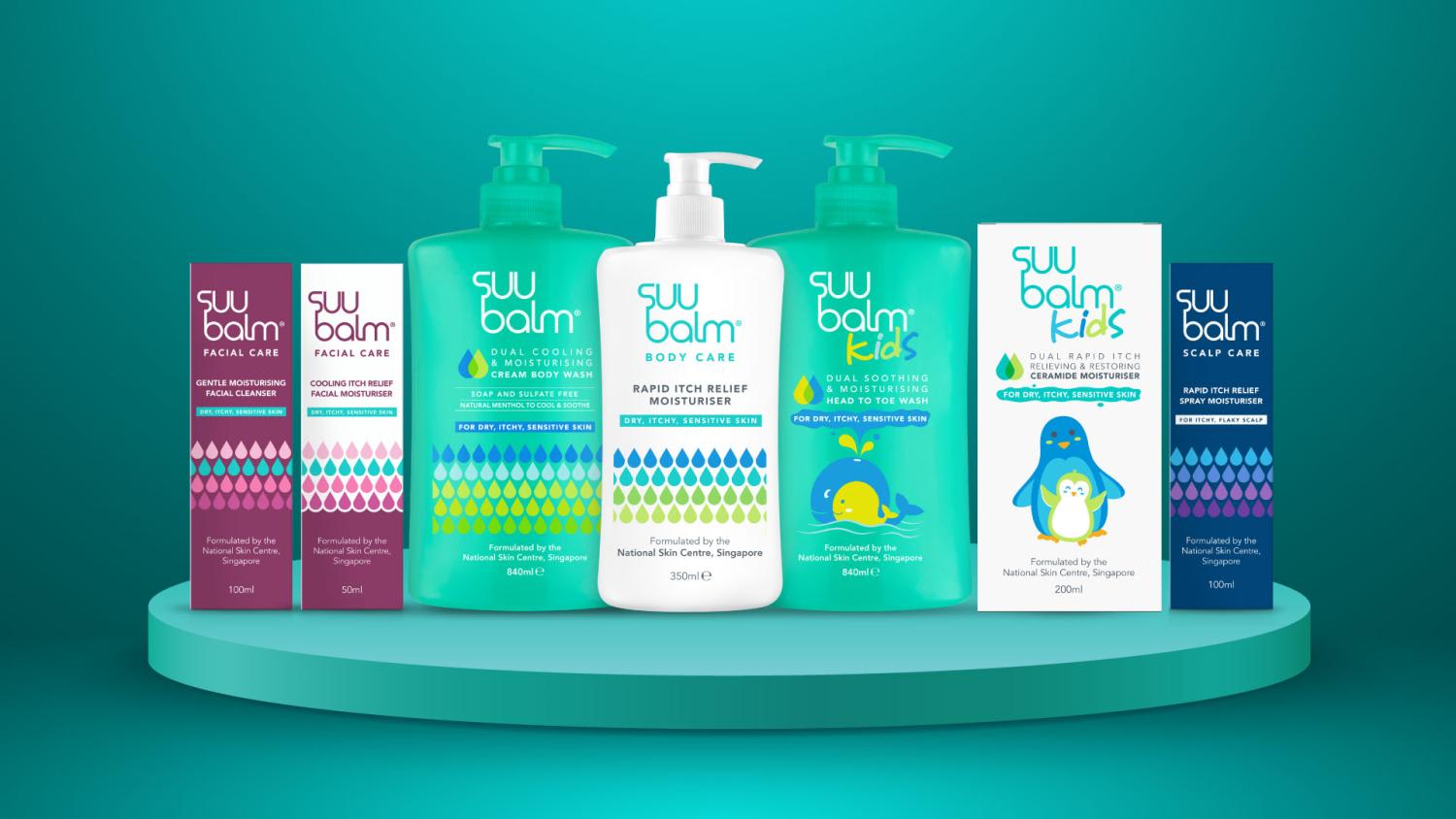 Today, Suu Balm is available in 12 countries and has become a beloved brand among users with sensitive skin. Its line has also expanded to include a facial care series, children's range and a scalp care product, and is available for purchase at major retailers as well as the brand's official stores on Lazada, Shopee and Qoo10.
MAKING A DIFFERENCE IN SMALL WAYS
In line with its kaizen beliefs, Suu Balm's next step after establishing its name was to look into ways to improve its sustainability initiatives.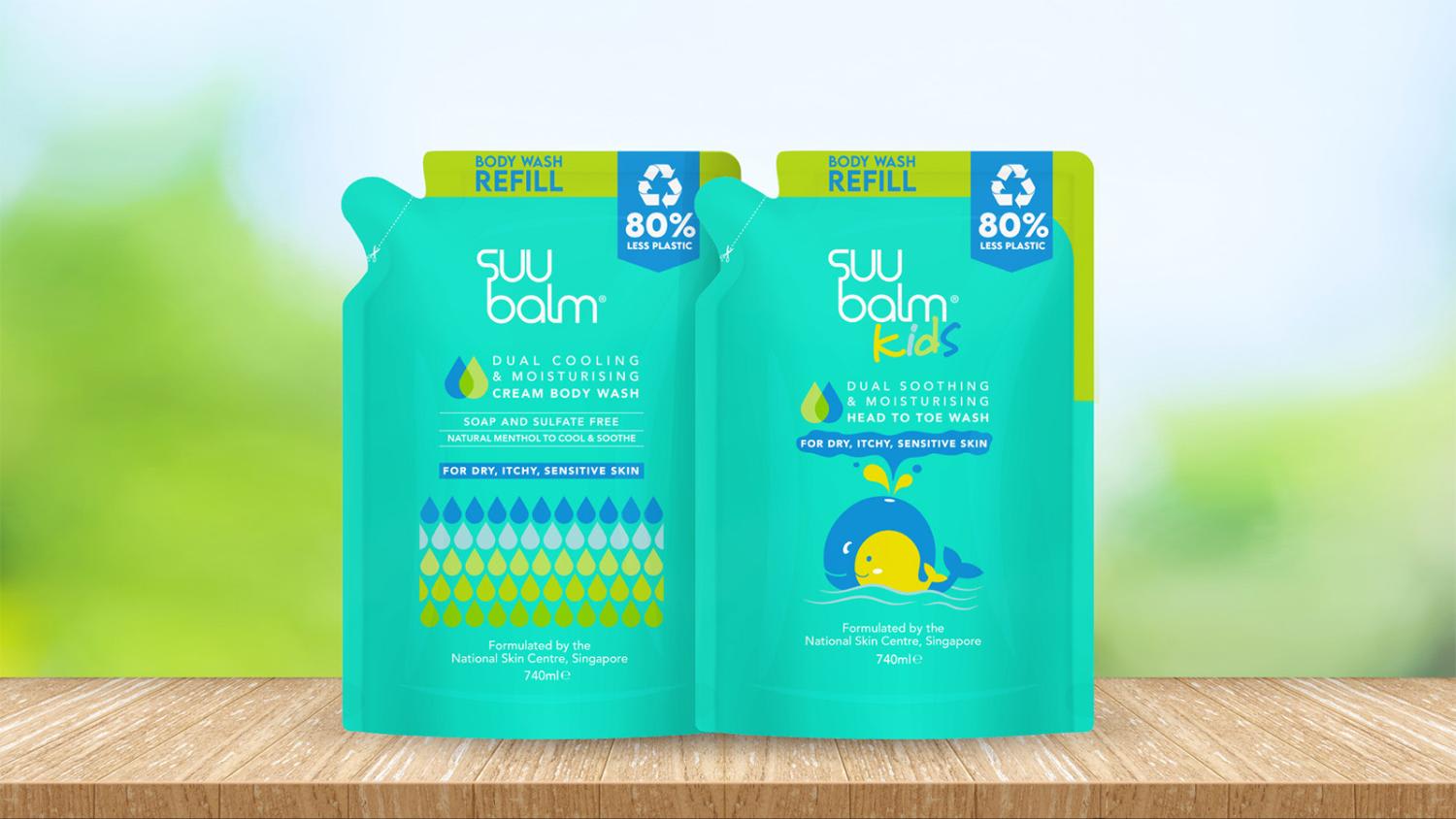 Besides launching its refill and recycle station last month, the brand also redesigned its refill pouches, which are made using 80 per cent less plastic than before. The team is now exploring new ways to make its plastic bottles from recycled materials as well as produce recyclable pumps by the end of next year. The plan after that is to use lower-impact recyclable materials for its plastic tubes.
"We hope to be able to turn to glass and aluminum packaging one day. Bonus point: Glass and aluminum bottles look better on your shelves, too," said Dr O'Shea. 
For now, Suu Balm is focused on getting its customers to be more mindful about their consumption habits and to use the refill station to reduce their plastic footprint. 
Said Dr O'Shea: "We don't measure success in the number of bottles we manage to refill a day. But if we can inspire customers to take the first step in doing better by the environment, we'll consider ourselves successful." 
Kick-start your journey to zero waste and visit the Suu Balm refillery at 36 Armenian Street, #01-06. Open Mondays to Fridays, from 9.30am to 5.30pm (avoid coming between noon and 2pm); closed on weekends and public holidays.