The Powder Shampoo: Good for your tresses, your pocket and the planet
This made-in-Singapore product aims to prove that sustainability and beauty can go together.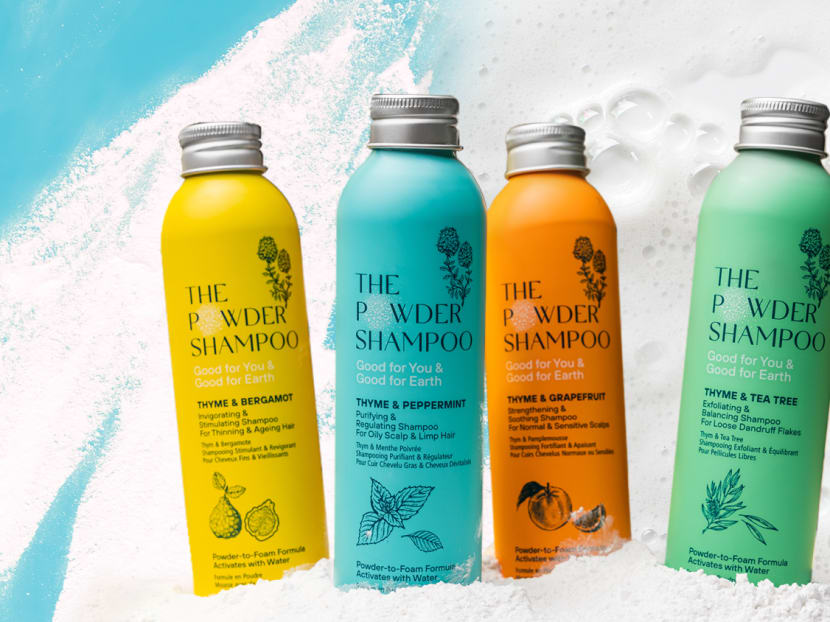 For many of us, hair-washing is an integral part of our daily shower routine that we go through without much thought. But look a little deeper and you'll find this simple act comes with weighty implications for the environment.
Clean freshwater makes up 2.5 per cent of all water on Earth, and just 1 per cent of it is easily accessible. This means only 0.007 per cent of the planet's water is available for use by 6.8 billion people.
Most liquid shampoos have formulas that contain more than 80 per cent water. In addition, the global cosmetics industry produces 120 billion units of packaging annually while only 9 per cent of the world's plastic waste is recycled. 
Determined to shake up the personal care industry with products good for people and for Earth, one veteran beauty retailer set about creating a more sustainable alternative to help tackle the issues of the shampoo industry's traditional manufacturing processes.
Ms Lynn Tan, founder and CEO of The Powder Shampoo, said: "I feel sad when I see clean water wasted in diluting shampoos and shower gels. This precious resource would be better used for consumption, not production. After being in the industry for over 20 years, I realised that shampoos and shower gels that are filled with chemicals, diluted with clean water and wrapped in plastic packaging have no place in our future."
The result was The Powder Shampoo – a powder-to-foam haircare line comprising four shampoos for thinning and ageing hair, normal and sensitive scalps, oily scalps and limp hair, and dandruff-prone scalps. Not only is the range water-free, it also uses zero plastic packaging. Here are five reasons to consider using this innovative product.
1. It saves water and doesn't pollute.
With formulas that have zero per cent water, clean water is not wasted on increasing product volume. According to the company, every bottle of The Powder Shampoo saves five to 10 litres of clean water for consumption and five to 10 kinds of plastic packaging from the landfill.
Don't confuse it with dry shampoo, though. Dry shampoo is used without water and usually as a stopgap in between washes, such as after gym workouts or during camping when you don't have access to a clean water source. Ms Tan said that while it may feel temporarily refreshing, "it does not remove grime or grease from your hair and scalp, but instead covers it up".
2. It contains natural ingredients.
All four shampoos in The Powder Shampoo range have vegan formulas free of sulphates like sodium lauryl sulphate and sodium laureth sulphate, parabens, silicones, fragrances, phthalates, and animal products or by-products.
What they do contain are more than 20 botanical extracts, such as papaya enzyme to break down excess oil, liquorice root for an anti-inflammatory effect, and hydrolysed rice protein for shine and elasticity. Furthermore, they are boosted with vitamins and minerals like Vitamin B6 and zinc to inhibit hair loss, and Vitamin B7 (biotin) to boost keratin production.
In place of sulphates, all the shampoos use a mild, biodegradable surfactant derived from coconut. That doesn't mean it compromises on the feel-good factor. Thanks to the use of five pure essential oils, each hair wash is elevated to the level of an indulgent aromatherapy session.
3. It is easy to use and saves time.
Using The Powder Shampoo is as simple as using liquid shampoo. You wet your hair, sprinkle the powder onto your palm or directly onto hair, then lather and rinse. In fact, the clean formula makes for an easier and quicker rinse-off versus a chemically laden liquid shampoo.
You can also skip conditioner after using The Powder Shampoo, as the rice proteins and guar gum in the formula act as natural hair conditioners and detanglers. Without the heavy silicones found in some conditioner formulas, hair is left light and bouncy, not artificially slick.
4. A little goes a long way.
As The Powder Shampoo is not diluted with water, a 100g bottle is enough for about 100 washes. In comparison, 100ml of liquid shampoo will usually last for only 10 to 20 washes, said Ms Tan.
Short hair requires just two to three dashes of powder, and long hair between six to eight. This reduces overconsumption and helps you save money.
5. It is sustainable.
The Powder Shampoo's packaging contains zero per cent plastic. Bottles are made of aluminium, an infinitely recyclable material compared to most plastic, which can only be recycled once. Paper refill pouches are available too, so there is no need for new bottles.
Each bottle is lightweight, which means the carbon footprint involved in transportation is reduced. And the brand ensures it does its part for the environment by planting a tree in Tanzania for every bottle sold.
If you'd like to join the shampoo revolution now, check out where The Powder Shampoo is stocked or buy directly from thepowdershampoo.com.