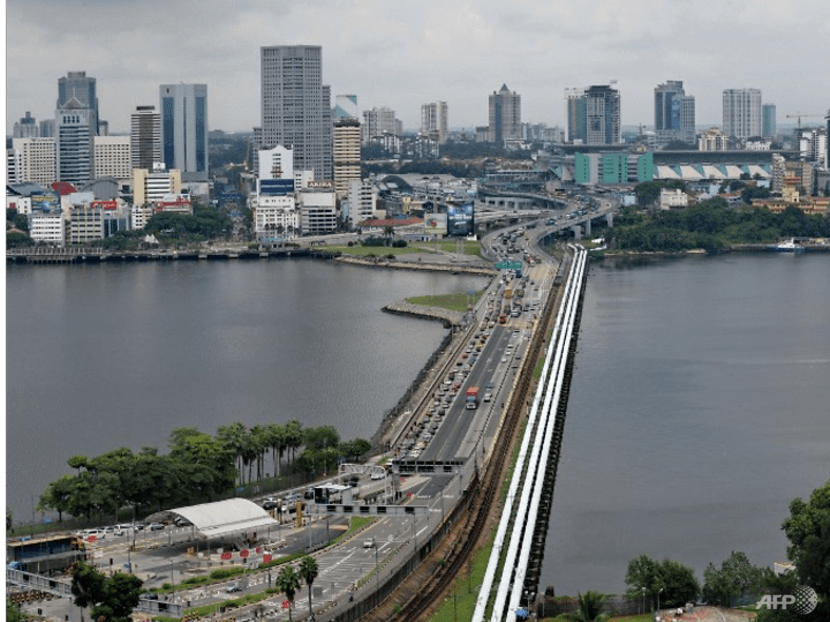 SINGAPORE: A task force has been set up to find solutions for the congestion issue at the Woodlands Causeway, said Johor chief minister Onn Hafiz Ghazi. 
In a Facebook post after visiting the Woodlands North terminus site of the Johor Bahru-Singapore Rapid Transit System (RTS) Link together with Singapore's Minister for Transport S Iswaran on Monday (Apr 18), the chief minister said: "God willing, this modern transport system to be ready in 2026 will be able to address the congestion issue that is common on the Johor Causeway." 
"But as a short-term measure, a task force has been set up to look for solutions on the congestion that frequently occurs, especially on weekends," he added. 
According to a joint statement by Singapore's Ministry of Transport and the Land Transport Authority, Mr Iswaran and Mr Onn Hafiz toured the work area where the RTS Link viaduct was being constructed and were updated on the progress. 
Mr Onn Hafiz is on his first official visit to Singapore since he was appointed Johor chief minister in March. 
Since the land borders reopened between Malaysia and Singapore on Apr 1, there have been media reports on large numbers of travellers queuing to enter both immigration complexes at Bangunan Sultan Iskandar as well as Woodlands Checkpoint, especially during the weekends. 
While the traffic across the Causeway itself has been largely smooth, travellers have reportedly queued for hours to enter the immigration complexes. 
On Apr 11, Mr Onn Hafiz visited Bangunan Sultan Iskandar to check on the situation. 
In a Facebook post after his visit, Mr Onn Hafiz wrote: "I apologise for any inconvenience and mistakes that occurred. We will further improve the existing system so that this can be avoided in the future."
Congestion at the land checkpoints between Singapore and Malaysia was a persistent issue before the COVID-19 pandemic enforced border closures in March 2020. 
Prior to that, hundreds of thousands of travellers would regularly travel across the Causeway on a daily basis. 
The RTS Link project aims to ease the congestion issue. It will connect Bukit Chagar in Johor Bahru to Woodlands in Singapore, serving about 10,000 passengers per hour each way. 
The project had originally been scheduled for completion in 2024, with the Malaysia and Singapore governments signing a bilateral agreement to build the link in 2018. 
However the project was suspended after the Pakatan Harapan government came to power in Malaysia. 
The project officially resumed in July last year, with a bilateral ceremony to mark the occasion held on the Causeway. Singapore Prime Minister Lee Hsien Loong and his then-Malaysian counterpart Muhyiddin Yassin were both in attendance. 
The project is estimated to cost RM10 billion (S$3.25 billion), with Singapore bearing 61 per cent of the cost. 
During his three-day visit to Singapore, Mr Onn Hafiz also met with Singapore's Prime Minister Lee Hsien Loong on Monday.
In a Facebook post after the meeting, Mr Onn Hafiz wrote: "Many things were discussed in this meeting, including how Johor can increase cooperation with Singapore. Apart from that, we also talked about the economy, infrastructure, and youths."
He added that close ties between Johor and Singapore have been forged for a long time and expressed hope that this relationship will continue to be fostered for the sake of the people in Johor and Singapore. 
On Tuesday, Mr Onn Hafiz also visited Singapore's Institute of Technical Education (ITE) College Central campus. 
Posting on Facebook after the visit, the chief minister said that skills upgrading was one of the areas for the state government to focus on. 
"I want our youths to be equipped with at least one or two skill sets that are in high demand in the job market," he wrote.
"To me, this is important for Johor's development as it needs its people to be skilled and competitive in the global job market. This visit (to Singapore) has more or less allowed me to visualise what needs to be fixed and improved."