Entertaining friends and family? Easy-peasy festive canape recipes for kitchen noobs
Pre-cooked ingredients, ready-made sauces and restaurant-inspired garnishes will make you the host with the most this Christmas.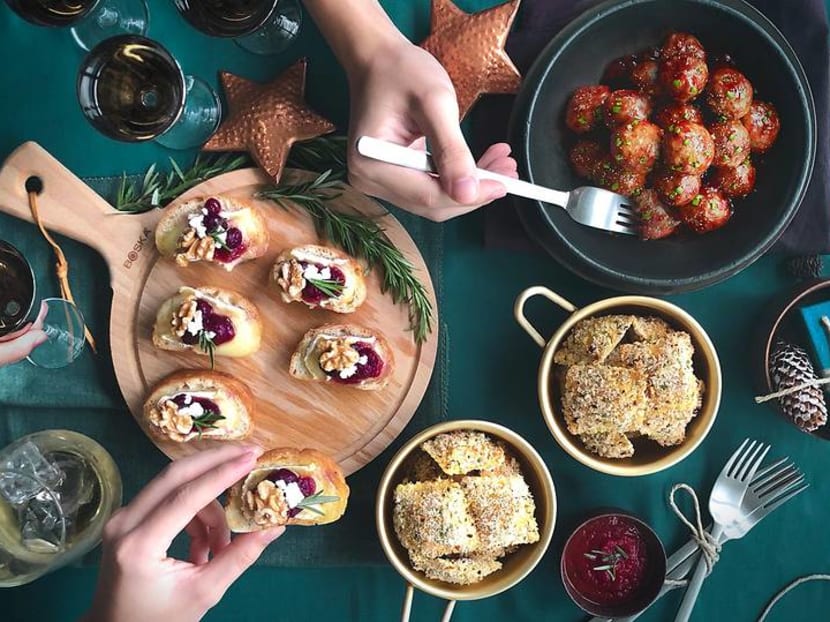 Entertaining at home can be a busy – and stressful – few hours. Cleaning and decorating aside, there are also food and drinks to prep. But the last thing you want to do is hole up in the kitchen tending to the turkey, while your guests are slinging eggnog and champagne without you. Neither do you want your friends to be picking at leftover honey-baked ham and sad turkey slices like survivors of a party apocalypse.
Whether it's a party of 20 or a cosy get-together, serving up some homemade nosh can make all the difference to an otherwise store-bought spread. And you don't have to cook every single dish either. Easy-peasy canapes can be readily prepped the night before, then popped into the oven or plate up just before the guests arrive.
Think pre-cooked ingredients, ready-made sauces and restaurant-inspired garnishes, and you're on your way to home entertaining greatness. Here are three easy recipes to start you off with.
CRANBERRY BRIE CROSTINI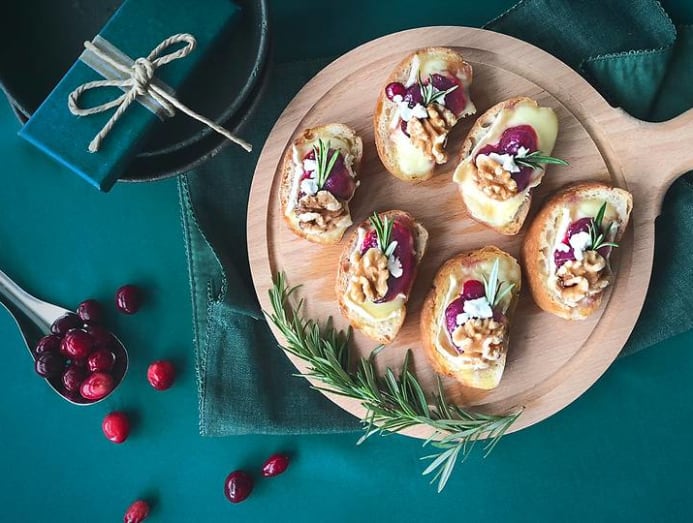 Ingredients (makes 18)
1 wholegrain baguette
Olive oil
5 oz brie
1/2 cup cranberry sauce
1/4 cup toasted walnut pieces
Sea salt
Directions
Heat oven to 200°C.
Slice baguette into 1cm slices. Place on a baking sheet and drizzle lightly with olive oil. Toast baguette slices for 7 to 8 minutes, or until crispy.
Slice brie into 0.5cm pieces. Place a piece of brie onto each toasted crostini and place back in the oven until brie is warmed and melted – about 5 minutes.
Remove from oven and top each crostini with 1 tsp cranberry sauce, a couple of walnut pieces and sprinkle with sea salt.
Serve immediately.
Pro tip: Pick the leaves off some sprigs of thyme and top each crostini with them. To bring out the flavours and colours of the crostini, grate about 2 tbsp of orange zest and sprinkle each slice with a little zest.
COCKTAIL MEATBALLS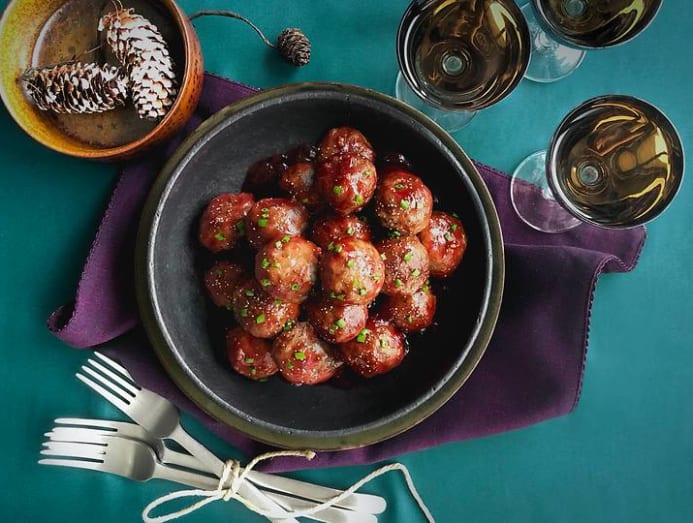 Ingredients (serves 8)
32-ounce pack meatballs, frozen or cooked 
1 cup cranberry sauce
1/2 cup ketchup
2 tablespoons brown sugar, packed
2 tablespoons Dijon mustard
1 tablespoon maple syrup
1 tablespoon apple cider vinegar
1 teaspoon Worcestershire sauce
1/4 teaspoon ground cinnamon
Salt and freshly ground black pepper, to taste
2 tbsp chopped fresh chives
Directions
In a medium bowl, whisk together cranberry sauce, ketchup, brown sugar, Dijon mustard, maple syrup, apple cider vinegar, Worcestershire sauce and cinnamon. Season with salt and pepper to taste.
Add the sauce ingredients into a saucepan and stir until smooth. Then, add the meatballs and stir to coat.
Bring to a boil, then reduce heat to simmer. Cook for 8 to 10 minutes for thawed meatballs, or 14 to 16 minutes for frozen meatballs.
Garnish with chives and serve.
Pro tip: Place each meatball on a porcelain spoon and drizzle 1 tsp of sauce over it. Then, arrange the spoons on a slate tile for individual servings.
CRISPY BAKED RAVIOLI
Ingredients (serves 6)
12-oz store-bought pack ravioli with spinach and ricotta filling, refrigerated
1 egg
1 tbsp water
1/2 cup panko breadcrumbs
1 tsp dried basil
1/2 tsp dried parsley
1/2 tsp garlic powder
1/2 tsp red pepper flakes
Olive oil spray
Marinara sauce or desired dipping sauce
Directions
Heat oven to 200 degrees Celsius. Spray baking tray with cooking spray and set aside.
In a bowl, whisk egg and water until mixture is light.
In a separate bowl, combine panko breadcrumbs, dried basil, dried parsley, garlic powder, and red pepper flakes.
Dip each ravioli into the egg mixture. Coat with breadcrumb mixture and press the breadcrumbs onto the ravioli.
Place ravioli on the tray. Spray ravioli with olive oil and bake for 15 to 20 minutes, or until ravioli are golden brown and crisp.
Remove and let ravioli cool for a minute or two before serving with warm marinara sauce or your preferred sauce.
Pro tip: If you want a touch of herbal flavour, roll up some basil leaves, julienne them and sprinkle over the ravioli.