Commentary: The iPod changed everything about how we listen to music
There's good reason that we're saying goodbye to iPods with very different sentiments compared to those for CD players and the Walkman, say Vanessa Liu and Lau Kong Cheen from SUSS.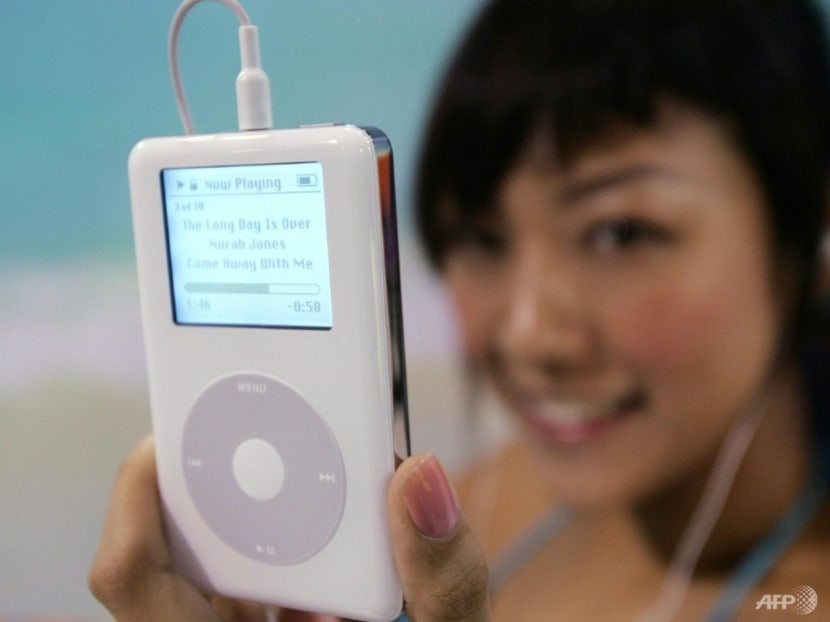 SINGAPORE: Before the 2000s, burning CDs, downloading a few songs from Napster and curating collections with limited storage space were the norm among music lovers.
Thanks to Steve Jobs, an audiophile himself, the launch of iPods in 2001 totally transformed how the music world worked.
The groundbreaking features made this iconic MP3 player almost synonymous with Apple. Users could upload their personal music library of up to 1,000 songs into a tiny and portable device with a battery life of 10 hours. Coupled with the introduction of iTunes as a music store in 2003, the iPod exploded into the mainstream.
It's no wonder then that Apple's May 10 announcement that it will cease production of iPods was met with sadness and nostalgia. Social media was flooded with users' pictures of their once beloved iPods and tributes to how the little gadget revolutionised music.
Perhaps what helped cement the iPod's cult status were the iconic ads of silhouettes dancing to pop music while holding on to the device. These memorable ads showed how the iPod was not just a high-spec media player, but a lifestyle – lively, energetic and fun. A few AirPods ads have drawn on the iPod's sleek marketing visuals to brand the product in a similar way.
THE DECLINE OF THE IPOD
But the iPod's moment in the sun has long passed. iPod lines once made up for over half of Apple's total sales, but in the first quarter of 2009, contributed only 29 per cent of sales, and in 2014, less than 1 per cent. The original iPod was then phased out in 2014, shortly followed by the iPod Nano and iPod Shuffle in 2017.
The tech titan made a last-ditch effort to prolong the life of this gadget by unveiling a seventh-generation iPod Touch in 2019, which resembled the iPhone SE except for its inability to make calls. Sold at a much lower price (US$199 vs iPhone SE's US$429), Apple even added features like iMessage and FaceTime calls to enhance its value for money.
But since then, there had been silence on the publicity front for the iPod Touch, and no news of upgrades. You would have a hard time finding it from the very bottom of the webpage even if you wanted to buy one. Though since news broke of the iPod being discontinued, the iPod Touch has sold out in Apple's online store thanks to sentimental fans wanting a keepsake. 
From a hardware perspective, iPods were made obsolete by the iPhone, which debuted in 2007. Steve Jobs even said the first iPhone was a combination of three inventions: iPod, phone and the Internet. 
The iPod was further eclipsed by smarter and all-in-one products like the iPad and Apple Watch. Who would opt to carry an extra device just for music with these?
Yet perhaps the iPod helped Apple solidify music as a core function in all its products. Today music can be accessed seamlessly from all of Apple's smart devices – iPhone, iPad, Apple Watch, HomePod mini, Mac and Apple TV.
The spirit of the iPod lives on in each device, offering countless moments of audio entertainment for us to enjoy. Looking at the larger picture, the departure of the iPod could have partly been engineered by Apple for the greater good of its ecosystem of products and services.
THE ADVENT OF MUSIC STREAMING
Besides shaping Apple's future innovations, the iPod heralded an age of digital music. Coupled with iTunes, where users can buy songs for 99 cents each, the iPod transformed the distribution of music. iTunes opened up a boundless library of music to customers used to hunting for albums at brick-and-mortar shops, and was completely legal too, in contrast to file-sharing service Napster.
But this model of buying tracks soon gave way to subscription-based streaming services. The rise of music streaming was enabled by advancements in 4G and 5G mobile network technology and lossless formats that allowed streamed audio to be just as high-quality as locally stored files.
This new form of sharing music offered new benefits to consumers. We could enjoy music on-demand without the hassle of manual downloads. Almost unlimited choices of music are available from apps like Spotify or Amazon Music HD, at a subscription fee that's ultimately cheaper than paying per track. Personal playlists could easily be curated without worrying about storage capacity.  
Apple Music was introduced in 2015 to capture this market. Apple devices with media players (namely the iPhone, iPad and iPod Touch) can either stream or download music – so users can enjoy the best of both worlds. But streaming soon edged out downloading, which is why iTunes, which was made for iPod specifically, met its demise in 2019. 
REMEMBERING IPODS WITH MORE THAN NOSTALGIA
It's with good reason that we say goodbye to iPods with very different sentiments from those for Walkmans and CD players. The iPod was trendy and guaranteed popularity and status among peers – it was once one of the most desirable prizes for lucky draws.
The device, along with the tracks that users uploaded into it, is a time capsule which can evoke all kinds of memories. Such feelings can never be replicated with an intangible streaming platform, should streaming be overtaken by new technology.
Just like how the word "podcast" was derived from "iPod", the essence of iPods will live on in all audio and tech innovations.
Besides, the ceasing of production might not mean the end for Pods. Similar to Sony's efforts to revive the Walkman by powering it with an Android operating system, Apple may resurrect the iPod, perhaps to draw in users who want to return to a simpler, less wired era, to focus only on the music.
But for now, staying forward thinking, as demonstrated by its launch of AirPods Max headphones and the luxury AirTag, will be vital for Apple to maintain its leadership in the market.
Vanessa Liu and Lau Kong Cheen are Associate Professors at the School of Business, Singapore University of Social Sciences
.