Tried umami or bacon butter? Best bread spreads and dips you won't find in supermarkets
If you're going to splash out on the best sourdough, rye or baguette, you'll need equally delicious, freshly-made gourmet goodies to top it with. And they're all available online.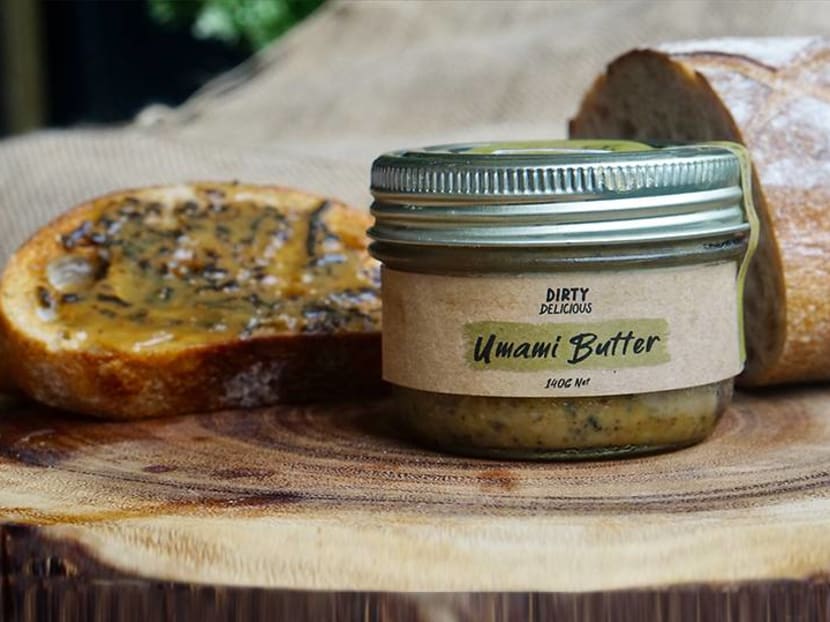 Now that everybody's talking about stunning sourdough, beautiful baguettes and lovely loaves of fresh-out-of-the-baker's-oven bread, the topic naturally turns to what to spread, slather and smear onto your toast.
The ways of enjoying bread are as manifold as the artisanal bakeries that have mushroomed all over Singapore in the past couple of years. 
And the serious gourmand, of course, feels compelled to launch an investigation into all things tasty enough to be a worthy match for their pain d'expensive. Or to elevate any kind of bread or baked goods, really.
We personally took it upon ourselves to taste-test a range of the equally artisanal offerings of savoury butters, punchy dips and creamy pates available on the market, and put together a list of the ones that made us go, "Wow," followed by, "And all you're asking in exchange for this is mere money?"
Some of them are made in-house in restaurants. Some are from online start-ups. None can be found in supermarket aisles. All are proudly made in Singapore. And all of them made us eat far more bread – yes, even pre-sliced, days-old supermarket bread – than we'd originally intended to. Oh well, life is short, so, carbe diem – seize the dough. 
ARVE DELI'S GARLIC DIP, S$10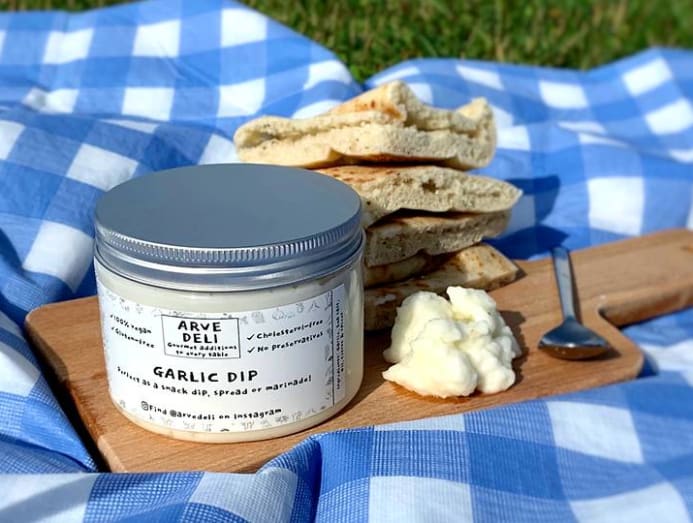 Whether it's hot, fresh pita, a crusty baguette or slices of brown toast, everything benefits from a dollop of this cloud-like, garlicky goodness.
The punchy, delicious "dip" – for lack of a better word to encompass its manifold uses – is online business Arve Deli's take on a traditional Lebanese toum, and has its roots in a 40-year-old recipe that founder Arvind Roy picked up from a Croatian-Lebanese friend.
Even though it has a creamy mouthfeel, it's actually a vegan product made fresh daily using garlic, salt, oil and some citrus. That sounds deceptively simple, but Roy told us that achieving the fluffy texture is the most challenging part.
Besides slathering it on bread, it's also good for cooking – you can add it to veggies like mushrooms, broccoli or beans; or to your meats and fish. Just don't kiss anyone after you eat it, Roy warned – but why would we ever stop eating it for long enough to kiss anyone?
While the Garlic Dip is their star product, Arve Deli also offers a Roasted Eggplant Dip (S$10) and a Roasted Beetroot Hummus (S$10). A set of all three (S$28) can be ordered along with a generous portion of homemade herb pita bread (S$38).
Roy's pillowy pita alone is worth the commitment, but at the same time, we want nothing more than to get our hands on a big pack of fries and dunk them all into that fluffy, fragrant, garlicky stuff.
DIRTY DELICIOUS' UMAMI BUTTER, S$18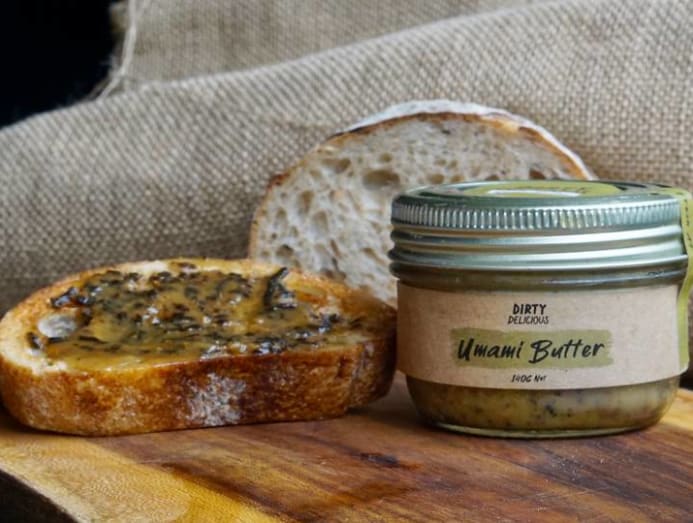 Fat Lulu's may be shut but the restaurant's fan favourite bread-and-butter dish has taken on a life of its own. Chef Sam Chablani has put his coveted butter into jars and recently launched it officially under the brand Dirty Delicious. And yes, it's dirty in the best possible way.
The butter's bold flavours are intensely savoury and multi-dimensional, with the umami kick coming from the addition of seaweed, its oceanic notes rounded out with a little bit of cheese and salt.
At least, those are the ingredients printed on the jar – but you'd have to work hard to convince us that there isn't an extra something-something in there (Pixie dust? Essence of yum?) that Chablani isn't telling us about.
His customers would agree. "When people try it for the first time, their reactions can be quite dramatic," he chuckled. "Some say they can no longer live without it, that they want to put it into all their food, and that they can't wait to get their hands on the next batch." He explained, "We make the butter in batches, and people often order several jars at a time as gifts for all their friends, so sometimes there is a bit of a wait."
Well, that's something you don't find every day – a butter that inspires cultish devotion. The butter's versatility also means that in addition to pairing perfectly with bread, it can also be used to enhance the umami-ness of nearly every conceivable dish, from steak to seafood and, perhaps best of all, folded into scrambled eggs right at the end as a simple but elegant finishing touch.
Order here: https://www.noburnnotaste.com/shop
MORSELS' TRUFFLE CHICKEN LIVER PATE, S$28
We can't talk about bread accompaniments without talking about pate – and this one is a masterfully calibrated winner.
It's from Morsels' Chef Petrina Loh, who tells us that the truffle chicken liver pate was made for the restaurant's new gourmet line that launched during this COVID-19 period.
Making it was "something that I've been wanting to do," she said. "I wanted a pate that Singaporeans love – I mean, most love truffle, and I love all things umami and tasty."
The secret to the pate's unique flavour, she shared, is the poaching liquid for the chicken livers – a blend of gingers and spices. To put her own spin on a very French dish, Loh adds a dash of Chinese hua diao jiu or Shaoxing wine, as well as a blend of Sichuan peppercorns. The other delicious things that get chucked into the mix are brandy, shallots, butter and – wait for it – duck fat. Mmm.
If you love the rich, deep, gamey flavour of liver, tempered by Loh's Asian touch; and the fragrance of truffle, you'll be heaping this velvety goodness onto your chunks of bread and inhaling it in one sitting. Of course, it definitely helps that it goes perfectly with a cold glass of bubbly for when you want to celebrate birthdays, Tuesdays or, you know, 4.05pm or something.
Order here: http://morselsdabao.com.sg/
SALTED & HUNG'S WHIPPED LARD, S$9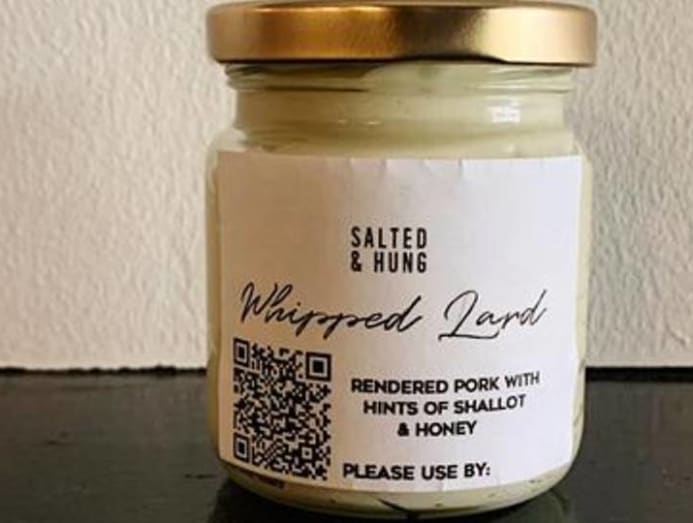 "Whipped lard", you say? Take our money. You had us at "lard".
Everyone knows that the fat of the animal has the richest flavour – and there's no crave-worthier combination than fat and carbohydrates reacting together in symphony.
Salted & Hung fans will be familiar with this wondrous airy substance, which is served at the restaurant with sourdough. Being able to hoard it in your kitchen for whenever the craving strikes, though – that's something else.
Each jarful of rendered pork fat is lifted up by the judicious addition of shallots and a little bit of honey, and its whipped texture means it's gloriously light, balancing out the unctuousness of the fat.
Think of it as butter that comes from plus-sized pigs instead of from the udders of dairy cows – except that pure lard, it's said, contains no trans fats, and is lower in saturated fat and higher in heart-healthy monounsaturated fats than butter.
Salted & Hung's deli also offers jars of its tangy Black Garlic Emulsion (S$9), which is also quite stunning to eat with bread or as an addition to your roast meats; as well as its Kelp Butter (S$9) made from wakame and nori, which hits you right in the nose with its iodiney flavour of the sea.
Order here: https://saltedhung.oddle.me/en_SG/
CURE'S BACON BUTTER, S$14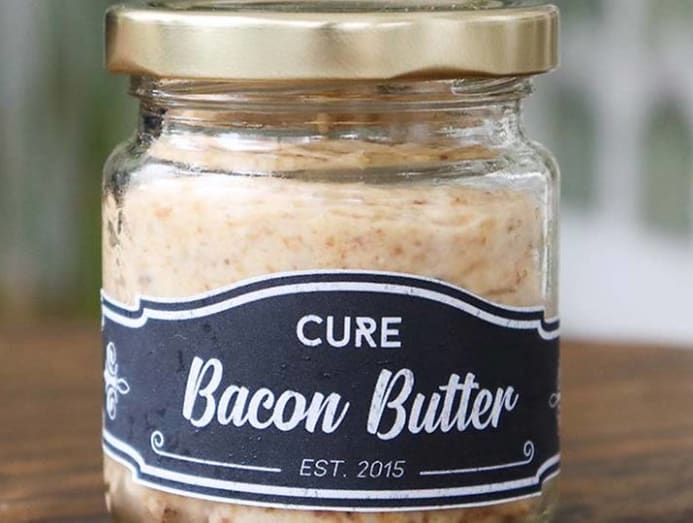 This one is another oldie but goodie, now available from Cure restaurant in a take-home jar bundled with bread that's perfect comfort food for these stay-home times. After all, who can resist something that sounds so appealing to grubby schoolboys and domestic goddesses alike?
Chef Andrew Walsh's signature butter, flavoured with the sweetness of onion and shot through with bits of chewy, salty bacon, transforms even the blah-est piece of toast into a loaded porky delicacy. We also want to put it on our baked potatoes and into all our salads.
A jar of bacon butter together with sourdough bread can be procured for S$26; you could also send a friend – or yourself, we won't tell – a gift box that comes with an additional tiny bottle of Cure's Irish Cream for S$36. Bottoms up.
Order here: https://www.curesingapore.com/