Looking for something different for your Chinese New Year feast? Try 'gyu sheng' or Chinese-Peruvian
Chinoiserie galette des rois, black truffle Peking duck, or Catalonian rabbit stew? Shake up your CNY with these untraditional offerings in the Year of the Rabbit.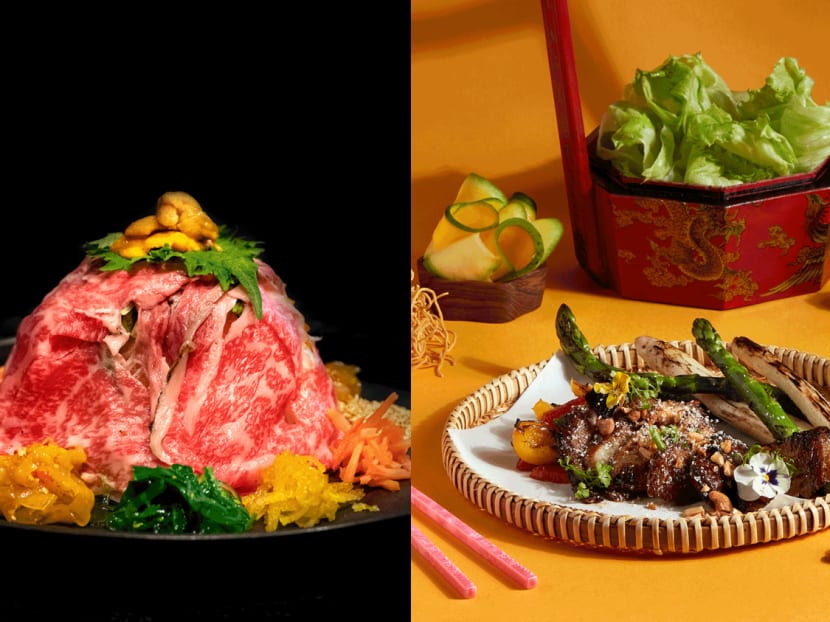 For many, the coming Chinese New Year (CNY) is a time for symbolic thinking. Centuries of finely honed traditions have yielded specific, mostly cheerful, edible exigencies that vary from home to home.
The likes of yusheng, pencai and whole steamed fish are all designed to usher in auspicious tidings in the coming year. Everything in abundance is the zeitgeist for the season and in a country whose heart beats around the love of good food, gobbling up every fortuitous symbol makes for an extra happy occasion.
This same love of good food, however, has led to rigid competition among purveyors of traditional CNY treats. We are all loyal to our favourite brand of pineapple tarts, nian gao, pen cai or bak kwa, so the fight for the CNY dollar is a hard one. How to get a leg up? Dream up an irresistibly unique creation that you don't have to fight anyone else for, of course.
To that end, restaurants have dreamt up ever more novel delights this year. Galette de rois (French king's cake) filled with eight treasures glutinous rice, anyone? How about gyu sheng (with beef) instead of yu sheng?
Though they may be far from traditional, the symbolisms in these foods remain firmly intact. So, if you are in the market for something same-same-but-different this time around, these offerings might just be the ticket to a prosperous Year of the Rabbit.
PROSPERITY 8 TREASURE GALETTE DES ROIS
What do the Epiphany (which marks the day the three wise men visited the infant Jesus according to Christian tradition) and Chinese New Year have in common? This year, they both fall in January.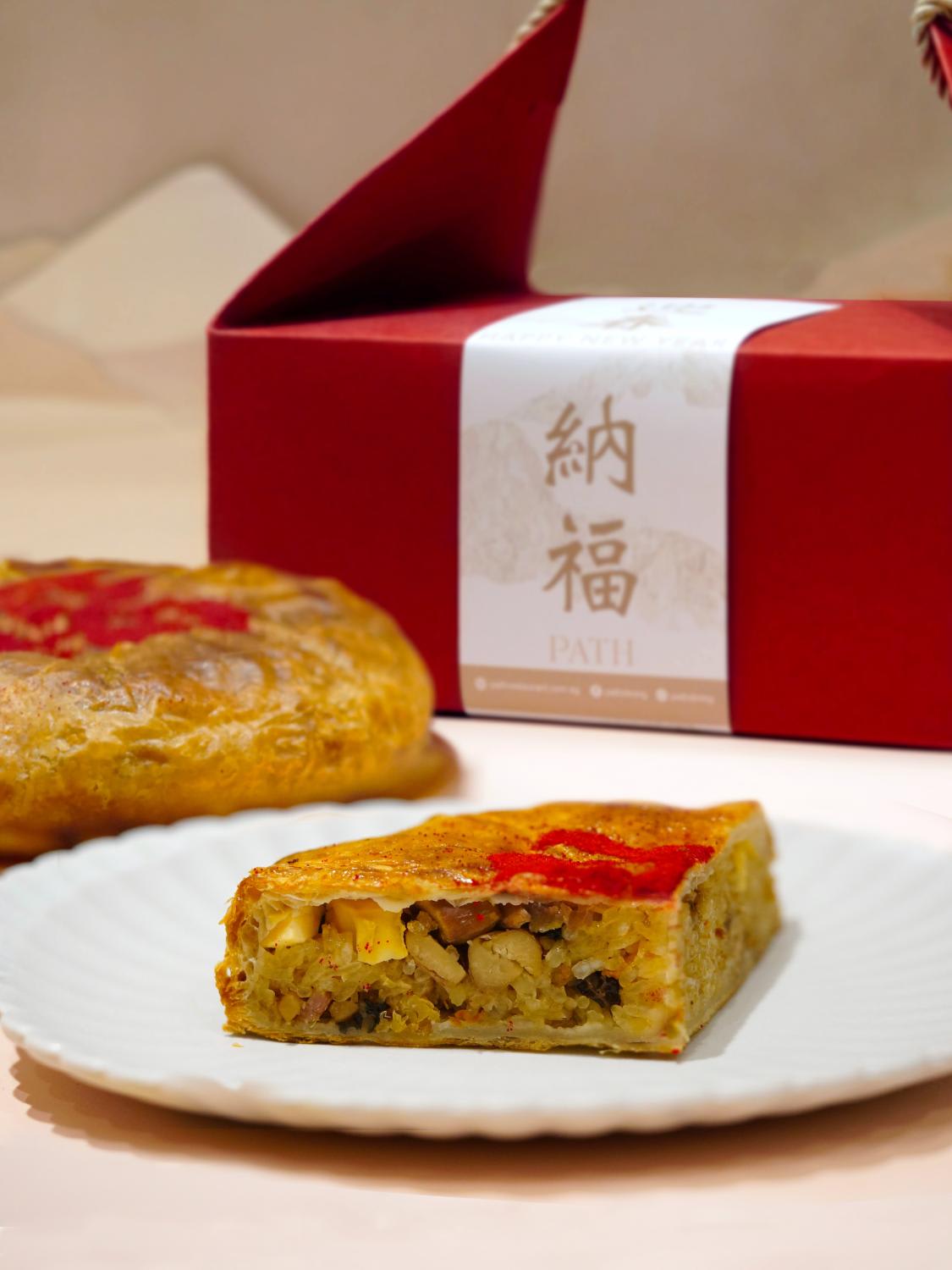 Also this year, chef Marvas Ng from Path has combined inspirations from both occasions in his Prosperity 8 Treasure Galette des Rois (S$88). Instead of sweet almond cream, what lies beneath the flaky pastry is a glutinous rice filling studded with eight auspicious ingredients including abalone, morels, Iberico pork, dried shrimps, scallops, daikon, bak kwa and braised peanuts. Available for order between Jan 9 and 28.
BLACK TRUFFLE DUCK
Think Peking duck, but levelled up with fragrant truffle butter. The Black Truffle Duck (S$128) from Tablescape at Grand Park City Hall would make for an extra decadent addition to your reunion dinner table.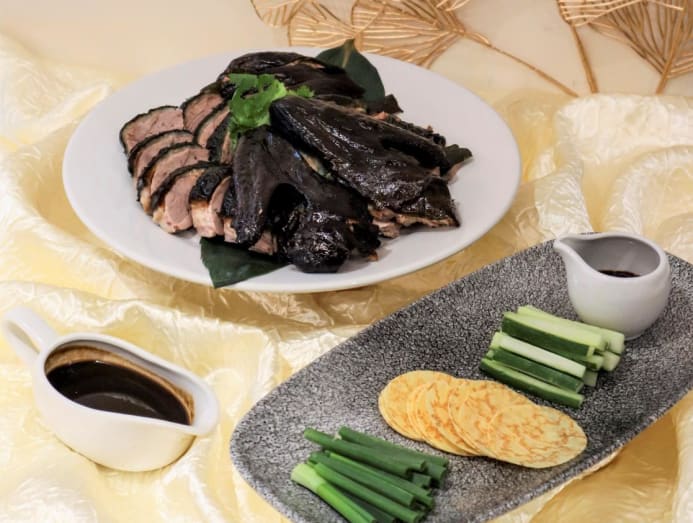 To make it, chefs first stuff and marinate whole ducks with truffle butter and salt for a day before blanching the ducks with red and white vinegar, squid ink, truffle oil and maltose. The birds are then hung to dry for six hours before they are roasted in a low oven for six hours. Available from Jan 9 to Feb 5, with three days advance notice.
PERUVIAN CANTONESE FARE
Between 1849 and 1874, more than 100,000 Chinese coolies arrived in Peru as part of an indentured workforce. As Peru became home to many of them, Chifa cuisine was born.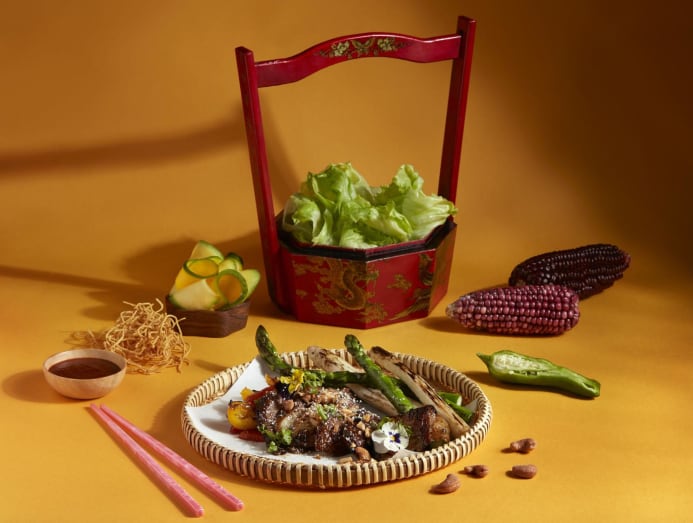 Chifa comes from the Chinese phrase "chi fan" or "eat rice". To get a taste of celebratory Chifa dishes, head to CANCHITA Peruvian Cuisine where Chef Daniel Chavez, who is Peruvian and of Cantonese descent, is serving classics that he grew up with.
There is Ceviche Chifa (S$32), which you can think of as the Chifa answer to yusheng, with marinated tuna, tamarind dressing and pickled veggies; Pork Chifero (S$22), a Peruvian-style char siew with green mango salsa, served with crispy rice noodles; and Polo Golden Berries (S$32), crunchy chicken with algarrobina (black carob) sauce and Peruvian gooseberries. Available until Jan 15.
SAMBAL PRAWNS AND SMOKED HOISIN DUCK CANAPES
Paul's Sambal Prawns or Smoked Hoisin Duck Canapes are perfect morsels for when guests come visiting.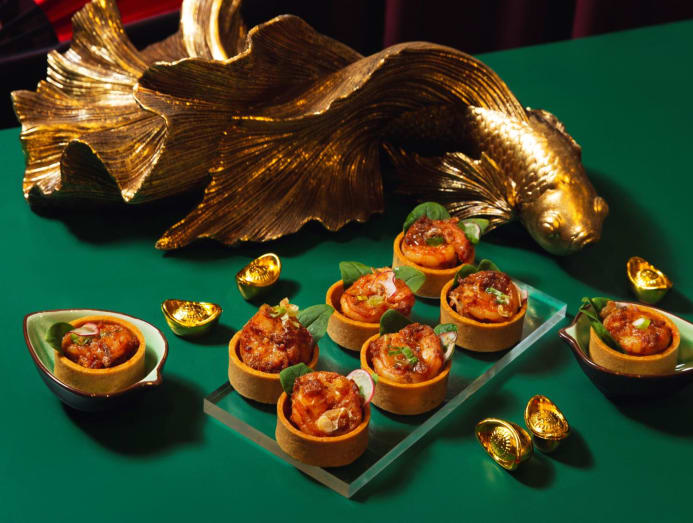 Anchored by crisp tart shells, these bite-sized delights come in two delicious fillings. Choose from well-spiced sambal prawns gussied up with slivered baby turnip or rosettes of smoked hoisin duck slices brightened with julienned cucumber. Both are sold in boxes of eight (S$38 per box; three boxes for S$98). Available until Feb 15.
CATALONIAN RABBIT STEW
Say you've participated in three too many Chinese banquets and the very mention of yusheng makes you want to shout phrases that are inappropriate to the lohei experience. That, my friends, is when you head to Restaurant Gaig, where the Year of the Rabbit will be celebrated with a traditional Catalonian Rabbit Stew (S$68).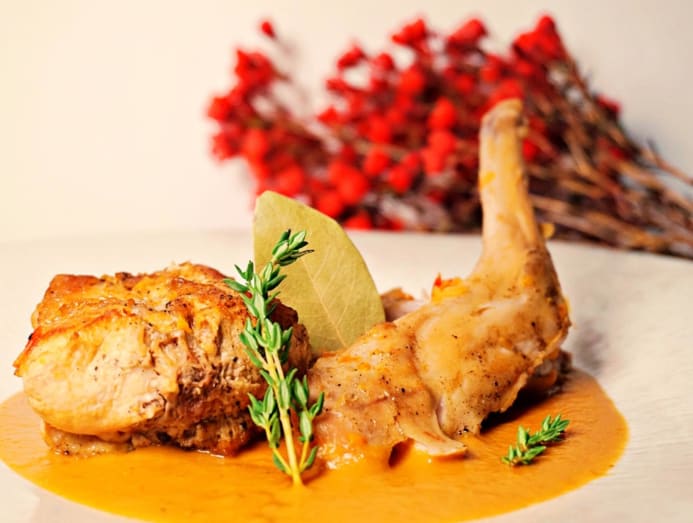 Slow-cooked in a classic mix of onions, tomatoes, carrots, potatoes and bay leaves, this comforting braise is a warming departure from the season's excess. Available for dine-in only, from Jan 25 to 28.
GYU SHENG
We must have embraced the decadent exchange of raw fish for raw beef in yusheng because Fat Cow has brought back its Gyu Sheng (S$99, serves three to four people) for the second year running.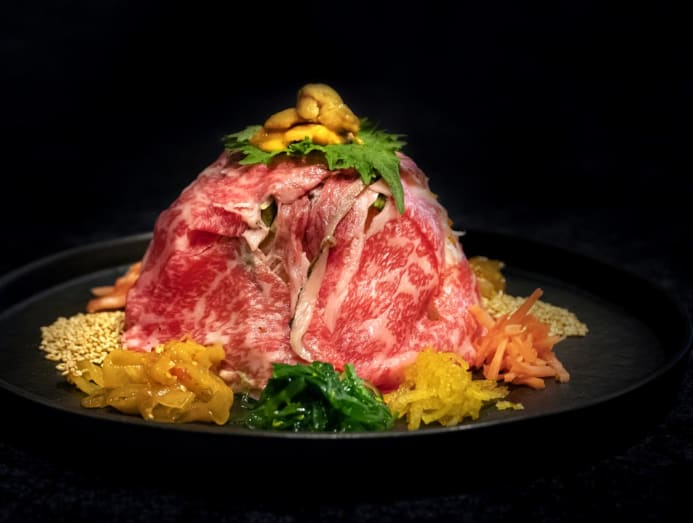 Instead of sashimi, you get luscious slivers of A4 Miyazaki wagyu arranged atop seasoned jellyfish, seasoned wakame (seaweed), shredded radish, cabbage and pickled ginger, and some uni and caviar for good measure. Available from Jan 16 to Feb 5, with two days advance notice.
OZONI, A JAPANESE BREAKFAST
The Japanese commemorate every new year with a breakfast of ozoni, a warming soup with one important ingredient: Mochi. The sticky rice cakes are a symbol of good fortune, which we can all do with. Consuming mochi on the first day of the year provides warmth and nourishment for strength and good health.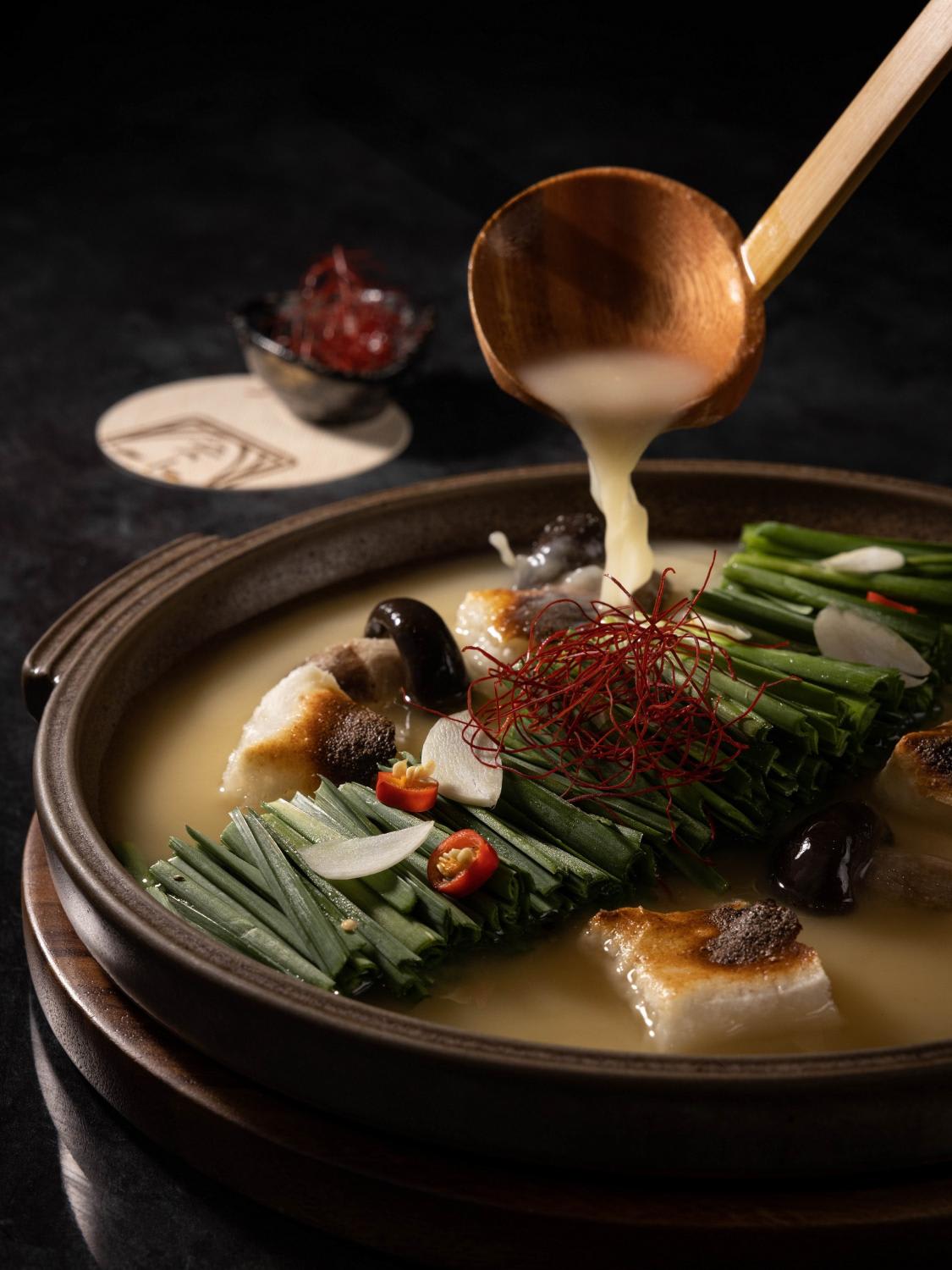 While it is not served at breakfast, KOMA Japanese Restaurant & Sushi Bar has ozoni (S$16) on the menu throughout January for lunch and dinner. Its rendition features mochi, mustard spinach and other vegetables in a spicy white miso broth.
ASIAN-INSPIRED TACOS
The best kind of takeout is the kind you don't have to take pains to plate. In that respect, tacos are a great option for easy entertaining. Chinese New Year seems like a great occasion to bust out some Asian-flavoured tacos from takeout-only platform Kiap.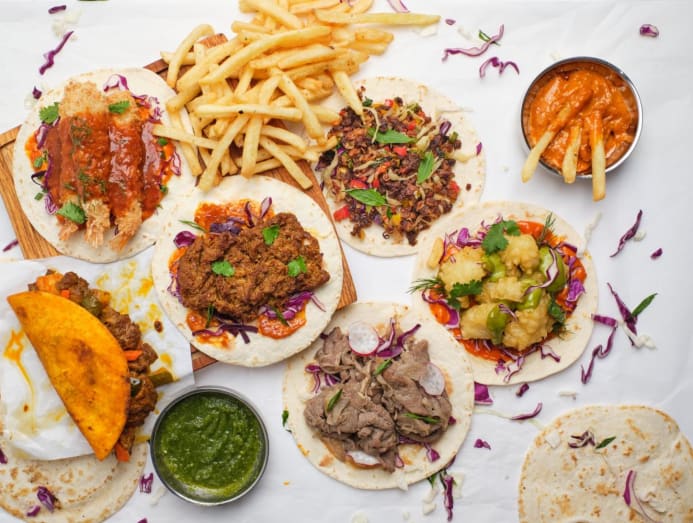 Choose from the likes of Po'Luak (battered oysters with nam jim mayo, S$9 each), Beef Sukiyaki (S$9 each), Chilli Prawn (S$8.50 each) with sambal mayo and chilli crab sauce, and Cha Ca Cod (S$9 each) with sambal and Vietnamese pesto mayo. There are also options such as Chicken Rendang and Vegan Krapow (S$8.50 each).
BUNNY PINATA 'FU' POUCH
It has all the trappings of the Chinese New Year canon: Red shell, gold coins, mahjong tiles and adorable bunnies, but the Bunny Pinata 'Fu' Pouch (S$108) from Crowne Plaza Changi Airport is filled with decidedly modern constructs such as berry chocolates, macarons, pandan lapis and fortune cookies.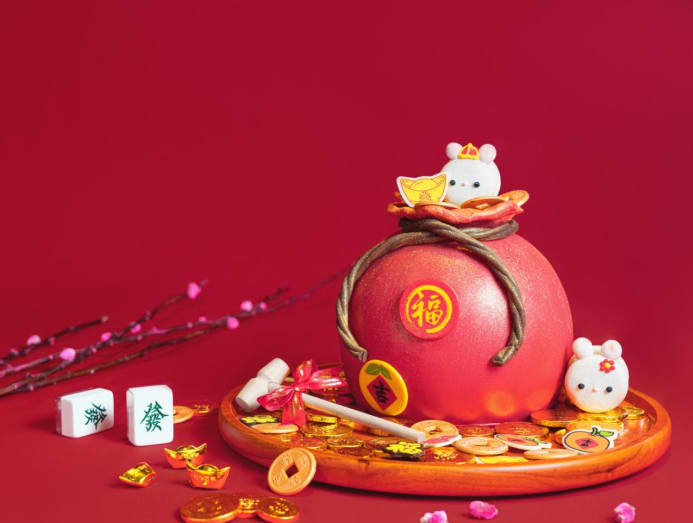 To get to them, you use a wooden mallet to shatter its exterior. While the young ones fight over the sweet treats, there's an unmistakably adult gift hiding in there for the grown-ups: A 4-D ticket. Say huat?