Culinary grad joins family's laksa and prawn mee business despite dad's objections
"Why did you study at Shatec and end up a hawker?" the third-generation hawker's towkay dad once said to him. After five years, Lim Yuyuan's father has finally come round and Geylang Laksa Prawn Noodles now boasts a new outlet in Ang Mo Kio.
Lim Yuyuan, or YY as he prefers to be called, faced harsh opposition when he decided to join the family business. "My dad was against us [carrying on the family business]. He wanted me to work in the hotel line," said the 26-year-old culinary school grad from SHATEC and son of Geylang Laksa Prawn Noodles towkay, Johnny Lim, 63.
"He said to me, 'Why did you study at SHATEC and end up a hawker? You might as well not study [there] at all'."
Undeterred, the young hawker persevered and worked full-time at his family's 36-year-old stall at Sims Drive for the past five years. Last December, with his father's hard-won blessing, he opened a new branch in Ang Mo Kio – the first expansion for the family-owned brand (apart from a short-lived tenure at Clifford Centre's food court in 2020, where business was affected by the pandemic). 
The new kopitiam outlet offers the same menu as the original stall: Laksa and prawn noodles with varied toppings like pork rib, intestine, pig's tail and clams. Their laksa is based on a recipe created by YY's late grandfather, Lee Sie Kian, who peddled the dish on trishaw in Geylang from the '60s to '80s, while the prawn mee was added to the menu later in the '90s after Lee retired and YY's father moved into a coffee shop in Sims Drive.
GAVE UP MICHELIN DREAM TO HELP PARENTS
"My dream was to be the chef of a Michelin-starred restaurant. But my dad wakes up at 4am and comes back at 6pm. When my parents come home, they complain about how tiring [hawker] work is. That's why I decided to help them," shared YY. We were surprised to learn that his parents have been running the stall on their own – without hiring any helpers – for the past 36 years.
After completing National Service, the hawker turned down a full-time junior cook position at The Ritz-Carlton, Millenia Singapore (he used to work part-time at the hotel's buffet restaurant Colony) to start learning the ropes at his family's stall. "Of course I wanted more experience [working at different restaurants] but I saw that my parents needed help [urgently]," he explained.
JOINED BY OLDER BROTHER SIX MONTHS AGO
Older brother Yeesheng, or Ah Tu, had a similar revelation. "My dad didn't want us to take over the business. His plan was to keep working at the stall until he retired, but I felt that it would be a shame [if nobody took over the brand]. The work is becoming really tough for my parents so that's why I chose to help," shared the 38-year-old former IT professional.
Ah Tu started cooking daily at their Sims Drive joint about six months ago, while YY shuttles between both stalls. They've also hired three assistants, including a cook, to helm the new Ang Mo Kio outlet. Their parents continue to run the original Sims Drive outlet daily – they work shorter hours now thanks to the additional help from Ah Tu.
TOOK A FEW YEARS TO WIN DAD OVER
Since joining the business about five years ago, YY has been setting up SOPs for the cooking processes. These include preparing larger batches of their laksa paste and freezing them once a week, instead of his father's method of frying a few batches of the rempah at their stall daily.
"My dad was not happy about that either," he quipped. "I just continued to do it until I won him over." He says it took about three years to win his father's approval. The turning point occurred when the towkay phoned him for help. "He called me when he was out of laksa paste and asked me to cook more. That's when I knew I got his approval."
Now, Mr Lim says he is "happy and consoled" that both of his sons are carrying on his legacy. "I hope they work together harmoniously while bringing the business to greater heights," he added.
A third stall is in the works. "We hope to open a standalone outlet but the start-up cost is higher [for a restaurant], so we're aiming for a kopitiam outlet for our third branch later this year," shared YY, who is currently looking for a suitable location for the new stall.
JUMBO PRAWN NOODLES ONLY AT AMK
Both stalls offer the same items, except for the most expensive Jumbo Prawn Noodles (S$10.80) featuring 'ang kar hei' (red leg prawn in Hokkien), which is only available at Ang Mo Kio.
PRICES ARE SIMILAR TOO
Prices for laksa and prawn mee start at S$4 at their original outlet and S$4.30 at AMK. The newer stall also offers two sizes for all items. According to YY, the portion size for the smaller bowl at Ang Mo Kio is more modest than a standard bowl at Sims Drive.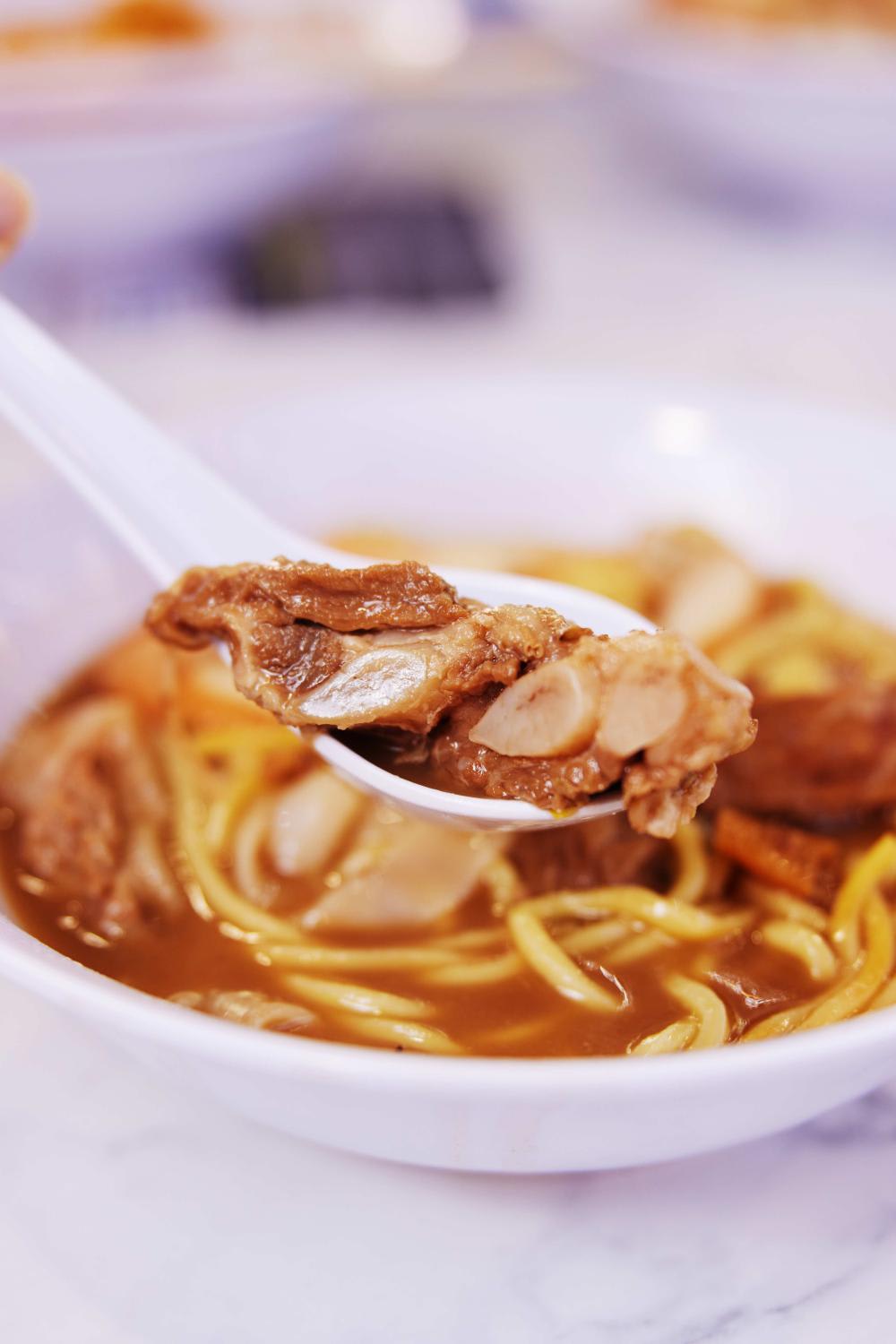 PRAWN LAKSA, S$4.40
The gravy here is on the smoother and lighter side, with requisite creaminess from freshly-squeezed coconut milk. The warm spices in the rempah, or spice mix, (heavy on turmeric, which gives the laksa its appealing yellow tinge) work well with the dried shrimp broth to yield a comforting gravy that has a sweeter finish than most laksas. The house-made hae bee (dried shrimp)-spiked sambal adds a welcome savoury and moderately spicy kick to the dish, which is complete with slippery thick bee hoon, fish cake, cockles and small but springy Vietnamese sea prawns.
TRADITIONAL PRAWN NOODLES (DRY), S$4.30
Slicked in a piquant mix of house-made chilli paste, lard and fried shallot, the yellow noodles are cooked just right. The soup is flavourful but has a lightness to it. Like the laksa, the broth is on the sweeter side as well. This entry-level hae mee comes with fresh Vietnamese sea prawns, slices of lean pork, fish cake and was filling enough for us.
PORK RIBS PRAWN NOODLES, S$5.30
Other topping combinations include chunks of tender, slightly fatty pork ribs.
CLAMS PRAWN NOODLES, S$5.30
This comes with a handful of small but sweet clams – we preferred the heartier pork rib option for the same price.
JUMBO PRAWN NOODLES, S$10.80 
While not exactly jumbo-sized, the prawns of this upgraded bowl were succulent and bouncy.
BOTTOM LINE
Priced under S$5, the entry-level laksa and hae mee here offer rather good value, though the broths for both were a little too sweet for our taste. If you happen to pop by, pick the heartier dry prawn mee, which comes with a fragrant house-made sambal dressing.
Geylang Laksa Prawn Noodles' new outlet is at 632 Ang Mo Kio Ave 4, Singapore 560632. Open daily 8am – 8.30pm. More info via Facebook & Instagram.
The original outlet is at #01-150 Blk 45, Sims Drive Ave, Singapore 380045. Open daily except Tue, 5.30am – 2pm.
This article was originally published in 8Days.