At new restaurant Kubo, a traditional woodfire oven gives birth to elevated Filipino-inspired cuisine
Philippines-born chef Kurt Sombero plays with fire and smoke at Kubo Woodfired Kitchen, a very non-authentic Pinoy barbecue restaurant, in his own words.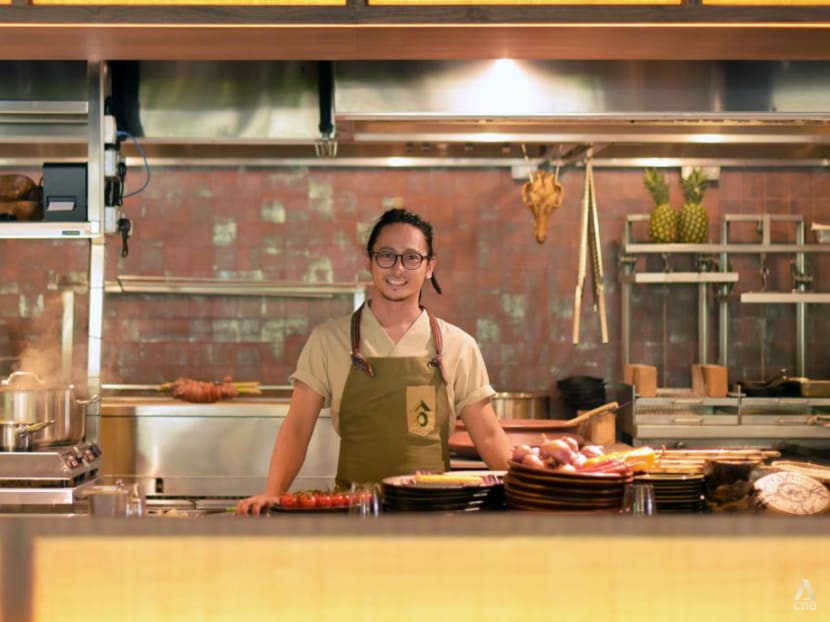 Filipino food is having a global moment. And here in Singapore, one Philippines-born chef wants to explore every possibility of what the cuisine can achieve.
Kubo at Robertson Quay is a new woodfire restaurant that takes inspiration from "Pinoy" food, with its punchy flavours and barbecue traditions.
It's the baby of fire-loving chef Kurt Sombero, who was formerly the head chef of Meatsmith Little India and also did stints at Burnt Ends and the now-closed Restaurant Andre.
But don't expect to find "traditional" Filipino dishes here. "I don't want to be authentic," Sombero, 35, told us. "That's the last thing I want to be. One, I'm not in the Philippines, and there are ingredients we can't get here. And, if I do traditional food, that would confine a lot of people."
Instead, his approach is to "take something and put it in a different light", he said. "I want to break the mould. We're trying to offer a journey, and not just a meal."
The journey begins with the restaurant's name. Kubo, opened in partnership with Tora Widjaja and Tipsy Collective, is named after the traditional Filipino nipa hut on stilts, built with reeds and straw. Known as "bahay kubo", the structure is an icon of Filipino culture and a symbol of community.
Sombero himself grew up in a kubo in Mindanao. "We didn't have electricity, so we lived mostly with fire and candles," he said, recalling his childhood spent foraging for sweet potatoes in the ground, climbing moringa trees to pluck the leaves and helping his grandmother in the kitchen, which first inspired his love of cooking.
"For me, opening Kubo is a journey back to the kampung. One of my goals is to live that life," he quipped.
BACK TO BASICS, BUT BETTER
And so, the first thing Sombero did when he took over the premises was to cut off the gas supply.
The heart of Kubo's kitchen is a brick "pugon" or traditional brick oven like the one his grandmother used to have. Food is cooked over a wood fire, and the pugon has a cast iron top on which sauces, soups and stocks are boiled. There's a rotisserie and elevation grill, and a custom smoker connected to the pugon, designed by Sombero so that none of the fire's energy output would be wasted. It's a kitchen setup that he said he hasn't seen anywhere before.
Although Sombero says Kubo "is a home" offering "the best of our pantry", the dishes here are anything but provincial. Instead, you'll find elevated Filipino-inspired plates, where ingredients are treated with a touch of fine-dining flair.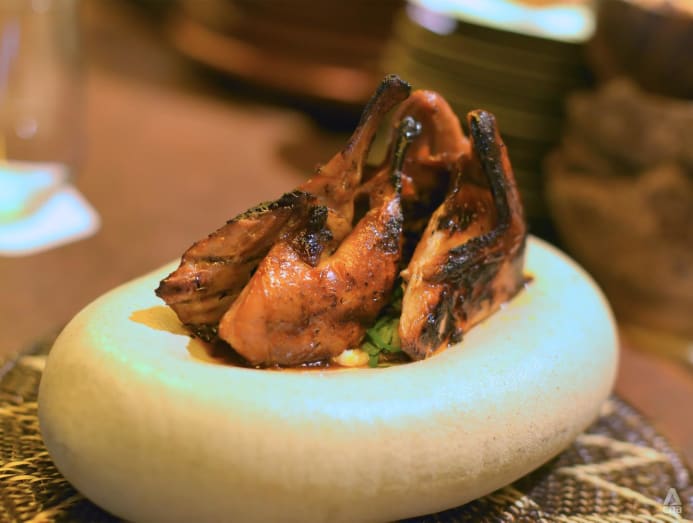 "I think a perfect example of our philosophy is the quail adobo," he said. "Adobo is usually pork. But, since a much earlier time, we as a culture in the Philippines have had quail also – we asar it, which means barbecue. Here at Kubo, we take that idea and marry it with a contemporary cooking approach. Adobo is usually braised. Here, we marinate the quail, smoke it, finish it on our elevation grill, and then serve it with mashed potato with garlic confit."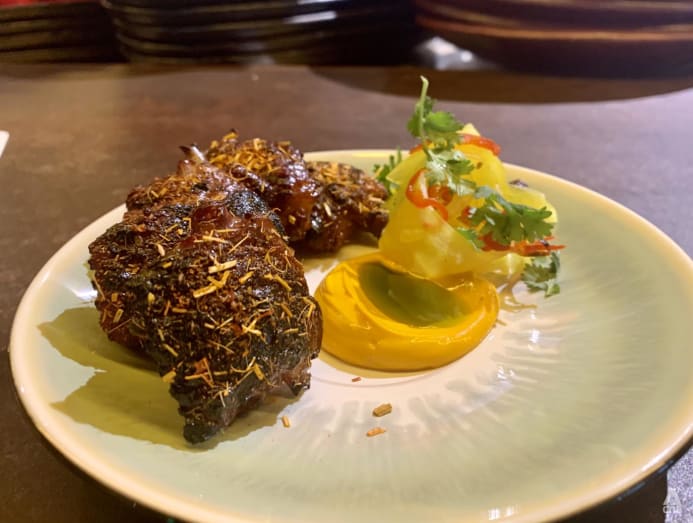 Then there's the inasal chicken mid-wing, on the snacks menu. "The root word of 'inasal' is asar, to grill (in Spanish)," he said. "Inasal dishes are from Visayas, where part of my family is from. I took that idea and, inspired by the people that I worked with, came up with this style. We take chicken wing, take off the bones except one, marinate that for a minimum of 24 hours with coconut vinegar, soy sauce, calamansi and lemongrass, smoke it, and then finish it on our woodfire grill. We serve it with pickled papaya to cut the heaviness of the grill, as well as annatto oil."
Another specialty is the house-aged duck with pineapple jus and timut peppers, a dish that Sombero makes for his family only during the year-end holidays and is reminiscent of a Christmas ham. "We cure the duck and age it for seven days, gently smoke it, and finish it in the oven for crispiness," he said.
To make the pineapple jus, "We smoke the pineapple skin until it's black, cook it down with water, take the essence of smoked pineapple and infuse it into our jus".
The pineapple meat isn't wasted – it goes into a dessert of pineapple with coconut ice cream, spiced butter crumbs and pickled roselle. To make the ice cream, coconut cream is reduced for five hours, then infused with coconut meat that has been smoked over the fire using a technique from Mindanao.
To allow Sombero to lead you along on his journey, come for the Kusinero dinner menu (S$150 per person), a five-course omakase-style meal. Or, come for lunch on a weekend, when there's a grilled meats and snacks platter (S$80 per person). Lechon is available on weekends, too. A whole pig is roasted on a spit; the meat and crackling are served up, and the head is made into sisig – it's smoked, chopped down and caramelised in a pan, and served with foie gras and salted egg.
FIRE UP
"I think Filipino food has been on the back burner for a while. And now that a lot of cooks and chefs with training in different types of cuisine are starting to understand how beautiful our cuisine is, how diverse it is and how simple it is, it just needs to consider its place in the multicultural palate," Sombero said.
Behind that is his affinity for cooking with fire, a skill he's honed over many years.
"Fire, for me, is what builds us up as human beings," he said. "I think it's in everybody's DNA – we are like moths to a flame. Before electricity, everybody would go to the fire at night because it gives a sense of safety and a sense of tribe. It gathers everybody."
And, as a chef, "I think right now, with all the technology in the world, cooking with fire is bringing back respect to the ingredients, rather than efficiency", he said. "Cooking with fire is so different from coming to a restaurant and turning on your gas. It's a lifestyle. Here at Kubo, every day, we start the fire at 9.30am, and it's only ready in four to five hours for cooking."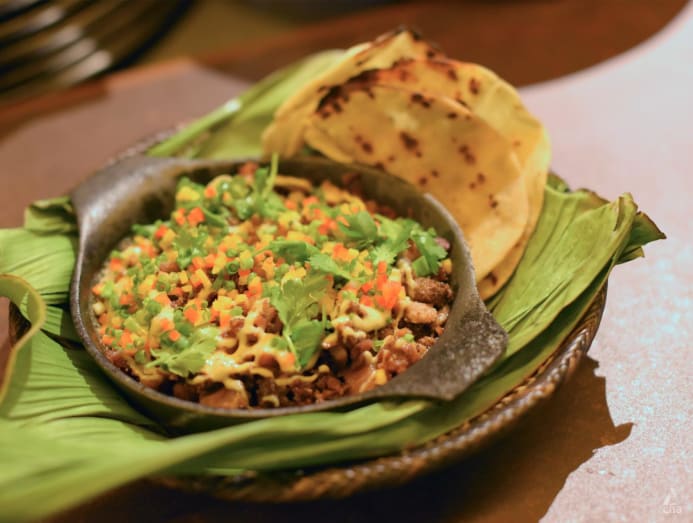 He continued, "When you take something that's cooked over fire – I can't pinpoint what it is, but it's just different. It's not like you dial the gas to number seven for 25 minutes. Cooking with woodfire is an understanding – the goal is to make micro-adjustments every single time to come up with the same result. So, for me, it's like looking at a puzzle and then finding your way from the start to the end with a different puzzle. It's fun."
His hope is that barbecue will find its place on a stage where "everybody can have a sense of pride and fun doing it". "In the Philippines, our barbecue is on a street corner. And here in Singapore, there's, like, glorified barbecue at Lau Pa Sat. I think it's not enough for people to actually be like, 'I want to do barbecue.' I love this style so much, and I want people to understand that this is actually a skill. You practise, and if you're good enough and committed enough, you can have a business, and you can actually make something out of it.
"Eight years ago, I came to Singapore with basically nothing," said the married father of one. "I was sleeping on a couch that belonged to people I didn't know. Now, I have the opportunity to live the dream. I really love this industry, and it's given me a lot. And I want to give back."
Kubo Woodfired Kitchen is at 80 Mohamed Sultan Road, #01-12, The Pier at Robertson.
You might be familiar with the Filipino dish pork adobo – how about quail adobo? It's one of the dishes served at a new restaurant in Singapore featuring Filipino-inspired cuisine.