This plant-based resto-bar has cactus drinks, jackfruit tacos and... fungi tables?
Located at Chijmes, Analogue is the latest venture from Vijay Mudaliar of acclaimed cocktail bar Native. And it's not just the food and drinks that are sustainable – the bar counter's made out of recycled plastic bottles, too.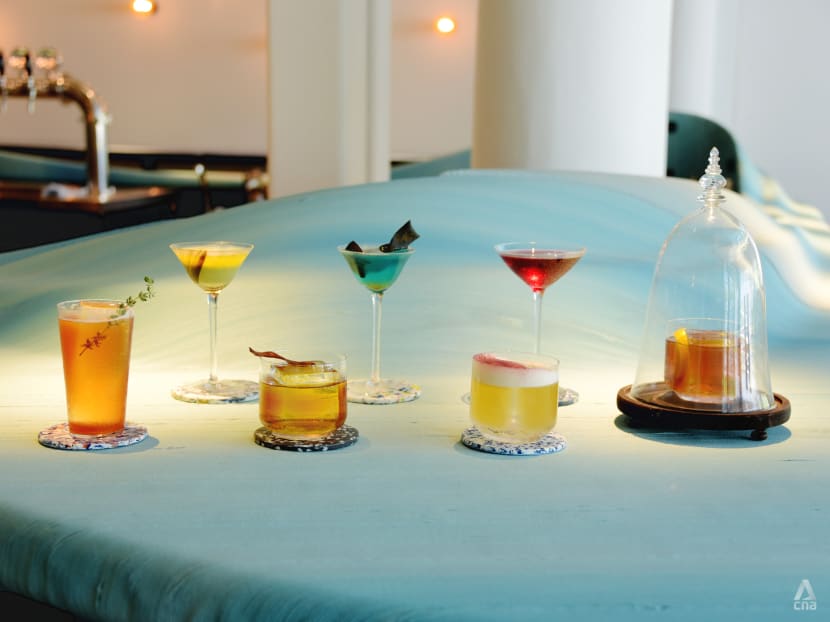 Five years after opening acclaimed cocktail bar Native, Vijay Mudaliar has launched a second concept that's bigger and bolder. Called Analogue, it's a bar-restaurant hybrid with a twist: The drinks and food are focused on being plant-based, sustainable and future-forward.
Walk into the space, located in a corner of bustling Chijmes, and you'll immediately be struck by the undulating, aquamarine bar counter, a mammoth 3D-printed hulk made from 1,600kg of recycled plastic bottles that Vijay and his team personally carried in themselves. You know they aren't kidding around about saving the earth.
"Analogue means 'a thing or person comparable to another'," said Vijay, 32, explaining that the concept was born out of a sense of frustration that "we've been working a certain way in the food industry without questioning why. Often, you see the same thing rolled out again and considered luxurious, like foie gras or caviar. We want to find a lot of plant-based things that would stand up to the things people consider 'luxury'."
From plant-based food and drinks made from sustainable ingredients to a bar counter made out of recycled plastic bottles, find out how Analogue is doing its bit for the environment – while giving people an enjoyable night out. After all, it's the latest venture from Vijay Mudaliar of acclaimed Singapore cocktail bar Native.
The overarching mission here, he said, is to re-examine the food system and eschew over-farmed foods like cheese, eggs, coffee and chocolate, using analogous ingredients as substitutes for those flavours and textures.
"At Analogue, we look at different ingredients that could be the future of farming or diets," he said.  
For example, in the drinks, "we use ingredients such as vegan honey. Instead of using honey, we reduce custard apples down. We realised they taste very much like honey". Carob, a sweet type of bean, is used as a substitute for chocolate. And egg white, traditionally used to create foam, is swapped out for methylcellulose, a plant derivative commonly used in food products.
Some offerings are ideas-driven, too. "We have a drink called Cactus. The world is heating up so quickly. We were imagining what it would be like for farming in the future. The succulent family is very resilient. So, we use different cacti and succulents like agave, dragonfruit and aloe vera."
Back at Native, he said, the focus was already on using local and regional ingredients and reducing waste, but at Analogue, "the whole idea is, what if we could start from the top? Our spending power could mean a more eco-friendly and sustainable lifestyle. What if we chose to buy more vegetables and live with more education on the produce?"  
Analogue's food menu, helmed by chef Dylan Choong, is, of course, plant-based as well – and don't expect tiny, offhand bar bites here, as plates are substantial and well thought out.
Choong, who worked at restaurants like Tippling Club and Cheek By Jowl before heading vegan concept Hrvst, is passionate about sustainability, telling us how he hopes to eventually eliminate the use of clingfilm in the kitchen altogether.
He's put out elegant yet fun dishes such as poutine with mushroom-miso gravy and vegan cheese, jackfruit rendang tacos and plant-based nuggets served with a curry sauce that's, dare we say, pretty darn analogous to that of a certain giant fast food restaurant chain.  
Another point of focus here at Analogue is the carefully developed non-alcoholic drinks menu. Seeing a "huge demand" for cocktails without alcohol, Vijay said, it was important that this menu was not perfunctorily designed.
"We felt that the non-alcoholic (option) was always a second choice on a menu – either syrup and soda, or there wasn't a lot of effort put into it. We wanted to create really tasty, non-alcoholic drinks that were on par with cocktails, which was very, very challenging. We looked into different perfumery techniques using essential oils and edible oils. We even made water-based distillates."
The drinks don't contain sugar, as it's also an over-farmed ingredient, and rely on other natural sweeteners instead.
He added: "I think people have very different needs nowadays. They are looking for a healthier lifestyle." Designing the non-alcoholic menu was "a lot of work, but I'm very happy with it".
Besides catering to different ways of imbibing, the space also aims to be more inclusive for all manner of guests.
At Native, which is located on the second floor of a walk-up shophouse, Vijay said, there are often customers who aren't able to access the bar, and have to have their drinks outside on the street.
Here at Chijmes, there's good accessibility all the way from the drop-off point to the restaurant, and the wavy bar counter slopes down in one corner to accommodate guests with wheelchairs and personal mobility devices.  
Speaking of that show-stopping bar counter, here's a little secret: It needs to be brushed like a dog every night, to prevent dust and dirt collecting in the crevices.
If you're seated at one of the little tables against the walls, though, they're conversational pieces, too: The tabletops are made of mycelium, the fungi that most people associate with mushrooms.
"We always try to push out ideas, and we want people to come in and think about things," Vijay said. And when they leave, they should take those ideas with them, "as compared to just serving great drinks and food. I think there are a lot of venues that do that. But we always want to indulge people in an idea".
Analogue is at 30 Victoria Street #01-31.