Meet Mr Onion: Why this Singapore chef wants you to give vegetables a chance
The former chef of Michelin-starred Corner House who used to hate onions now "brings them to bed every night". And at his new Restaurant Euphoria, Jason Tan's redefining how diners perceive veggies.
It was Carol Ann Duffy who famously wrote, in her poem Valentine: "Not a red rose or a satin heart. I give you an onion. It is a moon wrapped in brown paper."
Then, of course, there was Pablo Neruda, who exalted the allium in Ode To The Onion: "Onion, luminous flask, your beauty formed petal by petal … I have praised everything that exists, but to me, onion, you are more beautiful than a bird of dazzling feathers."
The former chef of Michelin-starred Corner House who used to hate onions now 'brings them to bed every night'. And at his new place, Jason Tan is redefining how diners perceive veggies – that's his superpower.
That could be considered a somewhat extreme sentiment, but it's got nothing on chef Jason Tan, who, eschewing the wordplay of poets, has simply built an entire restaurant in celebration of his favourite vegetable: The humble onion.
Named Restaurant Euphoria, Tan's new, independent project is the manifestation of a 15-year dream. Even as a line cook straight out of culinary school, he was aware, when he first encountered the life-changing Cevennes onion, that something momentous was taking place.
"I knew many years back that one day, if I were to be a chef of my own cuisine, I would want to make a dish out of onions, and for it to be the hero of the restaurant," he said.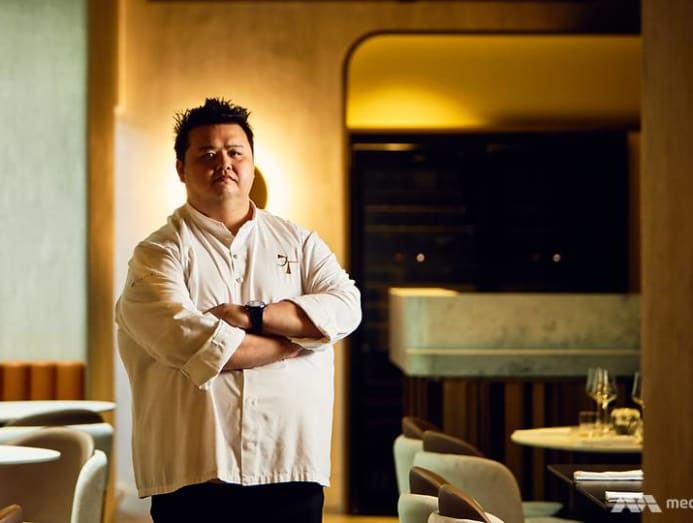 Of course, he achieved that at Corner House, of which he was chef-patron and co-owner before leaving to strike it out on his own.
His signature dish of Cevennes onion done four ways, comprising a sous-vide egg in an onion cup, a Parmesan-topped onion tart, a crisp onion chip and a pour of savoury onion tea, surely helped the Michelin-starred restaurant win and retain its many accolades.
But with Restaurant Euphoria, "Mr Onion", as he playfully calls himself, has dreamed up a space that pays tribute to that vegetable, together with his "Mrs Onion" – his designer fiancee Arissa Wang.
Featuring walls of flowing concrete screed, green foliage, and elements designed to subtly resemble layers of an onion, such as banquette seats, a bar counter and a six-metre light installation, the conservation shophouse on Tras Street is a veritable shrine to the onion – an onion temple, if you will.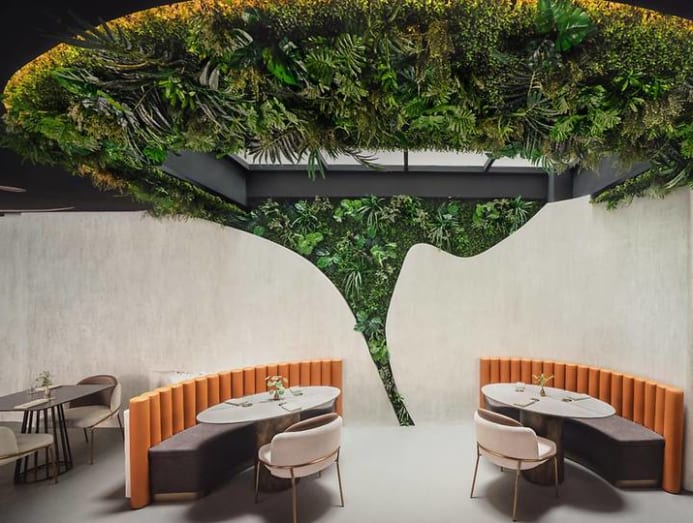 His signature dish, now known as My Favourite Vegetable, holds court here, of course, but it's joined by a new star dish: The Oignon Jamboree, a delicately beautiful arrangement of pickled pearl onions around an onion parfait heart flavoured with smoked eel; with onion puree, onion broth and spring onion oil, and served with a crown of Kaviari Oscietra Prestige Caviar that's found in only three restaurants in the world.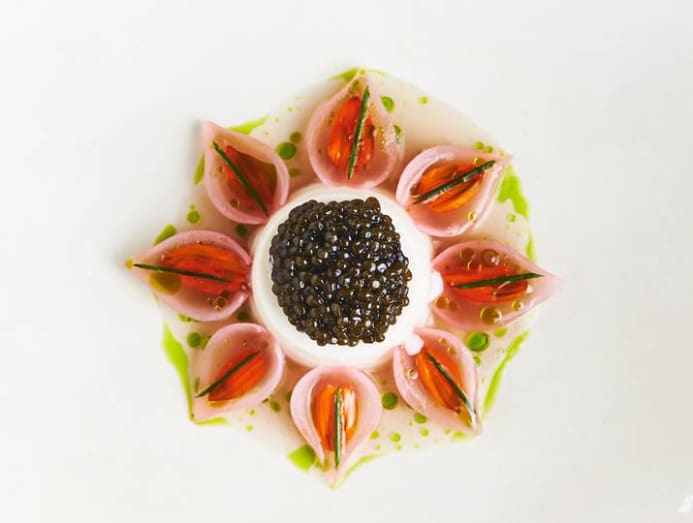 Take a peek into the kitchen and you'll also see a framed caricature of Tan in an Iron Man costume, holding an onion in his hand.
This crusader for onions and, indeed, all vegetables – he's famed for his "gastro-botanica cuisine" – has a worthy origins story.
Up until he was a young man, Tan would not eat any onions at all. Whether they were raw or cooked, "I would take them out if I saw them in my food," he said.
In fact, "I disliked vegetables all my life – until I was 24, when I finished National Service and joined my first professional kitchen".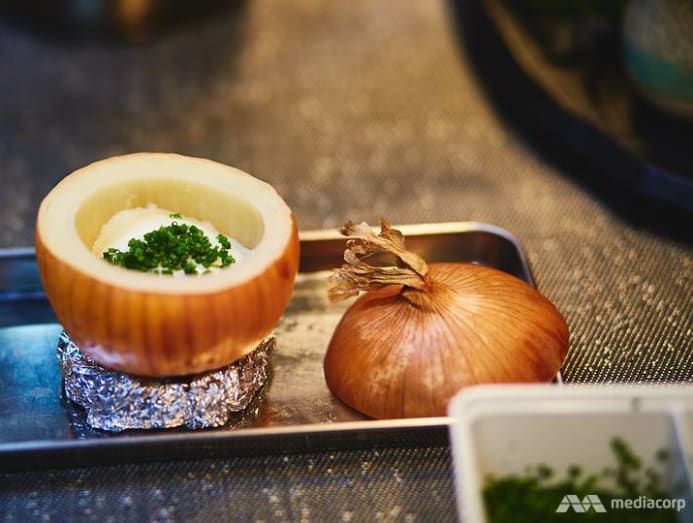 At Les Amis, the SHATEC graduate was slicing Cevennes onions when he noticed that they weren't like the onions he had always known. For one thing, they weren't making him cry.
Since they were sliced very thinly, "I thought, 'A little bit won't hurt.'" So he popped a sliver into his mouth.

In that instant, "I was amazed. I was shocked. The onion tasted very delicate and sweet. I immediately fell in love," he recalled.
That led to a discovery of "the world of all other vegetables – Jerusalem artichokes, fresh hazelnuts, kale, baby carrots, beetroot".
And so, at Restaurant Euphoria, with the chance to sharpen the unique trajectory of his cuisine, Tan hit upon a radical approach to cooking – and quite by accident.
"We discovered that most of the sauces were vegetable based," he said, leading to the development of what he calls Gastro-Botanica 2.0: Four entirely plant-based base sauces, made only with pure vegetable extractions and reductions, yet replete with sweetness and flavour suited to all varieties of dishes.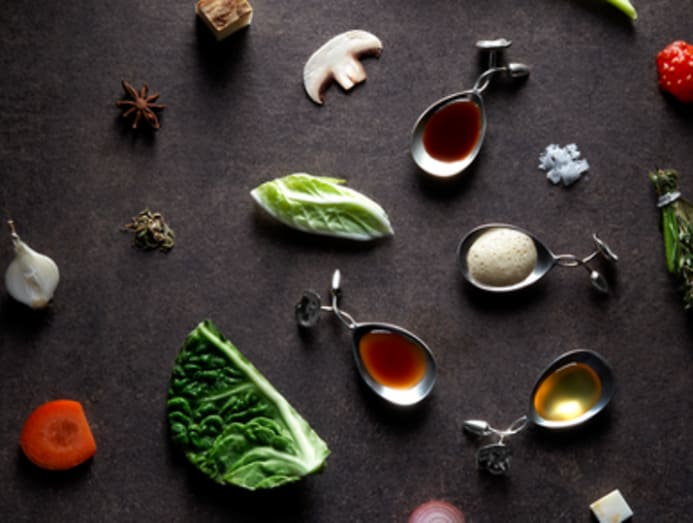 He's dubbed his mother sauces Gastro-Botanica Essences – La Symphonie de Legumes: Legumes Essence (clear), Legumes Emulsion (emulsion), Legumes Vin Blanc (white) and Legumes Demi-Glace (brown).
These base sauces can be built upon with the addition of herbs, spices, seeds, olive oil, white wine, red wine, fruit zest, salt and butter.
Every day, 30kg of over 30 different types of vegetables pass through the kitchen, yielding just 2 litres of essence – a process that takes up to two days.
"Vegetables acquire different tastes with different treatments," Tan explained. "For example, in our Legumes Vin Blanc, we lightly sweat the vegetables instead of roasting them", resulting in a clean flavour. In the Legumes Demi-Glace, "we deep roast all the vegetables so it gives you flavour with char, more depth and a different type of sweetness".
These ideas are a distillation of Tan's contemporary French culinary training, and his formative years working with Chef Julien Bompard at Le Saint Julien and the three-Michelin-starred Robuchon a Galera (later renamed Robuchon au Dome) at Hotel Lisboa in Macau.
As Jason Tan by day and Onion Man by night – and also at lunch services on Thursdays and Fridays this month – he thinks he's "changing the world a little bit, a small part, for people who dislike vegetables".
"Many people associate vegetables with being very boring and not delicious. I aspire all the time to make vegetables tasty. I think that's actually much more difficult than cooking with proteins," he asserted.
Having devoted his life to being the onion's disciple as well as master, Tan can't imagine his love affair with his favourite vegetable ever fading.
"I don't dream of onions but I smell like onions every day, so I technically bring onions to bed every night," he quipped.
And no matter how many fancy meals he serves or how many accolades he wins, "I'm more than happy to have just a sandwich with mayonnaise and chopped raw onions. It's perfect for me".
Restaurant Euphoria is at 76 Tras Street.