Singapore's smallest restaurant? Bjorn Shen's new pizza bar seats only four
What's it like to have a 12-course omakase-pizza meal in a room so tiny, you and the chef can breathe on each other? CNA Lifestyle found the answer at Small's.
Bjorn Shen's new restaurant is called Small's, and there's absolutely nothing ironic about the name – it's a tiny closet of a room that opens onto the courtyard of his flagship restaurant, Artichoke. And it seats only four people.
At Small's, which opens for dinner thrice a week, four friends abandon the concept of personal space and rub shoulders at a bar counter, behind which Shen, with only just enough room to turn around and a whole lot of elbow grease, makes pizza from scratch while treating his guests to a running commentary.
Why has he set up what he believes to be the smallest restaurant in Singapore and the smallest pizza bar in the world? Because he can.
"This is my culinary version of a man-cave. This is where I geek out and do all my cheffy things," he said, explaining that with Artichoke's stability and steady stream of clientele, he can afford to indulge in a fun little mad-scientist experiment such as this, trialling new concepts "without the bullsh*t and risk of actually opening new restaurants all the time."

In addition, "It's my way to use up a space in Artichoke – this used to be my office, where we were very unproductive – to do whatever the hell I feel like," he told us.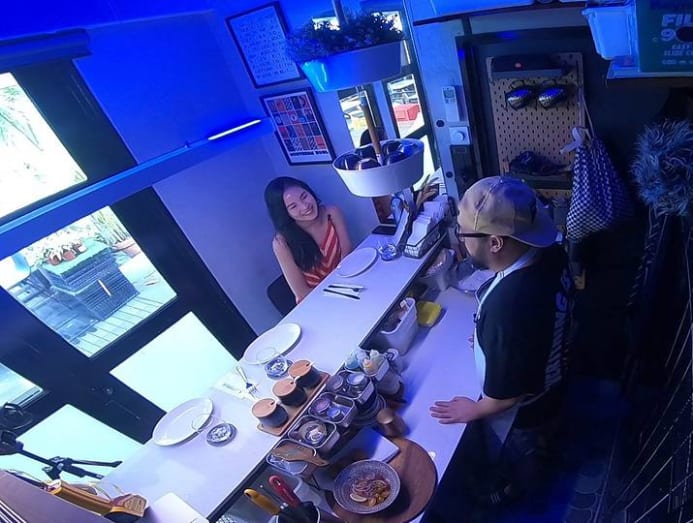 "It's also a place for me to show off my private collection of stupid things," such as Borat posters and his favourite music. There are also ceramics made by his sister-in-law, and an aquarium that's home to a fish that may or may not be named Pei Hua. (Ask him about his summer job cleaning fish tanks as a kid.)
Yes, Small's is "very personal. And it can afford to be, because it's only me and four people," he said.
For now, Shen is serving up an "omakase pizza" menu (S$500 for four diners) inspired by the pizza he used to enjoy growing up in the 80s and 90s.
"My earliest memory of pizza is going out with my parents to eat at Milano's," he said, with a laugh. "I'd have buffalo wings and garlic bread. I'd watch my parents eat the Caesar salad. There'd always be a pineapple pizza somewhere, and lasagna or spaghetti and meatballs or carbonara. Back in the day Alfredo (pasta) was pretty hot. You won't find it any more these days. And there'd always be a cookie at the end."
The dishes at Small's riff off these classics, with a "deep fried lasagne", "Maiktake 'meatball' alfredo" and a "Neapolitan cookie" to round the meal off.
Some dishes are inspired by events in Shen's life, such as a "Pizza vongole" that comes with a rendition of the story of how his journey as a chef began.
He's spent time and effort perfecting his pizza dough, a high-hydration Neapolitan-style dough that's aged for a minimum of four days for flavour development, and it's a treat to watch him fashion a pizza from scratch before your eyes and finish it with luxe toppings.
"My thing now is pizza, but one day we could be doing champagne and chicken nuggets. Imagine coming in and paying for free flow champagne and nuggets. Or meatball sandwiches. Or whatever is the next stupid thing."
Stupidity might be delightfully unpredictable, but one thing's for sure: "This is the furthest into fine dining that I will ever, ever go. That's how un-fine-dining I am," he declared.
If you're swift and lucky enough to snag a seat at Small's – tables for this month have long been sold out – come prepared to chat, learn and eat a lot of carbs. And, be warned: "Here, there are no rules," Shen said. "It's me and four willing, consenting participants."
For more information, visit smalls.as.me. Bookings for the month of March will open on Feb 24 at 12pm.