Prata tacos with lamb and cheese? 4 Singapore chefs go wild putting their own spin on tacos
Han Liguang of Labyrinth, Mano Thevar of Thevar, Kenjiro Hashida of Hashida and Dave Pynt of Burnt Ends have been invited to come up with their own signature taco at Canchita Peruvian Cuisine. Let the fiesta begin.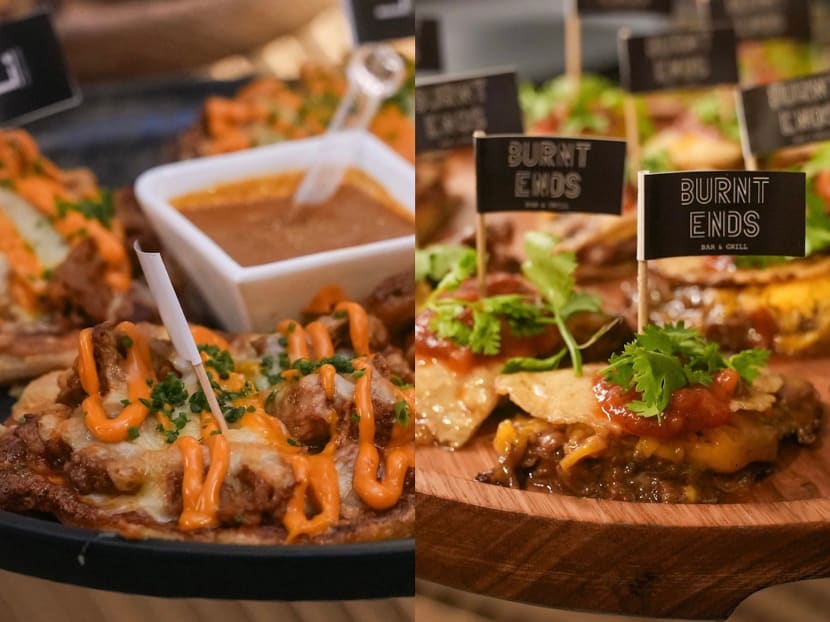 There's something we need to taco 'bout. Canchita Peruvian Cuisine is holding a month-long cross-cultural taco party, on the premise, it seems, that the taco is the white T-shirt of the food world: Everyone has a version of it, it's the perfect blank canvas, and no one has ever met a taco they didn't like.
Four acclaimed, Singapore-based chef friends of Canchita's Daniel and Tamara Chavez have been roped in to put their own unique spins on the taco: Han Liguang of contemporary Singaporean restaurant Labyrinth, Kenjiro Hashida of Japanese restaurant Hashida, Dave Pynt of barbecue restaurant Burnt Ends and Mano Thevar of modern Indian restaurant Thevar.
And they're relishing the chance to sneak out from fine dining for a bit, let their hair down and get messy with the guac – figuratively speaking, lah.
From Sep 4 to Sep 30, one of their creations will be available each week: Han's prata taco stuffed lamb; Hashida's wagyu tenderloin with chocolate, red miso, chilli and coriander; Pynt's Beef Birria marinated in herbs and spices, with Burnt Ends' signature Hot Sauce; and Thevar's lamb leg taco.
The fact is that although tacos, thosai and tempura come from opposite ends of the globe, they can be friends.
Finding a link between Mexican and local food, Han, who champions Singapore cuisine at Labyrinth, shared how prata inspired his taco dish.
"My favourite prata is the plaster prata with egg on top. And I like to put chicken curry on top of it, and fold it up and eat it – a bit like a taco! It's a little habit of mine."
That's why he decided to do "a marinated lamb neck with curry and egg and cheese and a bit of tomato paste on a prata – "basically, every single thing I like in one dish. It's a dish created for full-on flavour… Greasy, delicious".
Mano, who goes big on dishes that pack a punch at Thevar, drew some specific similarities between Mexican food and the food of our region.
"Having explored Mexican tacos and Asian cuisines, especially Indian and local flavours, I've noticed the shared emphasis on bold flavours using spices and fresh ingredients. Tacos' mix of textures mirrors Asian dishes' interplay of elements like crispy and saucy components. This inspired me to create fusion dishes, like infusing Indian spices into Mexican tacos or using Asian sauces in taco creations," said the Penang-born chef.
Hashida said he toyed with ideas like building a taco of beef sukiyaki, tempura or sashimi. "As you know, Mexican cuisine is far from Japanese cuisine," he said, but the ingredients used can be connected.  
"Whenever I create a new dish, I think, 'How can I make this fun for the customer?'" he shared. So, he went with a beef taco that's "simple enough for a house party", but made his taco skins out of soba.
His first inspiration, however, was chocolate. "You can get chocolate everywhere – but it originated in Mexico," he said. He then decided to add red miso, because "I made an oyster miso pot before, with red miso and chocolate, and it's a very good combination."
No matter the taco, the chefs said the best part is that they had had a ball of a time creating their dishes. Aren't tacos, after all, inherently fun? They just "make people happy", as Han said.
"In a fine dining restaurant, sometimes, we are a bit too serious," he quipped. "The fun part of this event is having the absolute freedom to do what we want that best represents ourselves."
Pynt echoed the sentiment: "Tacos are a fun, light and creative dish with millions of variations that can be made to suit any palate, culture or kid!"
"The best part is bridging cultures through unique flavour combinations and respecting traditions while introducing novel experiences," Thevar added. "It's been a rewarding journey of discovering diverse ingredients, techniques, and presentation styles, crafting a dining experience that honours both Mexican and Indian culinary heritage."
Canchita Peruvian Cuisine is at 9A Dempsey Road. Each chef's tacos (S$14 each) will be available on these dates:
Sep 4 to 10: Thevar
Sep 11 to 17: Hashida
Sep 18 to 24: Labyrinth
Sep 25 to 30: Burnt Ends