Creative Capital: The multi-racial Singapore chef taking the private dining world by storm
Chef Tariq Helou is half-Lebanese, one quarter Japanese, and one quarter Chinese. He is also 100 per cent Singaporean and plans to open his first restaurant – Fleurette – in Rangoon Road come May this year.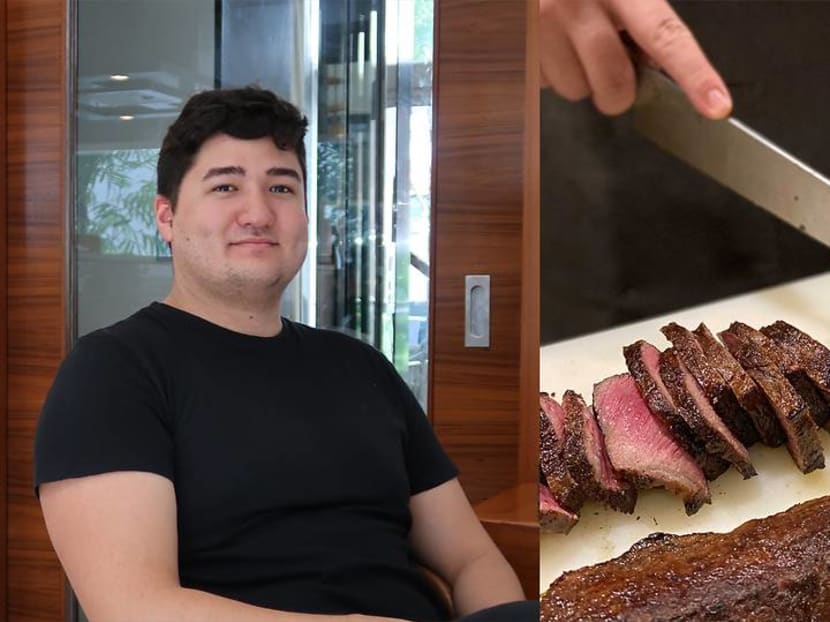 "The unbelievable deliciousness of Chef Tariq's cooking had the ability to magic away reality." That is what critics have been saying about Chef Tariq Helou and his pop-up restaurant Division Supper Club.
Helou is half-Lebanese, one quarter Japanese, and one quarter Chinese. But most importantly, he is 100 per cent Singaporean. For eight months in 2019, this accomplished chef, who is still in his mid-twenties, ran one of the most exciting (and always sold out) private dining experiences in town.
Division Supper Club, started with business partner Aidan Wee, popped up in restaurants all over Singapore, serving Helou's unique East-West cuisine, which draws as much upon his own mixed heritage as it does his training in Europe and Japan.
Helou and Wee have plans to open their first restaurant this year. The latest post on the Division Supper Club Instagram page teases us with a set of keys. Turns out, the pair have taken over a space on Rangoon Road, formerly the home of dessert restaurant Non Entrée. Their new establishment will be called Fleurette and will hopefully open at the beginning of May.
After earning so many accolades doing pop ups, it's exciting to see what Helou can do in his own space.
HI TARIQ, DID GROWING UP WITH A DIVERSE ETHNIC BACKGROUND INFLUENCE YOUR PALATE?
Yes, I think so. My mother is an excellent cook so it was quite common for us to have various cuisines throughout the week for dinner. It could be Chinese one day, Italian the next and then Lebanese the day after.
In addition, eating with my Japanese grandmother at her house on weekends, and eating out from time to time really helped me develop my palate and give me a good background to form my understanding of food.
I think one dish from my childhood definitely sums up how my food has turned out today. My grandmother would prepare Japanese white rice, cover it in Western style mushroom gravy and top the dish with some slices of grilled steak. Something quite all over the place culturally but I think it planted the seeds for how I like to cook today.

TELL US ABOUT YOUR TIME AFTER GRADUATING FROM CULINARY SCHOOL. YOU STAGED AT TOP RESTAURANTS IN GENEVA, PARIS AND TOKYO. CAN YOU TELL ME MORE ABOUT EACH OF THOSE EXPERIENCES AND HOW EACH SHAPED YOU AND HAS INFLUENCED YOU?
I started out working at a two Michelin-starred restaurant in Geneva called Domaine de Chateauvieux. While there, I learned a lot about classical French cooking; it was a very "old school" styled kitchen. During that period, I learned the real foundations of cooking – how to prepare vegetables, make classical French sauces; and how to butcher and prepare meat and poultry at a level much higher than what was taught at culinary school.
I then moved on to a one Michelin starred restaurant in Paris called Restaurant Louis. The chef there was much more modern and liked to incorporate a lot of Asian ingredients into his cuisine. I was exposed to the more creative side of cooking but more importantly, I learned how to seamlessly meld different cuisines together.
In Tokyo I did a few internships at restaurants like Sumibikappo Shirosaka, which has one Michelin Star, and Restaurant Anis. Tokyo taught me the more subtle traits of being a good chef, like how to interact with customers and how to present yourself when working in an open kitchen or in a counter style restaurant.
While these might sound like relatively simple things, I feel very strongly that they were the most important things that I learned during my formative years as a chef.
DID YOU ALWAYS PLAN TO COME HOME TO SINGAPORE?
To be honest, no, not at all. When I was younger, my goal was to become one of the best chefs in the world and get every accolade possible: Michelin stars, World's 50 Best Restaurants awards and more. Honestly, I felt like I couldn't achieve those things with a restaurant in Singapore.

That was at a time when there was no Michelin guide here. And while those awards definitely became achievable in Singapore during my time away, that wasn't the primary reason why I decided to come home. As I progressed in my career, I realised that things like that weren't the most important things in life. And that even if I did manage to achieve all those goals, it would be meaningless winning them alone living abroad.
I finally came to realise that what I wanted was to be successful in both my work and personal life. I wanted to be close to the ones I love and be able to share all my achievements with them.
WHEN YOU DID COME BACK, WHY NOT WORK IN THE KITCHENS OF A TOP RESTAURANT HERE? WHAT GAVE YOU THE CONFIDENCE TO START ON YOUR OWN RIGHT AWAY?
I told myself that I would only come home when I felt like I was ready to go out on my own. It was also always an ambition of mine to make it on my own here.
WHAT'S YOUR TAKE ON THE PRIVATE DINING SCENE HERE IN SINGAPORE? HAD YOU BEEN TO ANY OTHER OF THESE POP-UPS BEFORE DECIDING TO START YOUR OWN?
I think that the private dining scene here is amazing. These days, customers are spoilt for choice with all the different cuisines available and at all different price ranges. That means that there is something for everyone.

I think that it also gives customers a chance to experience something different from what they normally do at restaurants. The level of intimacy you can get during a private dining experience is incredibly difficult to replicate. It's one chef cooking, usually alone, for a very small group of diners. That's not something you can find in most restaurants.
Unfortunately, I was so busy with starting up and running my own private dining that I never got a chance to eat at any of the others. I also decided at the time that because of the personal nature of private dining there was no need to try any of the others because everyone was serving a cuisine unique to themselves.
Private dining is great also because there is very little risk financially since it didn't involve having to open an actual restaurant. That gave me a bit more confidence to just "wing it" as they say.

DIVISION SUPPER CLUB IS QUITE DIFFERENT FROM OTHERS IN THE PRIVATE DINING SPACE IN THAT YOU WOULD DO TAKEOVERS IN RESTAURANTS, AS OPPOSED TO HOSTING AT HOME. WHY DID YOU DECIDE TO DO THAT?
Actually, the plan in the beginning was to open a restaurant. However, my business partner and I weren't able to do that at that time, so we decided that the next best thing to do was to try private dining and treat it as our trial run before opening our actual restaurant.
We figured it would give us the opportunity to see how the public received our ideas and food. We felt that it was important to use an actual restaurant instead of one of our homes so that we could practise what it was like to run an actual restaurant space. It also helped me to better visualise what I wanted my future restaurant to look like because I got to see how customers reacted to different set-ups in an actual establishment. I also discovered what kinds of spaces I found most comfortable to work in.
HOW DID YOU MARKET DIVISION SUPPER CLUB? HOW DID CUSTOMERS FIND YOU?
To be honest we didn't do anything at all. Before opening, we decided that we would do some ads on Instagram, perhaps once we were a little more settled after doing a few dinners.
Luckily for us, we never had to do that because after our first two trial dinners, word of mouth and people's social media really helped us to spread the word so fast that we ended up being fully booked for months.
WHAT ROLE DOES SOCIAL MEDIA PLAY IN YOUR LIFE?
I only really use Instagram but I don't usually post many things on my account unless it's work-related. What I use it for mostly is to keep up with what the chefs that inspire me are doing and getting inspiration from them.
Just like with any other profession, you need to keep up to date with what is going on around the world in your field. I feel that Instagram is a very valuable tool to use for that.
WHICH CHEFS IN SINGAPORE DO YOU FOLLOW? WHOSE CAREERS WOULD YOU LIKE TO EMULATE?
Though he is not in Singapore anymore, I was always a big fan of Andre Chiang. I also look up to Julien Royer of Odette , Shigeru Koizumi of Esora , Rishi Naleendra of Cloudstreet , Dave Pynt of Burnt Ends, and Bjorn Frantzen with Tristin Farmer of Zen.There are so many more overseas that I admire and follow.
As for emulating, I'm happy to just focus on myself and push myself as hard and as far as I can. At the end of the day, if I know that I gave it my all, I will be satisfied no matter what the outcome.
CAN YOU DESCRIBE YOUR CUISINE STYLE OR PHILOSOPHY? 
When it comes to my cooking I try to adopt a "less is more" attitude and choose to focus on the quality of the ingredients that I use. I would rather prepare them properly rather than have too many different elements in a dish.
Most of my dishes usually only have around three ingredients but that does not mean my food is simple. The amount of preparation needed is just as much as a dish with ten ingredients or elements.
As for cuisine, I'm trying to create a cuisine that reflects my own personal identity and culture. I'm of mixed ethnicities and have also lived both in Asia and in Europe, so I'm trying to create a style of cuisine that is somewhere in between Asian and Western, a sort of grey in between black and white perhaps.
DO YOU HAVE A SIGNATURE DISH?
No, I don't because I tend to change my menus quite often. But I can share some of the dishes that have been well received and requested a few times during Division. One was a porridge made with a French-style Bisque of Japanese Snow Crab and its meat using a Japanese claypot. Another was a pasta dish which was my take on the Italian Cacio e Pepe but I replaced the cheese in the pasta with a sauce made from Japanese uni.
And the last example is a simple chilled somen in dashi, which is something my grandmother used to make for me a lot when I was a kid. But the twist is that I add pieces of raw botan ebi to the noodles and top the soup with an oil made with the heads of the prawns; it's my take on our local prawn mee.
WE UNDERSTAND YOU ARE NOW LOOKING TO OPEN A PROPER RESTAURANT THIS YEAR. CAN YOU TELL US MORE ABOUT YOUR PLANS AND VISION FOR THAT ESTABLISHMENT?
Growing up, I was always happy when we went out to eat at a restaurant that had a counter because I loved watching the chefs preparing all our dishes. So I always knew when I opened my own restaurant that it would have a counter as the main dining area. I will be operating very much like a Japanese Kappo restaurant where most of the dishes are prepared live in front of the customers, but not serving Japanese food of course.
Other than that my main goal is just to create a warm atmosphere for guests to enjoy and I definitely want to create a lasting relationship with my customers. I want my restaurant to be a place where people can go to spend their evenings to relax, forget any troubles and enjoy excellent food and service. If I can achieve that I will definitely be happy.
WHAT INSPIRES YOU?
I love anything artisanal, so I'm basically inspired by anything design-related like architecture, interior design, hand-made chairs or even a beautiful knife for example. I love art as well. I don't think I'm smart enough to have an intellectual conversation about it, but I do know what I like!
IF YOU'RE NOT IN THE KITCHEN, WHAT ARE YOU DOING?
I try my best to keep active when I can, so usually I will try to go to the gym or swim when I have free time. I also love doing martial arts like Brazilian Jiu Jitsu and I'm looking to get into boxing soon. But honestly speaking when you run a restaurant there's not much time for anything else, so it's definitely limited.