Creative Capital: How three former colleagues got together to start a quirky Singapore sock company
Freshly Pressed Socks all started because co-founder Vincent Teo adored colourful socks. And now, together with Ling Ang and Karl Ng, Teo make socks inspired by everything from Ernie and Bert, to Buzz Lightyear and Singapore MRT maps.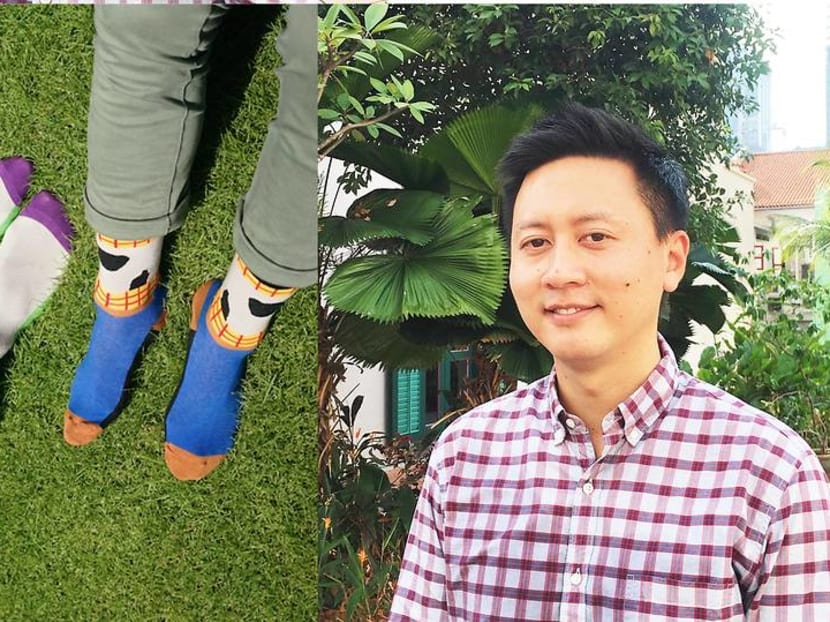 Take three super creative and senior advertising people. Put them in a room and ask them to create a business. The first thought would probably run in the direction of a digital product or solution, one that they will tell you is going to disrupt a chosen sector and change your life. After all, we expect hyperbole from agency folk. The last thing one expects to hear pitched is a sock business.
But that is exactly what Vincent Teo, currently Business & Strategy Director at Tribal Worldwide, Ling Ang, Brand Communications Director at Adidas in China, and Karl Ng, a freelance Creative Director, came up with. The trio launched Freshly Pressed Socks in 2015.
We catch up with Vincent Teo to find out how Freshly Pressed and their quirky designs are doing, as well as learn more about the business.
VINCENT, HOW DID YOU, LING AND KARL FIRST MEET?
We met at Publicis 10 years ago. Karl was an art director, Ling was a strategic planner and I was a digital strategist. We bonded over late nights working in the office.
YOU AND LING WERE PARTNERS IN ANOTHER VENTURE, LENSY.
Back in 2014, Ling and I decided to leave our agency roles and start our own thing. We had an idea that the agency of the future would be one that does both consulting work for clients and creates its own products and services.
We Are Clique was born as a result. It is meant to be both an agency as well as a sort of business incubator. We split our time fifty-fifty doing client work, building our own products and trying to scale them to become independent and self-sustaining businesses. The name We Are Clique came about because some of our colleagues at Publicis dubbed a bunch of us a "clique" for spending so much time together at work and we decided to just embrace it.

Lensy was the first product we built and our first start-up. Having worked a lot with stock photography in our agency roles, we felt that most stock libraries did not have an accurate depiction of Asia and Asians. So Lensy was launched a way to "Unstereotype Asia" through a marketplace platform that connected everyday photographers in Asia with brands that needed authentic Asian stock photography. At the same time, we introduced Lensy Tasks as a way for brands to create photo challenges and requests for the Lensy community to crowdsource the images they need.
We bootstrapped Lensy and supported it with revenue from the client work that we were doing. We didn't take any outside investment because it meant we would have to focus on just Lensy alone and we wanted the freedom to be able to do multiple projects.
However, the challenge with trying to scale what was essentially a tech company and a marketplace with limited funds, where you would need to both acquire buyers (the brands) and sellers (the photographers), was challenging. We ultimately closed it after three and a half years because it got to the point where we felt we couldn't scale it enough for it to be sustainable.
Lensy taught us a lot about the economies of running a start-up as well as building a product from scratch. Ultimately I think in order to have succeeded we would really have had to take on a sizeable investment and perhaps move to a bigger market like the U.S to scale.
HOW DID YOU GUYS DECIDE TO START FRESHLY PRESSED?
Freshly Pressed Socks was our second start-up. As Lensy was a digital platform, we wanted to do something that was completely physical. Having been in advertising for a while, there's always been talk of wanting to create a brand that we could own and grow. Doing socks was my idea. I'm a big fan of colourful and well-designed socks but also felt what was available then in 2014, was limited and not very unique.
Karl, Ling and I were actually working on a client project together and as with all client work, the appeal of making something for yourself starts to linger after a while. The idea was conceptualized during this period and a big part of the appeal for us, as with all our projects, was doing something that we were completely unfamiliar with and just figuring our way through it.
WHAT ROLES DO EACH OF YOU PLAY IN FRESHLY PRESSED?
I manage the overall business and handle product development and copywriting. Ling handles marketing, distribution and operations. Karl is our creative and design lead.
HOW HARD IS IT TO JUGGLE FULL-TIME WORK YET ALSO RUN A CREATIVE FASHION BUSINESS?
It's definitely been challenging. When we first started, there was a bit more control as we were running our own agency and handling client work. We simply treated Freshly Pressed as another client we had to work with.
Everything was hubbed out of the same office so it was easier to manage altogether. However in the past year, we've decided to each take on full time roles with other companies, including Ling who is currently based overseas while still running Freshly Pressed Socks on the side. We've set up the necessary infrastructure – office, warehouse fulfilment – and hired good people to help us while we manage a lot of things remotely through regular check-ins and meetings.
One thing we learnt very quickly was that we had to be very selective on what we would each spend our time on. We had to determine what were the important things we had to do that would contribute to business growth and revenue and what were the non-essentials that we had to say no to.
FRESHLY PRESSED IS 5 AND A HALF YEARS OLD NOW. WHAT HAVE BEEN SOME OF THE HIGHLIGHTS FOR YOU?
The last five years has had some great highlights including getting featured in Monocle Magazine; a shout out about our Ernie socks by Peter Linz, who performs Ernie on Sesame Street; having our Singapore series socks worn by a group of ministers at NDP2018; and the chance to partner and collaborate with some amazing brands like Grab, UOB, Gamestart Asia, Sole Superior, and Mothercare. Most of all though, there's a deep sense of satisfaction you get when someone willingly pays good money to buy something that you have made.
We've also been thankful to be able to be a part of World Down Syndrome Day with SG MINDS since 2016. An annual event happening on Mar 21 March each year, it is a day of global awareness that encourages people from all the world to come together to wear colourful socks to help raise public awareness of what Down syndrome is and how people with Down syndrome continue to play a vital role in our lives and communities.
WHAT'S BEEN THE BEST-SELLING DESIGN?
The best-selling sock is Taro. We've had it since we've launched in 2015 and it has consistently been very popular. A close second would be our MRT sock, as well as our Buzz and Woody socks.
WHAT DO YOU THINK SETS YOUR BRAND APART?
We would like to think it is our brand point of view as well as our approach to design.

We believe that socks are like your secret identity – that small detail on your outfit that reveals your hidden self to the world. As such, all of our socks are designed with details that reflect a character and story behind them. This is communicated on our website and on a character card that comes with every pair of socks.
Each pair of socks is designed with a specific character or personality in mind which inspired by our love for art, nostalgia and popular culture. From a design standpoint, we also look at the different elements, like a specific icon or pattern at the ankle area that shows when you sit down and your pants lift up. We pay attention to the front of the socks that reveals when you take off your shoe, etc. And even if you don't get the design hints and character references, it's still a nicely designed pair of socks.
HOW DIFFICULT WAS IT TO GET FRESHLY PRESSED ESTABLISHED? WHAT WERE SOME OF THE TOUGHEST CHALLENGES YOU GUYS FACED?
I would say it wasn't difficult to start the business. We live in an age now where technology is a great equalizer. You can find information on how to do just about anything online, get access to cost efficient software services to run your business – hosting, eCommerce, fulfilment, accounting, ERP – and use platforms like Facebook, Instagram and Google to promote your business and reach customers globally.
However running your business does bring about other challenges like cash-flow and resource management. Making sure you are profitable and able to sustain and pay staff and suppliers is key and not always easy. Retail was something we weren't familiar with and we had to learn a lot of things from the ground up. I would say a lot of the initial challenges and frustrations were a combination of our inexperience with retail and trying to figure out how to make this a sustainable business over time.
DO YOU SEE FRESHLY PRESSED PERPETUALLY AS A SIDE BUSINESS OR DO YOU THINK YOU WOULD WANT TO RUN IT FULL TIME?
We've discussed this. We've tried very briefly to run it as a full time business but I think the economies didn't really make sense for the three of us in the current stages of our lives.

And going back to why we started this, it was meant to be something we could experiment with and the financial pressure of making it work was taking that away. We've tried multiple modes of working and I think this current way where Freshly Pressed is an independent business that can run the day to day by itself whilst allowing us to work on parts of the business on the side remotely, while still having a creative outlet to do what we want and maintain our day jobs, seems to check the most boxes.

HOW HAS THE PANDEMIC AFFECTED THE BUSINESS?
It's definitely been challenging. For one, we had to close during circuit breaker so that was almost two plus months where we could not sell because we were unable to access our office and warehouse premises as it was considered non-essential.
At the same time, a large part of our sales comes from overseas markets and the current situation with air travel has made the cost of international shipping prohibitively expensive and also problematic due to added delays and lost packages.
This meant that we had to cut back on a lot of our global marketing efforts as we cannot ship efficiently. This has affected our overall sales.
WHAT'S THE FUTURE FOR FRESHLY PRESSED?
At the moment, Freshly Pressed is still a side business and creative platform that gives us a sandbox in which to learn, experiment and make different things.
We hope to be able to grow it slowly and sustainably over time so that it is able to run as an independent business. Ideally, this would then give us the flexibility to be able to do multiple things that feed our curiosity whilst generating a good passive income.