Celebrity Zoom hangout session: In bed with Desmond Tan and his dogs
We caught up with the Code Of Law actor through a video call to see how he spends his day at home – and got a little tour of his house.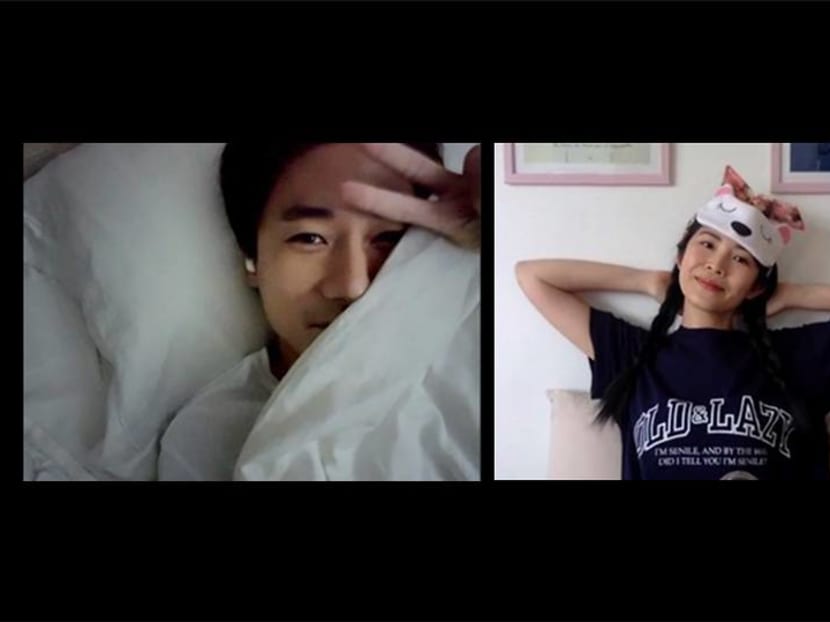 While many of us might be eating our feelings at home during "circuit breaker", Desmond Tan has been doing bicep curls using an empty gas cylinder as a makeshift barbell.
"I donated my dumbbells and some gym equipment just before Chinese New Year, in January," he told us during a video call, stepping out onto his deck where he does his workouts. 
It's morning, and Code Of Law actor Desmond Tan is still in bed when he answers our video call. Here's a look at how has he been spending his time at home during the circuit breaker period.
In the corner, unexpectedly, was a blue gas cylinder looking very out of place. He then proceeded to demonstrate how he'd been using it as a weight.
"There are a thousand and one excuses to say no to exercising but where there's a will, there's a way!" he proclaimed.
Thanks, Desmond, for reminding us that getting out of bed doesn't count as a workout.
Then again, we're not actors who might have to bare our bodies at short notice. To play the popular serial killer Derek on television, for instance, he was once given only two days to prepare for a scene in which he'd carry out his crimes wearing nothing but an apron. 
"I really just trained my shoulders and arms… to make Derek more intimidating," he said.
That dedication is perhaps what's helped to make Derek one of the most popular characters on local television at the moment – and likely the only one who has transcended several channels, appearing in Code Of Law on Channel 5, Forensik on Suria and in his own spin-off series, Derek, on online platform meWATCH.
And as Code Of Law returns for a fifth season next month, we'll be seeing more of Derek as he pulls off a daring escape from prison and tries to exact revenge on those he blames for putting him in the lockup.
Desmond attributes the character's success to the disjunction between his looks and Derek's sinister qualities. "It's something very new for my fans and people who know me," he said. 
"All these years, I've mostly been doing the boy next door, the good boy, the successful guy. I think fans were fascinated by that change and by seeing a different side of me."
Although he says that "every human has a dark side", Desmond seems to be walking on the sunny side of the street during this circuit breaker, when he doesn't have roles to play and scripts to think about.
He's been making his own fried carrot cake at home; growing his own mint, coriander and thyme; attempting to groom his two dogs himself; taking language lessons; watching Money Heist; and "eating a bit too much ice cream", he divulged.
Desmond, unlike Derek, it would appear, is an entirely well-adjusted individual who keeps a fastidiously neat house, spoils his two furkids and can do 300 push-ups in a day.
How about sending some homemade carrot cake over to us, Desmond?
Catch Code Of Law: Final starting Jun 1 at 9.30pm on meWATCH.