Hainanese mooncakes may be disappearing but this family is fighting to save them
Unwilling to let a 92-year family recipe be forgotten, one man quit a job he loved to start a bakery with his 80-year-old mum.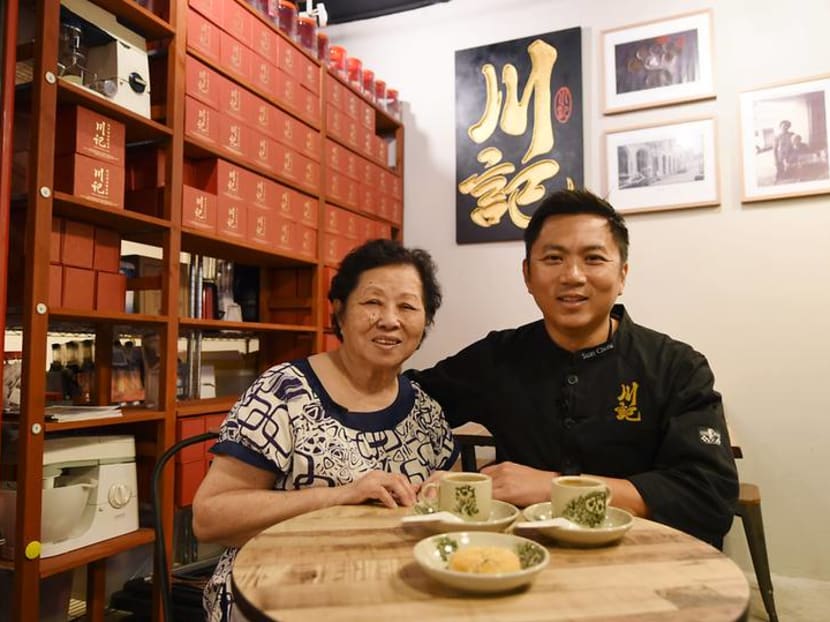 Wong Chih Lian was born, quite literally, amid the furious pounding of sesame seeds during the busiest time of the year at her family's Hainanese mooncake bakery – the Mid-Autumn Festival.
Now aged 80, she recounts, her eyes growing misty, how her mother worked at the bakery all through her pregnancy, pounding white sesame seeds into a crumbly paste up until her labour pains began and she had to leave for the hospital.
At Chuan Ji, Chong Suan and his mother are trying to keep their 92-year-old family recipe for Hainanese mooncakes alive.
Being born during the Mid-Autumn Festival somehow seemed to ensure that Madam Wong's life would always be entwined with mooncakes. And not just any mooncakes but Hainanese mooncakes – a little-known pastry of which she and her son, Chong Suan, are the last of the guardians.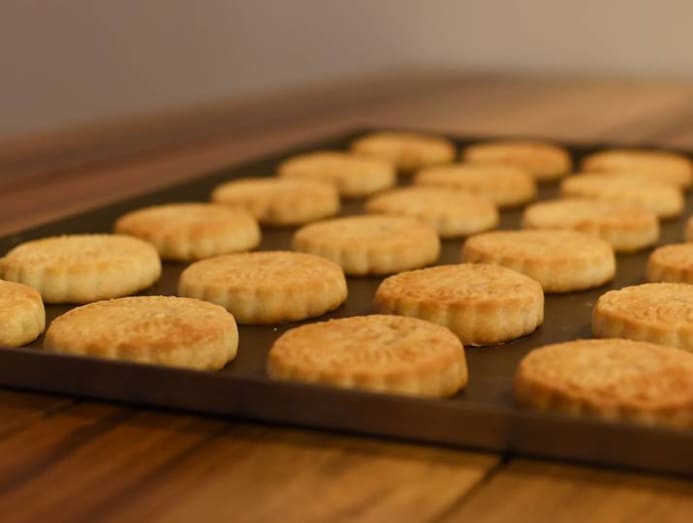 They now run Chuan Ji, a small bakery and cafe in MacPherson that stays true to the family's roots, baking up to 500 Hainanese mooncakes a day during the busy Mid-Autumn season.  
It was Madam Wong's parents who opened the famous Nam Tong Lee bakery of the 1920s in Purvis Street, selling pastries all year round but the "su yan bing" only once a year, as a luxurious treat in celebration of the Mid-Autumn Festival. That's how the flaky pastry, with its delicate crumb and savoury-sweet, peppery filling, came to be known as the Hainanese mooncake. 
The recipe has been passed down through generations of her family, originating in Hainan, China; but these unique confections can no longer be found there, Chong said, and people from around the world now come to buy Chuan Ji's mooncakes.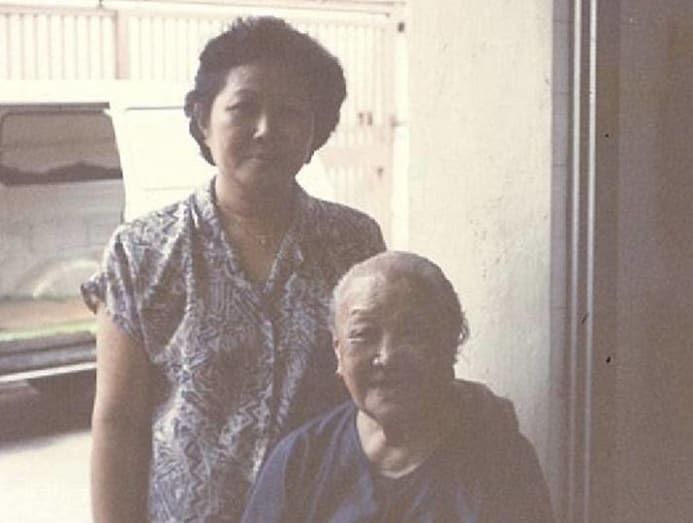 SECRET 92-YEAR-OLD RECIPE
Many of their regular customers are older Hainanese who have sorely missed this taste of nostalgia. When Nam Tong Lee closed after Chong's grandmother died, the Hainanese mooncakes disappeared along with it. His cousin opened a bakery of the same name in Batam, but Chong felt that the family's recipe was not being honoured there. Two years ago, he made the difficult decision to leave his cherished job as a mechanical design engineer and start Chuan Ji along with his mother.
"I loved my job, but when I thought about the 92-year history of the mooncake, I thought it would be a real pity if it disappeared," Chong, 45, said. "It's my grandmother's secret recipe… If I don't do it, it will be lost forever. No one else is doing it. And it's our heritage. It's part of our identity."
He isn't the only one who feels that way. "There are customers who say, 'I've been searching high and low for these pastries for the longest time'," he shared. "Some old customers from my grandma's day – the moment they find these, they are so delighted." Younger customers recall how their parents used to buy them the mooncakes. "They get a little emotional. That sense of satisfaction gives me the motivation to keep going, because honestly, it's very tiring."
It's certainly not an easy job, to say the least. Each mooncake is carefully hand-shaped in a traditional wooden mould. Their filling contains 13 different premium ingredients such as candied orange peel, rose sugar, fried shallots, melon seeds and, yes, the sesame seeds that are, thankfully, no longer ground manually, even though other tasks, like frying fresh shallots, are still done by hand.
The reason they persist is simple. "Because I want to make food that's different from other people's," Madam Wong said. "I want to make good food, and when the food makes people happy, I feel happy, too."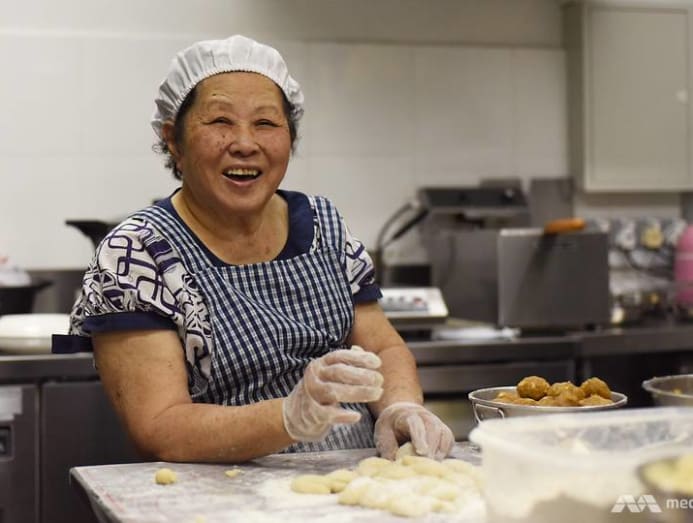 The mooncakes' flavour is so distinct, in fact, that it even has the power to bring people together. Chong said, "There was an older lady who used to be my mother's neighbour on Purvis Street. I think she must be over 90 years old. Her son brought her our mooncakes to try. She found the taste very familiar and she asked, 'Is this from Nam Tong Lee?' She asked her son to come down and look for 'Chih Lian from Nam Tong Lee'. He came and showed my mother a photograph of her: 'Do you recognise this lady?' She said, 'I do!'" 
The next day, he brought his mother for a visit. "They had not seen each other in 40 or 50 years. But this mooncake brought them together again."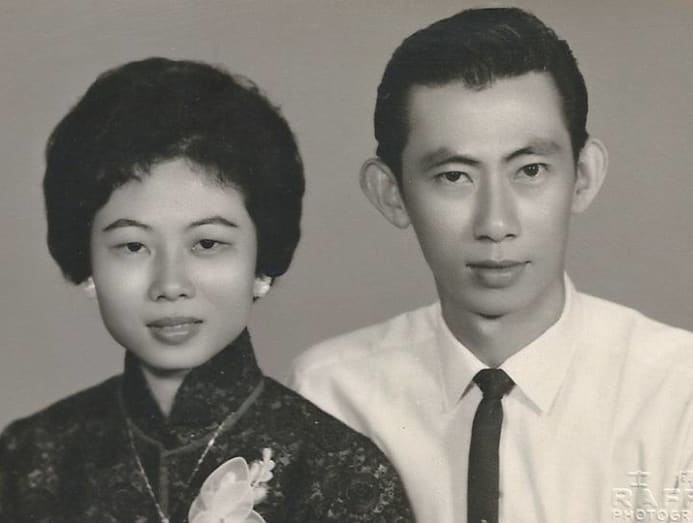 KEEPING THE FAITH
It's testament to the fact that even a small pastry can play an enormous role in building a sense of shared identity.
"Only we Hainanese make these mooncakes," Madam Wong said. "They are different and special. That gives me a sense of pride."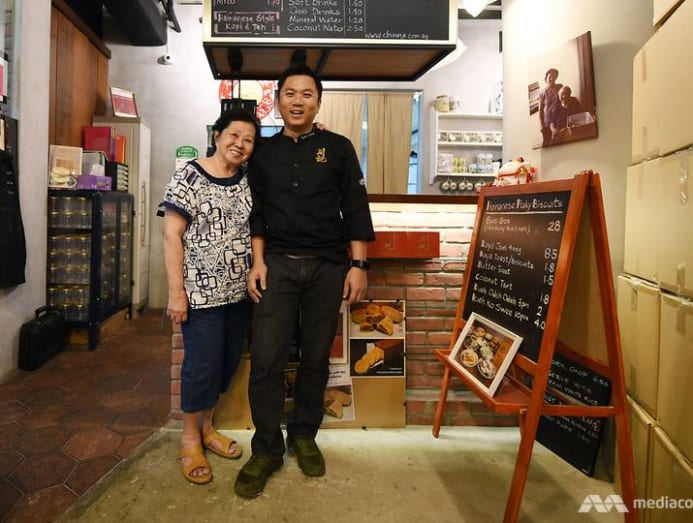 As for how she feels about her son's work, she said simply, "It's good to have someone to continue the legacy."
Does she hope that the business will remain in the family for another generation? "I don't know – we'll see how it goes," she said affably. Chong's two children, aged 10 and 5, are still very young. But he doesn't mind passing on his skills to the engineering students who work part time in the kitchen – none of whom are Hainanese – and who he also mentors in their coursework.
In recent months, he has also rolled out a menu of beef stew, pork chop, kaya toast and more – all traditional Hainanese family recipes perfected by his mother, served alongside traditional coffee and tea brewed according to his own carefully-researched method.
Madam Wong's expertise in food is expressed in her enthusiasm and generosity. "My kueh kosui is less sweet than others. Our ondeh-ondeh is boiled only upon order, so it arrives at the table hot and chewy. And I wash my shallots carefully before frying them because I want to make sure they're clean," she said, before insisting on sending us home with a gift of a packet of crispy, fragrant fried shallots.
What does she think her mother would say if she could see the work they are doing now? "She'd be very happy," Madam Wong said. "My mother was very strong. She wasn't well educated. But she did whatever she could to sustain herself and us, so she endured whatever hardships came her way."
Baking Hainanese mooncakes is a way of honouring her memory – and of sustaining a delicious slice of tradition.
Chuan Ji is at 401 MacPherson Road, MacPherson Mall #01-17.