Toys story: Who's keeping the retro gachapon machines in Singapore alive?
Have you ever wondered who runs and maintains those ubiquitous capsule toy machines found in mama shops and malls? CNA Lifestyle spoke with two gachapon vendors to find out how and why they recently entered the business.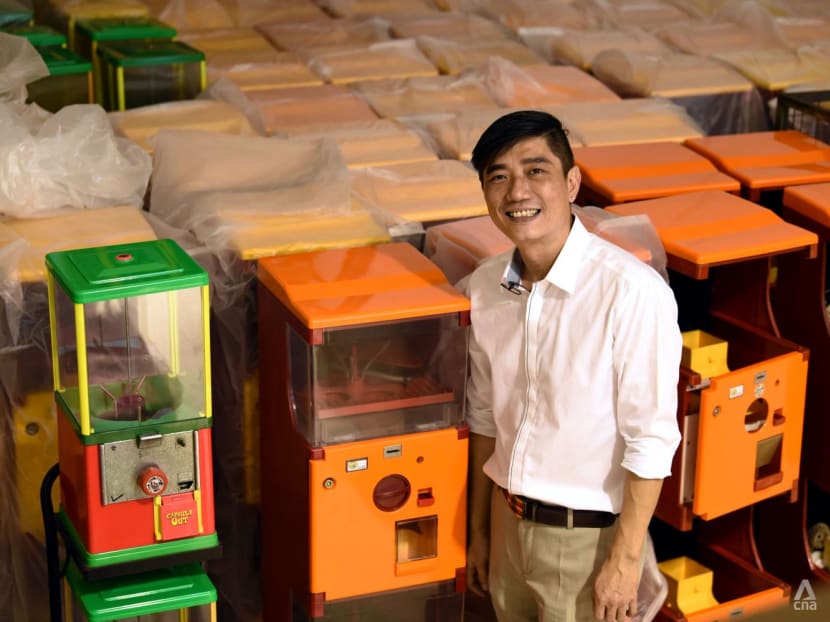 Like many Singaporeans who grew up in the 90s, Alvin Khua remembers the gachapon (capsule toy) machine fondly. But when he first told his friends about taking over one such business, they thought he was out of his mind.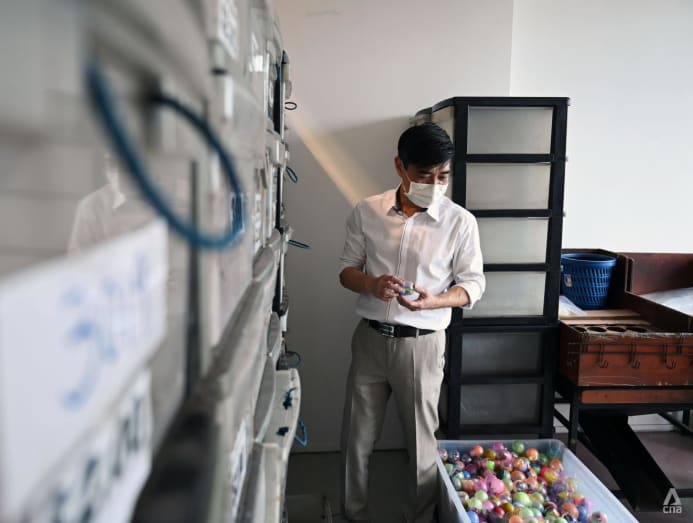 "Most of them actually laughed at me when I said it would be interesting if we took over the business and kept these old toy machines alive," said the 44-year-old founder of Koala Life, one of the few gachapon companies remaining in Singapore.
Nostalgia was no reason to enter what seemed like a dying trade. But doubt later turned into a leap of faith when Khua and his friends made a joint venture out of it.
"Although it is not a very lucrative business, it does hold some sentimental value to us at least." 
A 41-YEAR LEGACY
The gachapon business had been around for decades. Its capsule machines sat quietly in Singapore's heartlands long before "branded" ones started sprouting at arcade chains and the likes of Don Don Donki. 
In November 2021, Khua decided to take over one 41-year-old business and rebrand it Koala Life. The machines and toys left behind by the previous owner now sit in a warehouse in Tagore Lane, which is a time capsule in itself. From this place, Khua's company services, loads, and deploys the machines to locations such as hawker centres and minimarts. 
And if you think the gachapon machines we see now are retro enough, CNA Lifestyle spotted during our visit two unusual (and decidedly "un-gachapon") wooden contraptions in the warehouse that looked even older.
"When I first came across this thing, I thought it was a pinball machine," explained Khua. "There was one day when one of my workers, my warehouse assistant, was packing up the stock. I saw how he used it, and I realised this was actually a sorter."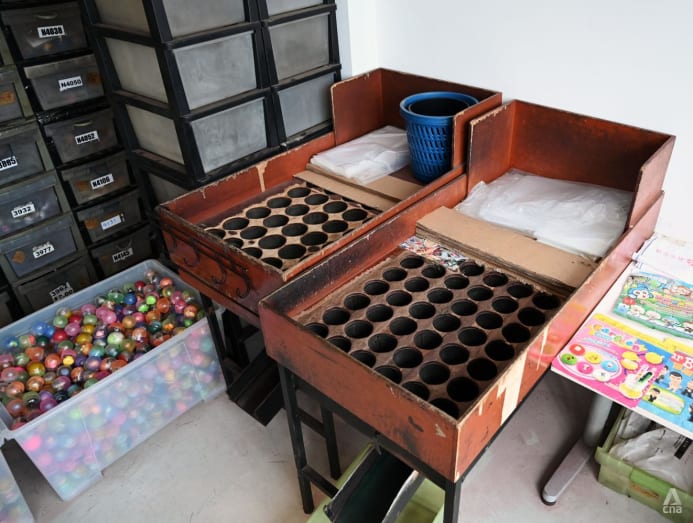 Each hole in the wooden contraption holds up to two capsule toys, making counting a less menial process. 
"Looking at it, I believe this should be from the first-generation owner… It's a little bit broken but the intelligence behind it is wonderful. It's still working perfectly, and we are (still) using it every day."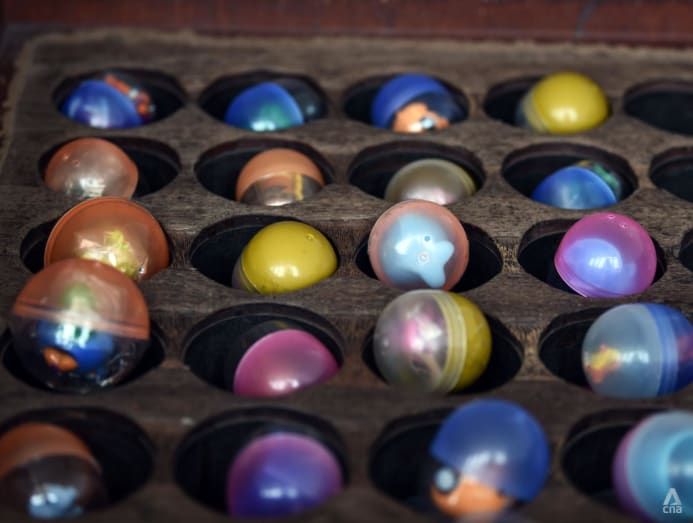 The packing station was decked with the latest sensory toys in the market: Slime, squishy balls, and "pop it" packs. Meanwhile, the oldies were relegated to stacks of storage boxes. Among these were the Beyblade-inspired tops from the early 2000s, back when gachapon machines had not learned to spit out old S$1 coins yet.
And while the Pokemon-inspired figurines remain a hit after all these years, the Doraemon and Minions-inspired ones are slowly being phased out. 
"Some of the toys are from 10-plus years ago, some even 20. And it's really a lot of sentimental value just by looking at the posters," shared Khua, referring to some of the colourful posters the previous owner had left in his care.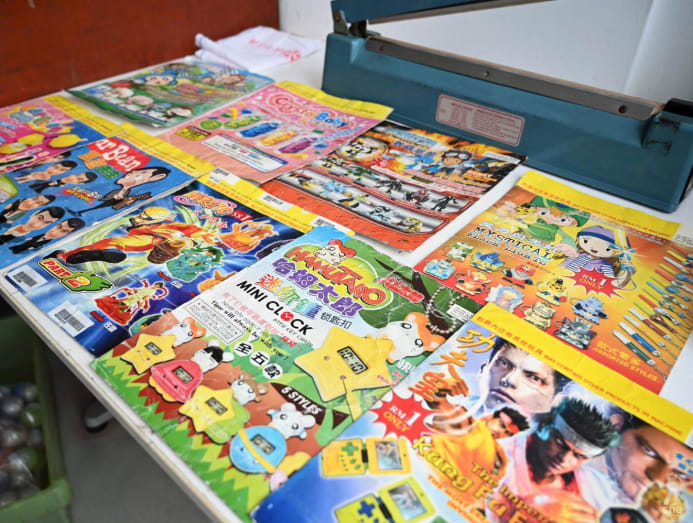 THE PRICE OF NOSTALGIA
Being the custodian of these memorabilia may sound romantic, but the technical issues that plague an ageing fleet are far from rosy. 
Under Khua's care are two machine models: The upgraded M300 and the older M200, which has been in the market for more than two decades. He affectionately described the latter as the "Merdeka" generation of gachapon machines.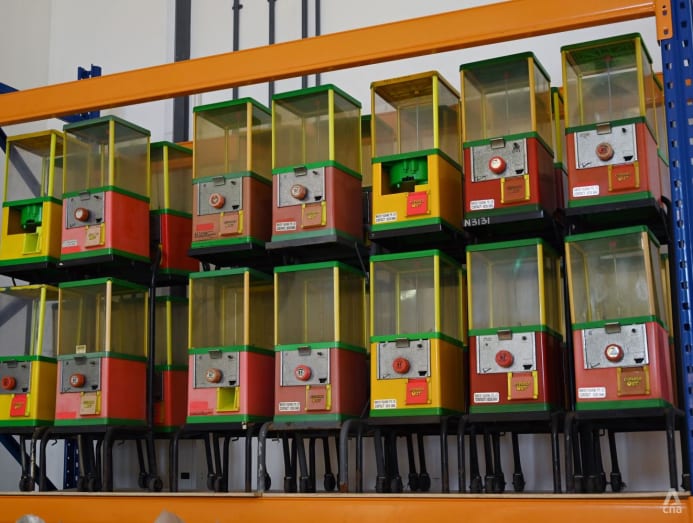 "Some of the parts of M200 are not available right now, so we sometimes have to tailor-make them. The cost of maintaining an M200 can be slightly higher than the M300," he said.
"The most 'headache' part is because they are made out of plastic. Over the years, the colour actually tends to fade. We have to re-spray and paint it to make it (look) new again." 
To ensure smooth deployment, a dedicated technician works five days a week. He starts his day at 7am and troubleshoots issues reported through the night. But even after office hours, the hotline – yes, there's a hotline for gachapon – is not spared from calls.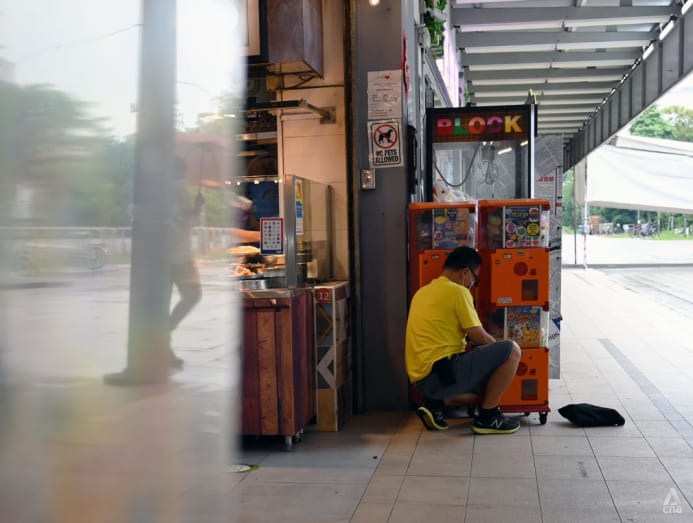 "We also have customers complaining to us that the machine is not working even at 11 pm. Because of this low-profit business, we couldn't keep this service crew on a 24/7 basis."
So now, when a machine acts out, Khua notes the customer's details, pays for a postage stamp and mails them the toy in an envelope. 
"We just earn about 10 cents per toy. But we are still happy to do that because it makes the customer happy, and we are happy to keep them happy."
AN UNEXPECTED CLIENTELE 
With improved capacities and mechanisms, the M300s is more than capable of succeeding the Merdeka generation. But Khua is reluctant to retire the M200. 
"We are always also in the dilemma that because we took over the business for the sentimental value of the machines, if we were to phase out the oldest generation of vending machines, it kind of defeats the purpose of us taking over the business." 
As it turns out, the M200 does have its fan base that echoes his sentiments exactly. 
"We appreciate it when we sometimes have phone calls from young parents saying that they still appreciate these old vending machines instead."
SOMETHING OLD, SOMETHING NEW 
Tan is not the only one to have ventured into the gachapon business this year. YLF, a confectionery distributor that sells childhood snacks like the Pikin candy and Yupi gummies, also entered the scene during the pandemic.
"During this COVID-19, we saw that there is a silver lining for us. So we started branching out to toys and even vending machines," said Jarene Lee, a marketing executive in the family-run business. "I think this silver lining came about because people cannot travel, so parents are purchasing more (capsule toys) to entertain and pacify their children at home."
The capsule vending machine and its larger counterpart, the big ball machine, hold licensed collectables from franchises such as My Little Pony, Marvel and Transformers. At first glance, they look way too hip to be a throwback. But take a closer look and you will find that the toys still incorporate classic gachapon trends.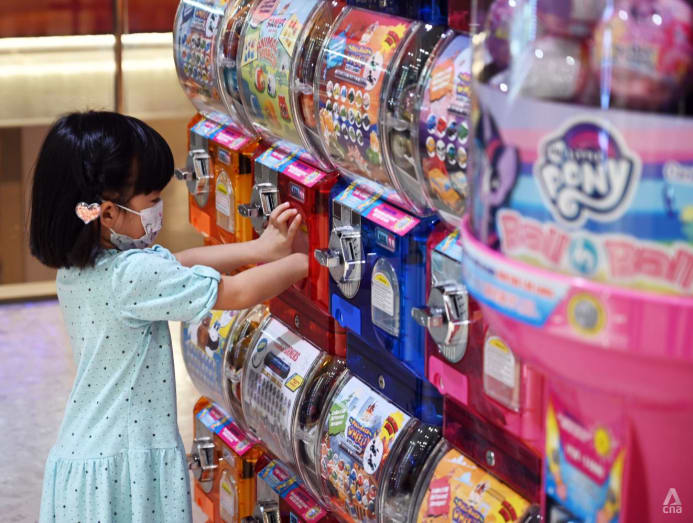 "There is this old school S$1 bouncy ball that kids always play with. Those are very popular because kids tend to lose it all the time."
Today, S$2 gets you a We Bare Bears bouncy ball, some candy, and a slip showing other collectables from that series. 
Steven Zhang, a sales manager who leads a roving crew servicing more than 1,000 machines across Singapore, has worked in YLF for 10 years now. He mans the hotline that the public uses to report technical issues, but also frequently finds himself receiving photographs from happy customers. Avid collectors have even forwarded him TikTok videos of their stash.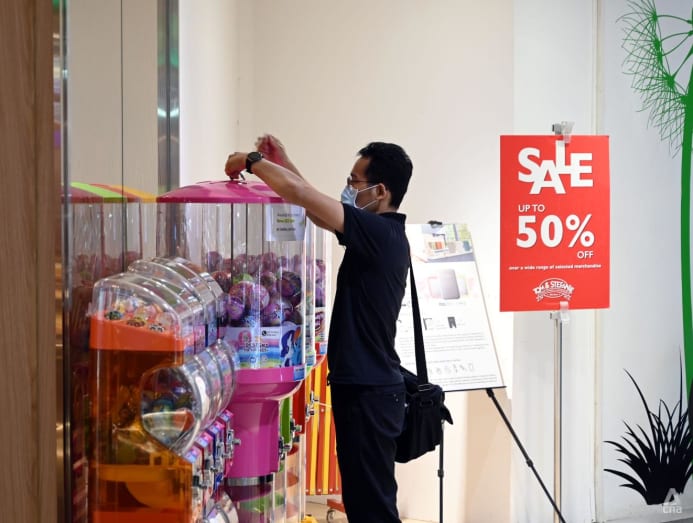 His most memorable message yet? A request to return over 100 empty capsules for recycling.
"There was an uncle in his fifties who spent over S$200 on this (army vehicle figurines) series... I initially thought he purchased the toys for his children, but later found out they were for himself," recalled Zhang.
"Growing up, he could not afford these figurines, particularly the ones modelled after army vehicles. Now, he is slowly building his collection."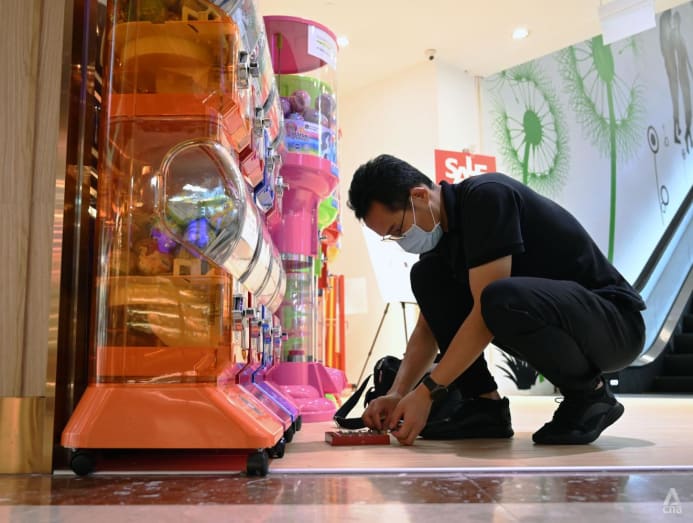 "I felt rather surprised that our toys can help someone in his fifties fulfil a childhood dream he had missed out on."
Have you ever wondered who's in charge of those ubiquitous capsule toy machines found in mama shops and malls? CNA Lifestyle spoke with two gachapon vendors to find out how and why they recently entered the business.
Editor's note: An earlier version of the article identified Alvin Khua as Alvin Tan. We apologise for the error.