K-pop star Jackson Wang parties it up in Singapore, jams with beatboxer Dharni in elevator
The GOT7 member was in Singapore to launch his fashion line Mudance and perform a showcase at Marquee, but he also managed to squeeze in some sightseeing plus an unplanned tribute to adoring fans.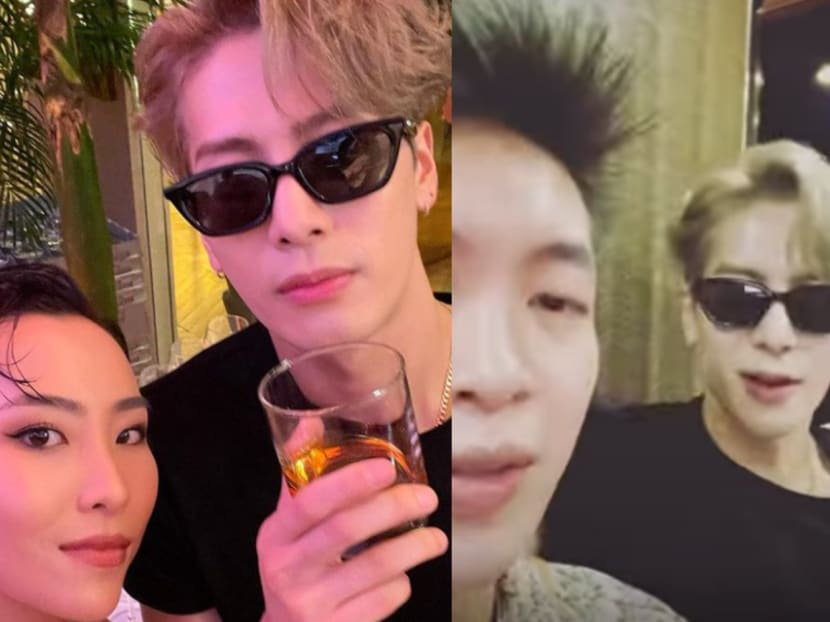 Hong Kong-born pop star Jackson Wang looked like he was having the time of his life this past weekend in Singapore. 
The 28-year-old launched his fashion line Mudance in a star-studded affair at Voco Orchard Singapore on Thursday (Aug 4), in collaboration with Club21. He arrived in Singapore from Bangkok earlier in the week.
Local celebrities such as Benjamin Kheng, Carrie Wong, Sonia Chew and Zong Zijie were seen hanging out with the singer at the party, which celebrated both the opening of Wang's concept store and Club21's 50th anniversary. 
Mudance also has pop-up outlets in Bangkok and Chengdu. 
Kheng, singer and member of Singapore group The Sam Willows, posted a video on Instagram of his conversation with the star at the pink-themed party. The audio clip was removed but the video was well-received, with tens of comments from celebs such as Carla Dunareanu and Aimee Cheng-Bradshaw gushing over the member of K-pop group Got7.
Fans crowding the hotel location on Thursday and hoping to get an in-person look at their idol were not disappointed. 
As he left the party, Wang was seen standing near a barrier outside the store, bowing and blowing kisses at the fans waiting below as his minders persuaded him to step away.
One fan wrote in a TikTok video: "Man really is drunk after party." It won't be his first time making a show of his departure after an exciting night. Last month, Wang was seen kneeling on the ground at a car park to say thank you to fans who were waiting for him, shaking off members of his crew as he did so.
The party didn't stop on Thursday. The next evening, Wang took to the stage at Singapore club Marquee, where he performed a showcase called Team Wang Records (Human Remix).
Wang is the first international act to host a party at the club in The Shoppes at Marina Bay Sands since its opening in 2019. 
Tickets to the showcase reportedly sold out within an hour of their release. 
Wang was joined onstage by local beatboxer Dharni Ng, who earlier posted an Instagram reel of the duo beatboxing together in an elevator. The video was no longer available at the time of writing, but a version of it can still be seen on YouTube. 
The blonde-haired singer was also spotted going on a boat ride.
Jackson Wang recently released a music video for his song Cruel and is expected to release a new solo album, Magic Man, on Sep 9.