In a hijacked MRT train, Rebecca Lim and Andie Chen play enemies not lovers for once
Psychological thriller Third Rail's blockbuster set features a life-size tunnel and actual MRT train carriages – perfect for the cast to film some dance TikToks in.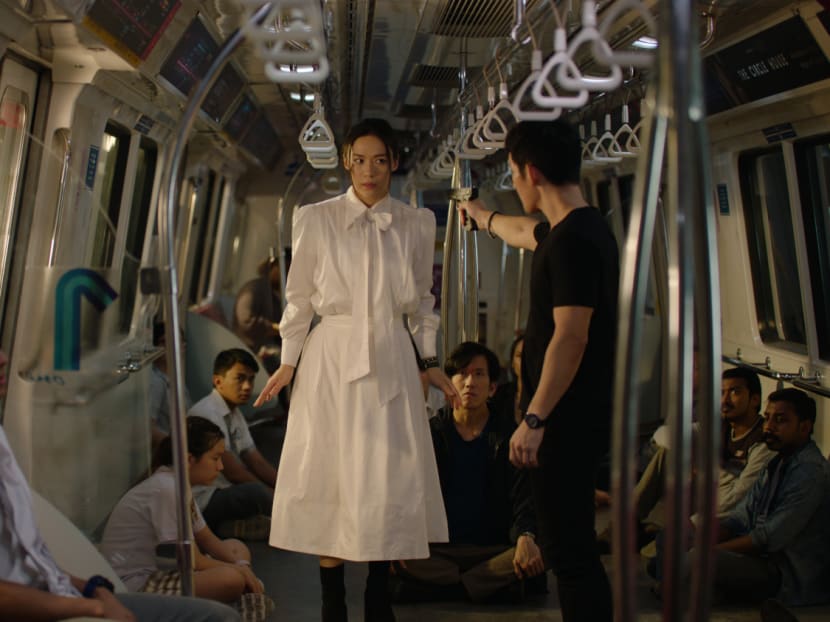 You don't have to be a train enthusiast to appreciate upcoming new English-language drama Third Rail.
If you've ever commuted on the MRT, you might have toyed with the idea of what you might do in the event of an emergency.
Starring Rebecca Lim, Andie Chen, Nurul Aini, Benjamin Heng, Jason Godfrey, Carla D and more, the show is a tense psychological thriller about the events that unfold when armed hostage-takers hijack a train in Singapore, and how crisis negotiators attempt to handle the situation.
The "third rail" of the title refers to the part of the rail track that supplies a huge amount of electricity to the train, and is also a term for a politically charged issue.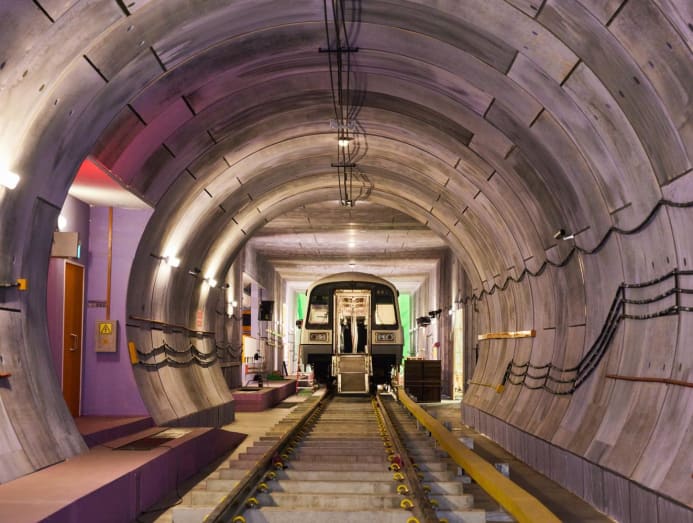 With one of the biggest sets ever built in Singapore, filming took place in a rail tunnel specially constructed within a giant event space in Changi housing two actual, decommissioned MRT train carriages.
According to executive producer Jean Yeo of production house Ochre Pictures, it cost a high five-figure sum just to transport the train carriages from the depot to the set location – an endeavour that was carried out at night with a police escort and required cranes.
The tunnel was 180m long, and each railway sleeper weighed 260kg.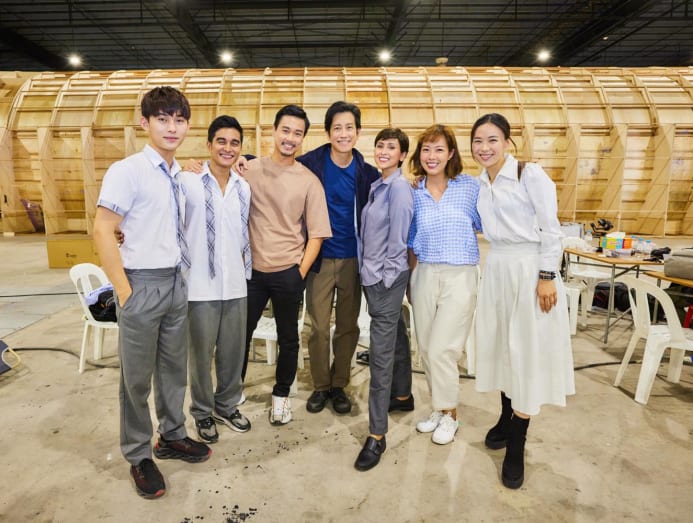 When CNA Lifestyle popped by for a set visit in July, the cast and crew were fanning themselves and blotting sweat from their foreheads. This was because there was hardly any air conditioning on the set.
For months, they filmed in a hot, stuffy train carriage for several long hours each day.
That might be why Lim told us it was one of her "top three" toughest projects she'd worked on to date.
She plays Geraldine Hyak, a passenger on the train who gets caught in the terrifying situation.
The working hours, the physical strain and the environment were all challenges, she shared; and above all, "the character is extremely challenging. When I read it, I was very worried that I couldn't deliver. This is very out of my comfort zone."
It was emotionally draining, she elaborated. "You're put in a situation where you have to choose between either sacrificing Hostage A or Hostage B, or choosing your life over others'. There were very, very intense decision-making situations for the character."
Did she notice one more wrinkle on her face after it was over? "I think it's a couple more, not just one," she laughed.
There were wrinkles for Chen as well, as the 37-year-old plays a character in his 50s.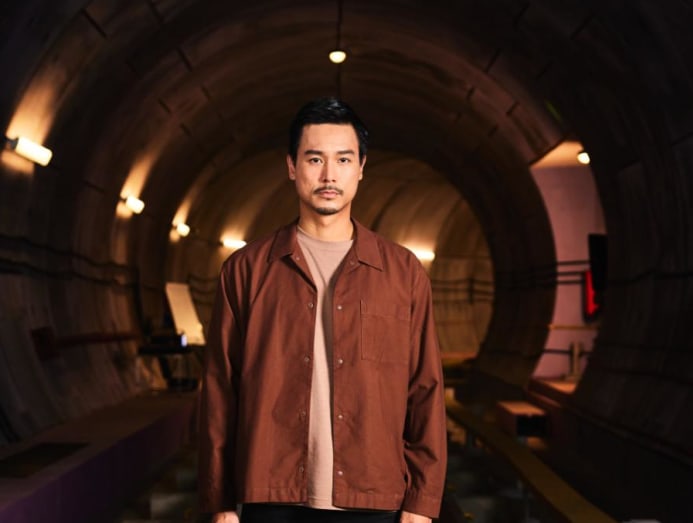 "We added a bit of white hair. That's that's basically it. There's no makeup," Chen quipped. "I naturally have very dark under-eye circles, so for once, it's actually a plus point."
His character is the leader of the hostage-takers – but there's more to it than meets the eye.
"It could easily be be a role that is very two-dimensional – a bad guy. But he actually has a great character, story and backstory, and it gets revealed in the drama," Chen told us. "I mean, I'm sure there will be people who root for the bad guys."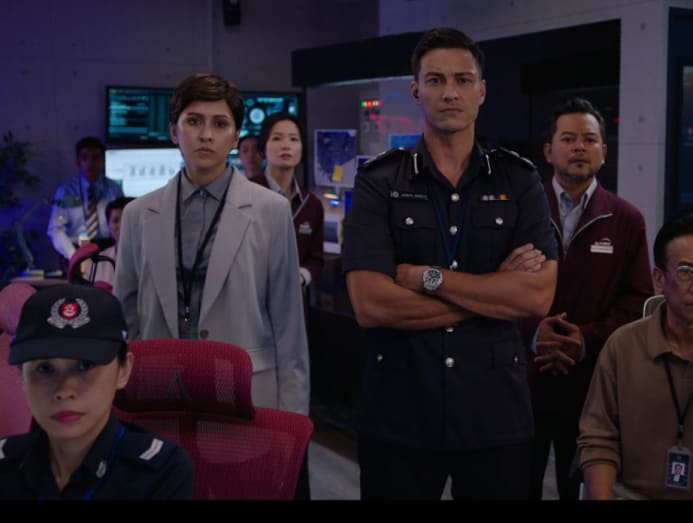 The way the script was written was one of the reasons he agreed to take on the role, turning down an acting role that was offered to him in Taiwan so that he could be in Singapore to film for Third Rail.
When he read it, he shared, his first thought was, "'Wow, if you are able to write something like that, that's something worth exploring.'"
Chen thinks Third Rail could be a history-making drama. "Something that you will remember, like Little Nyonya," he said, citing the fact that Third Rail was made on a large production budget. "I thought that I would love to be part of history."
Lim is glad for the fact that although she's paired up with Chen in countless shows – the two even entered the industry in the same year and were friends before that – "this time, we're not playing silly 'in and out of love' characters," she chuckled. Previously, in dramas like Fighting Spiders, The Lead and The Good Fight, "It was always like, I liked him but he didn't like me, or he liked me but I didn't like him.
"This is the first time we are not romantically linked, which is refreshing. And I think at this point in our lives, we appreciate these kind of roles. No one really wants to watch us acting cute with each other any more, I think!"
With such an epic set though, one imagines a lot of TikTok dance videos were filmed during break time by the cast.
"A lot of them shot a lot of TikToks," Lim confirmed. "I don't know where they find the energy. They did some dance stuff; some miming stuff. I don't know what, but a lot of TikToks were shot on this train. I don't come up with the ideas, but I'm always tagging along."
Catch Third Rail on meWATCH starting Oct 17, on Mediacorp YouTube Drama Channel starting Oct 25 and on Channel 5 starting Oct 31 at 9.30pm.