Singapore celebrities' strange encounters: A long-haired white figure, a dodgy restroom and an undead admirer
Tay Ying, Andie Chen, Desmond Ng and Meixin, who star in the upcoming thriller about a mysterious house titled Silent Walls, tell us about the hair-raising things they've personally experienced.  
Actress Tay Ying got a little more than she bargained for when she took on the role of a character in a spooky series – and she's hoping she never has the same experience twice.
Tay stars in Silent Walls, an upcoming drama also featuring Andie Chen, Ayden Sng, Desmond Ng, Meixin, Fang Rong, Tasha Low, Mindee Ong and more, about a strange house that, over nearly a century, shelters four families that each experience tragedy and death.
Filming took place in one of the heritage black and white houses in the Seah Im Road area, and while none of the cast members said they experienced anything out of the ordinary within the house itself, they did say that because the building had so much history, they did feel like they had to be respectful in and around it.
For Sng, who said he has "no affinity with anything supernatural", the scariest thing on set was fellow actress Ong, who plays a 1930s majie, a domestic helper in a white uniform and long braid.
"She's not a ghost, but she's very scary – the hair, and the getup," he said. "She has this monotonous voice. And she literally drifts around. Sometimes she'd just suddenly appear from some room or other. Sometimes she scares people on purpose! I felt she helped us get into character because of how scary she was."
But something that felt far less benign did happen to Tay, who plays one of the house's residents, the daughter of a businessman in the year 1938, while she was on set. And she didn't speak about it until long after production had wrapped.
She and a few of the other cast members told us about what could have been their own close encounters of the spooky kind.
TAY YING
I had driven to set and was parking my car at the bottom of the slope on which our house and another bigger house, which had also been empty for a long time, sat. I was still in the car when I caught sight of it in one of the windows of the bigger house. I thought I was mistaken so I looked three times. A white figure with long hair. It was just standing there with its hair floating.
I still had to get to our house for filming, so I grabbed my bag and ran up the slope. I was shaking.
Later, I was doing a scene on the second floor. The camera monitor was downstairs, it wasn't recording. But the casting person said he saw some sort of white figure floating behind me, through the monitor. I was like, "Hmm, a white figure? That sounds familiar!"
I had so many more days left in the shoot, so I didn't dare to ask anyone or tell anyone on set about it. Because of the character's energy and emotional scenes, I went home feeling very heavy all the time. I didn't know if it was my character's emotions or something else. One day, I went home and I don't know why, I just burst into tears and couldn't stop crying for an hour, to the point where my parents had to come down to comfort me.
My dad contacted his friend who is a "master". He gave me a candle and amulet. I had to burn it and pour water on me and all that kind of stuff. After that, I felt okay. It's hard to explain. Up until now, I'm still thinking, 'Was I too tired?' I still think it might have been psychological, but, I know what I felt. The master said that that place is famously haunted. He brings his disciples there to cleanse and meditate.
Also, on our last day of filming in the house, while Charlie and Darren were downstairs setting up for a scene in which they had to go up the stairs, a whole window panel fell out onto the stairs. There was no wind, nothing, but the whole thing fell. Can you imagine, if they were walking up the stairs? They could have gotten hurt. I don't know if it was anything supernatural, but it was a bit strange. We were all shocked.
ANDIE CHEN
When you go on set, you know this house has been vacant for a while and has a lot of stories, but you don't know what the stories are. We were also doing a lot of screaming and shouting in the area and it always felt like we should be careful.
In the midst of our shooting, a tree actually fell on the house. The whole tree fell onto our lunch area. It was not lunch time, so no one was hurt. But there was always this sense of, 'We need to respect this place.' It was spooky, lah. There was a running challenge about who was going to stay there alone overnight. No one did, but I would have!
I actually kind of liked that place because it's in the middle of nowhere and it's so quiet. I would walk around the house at night and just have a feel of the place.
MEIXIN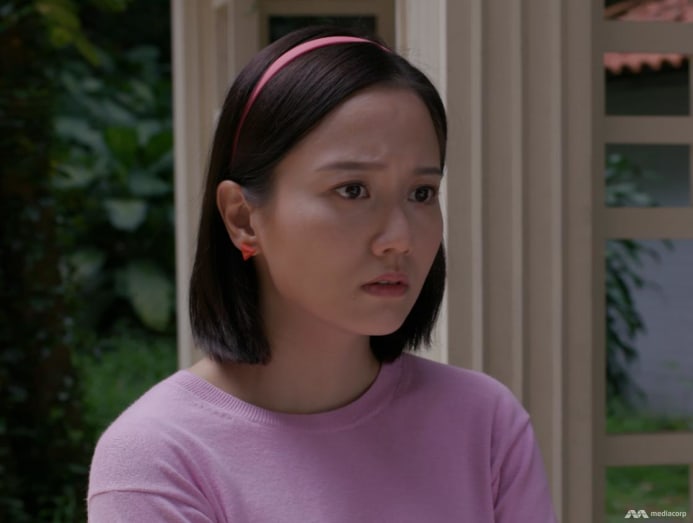 I didn't feel anything strange in the house, but I have had many encounters.
When I was five years old, my family visited a temple in Penang. I was on what felt like a never-ending spiral staircase or walkway, and I saw my sister run up past me. So, I chased after her shouting, "Wait for me!" and I ran and ran. Suddenly, a black dog barked and startled me. I looked around and saw that my sister was actually downstairs. My parents were initially angry that I had wandered off but they figured out that I wasn't making the story up because I was still crying even after we got home. What was the image of my sister that I saw? I believe the dog's bark saved me from something.
On another occasion, a few years ago, I was filming a documentary in Cambodia about the floating houses of Tonle Sap lake. It was about how displaced people from Vietnam could only live on the no man's land of the water, and were not allowed on land until they died and had to be buried.
After I flew back home, my friend, who has a third eye, came over to my house. He asked, "Did you step on something you shouldn't have?" I said, "No, we were filming on a lake." "Did you say something you shouldn't have?" "No, I just said whatever the director told me to say." "Did you visit a cemetery?" "Yes! How did you know that?"
He said, "You accidentally stepped on someone's head in the cemetery. And he followed you onto the plane and home with you. He thinks you're pretty and wants to marry you."
To resolve the issue, my friend said, "Just use your energy and tell him, 'I'm sorry. I didn't mean to step on you. I'll pray for you.'" After a while, my friend stopped seeing him. And I started believing whatever my friend said!
DESMOND NG
When we were still at the old Mediacorp campus, I was a guest on a radio show that ran late into the night. At around midnight, I really needed to pee, so I went to the restroom on the top floor of the Radio Building. To get to the restroom, there was a pantry you could cut through, so I did.
I was totally not thinking about spooky stuff, and it wasn't my first time in that restroom. But, while I was peeing, I suddenly felt a force or pressure against my back, and it was cold and chilly. I really had to pee, but my pee immediately stopped flowing!
I deliberated about washing my hands, and finally I did, but I didn't dare look up into the mirror. I ran out of the bathroom towards the pantry – but the door was stuck! I told myself to be calm, but I think that door might have been dented by me trying so hard to get it open.
After that, every time I was at the Radio Building, I made sure not to drink too much water!
Catch Silent Walls starting Mar 13 on demand for free on mewatch and starting Mar 15 at 9pm on Channel 8.